About TruNorth Landscaping
TruNorth is a team of outdoor-living professionals passionate about creating and maintaining outdoor spaces that connect our Clients with nature and that encourage relationships with their family, friends, and community.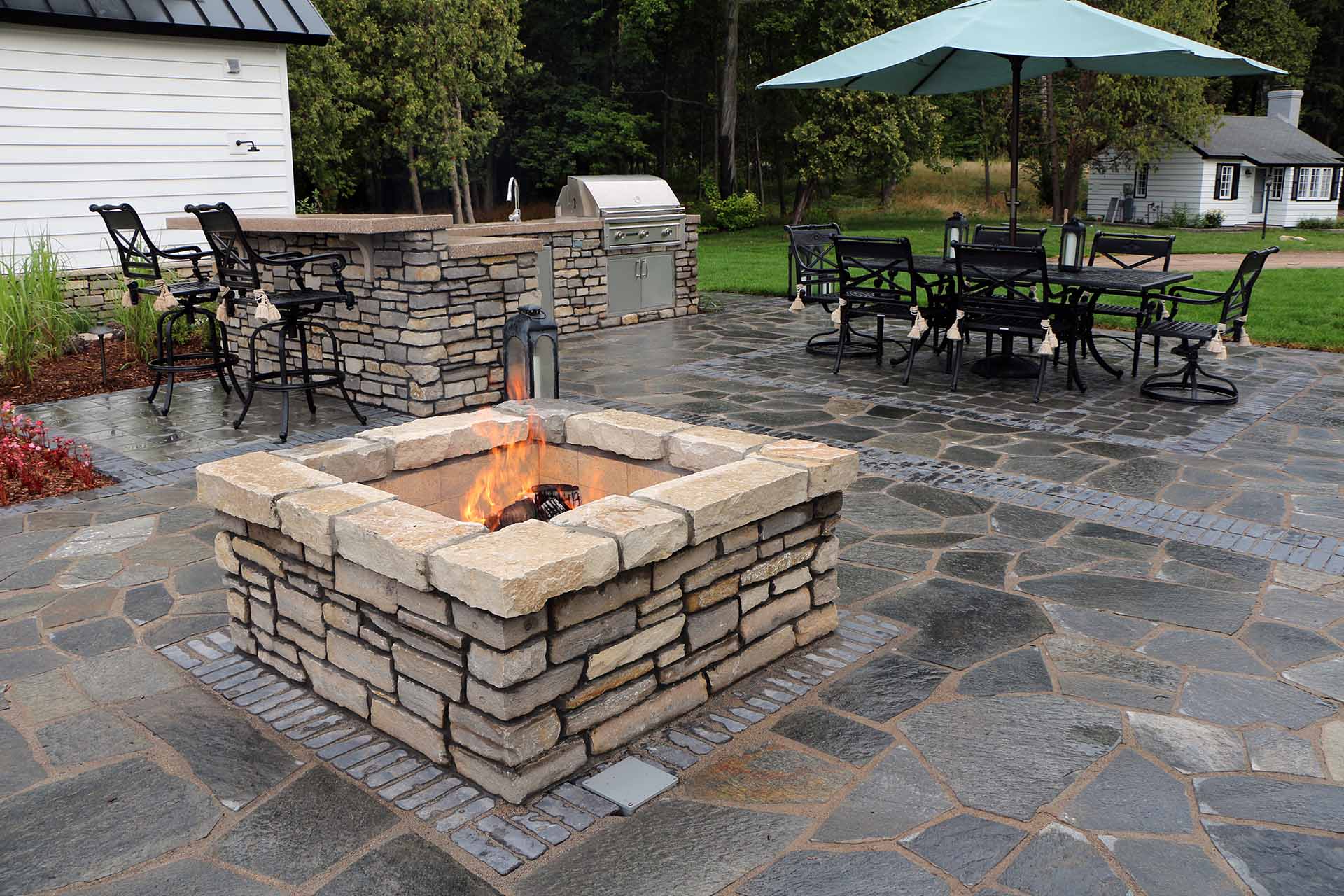 We are a Design/Build and full-service Landscape Maintenance company located just north of Traverse City in beautiful Leelanau County. Our name points to our love of Northern Michigan and our commitment to remain true to our values of STRIVE:
Service – We are committed to listening to and honoring the needs of our clients and delivering professional, efficient service that exceeds expectations.
Team – We are focused on building a team where each member is valued, their ideas & growth encouraged, and their home life respected.
Relentlessness – We are relentless, especially when faced with adversity.
Integrity – We are devoted to a high ethical and moral compass of honesty, fairness, and trust.
Value Relationships – We are dedicated to building positive relationships, grounded in mutual respect.
Excellence – We are passionate about always giving our best.
We strive to provide exceptional quality beginning with great customer service, an experienced and knowledgeable staff, and a respect for the natural beauty of Northern Michigan. Our definition of quality is reflected in the materials we select and the craftsmanship we use during installation, the attention to detail in maintaining landscapes, and in the way we treat our customers.
The TruNorth team has members with 30+ years of professional experience, as well as several graduates of the Michigan State University Horticulture Program.  As we continue to grow and add to our team, we remain vigilant in our pursuit to hire skilled individuals who possess strong character.
Let our experience be your compass to a beautiful landscape!
TruNorth Landscaping was formed as a result of a dream to create a landscaping company that was different from the rest. Our name, TruNorth, was chosen for two reasons. One, it reflects our love of Northern Michigan, and secondly, it points toward our true compass, which is our faith in God.
TruNorth Landscaping is a member of many local and state horticultural, educational, and professional organizations, and actively supports them through our charitable contributions or donations of landscape construction, irrigation, or horticultural services. We have a passion for designing, creating, and caring for breathtaking gardens and landscapes. We believe it is our responsibility to share our gifts to help make our home and community a more beautiful place, all while preserving the natural beauty of Northern Michigan.
"I am the facility manager at Baypointe Community Church. I am proud to say that we have been using TruNorth Landscaping for over the past two years regarding all our lawn care and irrigation needs.  The quality of their service is excellent and their attention to detail and timeliness is exceptional.  Their work is very professional and I would recommend them to anyone."
The crew is absolutely fantastic and a pleasure to have on site. Very courteous and responsive to any and all needs. The grounds look better than they ever have!
Just wanted to let you know how impressed I've been with the team that you have had at our place. They have been working hard every day, all day, and they are always just pleasant to my wife and kids. The kids especially are very interested in what has been going on and apparently sneak out every chance they can get to watch the guys at work.

Everything looks just great. You can tell the team is focused on doing it all right and not just doing it as quickly as they can.
Just wanted to shoot a note to you both and say how impressed we are (from a long distance, mind you), on the speed, professionalism and what appears to be high-quality work you and the team have done.

Jeff has been a great correspondent, sharing progress photos each day, and keeping us informed. It is remarkable that you look to be nearly complete, if not wrapped. The photos from Friday make us excited to see the work firsthand next weekend when we are up at our place, but my wife and I both share the desire to slot in a few more plantings in the new entry bed as you come down the driveway before the new parking pad.
This is Sharon Lund writing you about the Twin gingko trees that you purchased and positioned for the Baha'i Faith recently. We are delighted…both by the trees and by your service. We dedicated them last week in a ceremony of prayers and song by luminaries and flashlights. Thank you so much.
Lawn looks good this year, best in years. Rain helps but good care does too. 🙂
"I am moving in August. I have been very pleased with your work and will recommend you to the new owners."
"My home is currently for sale; however, I would like to continue service with you as long as I live there. You did excellent work last summer. When my house sells I will let them know that you do my lawn work."
"I worked with TruNorth Landscaping to complete all my landscaping needs when I built my home. From the beginning of the project to the end, TruNorth Landscaping was very efficient and thorough. Starting with the design to laying sod and planting, they were very professional. My end result was fantastic and I would recommend TruNorth Landscaping to anyone looking for a hardworking and cost efficient company."
"Easy to work with, timely and communicative, everything you look for in a business relationship"
"Jeff was a great project manager and a joy to work with. Communication and execution were perfect.  This is the second major project we have done with TruNorth and Jeff and we could not be happier".
"The Team at TruNorth is a pleasure to work with. They communicate well, they provide their opinion when asked and the quality of work is something we will be very proud of for many years to come. Thank you!"
"Mark was great to work with. He came to our house on the weekend when it was convenient for us, despite his crazy spring schedule, and Mark was very attentive to what we needed with our design. The planting and project execution was also great. Very professional all the way around."
"Jeff is terrific. The guys who did the work were diligent, courteous and had a great attitude.  High quality work."
"Superb service, expertise, and advice from Mark Polinko"
Excellent work to mitigate water drainage and erosion issues. We were impressed with how fast the grass germinated. Good work by crew to get downspouts drained out to natural areas. Thank you. We look forward to the landscape designs.