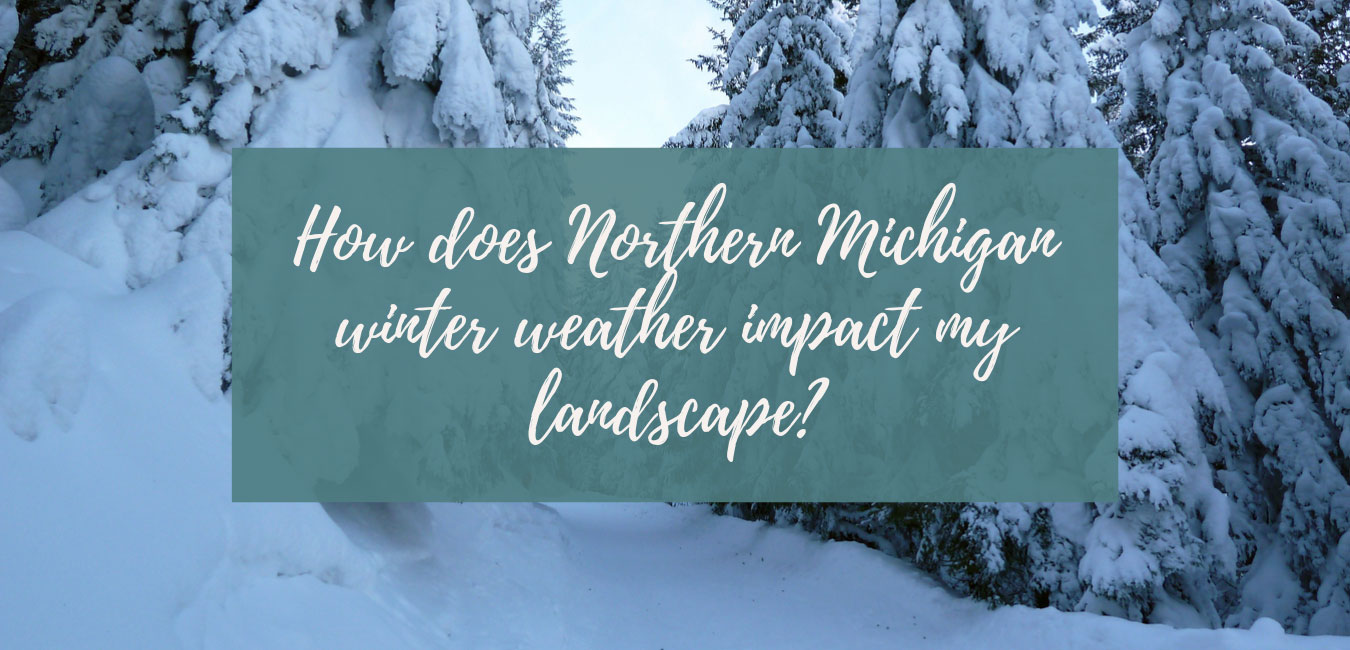 The cold weather is unfortunately here to stay for awhile in beautiful Northern Michigan. While there is a whole lot to enjoy about winter, including beautiful winter container gardens, there is a lot to prepare for as well.  Just as you prepare yourself to fight the freezing winter temperatures, there are several things to watch for or prepare for with your plants and your hardscape materials this winter.
Wind Damage
Bitter wind is one of the main reasons plants see damage during the winter months. Winter burn is what those in the green industry worry about most in Broadleaf and Needled Evergreen plants-such as boxwood or yews. High winds in combination with cold temperatures can cause plants leaves or needles to turn yellow and then brown. In serious cases, winter burn can end up killing a plant entirely. Plants that are in areas where they will be exposed to high winds may benefit from being wrapped in burlap to protect them! There is also a type of spray that can be applied to plants right before regular freezing to help protect them from winter burn. Blowing and drifting snow can cause damage or impact to be worse on some plants than others, so watch for plants with excessive snow piled upon them. Use a broom to gently shake loose the extra snow.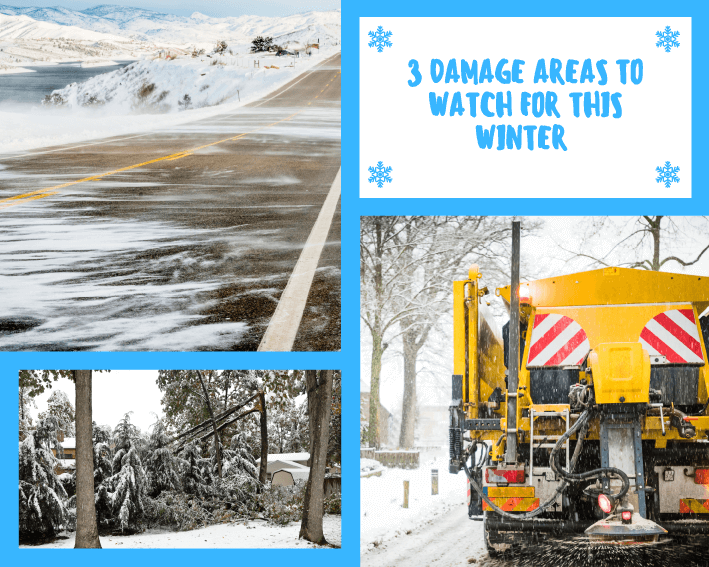 Salt Damage
Salt can damage not only plants but your hardscape product as well. Plants that are near driveways or walkways are at risk. If you fear your plants have salt damage, we advise using a deep root fertilizer in the Spring and a prune back if necessary. If possible, try to keep salt away from your delicate perennials. Hardscapes can also be impacted by salt. Common rock salt can be corrosive to concrete and mortared joints in pavers AND can cause flaking or bleach surfaces. Be sure your hardscapes are cleaned and sealed (if needed) and when possible avoid spreading salt over hardscaping material.
Snow Damage
The heavy wet snow we frequently get here in Northern Michigan can put excessive weight on many of your plants. In order to avoid damage and breaking, be sure they are pruned appropriately! When you can, brush snow off your plants to help them stay upright with the heavy snow.
Protecting Your Property this Winter
Winter in Northern Michigan can be truly brutal. It can cause major damage to plantings or hardscapes if the snow is not handled properly. To learn how to properly care for your hardscape features like walkways or patios, check out this blog. Your landscape contractor that provides snow services should be able to give recommendations on how you can preserve the investment you've made with your landscape through the winter months. Don't hesitate to ask them to come out to discuss your areas of concern.
Ready to get started with a professional snow removal contractor in Grand Traverse or Leelanau County, MI? If so, meet with our team of experts, choose a solution to improve your property, and get ready to sit back, relax, and enjoy your beautiful outdoor space.

Want tips and tricks for your lawn & landscaping?
Sign Up For Our Free Quarterly Newsletter
We take your personal information very seriously. We will not share any of the information you provide with any 3rd parties. Provided information will be used specifically to contact you in regards to your inquiry.