Residential Grounds Maintenance in Northern Michigan
Your life is busy.
You just left your office after a long week and are headed to your 'Up North' home with your family. As you pack up the car and glance at the front of your home, you remember that you didn't mow the lawn last week at the cottage. Ugh, not exactly how you were planning to spend part of your weekend.
Or maybe you finally retired after years of a fast-paced career. You want to spend your time visiting the grandkids or sipping a glass of wine on your porch. While enjoying your morning coffee, you notice what was once a landscape bed now looks like a jungle of weeds overtaking your beautiful plantings.
Whether the Northern Michigan area is your permanent residence or vacation spot, the last thing you want to be doing is spending your Saturday mowing the lawn, weeding landscape beds, or laying mulch.
You want your property to look great so the kids can play in the yard, you can host family get-togethers, or so you can simply relax with your partner.
Selecting a Comprehensive Landscape Management Company in Northern Michigan
You need a company that you can count on to show up every week without fail, behave professionally while they are at your home, and leave behind a perfectly manicured outdoor space that is the envy of your neighbors. Learn how TruNorth meets your needs and gives you back your time so you can spend it doing what matters most.
Plan and Payment Options
We typically offer 'full service' maintenance, meaning we do not visit your property only to mow the lawn, we maintain the entire area. Your property should look great from the turf, to the landscape beds, to the health of your plants.
We offer several different payment options including a flat rate broken down into installment payments or per service payments billed monthly. We accept ACH as well as credit card or check. Check out what our contracts look like below.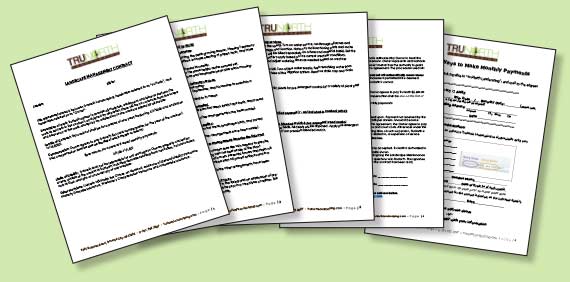 The TruNorth Difference
Our residential clients value their privacy and our professionalism.
All of our trucks are clearly marked, cleaned, and maintained. Our team is fully uniformed including steel toe boots, company-branded shirts, and long pants. Our equipment is commercial grade and the best in the industry. We operate 4 maintenance teams daily- two lawn maintenance teams, a horticulture team, and a lawn care team. Finally, our owners have successfully ran commercial landscape maintenance programs for well over 30 years.

Frequently Asked Questions
It depends on the services you have chosen. Lawn maintenance services such as mowing, trimming, and blowing are done weekly. We edge all of our properties bi-weekly, and most horticulture contracts are bi-weekly visits. Fertilization is usually done 5 times throughout the season and depends some on the weather! If you have full-service property maintenance, you will likely see someone from our team one to two times per week at your property.
We typically use a combination of both manual and chemical means to control weeds on your property. Any team member using chemicals is a certified pesticide applicator and is required to pass several tests and do continued education in the pesticide field. We suggest for every property mulching each year. We apply a pre-emergent chemical before laying mulch that helps start the season off well.
No, definitely not. As a business model however, we attempt to maintain the property as a whole whenever possible. We want your property to shine in each area possible, not just have a nicely mowed lawn.
We have trusted partners we call in for both of these services. We can work these services into your bid, but we call in experts in those two fields to help us out. Our team members can start up your system and make some minor repairs when necessary though!
We try to work with everyone's scheduling requests the best we can. Our schedule is built to repeat itself every week or every other week—for horticulture services(Monday-Thursday) and you should see us on your property the same day nearly every week. We leave Fridays open for rain days so that if we are rained out we can be sure we still get to you!
We try our very best to not work weekends for the sake of our team and their families. At the beginning of the season or in the case of a whole lot of rain, we may visit your property on a weekend day. If this is going to happen, we try to give you as much notice as possible.
Each crew has a foreman, and he or she will introduce themselves to you and be available for questions and request. Please note that each team is there for a specific purpose, so additional jobs like removing a large tree usually cannot be done upon request at that moment. Our foreman will report back and get any additional services scheduled or addressed as needed. Feel free to ask for a walk through with our foreman and the beginning of the season so you can inform them of what is really important to you about your property. Our goal is to keep your property looking beautiful and the way you like it to look, so feel free to communicate with our team!
Some of our Regular Residential Grounds Maintenance Clients
We service residences in both Grand Traverse and Leelanau County. For many of our clients, the property we maintain is their second-home. Check out some of the beautiful residential properties we maintain.
Enhance Your Yard's Natural Beauty
We would love to discuss your next project! Call Us at 231-922-0087 or fill out the form below to schedule an estimate.
We take your personal information very seriously. We will not share any of the information you provide with any 3rd parties. Provided information will be used specifically to contact you in regards to your inquiry.