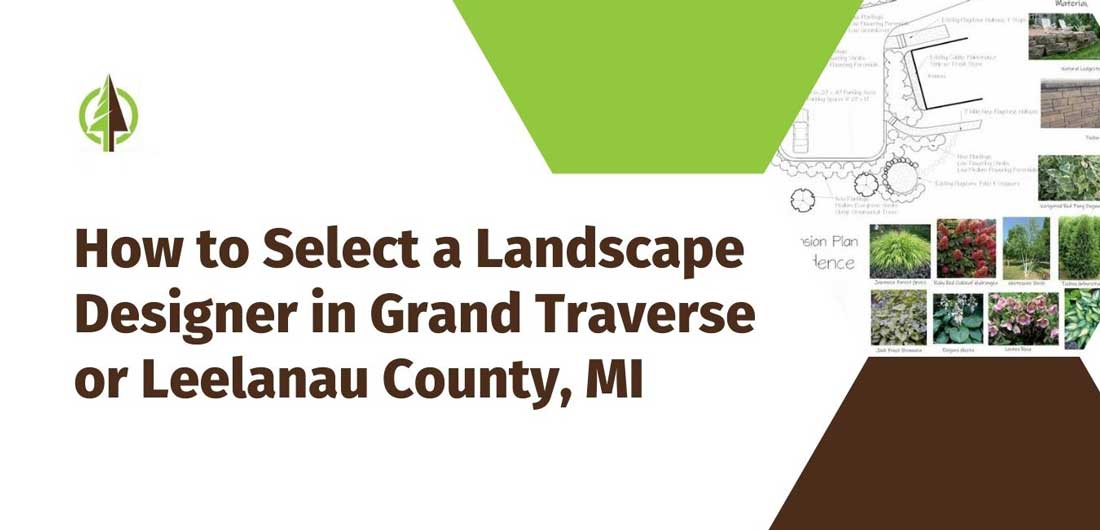 You have been dreaming up ideas about how to improve your outdoor space in Grand Traverse or Leelanau County, MI for months.
A great patio space for family and friends to enjoy dinners fresh off the grill. A firepit for the group to enjoy even as summer turns to fall. And beautiful garden spaces that provide pops of color and interest all year long.
You've got some ideas, but you want to see them implemented into your landscape in a beautiful and creative way.
It is time to call a landscape designer!
Let's discuss what a landscape designer does and how to select the right one for your property.
What does a landscape designer actually do?
Landscape designers plan, develop, and create beautiful, functional outdoor spaces.
Designers can have varying levels of education and expertise. Some have gone to college anywhere from 2-4 years for a degree that specializes in the Green Industry or even specifically in landscape design. Others have learned by doing. They have worked on landscape crews, studied plants, and learned by working with other designers.
Remember that attending college to study landscape design does not automatically mean the designer will be excellent or the right fit for you. Those that study by learning in the field many times are just as good if not better designers than those with little experience and only a college education.
Typically, designers work for a landscape company and may be one of the first people you speak with after an inquiry call. They usually perform a consultation with you at your property and listen to your hopes and goals for the outdoor space. Designers then return to the office and get busy with some sort of landscape design software to create your project.
After plans have been finalized and approved, many times designers will oversee the construction phase to ensure that your plan is being executed correctly. They work hand-in-hand with the hardscape foreman installing your stone, and they may even place plants in the correct spot at the property before they are installed.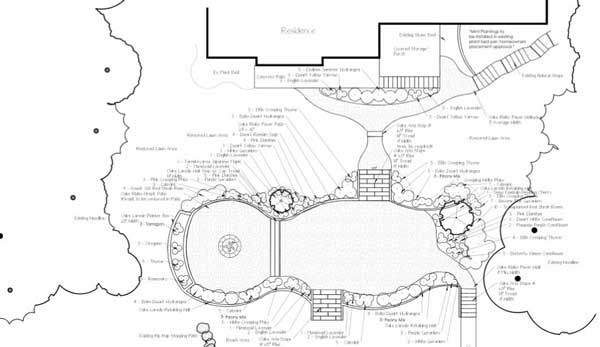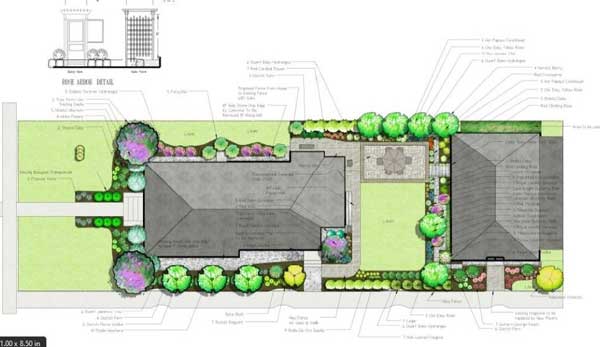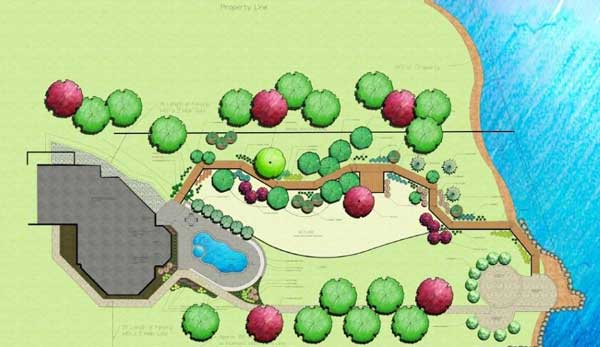 What Questions Should I Ask a Landscape Designer Before Hiring Them?
There are several questions that a good landscape designer in Grand Traverse or Leelanau County, MI should be able to answer. These are some of the most important we recommend you ask:
Do you work alongside a landscape architect?
How many years have you been working in landscape design?
Did you attend college or what training do you have?
Have you worked in the field installing landscape projects before?
What is your favorite type of project to install?
What size project do you typically design?
What design software do you use?
Will I get revisions on my design included with my design fee?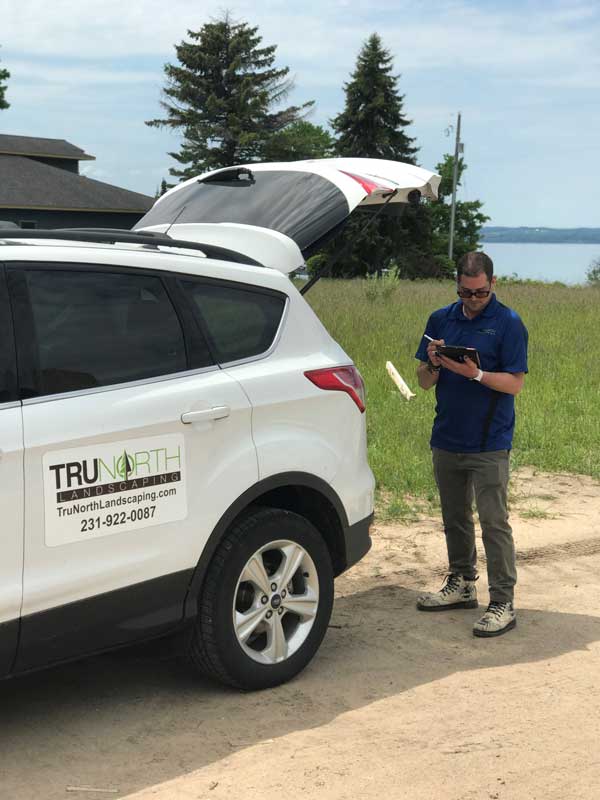 How to Select a Landscape Designer in Grand Traverse or Leelanau County, MI
Knowing the answers to the above questions can certainly help you determine if the landscape company you have called is the right fit. However, there are several more considerations to take into account.
Responsiveness
Did the landscape designer answer the phone when you called? If not, did they call you back in a reasonable amount of time?
Communication between yourself and the landscape designer can be one of the most important aspects of any design-build landscape project. How communication starts at the beginning of the process really sets the tone for how easily you will be able to communicate with the designer moving forward. If they respond promptly and answer your questions, it is usually a sign that throughout the process they will be there to support you.
Be clear on what kind of communication works best for you! Some people prefer emails to phone calls and some vice versa. Being clear with your landscape designer on how you would like to communicate moving forward can really help to get things off on the right foot.
Communication-Not Just Listening
Selecting a landscape designer that is not the best fit for you can really derail your entire project. You need a designer that doesn't just listen, but actually hears and understands your desires for your project.
It is YOUR project and YOUR home, not the designers.
While their advice and input may be helpful and valuable, you should feel after your consultation and first look at the design that they actually heard what you had to say. If the initial design comes back nowhere near what you and your designer discussed, that points to a real communication issue.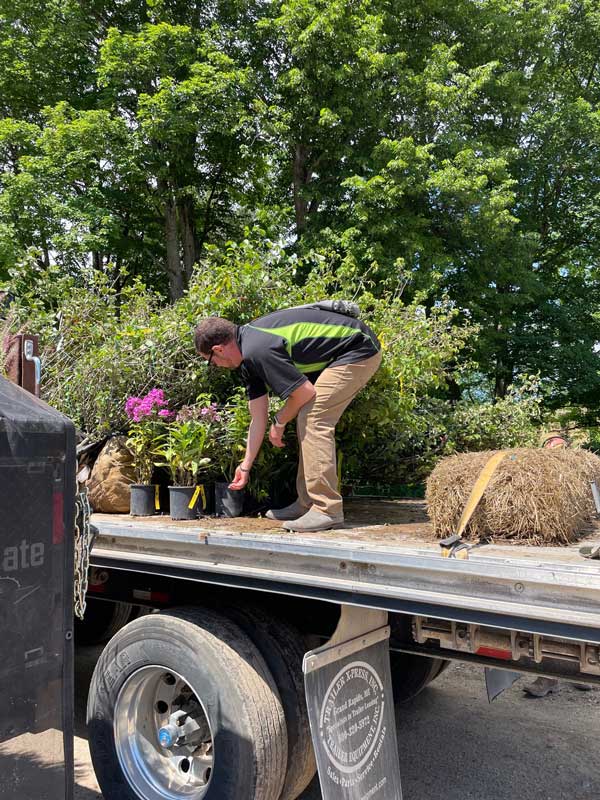 Selecting a Landscape Designer at TruNorth
At TruNorth, we have an entire sales team that fields your call or e-mail.
Our Project Manager usually answers the phone, and if not, someone else will and she will return your call when she is back in the office. During that call, we get an initial idea of your hopes and dreams for the project. Our Project Manager then sends you to our contact page to fill out our landscape form and to our learning center to get some inspiration before our designers meet with you. A consultation is schedule either with one of our designers or our landscape architect, or sometimes even both!
Our team comes out to meet with you at your property and the whole design process begins. We use Dynascape, the latest and greatest landscape design software out there. There are tons of design options, and we even wrote a whole blog about all the choices you have when selecting a design!
Choosing a landscape designer is certainly not an easy process. You want someone who listens to you and is responsive to your communications. Someone who is creative, yet open to your ideas.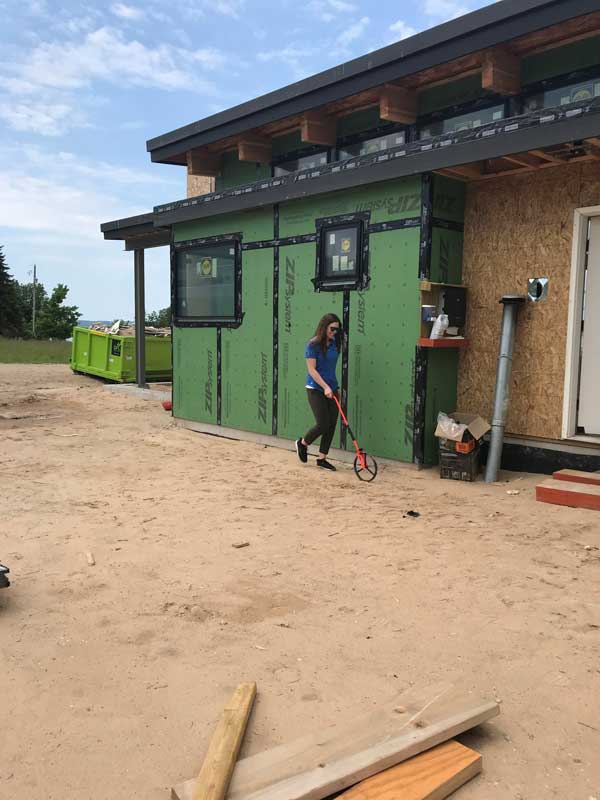 Ready to get started on your project? Contact us today! We are ready to navigate your outdoor space so you can spend time doing what matters most!

Want tips and tricks for your lawn & landscaping?
Sign Up For Our Free Quarterly Newsletter
We take your personal information very seriously. We will not share any of the information you provide with any 3rd parties. Provided information will be used specifically to contact you in regards to your inquiry.