Lawn Maintenance
Services
Lawn Mowing | Line Trimming | Turf Fertilization | Core Aeration | Sod and Seed Installation | Turf Edging
Great curb appeal really begins with the appearance of your lawn. Everyone longs for a lush, weed-free, green turf, but it is not easy to achieve on your own. Mowing a lawn can be a headache for both homeowners and property managers, as it not only consumes a good chunk of time each week, but it requires a person and the equipment to complete the job. The foundation of our maintenance program begins with first addressing the health of your turf. Learn more about the lawn maintenance programs we offer below.
Weekly Lawn Maintenance
Mowing
During peak growing season, our team clears debris and trash from your landscape and mows the turf using the latest equipment on the market. Your property will have those longed for perfect lines in the turf after we finish.
Line Trimming
All areas around the perimeter of your property, such as where the turf meets the curb, are trimmed each week as well. Areas like ditches are also line trimmed if the mower cannot access this area. Any vertical extrusions, like light poles or flag poles, are also trimmed.
Clearing and Cleaning
After mowing and trimming are completed, your hardsurfaces and landscape beds are cleaned with our commercial-grade backpack blowers to leave the property looking neat and tidy.
Bi-Weekly Edging
During peak growing season, edging occurs where all concrete meets the grass. This allows for a crisp and clean line and no overgrowth onto sidewalks or walkways.
Hardsurface Cleaning and Clearing
Many commercial properties request that we also clear hardsurfaces each week. This is an additional service, not included with our typical lawn maintenance package. We remove all trash and debris, and apply weed killer in cracks and near any vertical extrusions to keep the hardsurfaces looking neat and clean as well.
Turf Fertilization Programs
Program Specifics
We typically recommend 5 applications of fertilizer every season. These applications are spread out over the months of April-October depending on the weather conditions. Some clients do opt for 3 fertilizer applications as well. We have a variety of equipment to service your property. For larger size properties, we have a large ride-on fertilization machine. Some small areas do require a walk-behind fertilization spreader.
Applications
Application 1 consists of a pre-emergent crabgrass control with a balanced fertilizer with slow release for extended color. Applications 2 and 4 consist of a balanced fertilizer with slow release for extended color and weed control. Application 3 is a summer turf builder with a slow release formula for extended color. The final application (5) is a winterizer with a slow release balanced fertilizer for extended feeding and root development.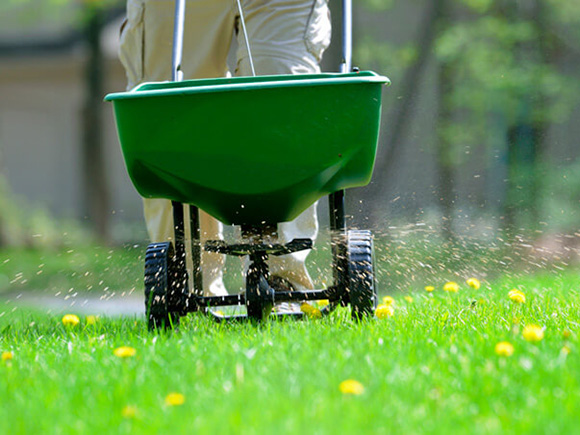 Enhance Your Yard's Natural Beauty
We would love to discuss your next project! Call Us at 231-922-0087 or fill out the form below to schedule an estimate.
We take your personal information very seriously. We will not share any of the information you provide with any 3rd parties. Provided information will be used specifically to contact you in regards to your inquiry.