Landscape Lighting and
Sound
Landscape Lighting Design | Landscape Lighting Installation | Up and Down Lights | Path Lights| Wall and Step Lights | In Grade Lights | Hardscape Lights | Outdoor Sound Design | Outdoor Sound Installation
There is nothing worse than having to make that in the dark stumbling walk back from your outdoor space to your house after having a great night. Unlit spaces can not only be dangerous, but they fall short on highlighting the beauty that you carefully selected and invested in when building your perfect landscape and outdoor space. Landscape lighting can help draw eyes away from things you don't want guests to see and extend your enjoyment time frame in your space. Lighting can even help to set an ambiance in your space. TruNorth is proud to offer FX Luminaire Integrated LED Lighting by Hunter. This lighting system offers the latest in LED landscape lighting technology and digital lighting control with zoning, dimming, color temperature, and beam angle options. Finishes include metals such as copper, nickel, and stainless steel, as well as powder coat "granite" and weathered iron.
Lighting Image: FX Luminaire; Photo courtesy of Hunter Industries Incorporated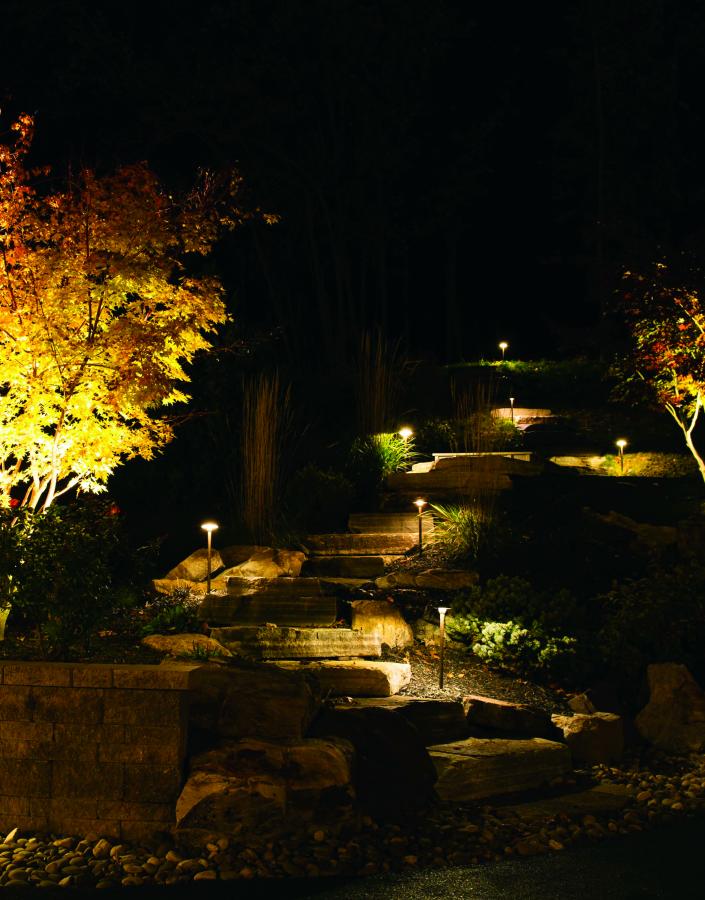 The ultimate way to enjoy your outdoor space is through the installation of an outdoor speaker system! No more struggling with portable speakers that you forgot to charge and don't provide quality sound for all to hear. The options with outdoor sound are now really endless and can be controlled at your fingertips through your smart phone. Ambisonic speakers blend into your landscape and provide a customizable music experience.