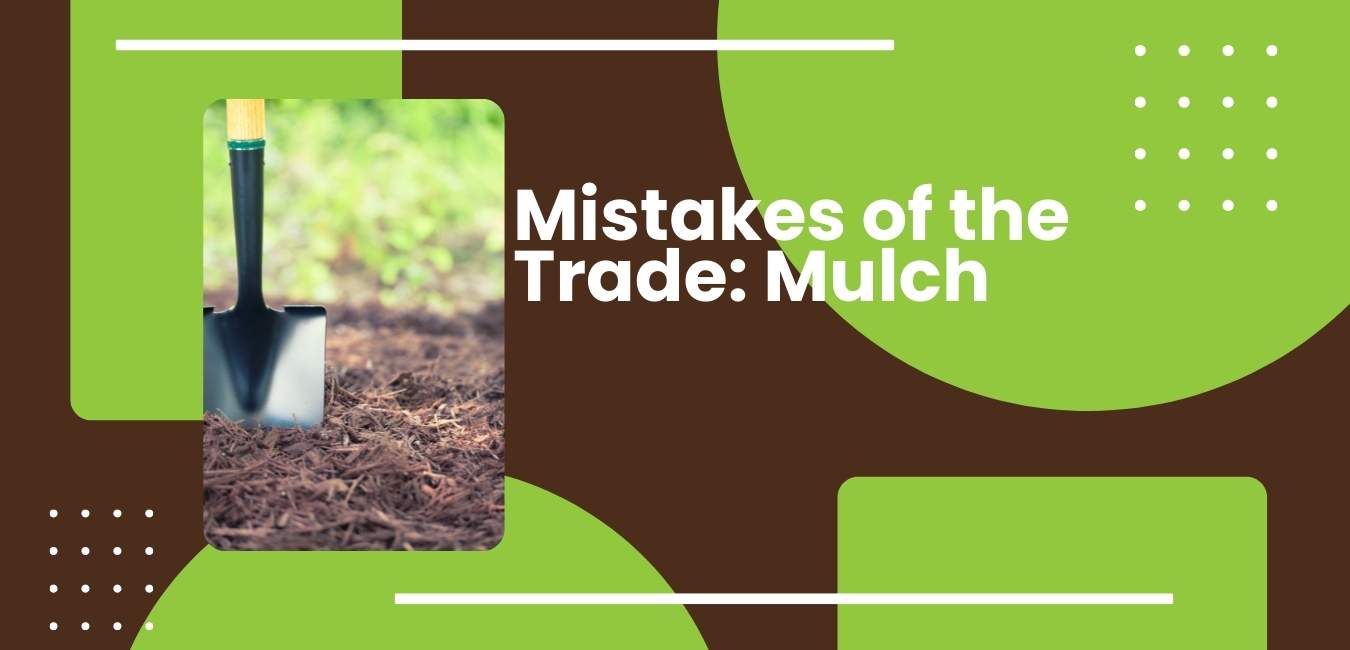 One of the first things we love to do once winter breaks is put down fresh mulch. It brightens up a landscape and can help to block out pesky weeds. Mulching is a task many clients like to do on their own, but there are many ways that mulching can go wrong!
Problem One- The Mulch Volcano
Easy Fix- Leave the area around the base of the tree free from big piles of mulch! Useless! We recommend about 2".
This is the most commonly seen issue with mulching done by homeowners and even some landscape companies! A mulch volcano is an industry term for piling up mulch around the base of the tree. If the tree were to be plucked out of the ground, it would result in looking just like a volcano. Mulch volcanos lead to insect and disease infestations, root issues, and even root rot! The roots get stressed out when piled on with too much mulch and it can lead to the death of the tree in some situations.
Problem Two-Using fabric as a barrier between mulch and soil
Easy Fix- Skip the fabric!
When using rock or other material, a fabric barrier may be appropriate, however, when using mulch, skip this step. Mulch itself does a great job with weed control.
Problem Three- Cheap Mulch
Easy Fix- Know what is in your mulch! Get it from someone you trust!
While this seems like a great money saver, it will end up costing you in the end. Some free or cheap mulch is loaded with pesticides and even weed seeds, which will lead to a painful spring and summer maintenance season.
Problem Four- Skipping mulch
Easy Fix- Make sure to mulch this Spring!
Some years things get busy and the mulch looks 'good enough' to make it to next season. Your trees are really missing out when you do not apply mulch every season.  It helps to insulate the soil, reduces damage from mowers, and helps retain moisture!
As Spring rolls around, remembering to apply mulch to your landscape beds is an important step! Wondering if mulch is the right choice for your property? Check out this blog. If it seems like too much to remember, we would be happy to do it for you! Give our offices a call (231) 922-0087

Want tips and tricks for your lawn & landscaping?
Sign Up For Our Free Quarterly Newsletter
We take your personal information very seriously. We will not share any of the information you provide with any 3rd parties. Provided information will be used specifically to contact you in regards to your inquiry.