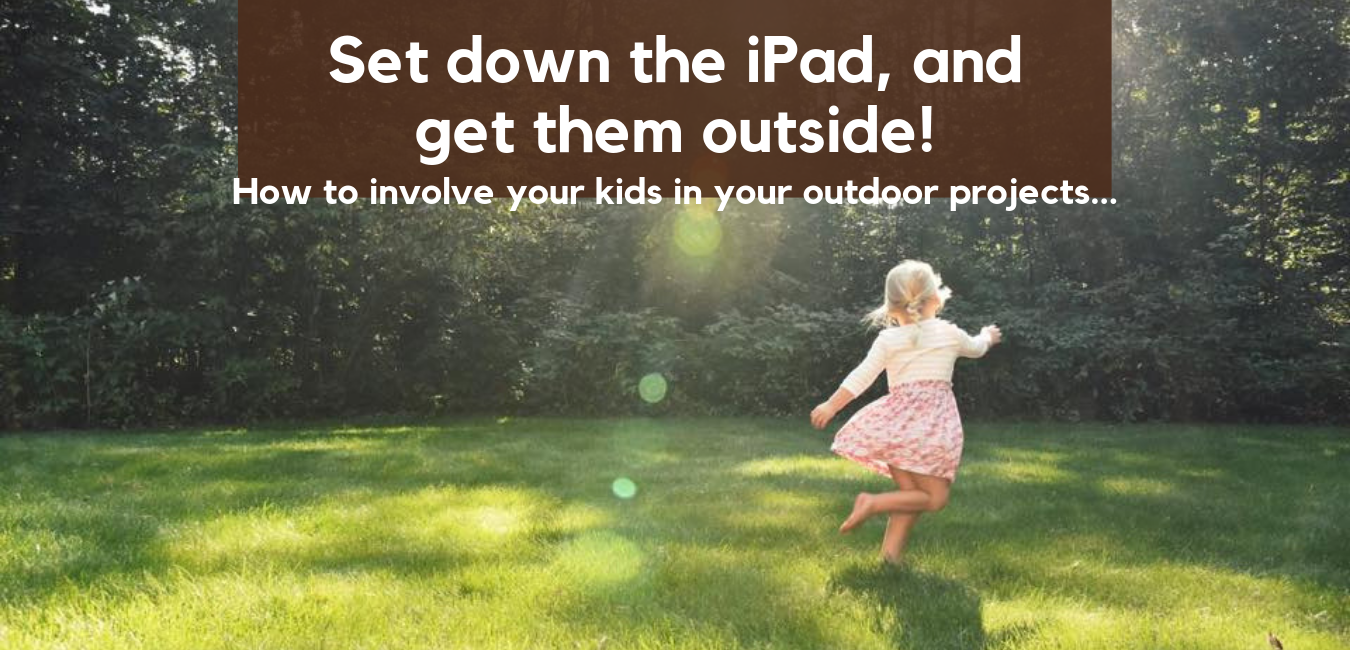 As a landscape company, one would assume we obviously love the outdoors. Our team spends all of their spring, summer, and fall days outdoors, and while it is certainly physical labor and challenging, most of them could never imagine working indoors. That love for the outdoors and plants carries over into their personal lives as well, with weekends spent maintaining their own landscapes, creating landscape beds, or buying and planting an excessive amount of annuals!
At many of our jobsites, we have several little guys and gals peeking out the window watching our team and the big machinery work. While only watching the machinery is allowed, we believe it is important to get your children involved in all things green. Heather, one of our team members, gives some great tips to get your children off technology and into some dirt!
Planting Annuals
We make a big deal about going to the nursery to pick out our plants. I pull out all the container planters and we decide together where around our house they should go. I talk to my girls about how location matters (sun or shade), and we head out to pick some plants. I let each girl pick their own plants for their own planter. I tell the girls my creative vision for the planters and let them help find plants that fit into my plan as well. I teach them to read the tag on the plants to see if they are full sun, part sun, or shade plant. We talk about fillers, spillers, and thrillers and make sure we have some of each for each planter. By the time we get home, the girls are SO excited to start planting. I demonstrate how to take the plants out of their holders, talk about the gentle roots, and show them how to plant. They then get to plant their own planter by themselves. They don't always look how I would like, but they are so special to me and the kids throughout the summer. Both girls are so excited to check out how their plants are doing and water them each day.
Maintaining Annuals
When the first blooms are spent in our container planters, my kids are always bummed…they think the flowers are done and dead. I show them how to deadhead each flower in their planter, and they go at it. My oldest loves to check all the planters to see if they need to be deadheaded. They help water the plantings and care for them throughout the season too.
Create a space for them
I chose a space in our yard that was designated the 'kids garden' space. This space has a spot for digging, along with some dollar store kitchen tools hung around to play with in the mud.
After our annuals really start to grow, I usually have to divide them and transplant some flowers. I have the girls come around with me and help decide which planters look too full and gently dig up the plants we are going to move. They bring their little wagons around and load up with plants. The girls then plant them in the ground and have another area they are responsible for taking care of in the yard!
Also, to be honest, having a 'kids' space allows for me not to worry about the messiness or uneven plantings or excessive pink flower explosion that fills their selected areas. It allows them to experiment and play in an area that is just theirs!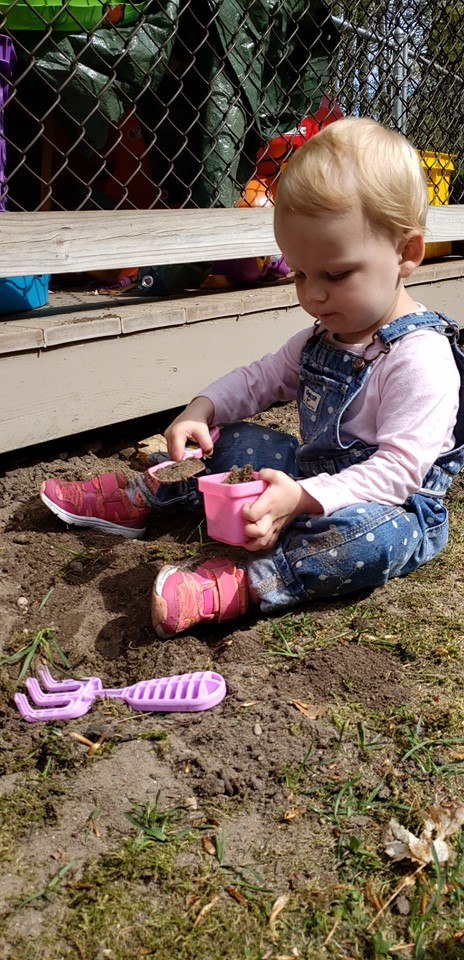 Make gardening fun!
This year we found kids-size outdoor tools-rakes, shovels, and more for super cheap. We grabbed them for the girls and they helped us reshape a bed, remove rock from the bed to plant grass, shovel and spread fill and topsoil, seed the area, remove large stones from an existing fire pit, wheelbarrow new stone and shovel it into the new firepit area and more. If you have a project to do outdoors, there is almost always a role your kids can play in it. We love to talk about different plants as we walk around the neighborhood too. Gardening for me is such a calm and peaceful task that restores me. I hope to pass it down to my girls and give them a place away from all the distractions of life where they can appreciate the beautiful world we live in.

Want tips and tricks for your lawn & landscaping?
Sign Up For Our Free Quarterly Newsletter
We take your personal information very seriously. We will not share any of the information you provide with any 3rd parties. Provided information will be used specifically to contact you in regards to your inquiry.