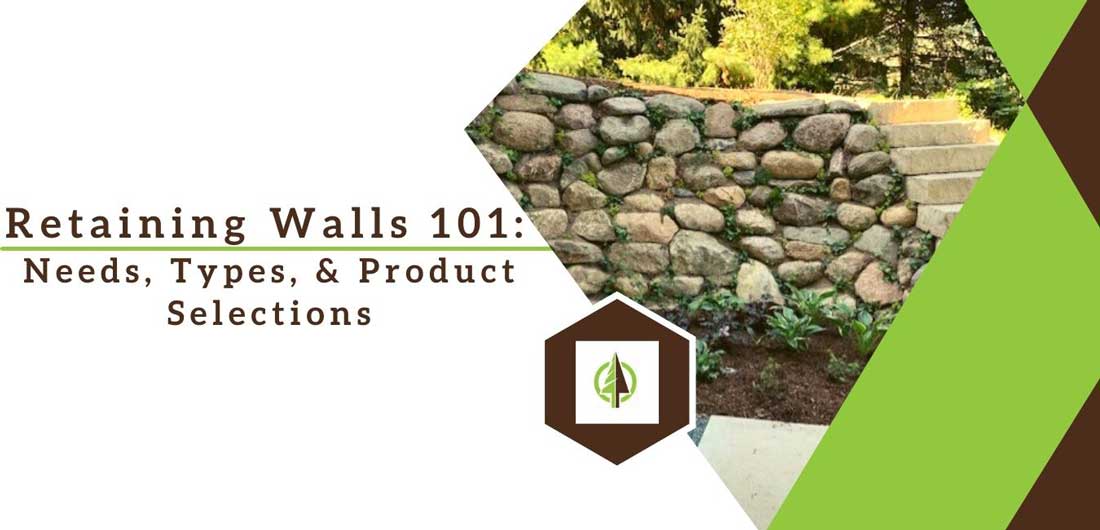 Sloping or hilly property can be a huge issue in Northern Michigan landscapes. Our sandy soil, combined with regular rain, can make for a big mess at your home. Along with the obvious functional issue of steep landscapes, many homeowners struggle to find a space to entertain guests or really use their outdoor space to its' full potential. So, what is the solution to this pesky problem? A retaining wall may be the right answer to help prevent erosion and give you usable outdoor space.
Does my property need a retaining wall?
The main purpose or reason for installing a retaining wall is to help deal with or prevent erosion issues. Retaining walls hold back earth, creating a flat surface for a patio to entertain guests or a garden area to relax. Your property needs a retaining wall when the incline is preventing you from mowing or planting easily on the slope, flooding or washout is occurring, or the space is unusable to entertain. While the majority of retaining walls are added to properties for functional purposes, some homeowners choose to add them for decorative reasons. Decorative walls are usually much smaller than walls built out of necessity.
When considering installing a retaining wall, remember to discuss how you want to navigate through your property. If the retaining wall is surrounding the front of your home, how will guests easily reach your front door? Incorporating stairs or steps through your retaining wall area helps to add interest and functionality.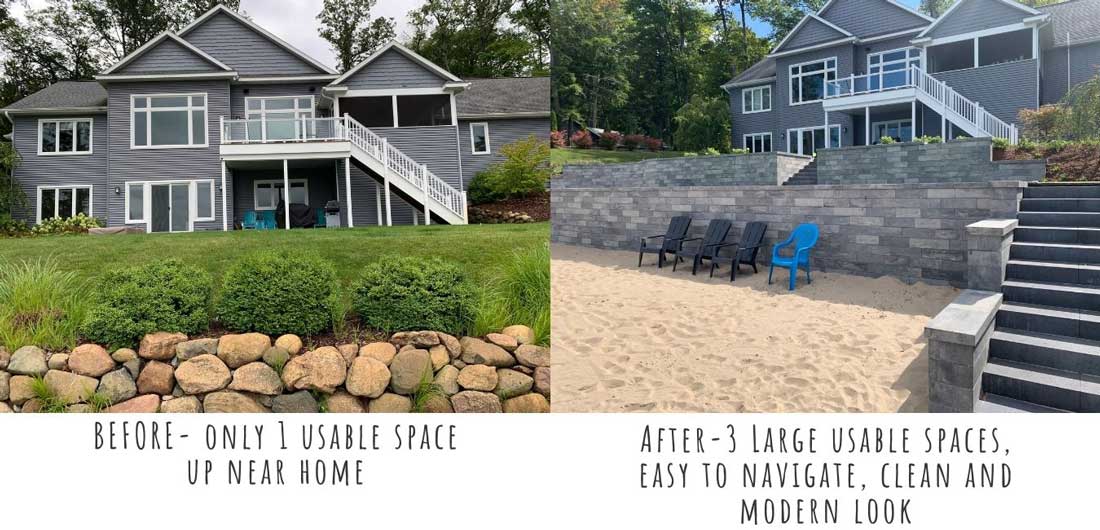 What will my retaining wall look like?
The days of boring cinder block walls are long gone, and the design options for a visually pleasing retaining wall are endless! The first choice is deciding between a segmental or natural stone product. Segmental products are man-made and come in a huge variety of colors, textures, and styles. These products have come a long way and mimic natural stone beautifully. Segmental man-made products can be used effectively for a project of any size.
Natural stone walls can become a beautiful feature in your landscape as the stones are unique in shape, color, and size. Stones can be dry stacked or boulders can be used to create a very natural feel that blends with your landscape. Natural stone walls should not be used to build extremely large walls and will be significantly more expensive. Plantings can be inserted throughout boulder walls, like in the photo above. This adds interest to the wall and makes for a softer look in your landscape.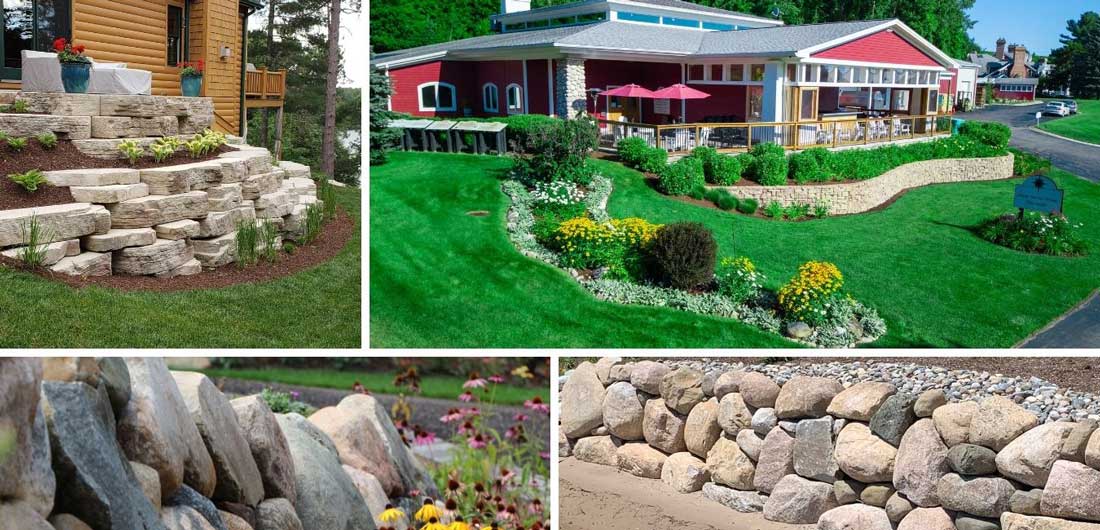 Anything else I should consider?
A retaining wall can be a huge investment, so be sure to do some research on the company you select. Walls that are installed incorrectly can become an enormous safety issue on your property, along with potentially making the erosion issue worse. A wall installed correctly will last a lifetime, so selecting the company that will do the job the right way the first time is extremely important. An experienced company will be able to deal with the permitting process for you as well.
Wondering if your property needs a retaining wall? Get started by meeting with our team of experts, then choose a solution to improve your property, and get ready to sit back, relax, and enjoy your beautiful outdoor space.

Want tips and tricks for your lawn & landscaping?
Sign Up For Our Free Quarterly Newsletter
We take your personal information very seriously. We will not share any of the information you provide with any 3rd parties. Provided information will be used specifically to contact you in regards to your inquiry.