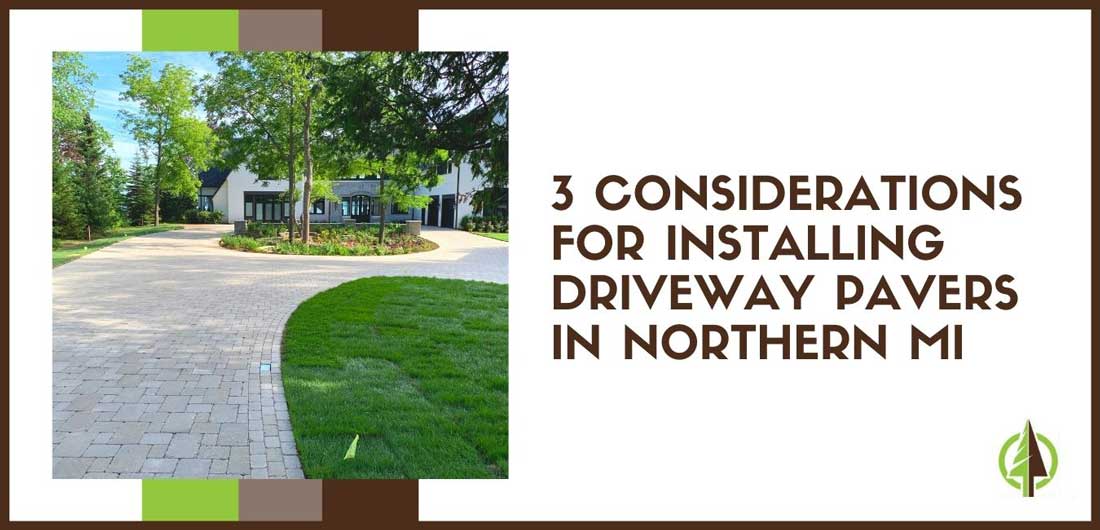 You can't judge a book by its cover…or can you? When guests pull up to your Northern Michigan beach home, what is their first impression? Quaint cabin or luxurious cottage? One way to make a big impact upon arrival is to install driveway pavers. The options are truly endless, allowing you to choose the perfect color and style that compliments your home. Let's discuss our top three considerations before you take the plunge to install driveway pavers at your home.
1.) Selecting the right product
Other than appearance, which we will discuss next, your focus should be choosing a product that is both durable and strong. Unlike backyard paver patios, driveway pavers have to be able to hold the load of several vehicles, trailers, boats, campers, etc. That weight not only drives over the area but remains on it as a vehicle can be parked for hours or days. Be sure to consult with your landscape designer or the company you select to purchase pavers from to ensure that the product is meant to be driven on, not just walked on.
Driveway pavers are more long-lasting and durable than your typical driveway (solid surface asphalt or concrete). Pavers are much less likely to crack as well, however, if the appropriate base is not set before pavers are installed, you will experience issues with your driveway. The right paver, installed the right way, will not crack or experience the freeze-thaw problem that concrete and asphalt deal with.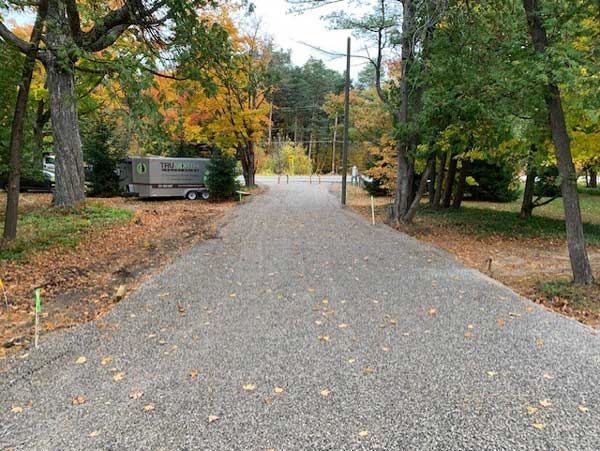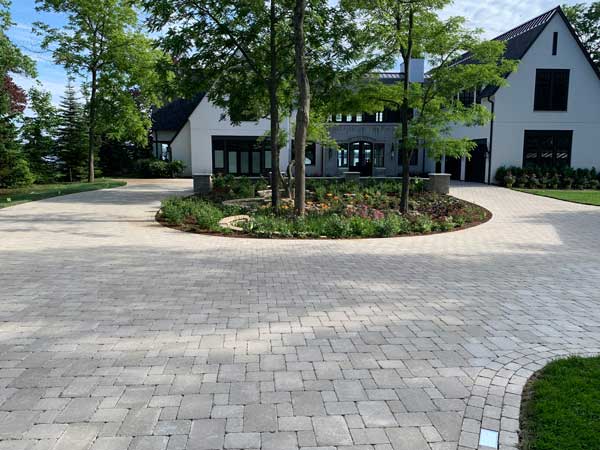 2.) Appearance
With thousands of products on the market for driveway pavers, the combinations and designs for your driveway are endless. We recommend selecting a product that compliments your home, not necessarily one that outshines it. Our clients that have selected pavers as an option for their driveway usually take their surroundings into consideration. Some who are near the shoreline select a product with a rougher finish and coloration similar to the sand on their beach. Others choose to combine a solid surface like asphalt along with a paver feature.
Pavers options vary in shape, size, and color, so your standard 'brick-like paver is no longer your only option. From elegant to rustic, a landscape designer can provide you with several options that will fit your needs. Check out our learning center to view the products guides for the materials we love and recommend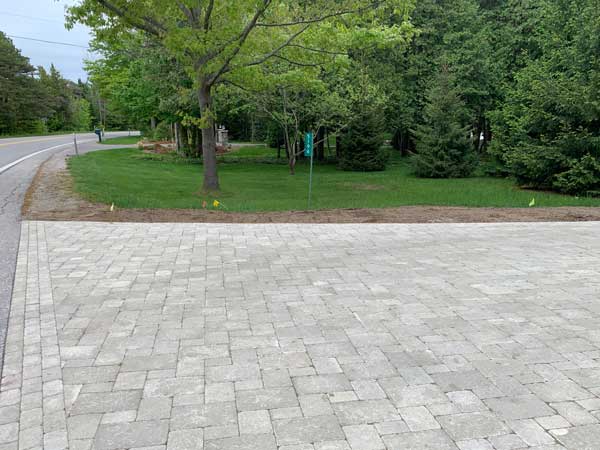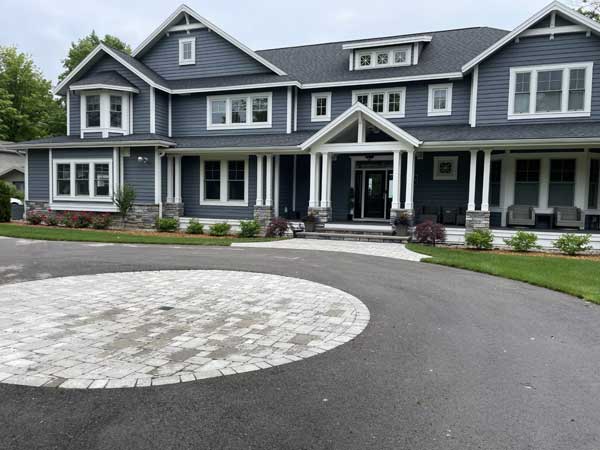 3.) Don't forget about winter
As anyone who has visited Northern Michigan in the winter knows, snow removal is a necessity. Unfortunately, nearly all pavers are subject to damage from snowplows. A blade cover can be installed on the plow to cause less damage, but it does not prevent damage. If your budget allows, the best option to manage snow is to install a driveway heating system. Selecting a permeable paver will allow the system to melt the snow and for the water to seep into the ground instead of creating icy wet patches.
It is also important to consider that some pavers do not do well with icemelter or rock salt application. Most products discourage the use of de-icer use directly onto the product itself. Calcium and sodium chloride products tend be safer for pavers than magnesium chloride, but this can depend on the product. Consult the professionals who installed your product or check out the product websites for guides on what is safe for your specific paver or stone.
Winter issues are certainly the more challenging aspect of driveway pavers, however, it is important to remember that they need very little maintenance when compared to a solid surface like concrete or asphalt and are much more durable and long-lasting in general.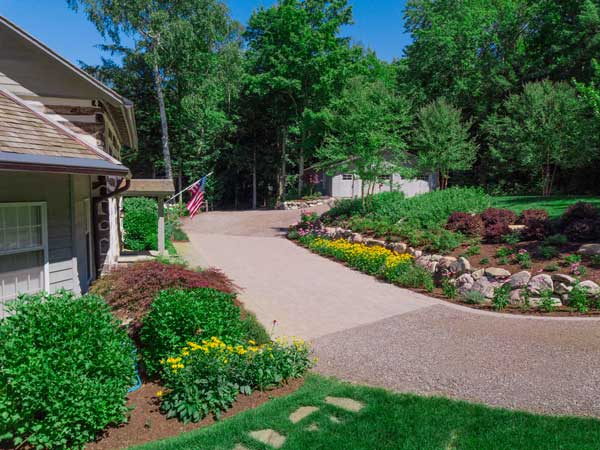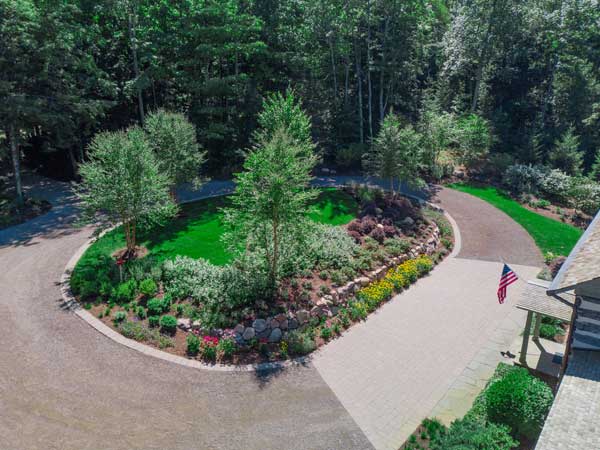 Looking for a way to wow your guests and really make the front of your home shine? Driveway pavers are certainly the way to accomplish this goal. In addition to the fact that they are beautiful and long-lasting, a paver driveway adds a ton of resale value to your home! Contact our landscape designers today to talk about adding driveway pavers to your outdoor space. We are ready to navigate your outdoor space so you can spend time doing what matters most!

Want tips and tricks for your lawn & landscaping?
Sign Up For Our Free Quarterly Newsletter
We take your personal information very seriously. We will not share any of the information you provide with any 3rd parties. Provided information will be used specifically to contact you in regards to your inquiry.