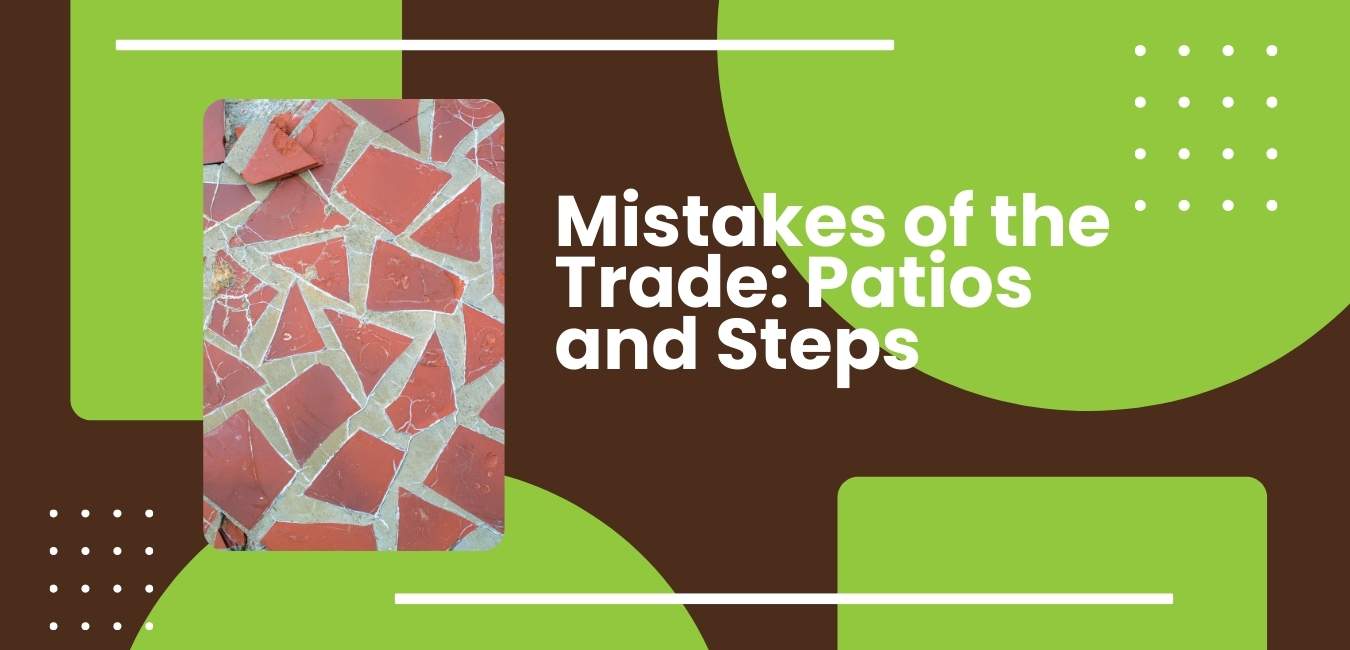 Is your patio left with huge spaces between pavers, creating an uneven surface? Are pieces of your paver steps falling apart? Are the edges of your beautiful patio sinking into the ground? There are so many ways that a brick paver patio or steps can go disastrously wrong. Not only can it be an eyesore in an otherwise beautiful landscape, when pavers go wrong, but people can also easily trip, fall, or twist an ankle on the uneven or loose stones. So, where did your patio or steps go wrong? What can you do to fix the issue? One of our certified paver installers, Jeff, gives us a rundown of common patio problems.
Where did my patio or steps go wrong?
The three most common issues:
Uneven, tipped, varying heights of bricks

The base may not have been dug deep enough/Base was not compacted correctly
Sand may not have been swept between the pavers (concrete sand or polymeric sand)

Water gathering/ Settling or Low Spots

The base was not installed correctly (not deep enough possibly, improper materials)/Base was not compacted correctly
The proper pitch or grade was not found and correctly installed

Edges disappearing-borders falling off

Edging not installed at all or done incorrectly- restraints may not have been put in tight enough to hold the design together
The base of the patio (gravel and setting bed) may have washed out from underneath
How can I fix the issue?
If a professional company installed your pavers and they are now falling apart within a few months of installation, you should call them first to see if they offer a warranty. If they refuse to fix the error, you can attempt to do it yourself or call a professional to help!
Uneven, tipped, varying heights of bricks

Depending on the severity, a small area can be pulled up or the entire patio may need to be redone. This means ripping up the part of the patio (or the entire thing) and starting over from scratch. Getting your base done correctly is essential to a functional patio.

Water gathering/Settling or Low Spots

Fixing this issue could be as simple as pulling up the pavers and adding more base, compacting, and adding sand. However, if it is a pitch or grade problem, the fix becomes much more complicated.

Edges disappearing/borders falling off

This is probably the easiest of the three issues to fix. Edging needs to be properly installed and the bricks reset in their original places. If washing out is an issue, the sides need to be patched and a new base added in.
Have a paver project not holding up as expected?
If your project is out of warranty or the company who installed is refusing to come and make repairs, look for the best and most accredited landscaper in your area. At TruNorth Landscaping, we are Interlocking Concrete Paver Institute Certified Installers, meaning our team has taken several hours of training and had to pass both written and hands-on exams in order to obtain certification. We also have insurance and offer a warranty with all of our jobs. TruNorth would love to help you repair an existing patio or even install a brand new one! Give us a call today!

Want tips and tricks for your lawn & landscaping?
Sign Up For Our Free Quarterly Newsletter
We take your personal information very seriously. We will not share any of the information you provide with any 3rd parties. Provided information will be used specifically to contact you in regards to your inquiry.