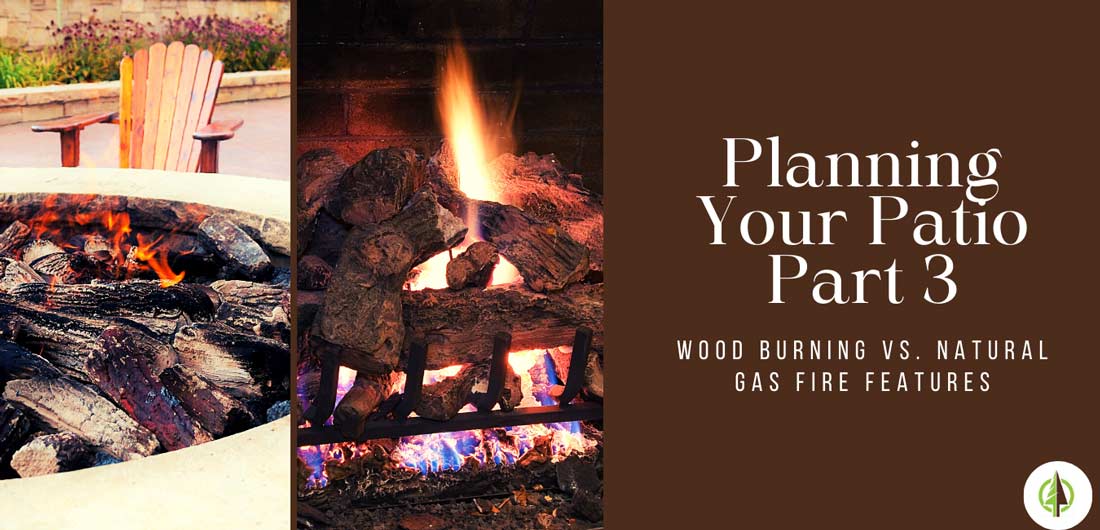 Now that you have designed your patio space and selected the type of fire pit you would like, it is time for one of the more challenging decisions related to your fire feature: wood-burning or natural gas? Both certainly have their positives and negatives, but which is right for your space?
Wood-Burning Fire Features
Wood-Burning fire features add an atmosphere of authenticity and calming nature to your space.
You hear the crackling of the wood and smell the smokey smell of actual burning wood. For many, a firepit just isn't a firepit without the smell and sound of real wood.
Wood burning fire pits are typically cheaper to install and to operate throughout the year, especially if you have access to wood directly on your property. Cost should be associated with wood being delivered and/or the cost of your time chopping wood on your property. While the 'bill' may be cheaper, it is important to consider the time involved with chopping, stacking, hauling, and cleaning out a wood-burning pit. Wood burning fire pits are definitely not as convenient as a natural gas firepit. Not only do you have to haul the wood over to the pit, but there is also usually a bit of a mess with bark and pieces of wood left behind around your firepit.
Starting the fire is also more complicated than simply flicking a switch or pressing a button. For some, they may enjoy building the fire, but for others, it could be an unnecessary and annoying step. Wood also needs to be cut and stacked somewhere on your property, so you need some space for storage as well.
Wood is a renewable resource, but it is not as clean-burning as natural gas, so it is really a toss-up when considering which is better for the environment. If you plan to cook over your fire pit, wood is your only choice as it is not safe to cook over a natural gas pit! One final consideration would be if anyone in your family is impacted by smoke, like someone with asthma for example. In this case, a wood firepit is probably not your best choice.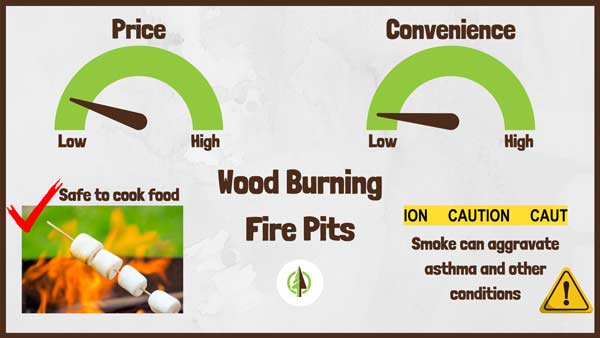 Natural Gas Fire Features
The ease and clean-burning properties of natural gas are certainly a huge benefit when selecting between wood and natural gas. Natural gas fire features have no smell and no smoke, which can be really important depending on what needs your family and friends may have.
Natural gas fire features lend themselves to a more contemporary and less 'rustic' design. Considering the design you have chosen for your pit and the design of your home is important as well.
Natural gas firepits tend to cost a bit more to install because a gas line has to be run to the pit itself, which is a significant amount of work. These fire pits also have a monthly 'bill' associated with them because you are using an increased amount of natural gas. Since many like to sit by the fire to relax, the benefit of not having to cut and fetch wood along with then the work of starting the fire is obviously significant.
Natural gas is a non-renewable resource, but is very clean burning- so it is not better or worse for the environment than wood burning.
One final consideration for natural gas fire pits is that the 'amount' of fire can not be increased or decreased—with wood if you want a 'hotter' fire, you simply add more wood. The fire with natural gas is going to be the exact same every time. Be sure to think about how 'warm' you want your fire to be when installing or how 'full' you want the pit to look. Professionals can manipulate how large your fire looks and how warm it will be to your preference.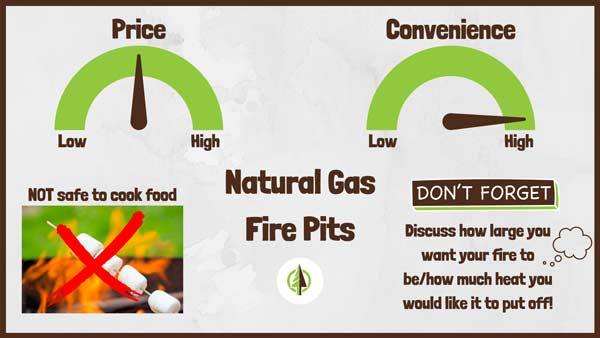 Selecting a Company to Install your Fire Element
It is important to consider if you plan to include a fire element at the very beginning stages of planning your patio. Even if it is an element you can not currently afford, mentioning to your designer where you would like a fire element, what size, and what type of firepit can help the installation process down the road move a whole lot more smoothly. If you plan to have a gas firepit, mentioning this to your designer can save you thousands of dollars down the road as a gas line will have to be ran to your new pit.
A custom fire element gives your outdoor space the added wow factor. It becomes a gathering place for family and friends. It can make your home the one everyone wants to hang at throughout the spring, summer, and fall months. When planning your patio, selecting materials for your firepit that complement your patio is important. The DIY firepit 'kits' do not allow for much variety in materials, shape, or size. In addition, running a gas line can be a dangerous process if you are not confident in how to do so. While a custom pit may cost a little more upfront, it saves time, gives you exactly what you want, and will last much longer.

Want tips and tricks for your lawn & landscaping?
Sign Up For Our Free Quarterly Newsletter
We take your personal information very seriously. We will not share any of the information you provide with any 3rd parties. Provided information will be used specifically to contact you in regards to your inquiry.