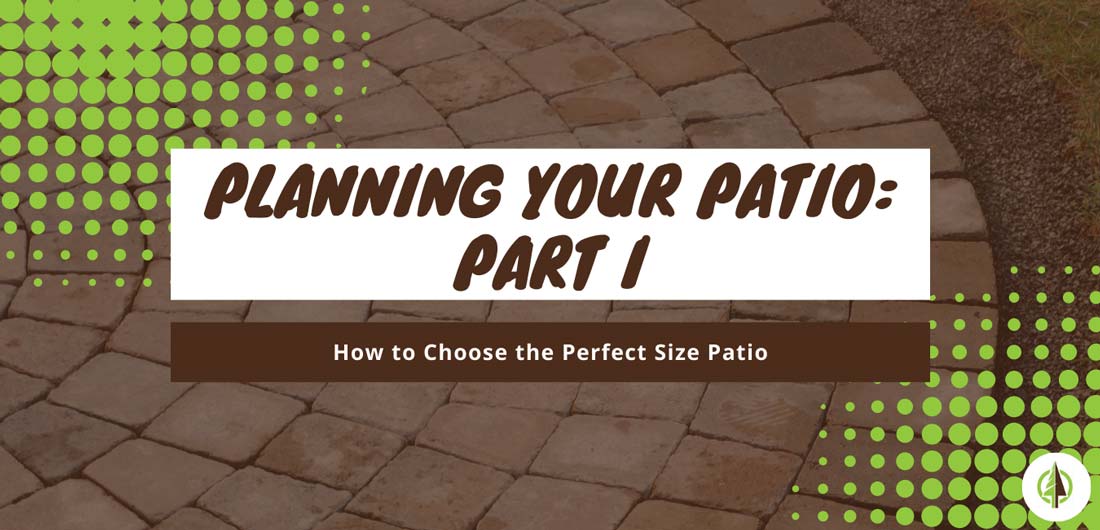 There are SO many things to take into consideration when planning your outdoor space. It can be overwhelming trying to select materials, colors, shape, and size of the patio.
Let's try to break down how to plan your patio into a few actionable steps. Our four-part blog series to help you plan your perfect patio will cover patio size, firepits, wood vs gas fire elements, and patio plantings. To learn more about patio materials, check out this blog on material appearance or this blog on durability and budget.
First up, patio sizing, as it is one of the topics our clients tend to struggle with the most. It can be difficult to visualize how large your space needs to be to accommodate guests or an outdoor kitchen set up or an outdoor dining area. You don't want your space to be way too big and unused, but you don't want things to feel too tight either.
Let's dive into our first installment of planning your patio with five guidelines that should help you navigate and communicate with your landscape contractor regarding the correct patio size for your space.
1. Helpful Measurements and Recommendations
First, a few measurements we, as industry professionals, use as guidelines when discussing the size of outdoor spaces.
Looking to accommodate a 6ft patio table and chairs? In order to comfortably fit this furniture on your patio, a minimum of 150 square feet is required.
How much space does every person typically need? We recommend a minimum of 25 square feet per person. So, if you plan to host 15 people- plan for a space around 375 sq. ft. We recommend a patio around 550 square feet for comfortable entertaining.
2. Factors that Influence Patio Size
When making plans for your patio, be sure to consider a number of factors that really influence size. Many of these factors are your personal preferences as well as what is unchangeable about your space. Tackling some basic questions about the size of your backyard and your long-term plans for your space should be considered first.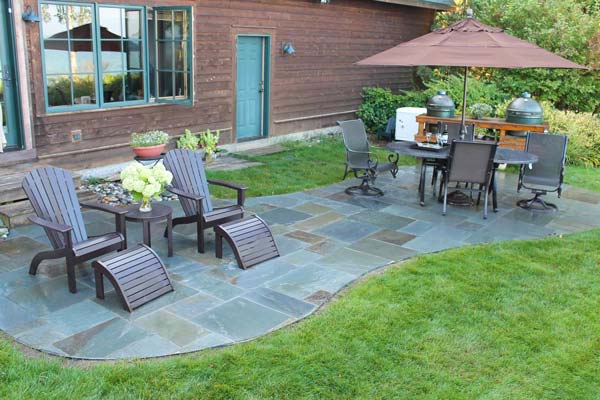 These are the questions we typically ask our clients in order to determine patio size.
How much space do you have?
How do you plan to use the space?
Do you want the patio to be in the shade or in the sun for most of the day?
Do you have any other plans for the space (will people need to use this patio to access other parts of your space)?
Do you have any areas of drainage near where you want to put the patio (is standing water an issue)?
3. Where to Physically Place Your Patio
The actual square footage of the patio is not the only thing to consider when talking about how large a patio should be. The perfect size patio can feel all wrong if it is not placed in the right area or not carefully thought through.
We recommend putting your patio out away from the foundation of your home a few feet at a minimum. The space right next to your house is unusable space unless you place a couch or sofa up against the home. If you do not have gutters, the rain or snow may run directly off your roof onto whatever furniture or hardscape elements you have placed below.
Many clients like to have the patio meet up to the house for aesthetic reasons; this is fine, but be sure to add on a few extra square feet to make it more maneuverable, as the space that touches the house is not truly usable space.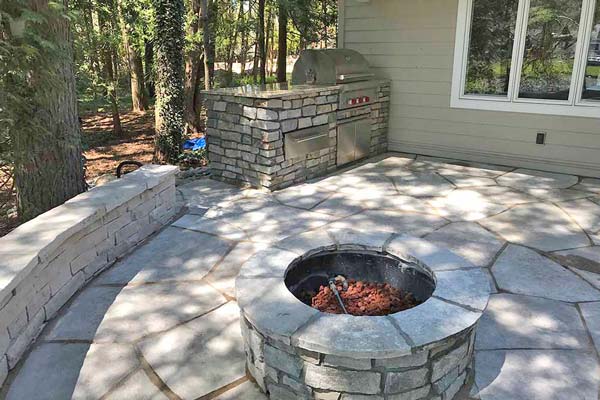 4. Ways You Plan to Use Your Patio
Are people going to be using your patio to access different areas in your outdoor space? If the answer to this question is yes, then it is crucial to carefully discuss the size of your patio. Let's imagine you install a patio right off the backdoor of your home and plan to include an outdoor kitchen, eating area, and firepit. Your guests need to have enough space to navigate around each of those items and be able to travel from one element to the next without feeling like they are in a maze.
Guests do not want to have to squeeze by chairs or a table or be forced to take the 'long route' to get to their seat at the table. They don't want to have to feel like they can't scoot their chair back from the table to sit comfortably or if they are too warm can't move back from the firepit. Be sure to account for room to walk around seated areas or kitchen areas. Whatever you plan to install on or near your patio, be sure to think through how guests will navigate through the space.
5. Special Considerations for Extra-Large Patios
If you are planning for a large patio, be sure to work with your designer or architect to create defined, more intimate spaces throughout your area. Think of your outdoor space just as you do your home and create 'rooms' that each have a specific purpose. A giant patio that just has a table and chairs placed in the middle of it ends up feeling cold.
Will one area be the grilling area? Another the firepit area or a breakfast nook area? Where will your dining space go in relation to the kitchen location? Do you want a space to sit near a garden or do yoga? Extra-large patios provide so many great options, but they do require more consideration when arranging the space.
Patio Layout Samples
Ready to start designing your perfect patio space in Grand Traverse or Leelanau County, MI? If so, meet with our team of experts, choose a solution to improve your property, and get ready to sit back, relax, and enjoy your beautiful outdoor space.
Check out the other 3 parts of this blog series:

Want tips and tricks for your lawn & landscaping?
Sign Up For Our Free Quarterly Newsletter
We take your personal information very seriously. We will not share any of the information you provide with any 3rd parties. Provided information will be used specifically to contact you in regards to your inquiry.