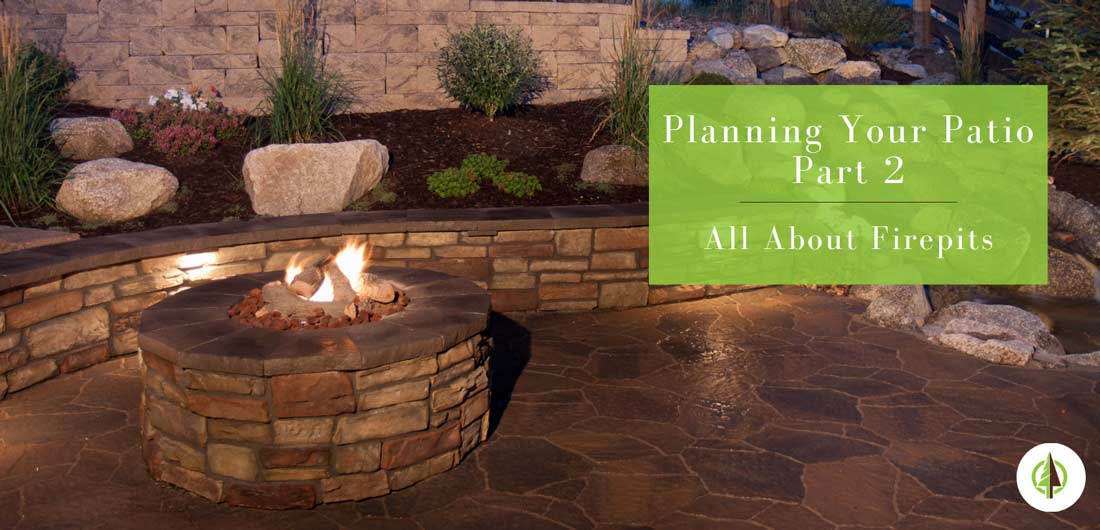 One of the most essential parts of any Northern Michigan outdoor space is a source of heat! Even in the warm summer months, the nights turn cooler, making a firepit a must-have for entertaining and enjoying your outdoor space. Many residents use their fire pits in early spring, well into the fall, and sometimes even in winter months!
When planning for a patio, nearly all of our clients request some sort of firepit or fireplace, so naturally, fire elements are included in our planning your patio blog series. There is a lot to consider when making selections related to a firepit for your backyard space, so let's dive into some of the most important items to think about.
What type of firepit do you want?
Depending on your price point, there are a few options when it comes to types of firepits. Our team specializes in built-in custom firepits. This gives our clients the most options when it comes to customization with materials, size, and design. Built-in firepits are permanent structures that give your space the character and uniqueness you desire. Pre-fabricated fire pits can be a bit cheaper and come in standard sizes and designs. They are beautiful as well but offer significantly less options.
Nearly everyone is familiar with portable firepits. They are certainly the cheapest option and could be a great way to decide if you would use your firepit enough to make it worth paying for a more permanent structure. They can be a lot of work and quite messy. Portable pits are not customizable as they are usually made of metal.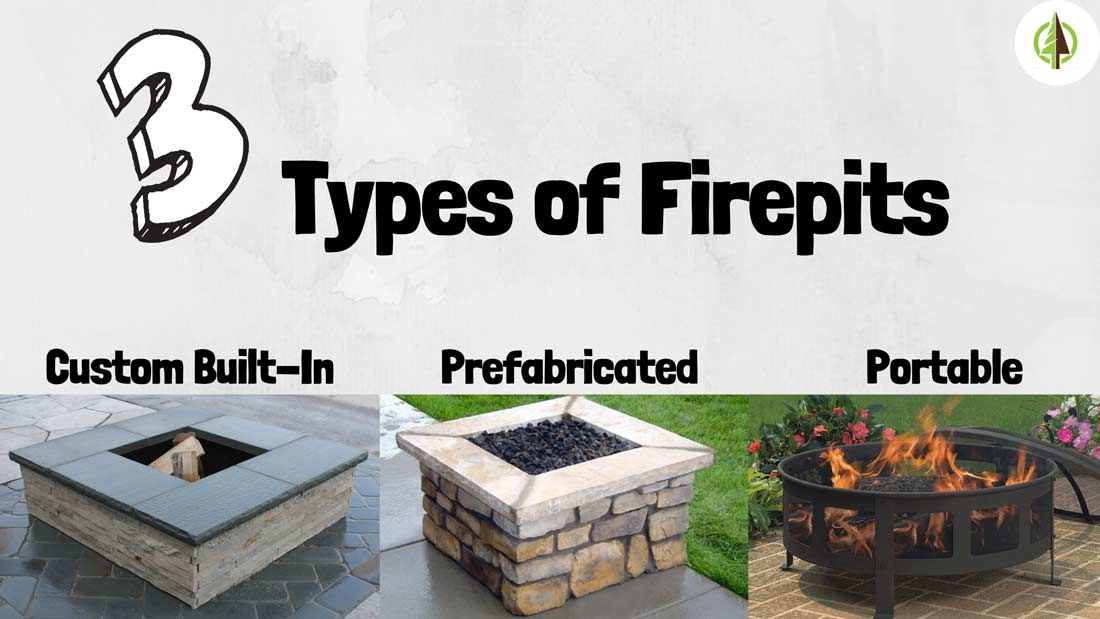 Where should I place my firepit and how much space does it need?
The most important consideration is the distance the firepit is away from your home. If your area is wooded, many enjoy putting their firepit near the woods to allow for a feeling of being 'outdoors'. A firepit requires a quite a bit of space. You want to allow for furniture to be moved closer or further away depending on sparks or smoke or for guests wanting to be warmer or cooler. There needs to be enough walking room around the seating area to navigate safely as well.
We recommend planning for around six feet on all sides of the firepit with about a 5'x5' space for the pit itself. We recommend placing the firepit in your favorite area of your outdoor space, as it will likely be the spot you spend the most time.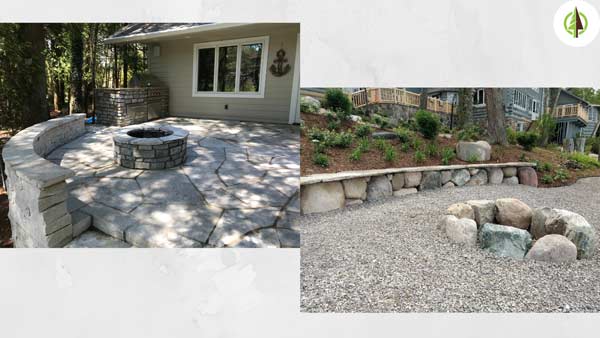 How large should my firepit be?
Remember to keep your firepit lower to the ground as seating around it tends to be lower than the usual chair height. Above ground firepits should be between 12-14" tall. If you are planning to entertain a large group, obviously you need a larger pit to keep everyone warm and fit all around it—this could range all the way up to six feet across! If your space will mostly be used by your family a 3' firepit would comfortably accommodate all.
What style options are available for a custom built-in firepit?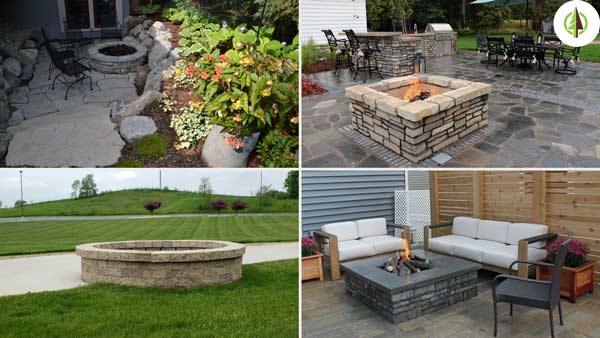 There are really endless style options available when considering a built-in firepit. Firepits can be round, rectangular, or square depending on the client's preference. Firepits can be created in other shapes as well, but these three lend themselves best to accommodating a gathering of people.
Depending on the mood of your space, an enormous number of products are available to choose from. More than one type of stone can be used to create a more dramatic look. You can select a more natural or rustic product or a clean and modern product to compliment your home.
Selecting a Landscaping Company to Install Your Firepit
Fire elements are one of the most popular elements here in Northern Michigan. They extend the time we can spend outside both during summer nights and through the Fall or Spring seasons. While the firepit kits you purchase at a store like Home Depot can certainly be a great DIY project, they are not something that is going to last a significant amount of time. Unfortunately, these kits do not supply the color, shape, and size options like a custom-built fire element does.
A landscape designer can help cater the firepit to your specific needs and wants. They may have ideas for you to think about that may improve your space even more! Considering the difference between fireplaces and firepits? We wrote an entire blog on it! No matter which fire element you select for your dream outdoor space, it is sure to be a hit among family and friends. Have you heard of a seat wall? They are one of the most popular landscape trends at the moment–built near your fire element, they provide a beautiful interest element and permanent built-in seating!

Want tips and tricks for your lawn & landscaping?
Sign Up For Our Free Quarterly Newsletter
We take your personal information very seriously. We will not share any of the information you provide with any 3rd parties. Provided information will be used specifically to contact you in regards to your inquiry.