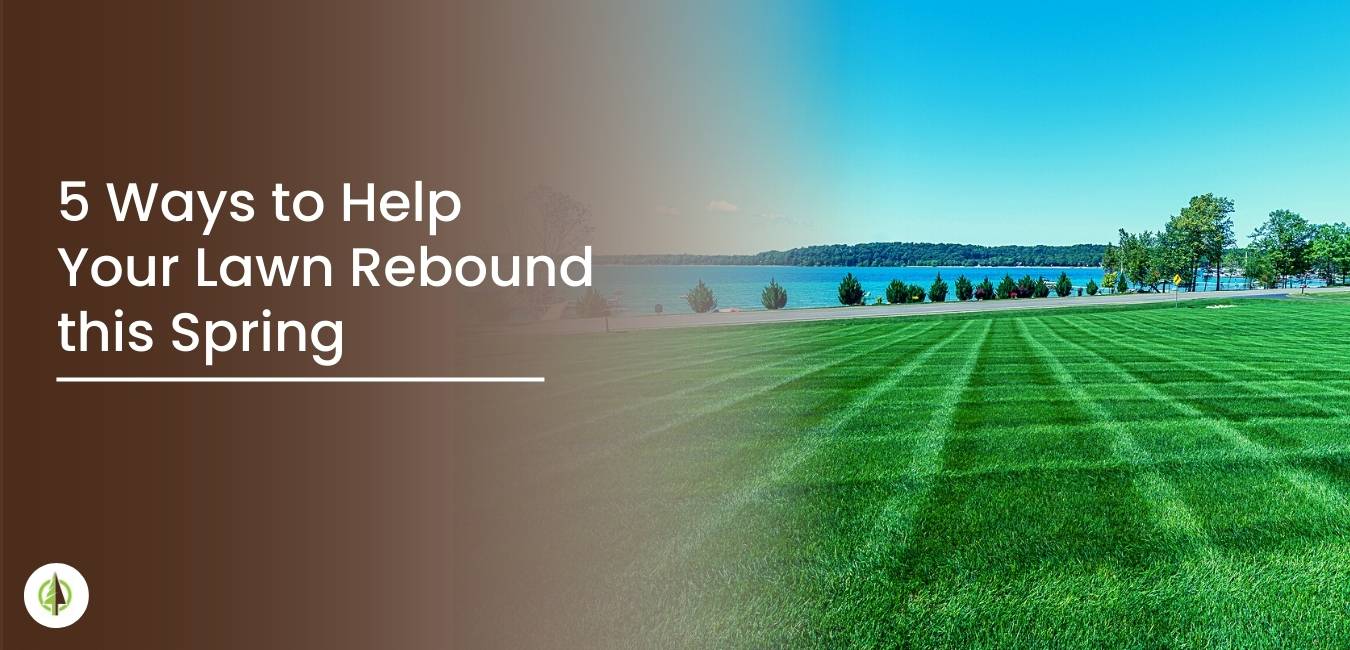 Are you dreaming of that perfect thick green grass it seems like your neighbor has had for years? No thin or browning spots. No weed-filled turf. It is possible to help your yard bounce back and transform into the grass of your dreams.
To have a beautiful lawn next season, you have got to start preparing now! Taking the proper steps in the fall months and early spring months means your lawn will rebound looking green and lush. Let's look at 5 ways to help your lawn rebound this Spring.
1. Clean Up All Fallen Leaves
While this seems more like a fall clean-up task, it is really an enormous reason many lawns struggle in Northern Michigan. Getting all the leaves off your turf before the snow falls can be difficult, as sometimes our leaves hold on through November. Removing all the leaves from your turf can be a ton of work if you live in a more rural area, but leaving them results in several lawn issues in the Spring.
Leaves left on turf can cause grass to die or get diseased. It also encourages pests like mice and voles to make their home underneath the leaves. Through the winter, they make trails through your grass, making it difficult for it to bounce back well in the spring.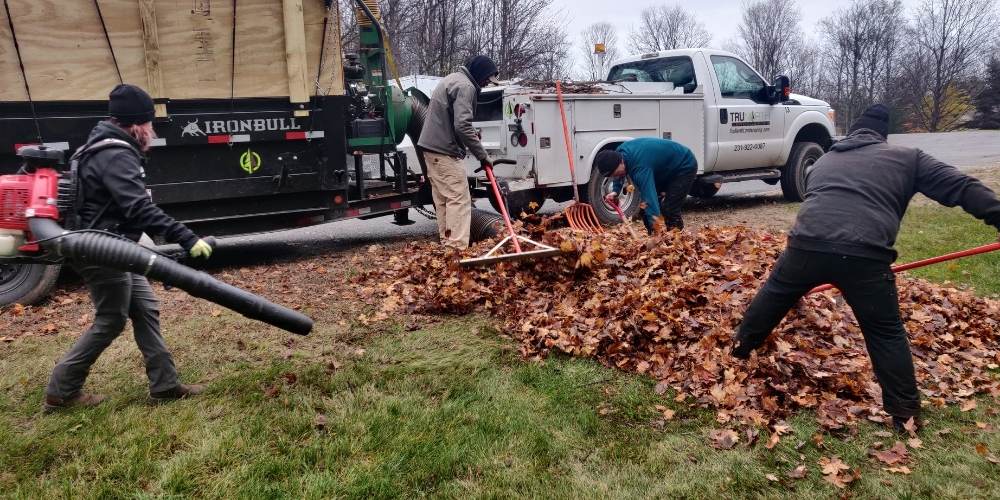 2. Get in a Final Mow
After your leaves are cleaned up, it is time to give your grass one final mow. Be sure to sharpen your blades so that the grass is cleanly trimmed. Dull mower blades can cut grass only partially, leaving the grass torn and open to disease. If you are cutting toward after temperatures have already dropped a bit, your grass has likely already moved into dormancy and will not continue pushing new growth.
You might be wondering: How short should I cut my grass in the fall? Grass-cutting length is indeed more important in the fall months, as you want to avoid cutting too short. We recommend cutting your grass to about 2.5-3" for the final mow of the season. Your grass actually stores its' food and nutrients in its blades, so if you trim too short, you are cutting off the food supply for the long winter season.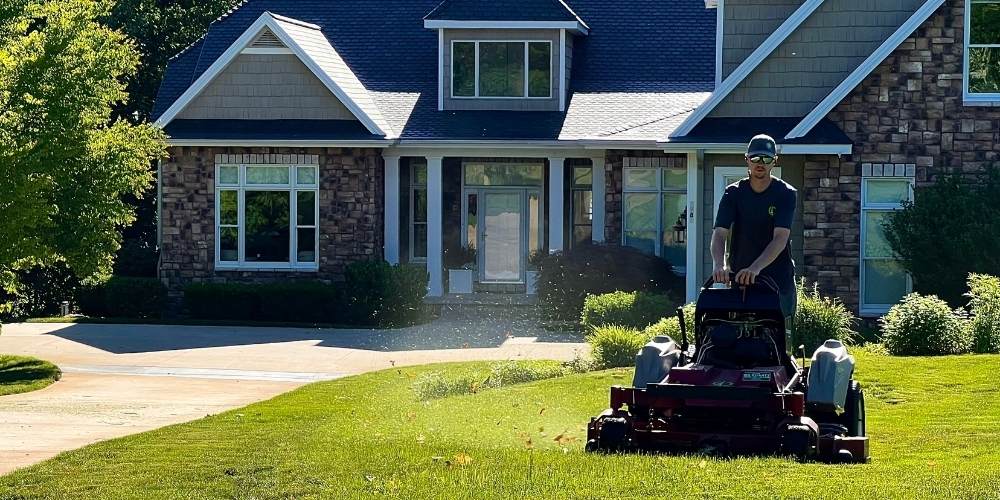 3. Don't Forget Fall Fertilization
The most important fertilization of the season is the first and the last! Many people forget to fertilize in the fall, but it is essential for good grass health. Unfortunately, exactly when to fertilize your lawn in the fall is a difficult question to answer. It truly depends on the weather conditions and temperature.
This fall fertilizer helps to give your grass the extra boost it needs to get through the winter. The roots help pull the nutrients down and store up the energy for the grass to grow well in the springtime.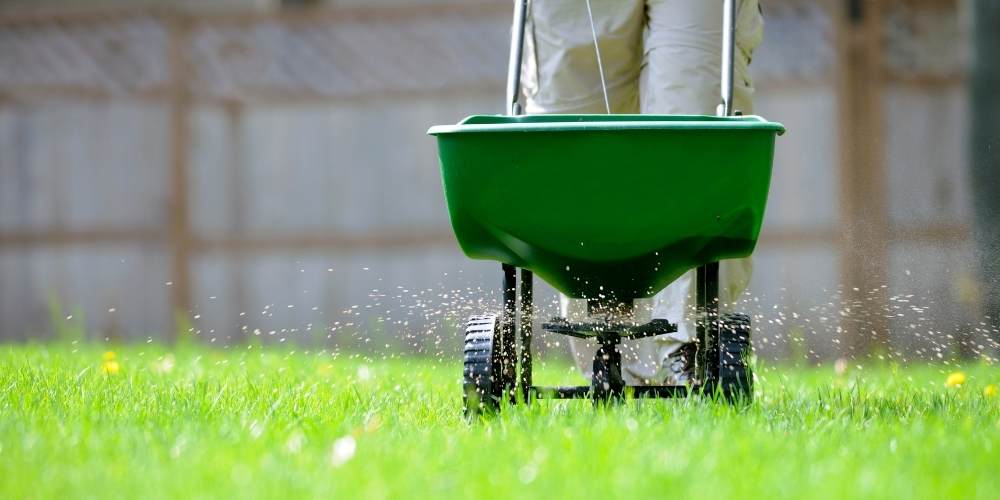 4. Turn on Your Sprinkler System in the Spring
With our wild Michigan weather, it can be tricky to determine when to turn on your sprinkler system. We can have temperatures that would cause lines to freeze well into April at times, so selecting a company that is monitoring the weather carefully is important. Because it can be so hard to know when to turn on your system, we see many lawns go thirsty until the summer months!
Even though it is not hot out, your lawn does still need water in the late Spring months. If you do not have an automatic sprinkler system or have one that is in disrepair, it could be the reason your lawn is looking lackluster. In order to have lush green turf, you must have a regular watering schedule that happens daily, at the right time, and covers your entire grass.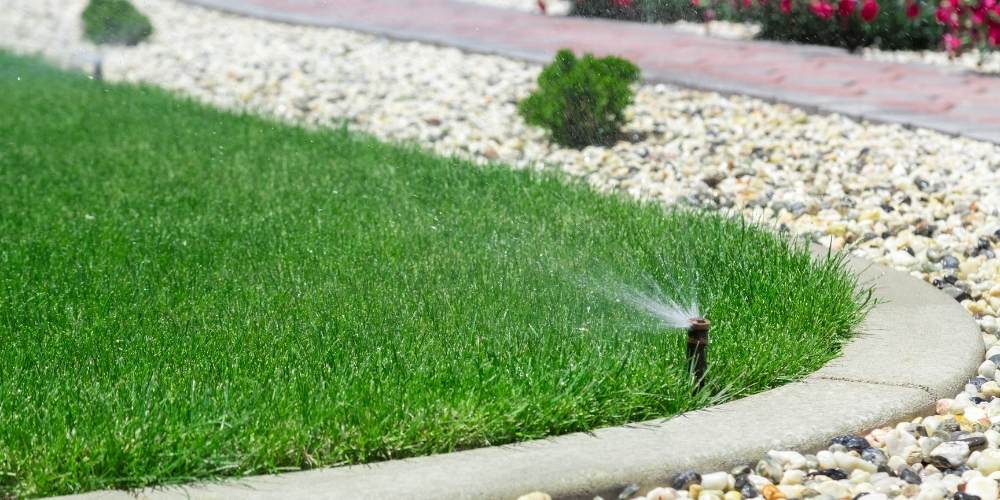 5. Treat Any Lawn Disease and Fertilize
It is important to begin addressing issues in your lawn after the winter right away. Snow mold, a fungus that impacts grass in our area due to the excessive moisture of snow sitting directly on your turf, can be a big issue in Northern Michigan. Snow mold usually pops up in yards that were not mowed a final time or where leaves were not cleaned up. If you did both of these things and are still seeing snow mold, it may be time to talk with a professional about putting down a preventative fungicide before the snow begins to pile up.
To repair an issue like snow mold, simply rake gently over your grass to allow the moisture to dry out. If needed your lawn may need some grass seed, but be sure to hold off on any fungicide treatments or fertilizer in that area until grass has had a chance to rebound.
If your turf shows signs of vole or mouse damage, rake over the areas of dead grass and remove from your lawn. If the paths are deep, try adding topsoil and fertilizing your lawn. This may help the lawn recover and repair itself. If not, you may need to seed these areas after temperatures warm up.
It is important to fertilize your turf in the spring as well. Timing can be tricky, just as it is in the fall, but be sure to not fertilize too early when the ground is still frozen. Our best trick is to use the cues of nature. Your first application should be put down around the time the forsythia begin to bloom. These bright yellow flowers are popular and easy to notice in Northern Michigan and are a great reminder for homeowners to attend to their turf.
Finally, if your grass frequently deals with crabgrass, applying a preventative is essential in the spring. The treatment has to go own before seeds germinate in order for it to be effective. This may be an additional application even before your first fertilization depending on the weather conditions.
Selecting a Lawn Care Expert to Help
Preparing your lawn for the winter and waking it back up in the spring can be a whole lot of work. If you enjoy working outdoors, removing leaves and mowing can be great tasks that most homeowners can easily complete. However, they do require a large time commitment and the right equipment. When it comes to fertilization and disease treatment, we really recommend consulting an expert. Experienced lawn care teams can end up saving you money in the long run, resolving your issue more quickly, and protecting the environment from unnecessary chemicals being utilized as well.
Whether you want to do some of your outdoor work yourself or hand it all over to the experts, TruNorth and our company Green Team are ready to tackle all of the outdoor tasks talked about in this article. If you are wondering more about lawn maintenance tasks and which ones you may need and which you don't, check out our Ultimate Guide to Landscape Maintenance.
Ready to begin preparing your lawn for a fabulous spring rebound? Meet with our team of experts, choose a solution to improve your property, and get ready to sit back, relax, and enjoy your beautiful outdoor space.

Want tips and tricks for your lawn & landscaping?
Sign Up For Our Free Quarterly Newsletter
We take your personal information very seriously. We will not share any of the information you provide with any 3rd parties. Provided information will be used specifically to contact you in regards to your inquiry.