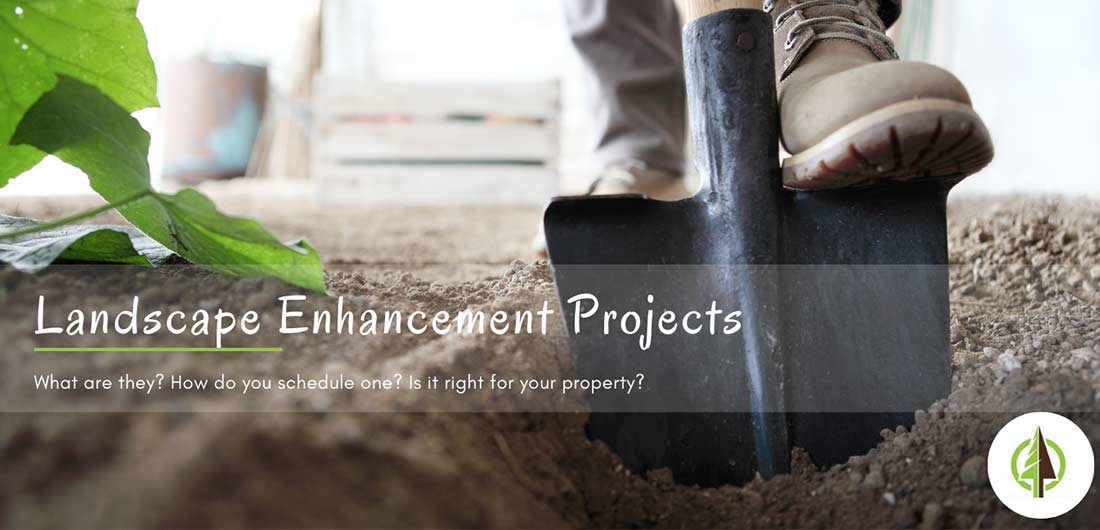 The landscape projects that are featured on our website or in our videos many times get all the 'glory'. While these large projects certainly transform our clients' spaces and leave them thrilled with the finished project, many homes can benefit greatly from what we call an enhancement project. We actually perform several enhancement projects each year as well as large landscape design-build projects, many for our established clients (either in maintenance or landscape). So what exactly is a landscape enhancement project? How do you schedule one? Is it right for your property?
What is a landscape enhancement project?
A landscape enhancement project is categorized as a one to three-day project that improves a homeowner's space and their ability to effectively use or sell it. Enhancement projects usually deal with taming an overgrown space, improving on existing landscaping with the addition of plants or grass, or making a space that is not functioning well more usable.
These types of projects are usually ongoing for our clients and for many we do little projects year after year. There are several differences between a typical design-build landscape installation and an enhancement job.
Is My Job an Enhancement or Design-Build?
A landscaping company will not likely tell you that your project is an 'enhancement'. At TruNorth, we categorize our projects into enhancement and design-build for scheduling purposes only. There are many components that play into whether a job is considered an enhancement job, but price and time are the largest factors.
Factor 1: Price
Landscape enhancement jobs generally cost less than design-build jobs. Our team, equipment, and materials are top-notch, so we still may be a bit more expensive than your typical 'landscaper'. We take even one-day projects seriously and ensure that the best quality work is done no matter what.
Design-build jobs included several hours of drawings, revisions, meetings, etc. They usually include a significant amount of hardscape products, which can get expensive. Design-build jobs are usually larger in scale, therefore, end up costing significantly more.
Factor 2: Time
Landscape enhancement jobs take less time to complete than design-build jobs. For many enhancement jobs, very few materials need to be ordered. We keep in stock many of the materials that enhancement jobs require, so this allows us to not have any wait time on ordering plants or stone.
Since they are usually smaller jobs, many of our trained and experienced teams can complete them, as opposed to some of the more specialty hardscape jobs. A large design-build project with natural flagstone is going to take longer to be completed as we need the right people on our team to be available to install it, as it is a very advanced skill.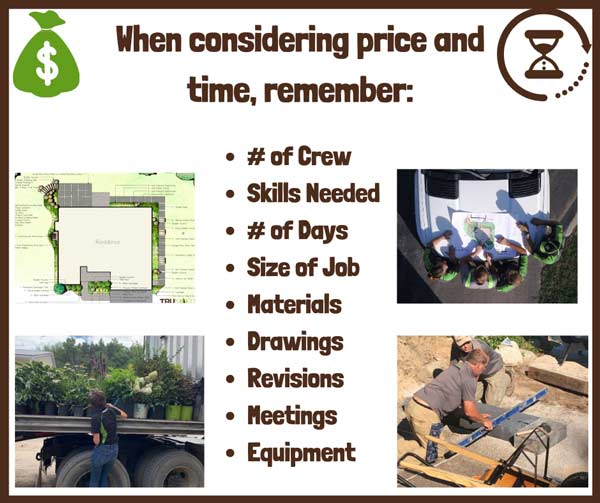 Scheduling a Landscape Enhancement Project
Northern Michigan is obviously very dependent on the weather! This factor really impacts how many enhancement jobs we can take each year. When we build our schedule, we enter our large multi-week jobs first, booking the foreman and teams with the correct skillset with the correct project. Ultimately, our schedule changes and shifts due to rain, product delays, and more. Days that may be too damp for hardscape work can be a perfect day for an enhancement project.
After our large projects are built-in, we then begin to fill the holes with enhancement projects. For example, if a large design-build project is slated to be completed on a Tuesday, we typically look to have an enhancement project scheduled for Wednesday and Thursday. Friday would be used to begin staging and preparing for the next big project to start on Monday.
We tend to begin booking enhancement projects with our current client base first—for example, a client with who we do turf maintenance and horticulture work calls asking if we could install 3 trees and create a small landscape bed around them. Some seasons our enhancement schedule is completely filled by our existing client base, so if you have a project in mind for the upcoming season, do not hold off on calling to inquire about scheduling.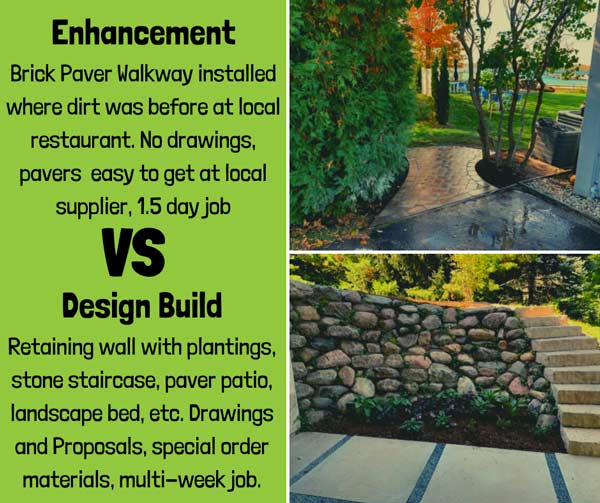 Selecting a Landscaping Company for Landscape Enhancement Work
While enhancement jobs are more cost-effective and take less time, they are not right for every property. Homeowners looking for a completely reimagined space are going to need a design, meetings, and revisions to the proposal. If the property is a new build, an enhancement project is not a right fit either as there is just simply too much to be completed. Explaining your project to our landscape design team will help to determine which type of project is the best fit for getting the landscape of your dreams!
Check out the second blog in this series: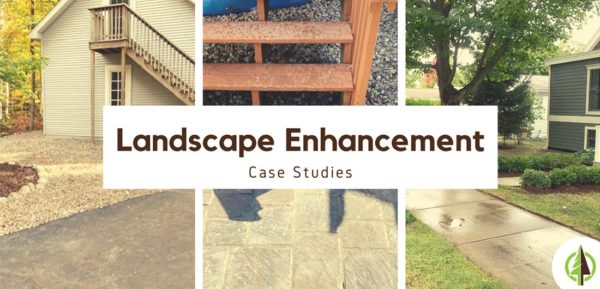 Ready to get started on your landscaping project in Grand Traverse or Leelanau County, MI? If so, meet with our team of experts, choose a solution to improve your property, and get ready to sit back, relax, and enjoy your beautiful outdoor space.

Want tips and tricks for your lawn & landscaping?
Sign Up For Our Free Quarterly Newsletter
We take your personal information very seriously. We will not share any of the information you provide with any 3rd parties. Provided information will be used specifically to contact you in regards to your inquiry.