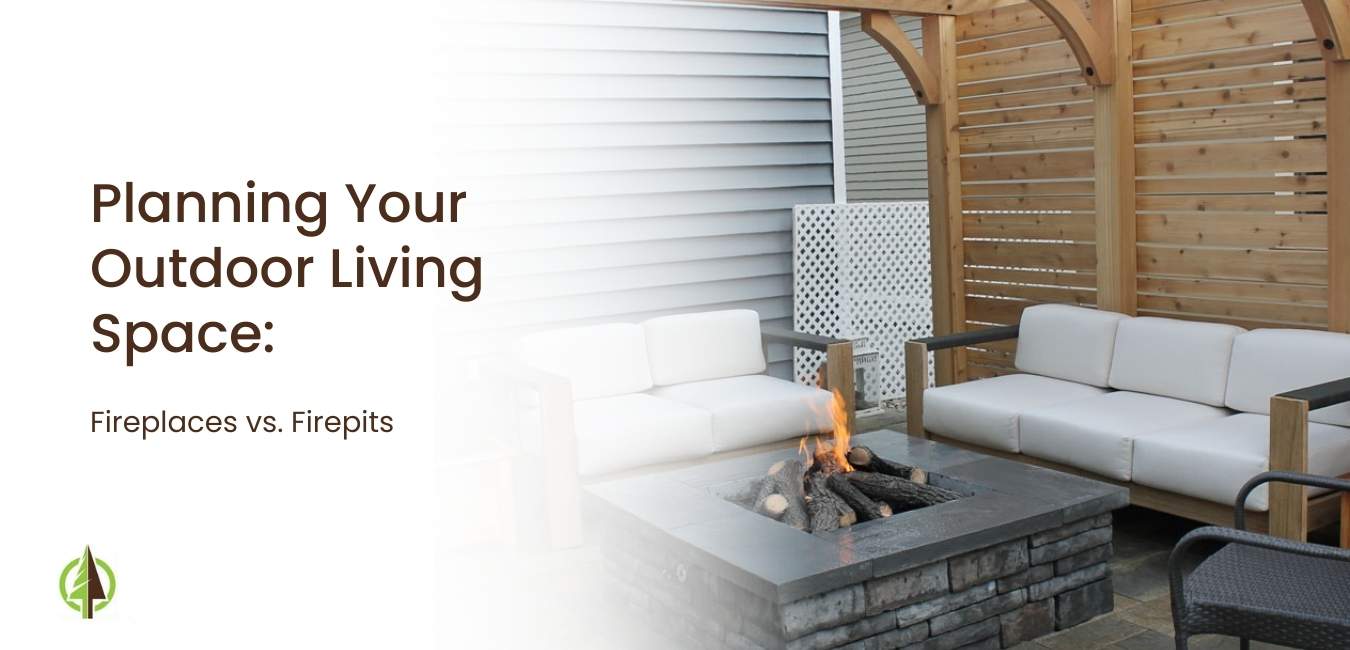 Living in Northern Michigan, having some sort of outdoor heating ability in a family living space is a must. Even on warm summer days, the nights can get chilly. Landscape trends for 2019 show that fireplaces or firepits are going to continue to be a highly sought after add on to the perfect outdoor entertaining space. So which is a better choice-a fireplace or firepit?
Outdoor Fireplace
The beautiful fireplaces we have designed and seen add quite the WOW factor to your outdoor space. A fireplace adds a certain elegance to your outdoor space and directs the smoke upward through a chimney, eliminating the issue a campfire or firepit can sometimes create. Overall, fireplaces tend to take up less space as they can be put on the edge of a landscape or under a pavilion. If built under shelter, they can be used during rainy days, provide some more privacy, and electronics can be put in above or around the fireplace. Since a fireplace is a much larger structure than a pit, they are usually significantly more costly and require building permits. One final thing to consider is how you gather around a fireplace. Usually, people sit in front of a fireplace, so the number of people that can enjoy it is smaller.
Outdoor Firepits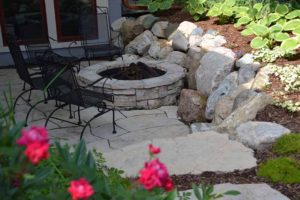 The sophistication and appeal of outdoor firepits have certainly grown over the past year. Gone are the simple corrugated metal rings! They can use gas or wood to create heat, which is definitely a bonus. The location of where your fire element will be is very important. If you live on a bluff with a beautiful view or right on the back, a firepit may be the right fit as they are much lower to the ground and do not obstruct your view. The lower to the ground build does not block wind and elements as much as a fireplace would. Firepits have quite an appeal if your goal is to have a large group of people congregate around and visit. Since you can move completely around all sides of a fire pit, it allows for more space for people, but also takes up more room on your patio. We love that firepits tend to be more interactive and a time to focus on family and friends.
The choice is certainly a hard one, but when dreaming about your outdoor space think about WHY you want it; what is its purpose? If your goal is to interact and entertain, a firepit may be the best choice for you. If you would prefer more elegance and ambiance, while being able to keep warm on chilly Northern Michigan nights, a fireplace might be the right fit for you. A large backyard space would lend itself to having both since the purpose and use for each is so different! We would love to help you design your perfect outdoor living space. Whether it is a large space or small, TruNorth Landscaping can help design the perfect heat element to meet your needs!

Want tips and tricks for your lawn & landscaping?
Sign Up For Our Free Quarterly Newsletter
We take your personal information very seriously. We will not share any of the information you provide with any 3rd parties. Provided information will be used specifically to contact you in regards to your inquiry.