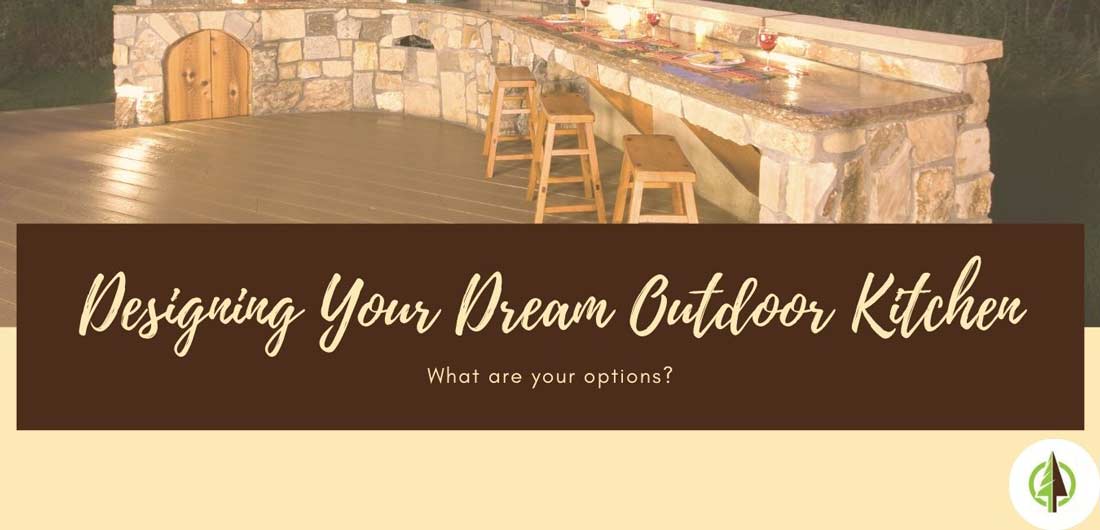 Summer is coming in Northern Michigan, and if you love to entertain, no outdoor living area is complete without some sort of kitchen area. Over the past few years, the options for what can be installed into an outdoor kitchen or entertaining space have nearly doubled. Designers have gotten creative and cater to the preferences of each individual client, it is no longer a 'cookie cutter' type outdoor cooking area. Let's explore some options from simple and functional to luxury and completely customized.
The "Bronze" Outdoor Kitchen Plan
The heart of any outdoor kitchen is the cooking element. In a simpler plan, there tends to be only one main cooking element installed. Typically, this used to be the gas grill. If this is still the main way your family likes to cook outside, it is a great choice for a cooking element that is simple and easy to use. A huge bonus for a built-in gas grill is that it is hooked up to your natural gas line, so no more last-minute trips out to the store for propane!
Looking to get creative? Many are now opting for a smoker or a built-in charcoal grill to cook their meat. Smokers can be used for cooking vegetables, fruits, cheeses, nuts, and seafood too! Not a big meat-eater? The cooking element does not have to be 'grill' based, outdoor pizza ovens are beautiful and a really fun treat when entertaining as well. A built-in pizza oven can also cook a variety of items other than pizza! In addition to the main heating element, we would suggest a side burner, a drawer for storing cooking essentials, and an area for a trash bin.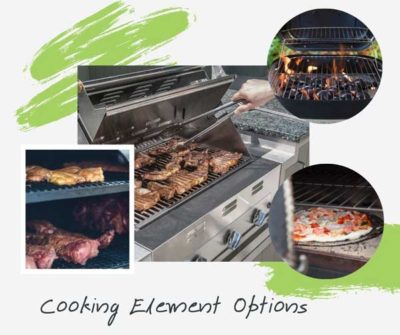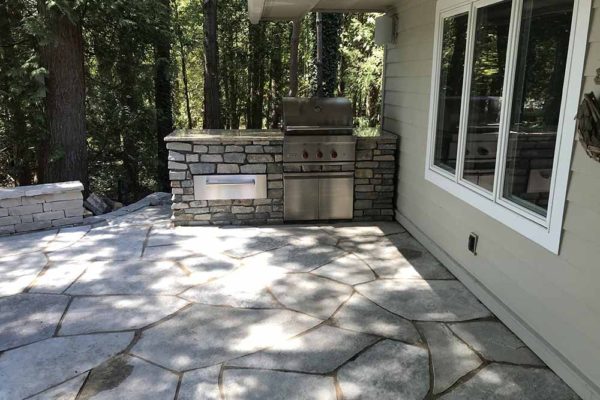 The "Silver" Outdoor Kitchen Plan
The next step up in outdoor kitchens is really about creating convenience. Obviously, as discussed above, the main cooking element is still your star, along with a side burner, a drawer for storing cooking essentials, and a trash bin. The "Silver" plan would incorporate a refrigerator to keep your meat cold until you are ready to grill, hold side salads, or drinks for friends and family. Other than a grill, smoker, or pizza oven, a refrigerator is the next most important element in any outdoor kitchen.
To add to convenience, this level would also include a sink. Something as simple as being able to wash your hands after putting raw meat on the grill and not having to walk back inside to do so makes a huge difference.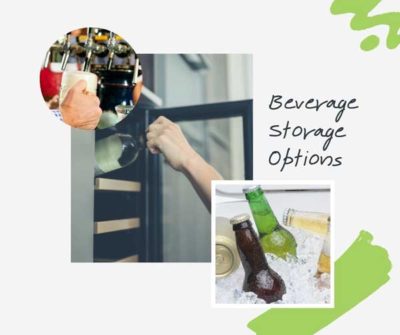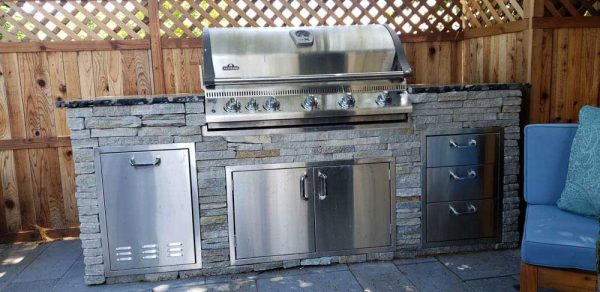 The "Gold" Outdoor Kitchen Plan
The gold plan is really about bringing a state-of-the-art cooking and dining experience outdoors. In addition to a cooking element, side burner, drawers for storage, trash bin, refrigerator, and sink, the options in a luxury kitchen plan are endless. An addition of a second cooking element can add to the fun of cooking outdoors, many select a gas grill and then either a pizza oven or smoker, though all three could be installed. Some even opt for a double-sided grill- one side propane and the other charcoal.
A warming drawer is an important consideration as well if you are entertaining larger groups. You can keep food that has already been grilled warm or even heat up hot dog and hamburger buns in it. Beverage storage is kicked up a notch too! Outdoor wine coolers or coolers with can holders are a huge hit with guests and save space for food in the refrigerator. Some opt for a built-in ice bin to hold beverages as well to give the 'old school' feel of keeping things cold.
A kegerator can easily be installed too, if you plan to have larger gatherings that serve beer. An absolute must for a premium kitchen is an ice maker. It saves extra trips to the store to buy ice or hauling it from inside the house to outside. Finally, the addition of a dishwasher and garbage disposal complete any luxury kitchen, saving you from hauling dirty dishes inside and then clean ones back out. Check out this gorgeous and functional premium kitchen installed on the shores of Lake Leelanau.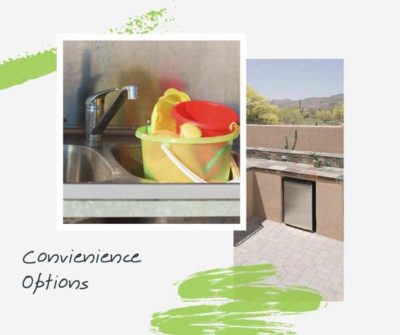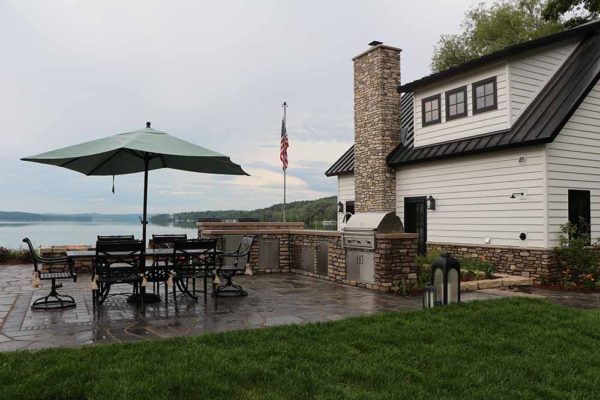 Since the premium kitchen option adds so many cooking gadgets, adding some additional seating for entertaining is important as well. Creating an outdoor bar for your guests to sit at makes for a fun and comfortable experience. Some choose to add an outdoor TV, additional seating, firepit, pergola, outdoor fans, and outdoor heat.
Our designers are ready to talk about how you would like to entertain and help you narrow down the options. Whether you select a more simple plan or an over-the-top luxury one, an outdoor kitchen makes the Northern Michigan summer a whole lot more fun!
Ready to start designing your outdoor kitchen in Grand Traverse or Leelanau County, MI? If so, meet with our team of experts, choose a solution to improve your property, and get ready to sit back, relax, and enjoy your beautiful outdoor space.

Want tips and tricks for your lawn & landscaping?
Sign Up For Our Free Quarterly Newsletter
We take your personal information very seriously. We will not share any of the information you provide with any 3rd parties. Provided information will be used specifically to contact you in regards to your inquiry.