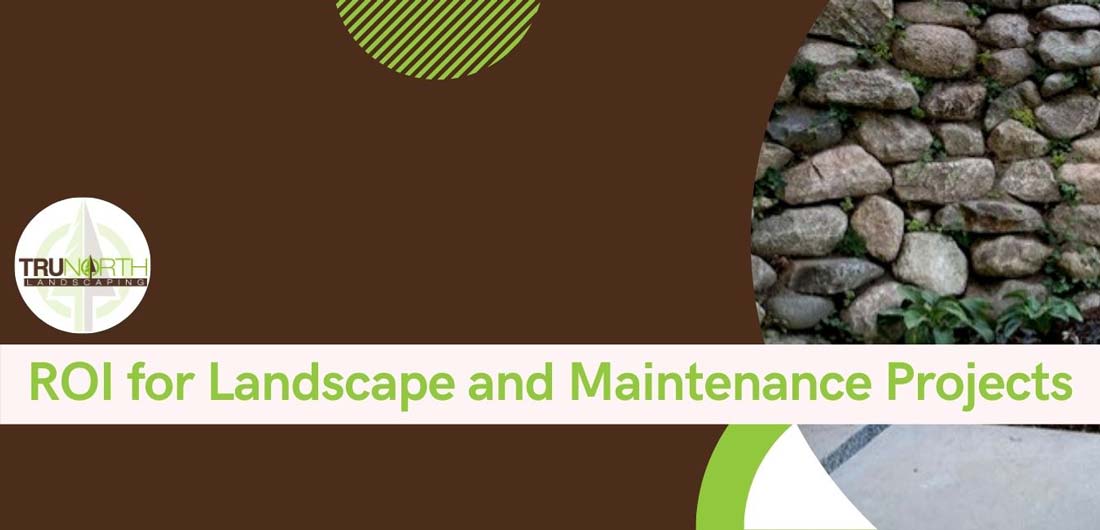 The Northern Michigan real estate market is hotter than it has ever been, and it shows no sign of slowing down. Offers are rolling in well over asking price and sometimes even paid for completely in cash. What makes the difference in homes that are selling for well over asking vs those that don't? Installing an outdoor entertaining area at your home can be quite an investment, but is it worth it when it comes to selling your home in the future?
Unless you plan on selling your home immediately after installing outdoor features, the return on investment should be thought of in more than just the additional money earned in the sale of your home. The value of how much additional time you spend in the space after install, and how much more it makes you enjoy your home should be considered as well. The National Association of Landscape Professionals along with the National Association of Realtors completed an in-depth study related to landscape projects and return on investment. Let's check out the features that give you the most bang for your buck AND help you to enjoy your property more!
1. Landscape Maintenance
Simple landscape maintenance was one of the top performers in the survey for both resale value and 'joy' given to the clients who had this service completed on their property. Services considered landscape maintenance were lawn mowing, mulch application, pruning of shrubs, and planting 60 annuals or perennials on the property.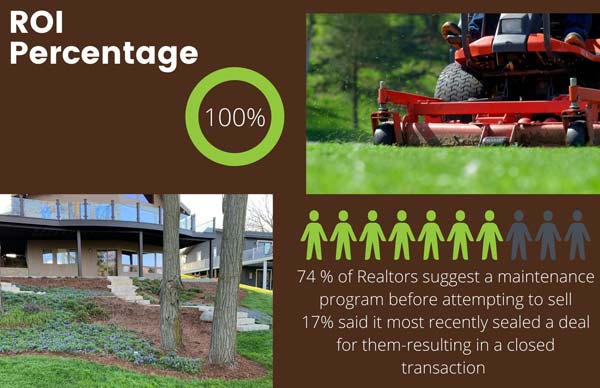 2. Overall Landscape Upgrade
The National Association of Landscape Professionals created a kind of 'curb appeal' update package for this option that ranked very well. A flagstone walkway, landscape bed with plantings, and mulch had a great return on investment!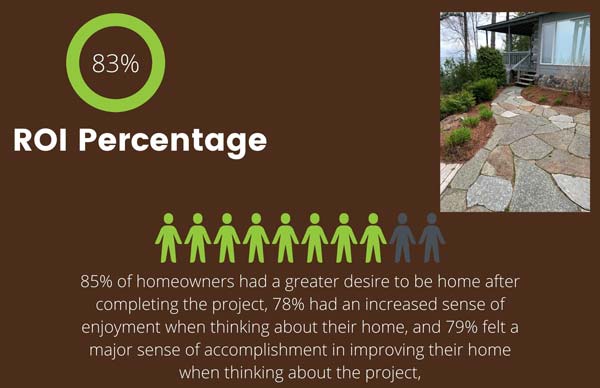 3. Lawn Care Program
The return on investment for a simple 6 application fertilizer and weed control program is so impressive! A really simple thing you can do to feel better about your home and improve its value.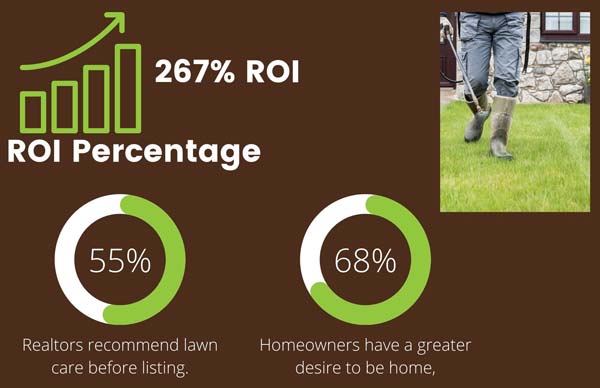 4. New Patio
A new patio install makes a huge return on investment and really helps homeowners enjoy their space more. This is a great investment if you don't plan to move right away.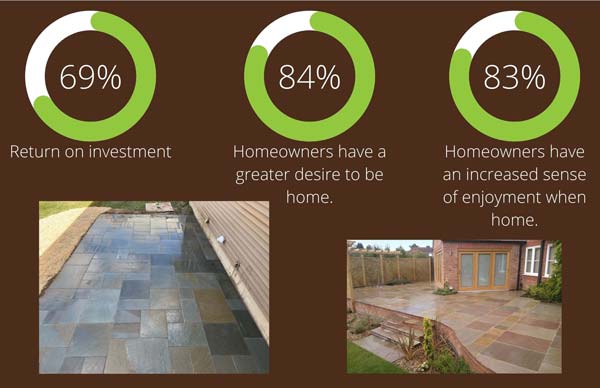 All of these rate well on homeowners' joy scale after installation and have a pretty good return on investment rate too. These are great items to consider if you are looking to enjoy the outdoors more frequently at your home and don't plan on moving anytime soon.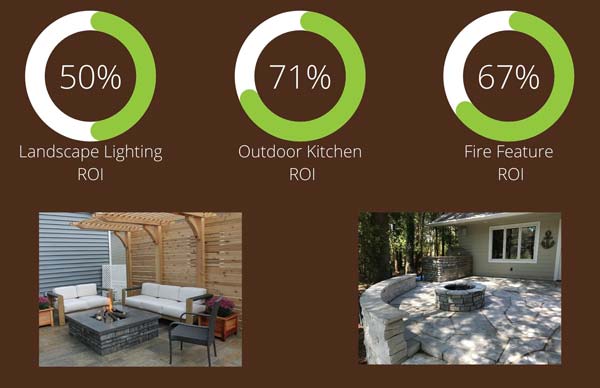 Selecting a Landscaping Company to Improve Curb Appeal
Whether you just purchased a home and plan to resell it or have been in it for years and plan to move, your curb appeal can likely use some refreshing. Most projects that involve refreshing a home for sale, we call enhancement projects. To learn more about enhancement projects, check out this blog. To see some examples of what would be considered a property enhancement, check out this blog.
If selling your home is not a priority in the next year or two, it is still wise to think ahead of how to improve your property for resale. However, making selections that you and your family can enjoy while living in your home is really the most important. We live in one of the most beautiful places in the world, so being able to enjoy the outdoors is a necessity. Consider your lifestyle and take action on adding landscape features to cater to what you love to do. Enjoy having a big group of people over for a BBQ? Add an outdoor kitchen, so you can cook outside and be more present with your guests. Have grandkids coming over to play in the backyard? Tackle lawn care, so they can run and play in your lush grass. Want to be the house everyone comes to hang out at? Consider adding a fire element and patio for family and friends to relax and spend time together.
While each of these elements will improve how much you enjoy your home and outdoor space, they will also pay off in the future when you plant o sell your home. Whether you choose to improve your home with adding a new landscape feature or just maintaining the grass and plantings you have now, TruNorth can help!
Ready to have the best-looking property on the block in Grand Traverse or Leelanau County, MI? If so, meet with our team of experts, choose a solution to improve your property, and get ready to sit back, relax, and enjoy your beautiful outdoor space.
Source: https://www.nar.realtor/research-and-statistics/research-reports/remodeling-impact-report-outdoor-features

Want tips and tricks for your lawn & landscaping?
Sign Up For Our Free Quarterly Newsletter
We take your personal information very seriously. We will not share any of the information you provide with any 3rd parties. Provided information will be used specifically to contact you in regards to your inquiry.