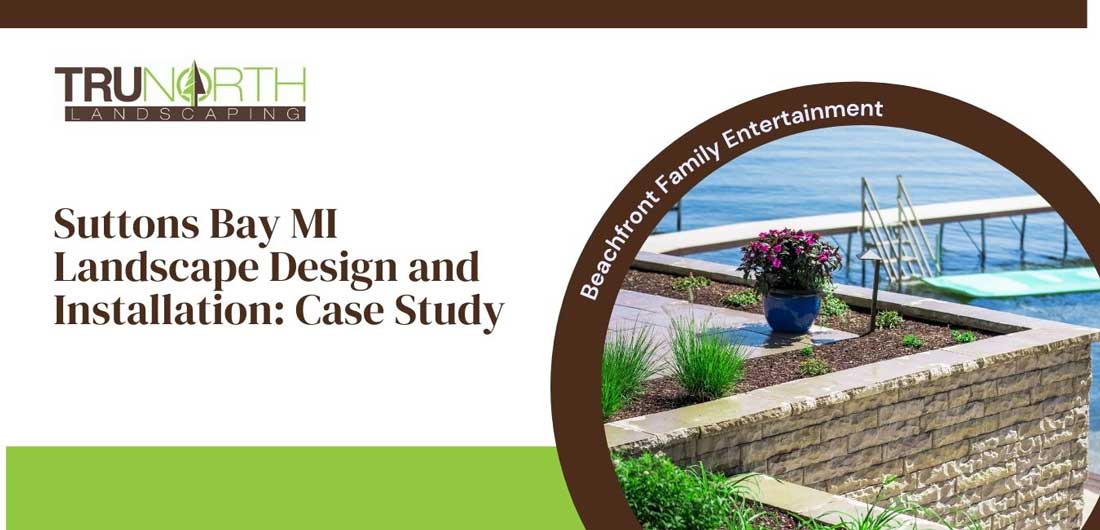 Over the past few years, Traverse City and its surrounding areas have seen an enormous influx of new residents purchasing both existing homes and new builds. Many of these homes sit near the water or are located in a beautifully wooded area, so enjoying the outdoors is a must.
With new builds or existing homes, most properties need some serious attention on the outside of the home.
You moved here because of the natural beauty surrounding your space, right? No one wants to be stuck inside because your outdoor space is unusable.
Regardless of whether you recently relocated or have lived in Northern Michigan for years, family and friends are definitely going to want to come to visit. So, what does the perfect outdoor space look like to you? How do you want to entertain family and friends or enjoy your outdoor space with your significant other?
Let's check out what one family decided to do with their beachfront property in Suttons Bay MI.
The Design Phase: Challenges and Dreams for the Space
After purchasing an existing, but beautiful home on the shore of West Bay in Suttons Bay MI, our clients immediately got to work. They began renovating the inside of the home and reached out to us to tackle the dated and unusable landscape.
The existing landscaping was not conducive to having children play and enjoy the space, and really falling apart in some areas. It also did not provide enough space to entertain really any size group of people. Along with the issues with the outdoor space, it was simply not the clients' style or look they were hoping to achieve.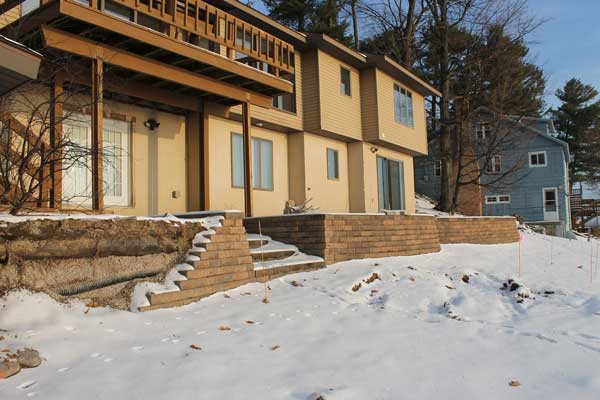 Working on the shores of any body of water requires special permitting and several different considerations. High water levels have been an enormous issue over the past few years, creating shoreline stabilization problems for many properties as well.
Luckily, this property had a concrete break wall installed near the shore to prevent their property from further erosion. However, the property from the house to the water had some erosion and grading problems that needed to be addressed, and the wall needed to be reinforced.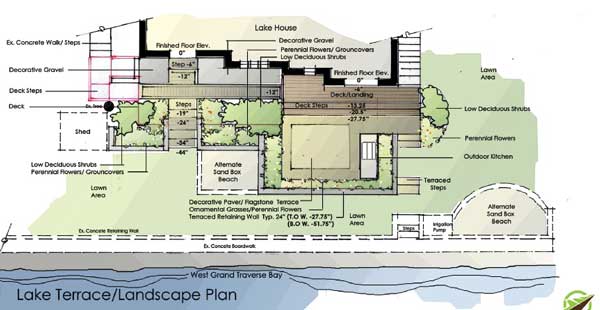 We worked together with the clients to modernize and stabilize their property. They opted for a 3D rendering which ended up helping them make some great decisions. Their goal for the landscape was for it to seamlessly blend into the surroundings.
With a whole lot of hardscaping being added to the property including a huge retaining wall, we selected Rosetta (now High Format) Kodah retaining wall blocks and Claremont retaining wall blocks, dimensional steps, and dimensional flagstone for the patio.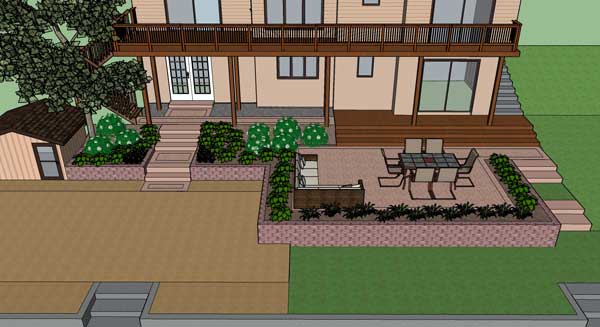 This project required a huge demolition phase as well as an installation phase. We used the fall and winter to complete demolition, so as to not waste time in the Spring.
The winter happened to be a bit more mild than usual in the first few months, so we were actually able to begin on some of the project. Dealing with the major erosion and grading issues was the first priority, and once we dug in the original designs and plans changed a bit.
The wall ended up being a bit taller than originally anticipated in order to have a flat area where the kids could play in the sand. We also had a new area that we and the homeowner had planned not to touch, however after heavy rains, we realized the area along the side of the home needed to be stabilized as well. What was originally planned to be grass, ended up being native plantings to help stabilize the shoreline and property.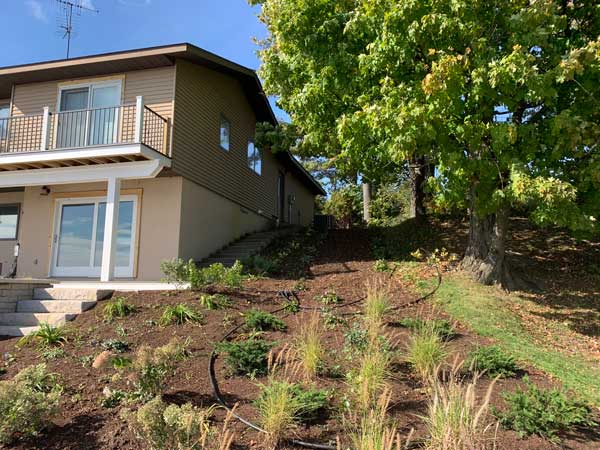 This home is not our client's primary residence, so during the project, we provided them with weekly updates via phone and text message (for photos). This helped us to communicate any new issues or changes to the original plan that popped up once we got into the project.
Every single project will have some modifications or changes once we actually get into the ground. As these issues arise, we rely on our well-trained team to discuss with our designer what they are encountering and come up with a plan that makes the design work but also makes the property safe for all.
We started backup work on the project in early Spring and had it finished for our clients to enjoy the summer! Overall, the project installation went very smoothly, with just a few tweaks.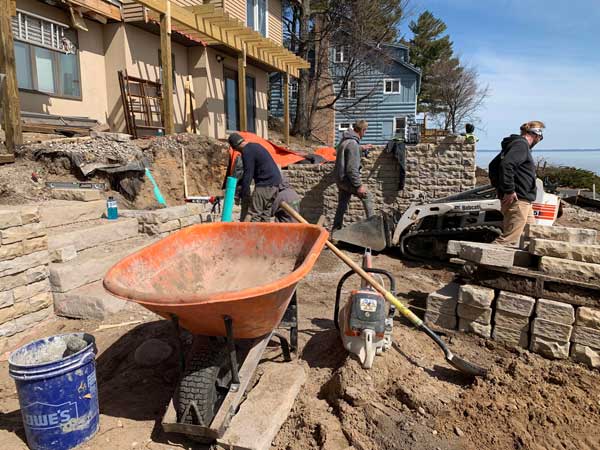 With three little kids, our clients needed a flat sandy area for the kids to enjoy the beach and a safe way to enter the water. They needed to be able to navigate around the property well, which was accomplished with walkways and several installations of stairs. We were sure to reinforce the break wall as well for safety purposes.
The clients added custom furniture, a fire table, and of course tons of beach toys! They ended up being completely thrilled with our work and allowed us to even take some video shots of the property. We have returned each year to do small add-ons like work on the front of the home and landscape lighting.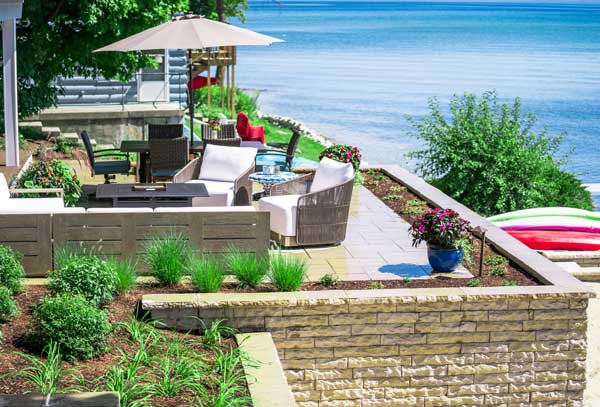 They reviewed TruNorth saying,
"We feel blessed to have found TruNorth. Obviously, we will continue with regular maintenance from you but I just wanted to take a step back as summer is ending just to say what a fantastic job you did with the hardscaping, landscaping, and the addition of the beach! All our visitors were blown away and it was neat to see how people noticed the fine details of your work as well."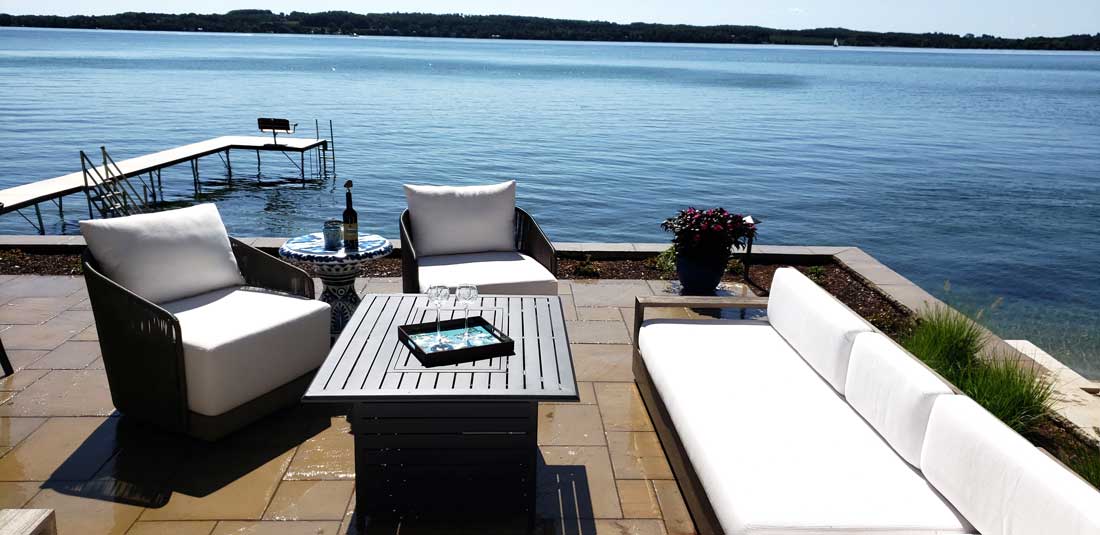 Any space can be transformed into exactly what you want it to be. This space had both 'ugly landscaping' and erosion issues, yet these homeowners created the perfect outdoor location to entertain and hang with their children.
Selecting a landscape design team that really listens to what YOU want your property to be is one of the most important steps in having a space that really works.
Interested in upgrading your outdoor space? Contact us today! We are ready to navigate your outdoor space so you can spend time doing what matters most!

Want tips and tricks for your lawn & landscaping?
Sign Up For Our Free Quarterly Newsletter
We take your personal information very seriously. We will not share any of the information you provide with any 3rd parties. Provided information will be used specifically to contact you in regards to your inquiry.