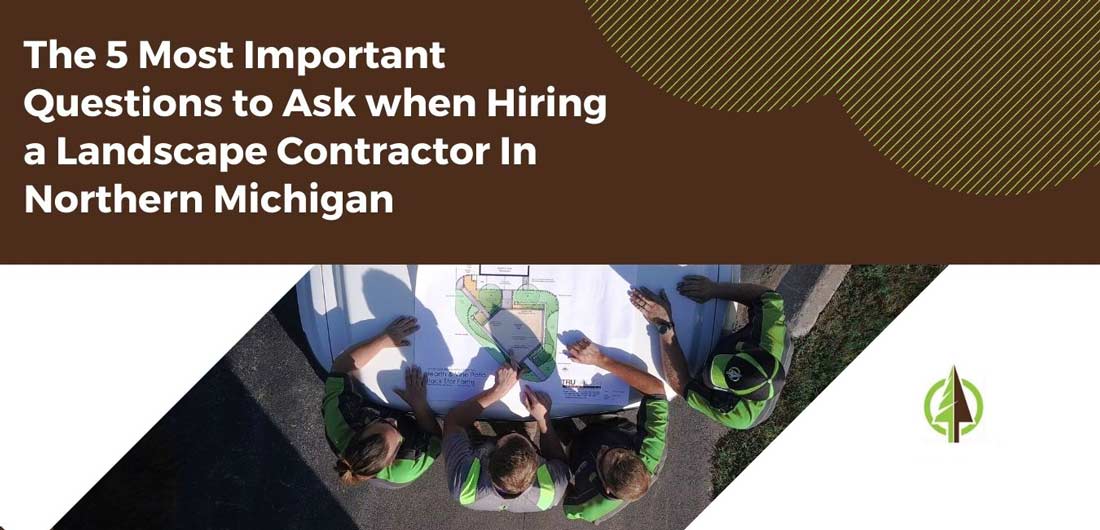 You've decided it is time to take the plunge and hire a landscaping company to create the backyard of your dreams. You start a massive Google search and deep dive into the companies in the Traverse City area, you ask around, you start noticing landscaping trucks around the area, and eventually you make a few phone calls to the companies that seem to be qualified to complete your landscape project. This is going to be a big investment, so how do you actually decide which company to hire?
Before we give those top five questions to ask, let's deal with the elephant in the room. Landscaping companies and the Green Industry, in general, have a pretty terrible reputation. The image of an overweight man with no shirt and a cigarette hanging out of his mouth, pulling up in a rusted out unmarked truck to hopefully complete your work on the day he says he will tend to be the idea associated with the Green Industry. Unfortunately, the industry is not characterized by professionalism, but many are trying to change the bad reputation of landscaping companies as a whole. You can usually sniff out those who are more qualified by checking out their website—those with one that functions well on both desktop and mobile and is professionally done signal they have spent some money on it and are usually working to have a more professional business across the board.
1. What is the timeline for the completion of my project?
If you have an upcoming event like a family reunion or graduation party you are planning to host and showcase your new landscape, this is probably the most important question you can ask. Knowing when your project is to be completed is really essential to you being pleased with the final outcome. Many companies are booking well into the following year already, so addressing this question could potentially rule out a company before you even meet with them. We recommend that you ask some follow-up questions as well. It is helpful to learn how they build their schedule, what potential bumps might there be along the way, how will these issues be dealt with to ensure your project is completed on time, how far booked out they are, and what type of flexibility they have as a company to make changes to get the job done when promised.
Even though we are not in the middle of the COVID-19 pandemic, its effects are still being felt in many industries. Most companies are seriously understaffed—this includes the company you hire AND all the other companies they work with (think the people that all the materials come from- plants, pavers, etc). Addressing these issues will help everyone have the same understanding of expectations.
2. Are you fully licensed and insured?
This question is often glossed over, as many homeowners assume that all companies are insured and licensed. If a company is not licensed and insured and issues happen with your project, it can turn quickly into a complete disaster. These two relatively simple qualifications usually speak to the general professionalism of the company. In addition, ask about what associations they belong to, what type of training they attend, and what credentials they hold. While belonging to an association does not always guarantee the company is active in the group, they at least have access and are notified of the latest trends, training, and procedures to do the best work at your home.
3. What type of experience do you have working with projects like mine?
Sometimes a landscape company can be an excellent choice, but not the right one for your project. Some contractors like to specialize in stone and concrete elements, where others might be really great at installing decks and wood focused products. Some companies may be much more commercial business focused, where others are more residential focused. Ask specific questions about the elements you hope to include in your project and their experience with them.
You can do some of this research on your own by looking at their portfolio online, reading their blogs, asking if they have any materials like a lookbook of projects, or asking to visit their learning center. Each of these items will give you some insight into the type of work they typically complete and if they are the right fit for your job.
4. How does your design-install process work?
This question will hopefully reveal how well the company communicates. From the moment you fill out the contact us form on the website to the completion of the job, you should feel confident with what the 'next step' is. There should be a clear process from the first time you reach out to how to get a consultation. There should be a clear design process—how many edits do you get on your drawing? What are your options for design? Who is designing the project?
This is an excellent time to ask follow-up questions regarding whom you will communicate with throughout the process, who will be your contact person throughout the work. It will also reveal if they contract their work out (i.e. Do they have in-house designers and architects? Are their people the ones actually installing the project?) The more of the team that is under 'one roof' the better the communication will be as they are all working toward a common goal and do not have the distractions that contracted designers or install teams may have.
5. How do you structure payments?
Understanding how and why a company structures its payment plans will help to build trust and simply make the design-build process go much more smoothly. Most companies that are experienced and qualified are now charging some sort of consultation fee and a design fee. Sometimes these fees are refunded or credited to your account if you sign a contract with the company. It is important to remember that many contractors set up progress payments for larger jobs. Usually, the reasoning behind this is that they have to pay for all of the materials outright before the job is 'completed'. Having these conversations before booking makes the process free of surprises for everyone involved.
As with any large investment, you cannot really ask too many questions. Exploring the company's website before the consultation can help answer and inspire questions to ask as well. Their website should be a tool for you as a client. This is your project, so be sure you have the clarity you need before signing a contract!
Ready to start designing your dream landscape in Grand Traverse or Leelanau County, MI? If so, meet with our team of experts, choose a solution to improve your property, and get ready to sit back, relax, and enjoy your beautiful outdoor space.

Want tips and tricks for your lawn & landscaping?
Sign Up For Our Free Quarterly Newsletter
We take your personal information very seriously. We will not share any of the information you provide with any 3rd parties. Provided information will be used specifically to contact you in regards to your inquiry.