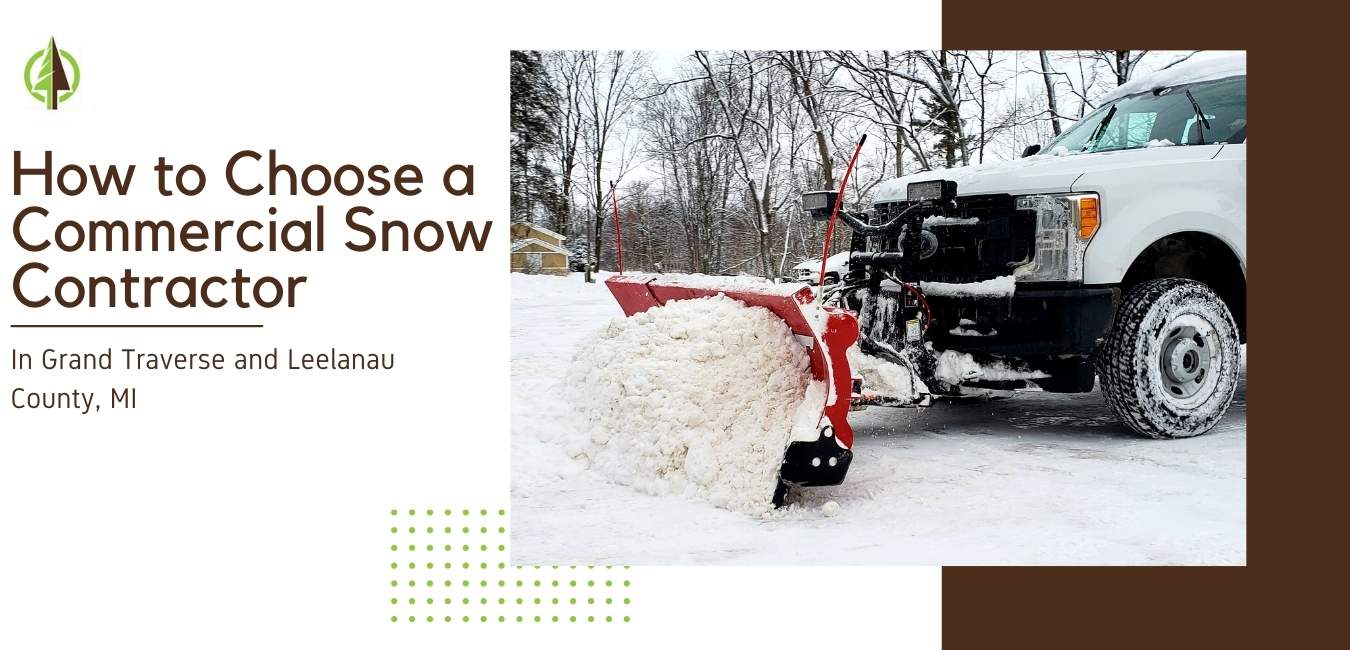 As summer slips away here in Northern Michigan, unfortunately, it is time to turn our thoughts to the winter season. While winter offers so many fun outdoor activities and its' own unique beauty, for commercial property owners and managers it can be a nightmare.
Large snow events, icy sidewalks, and the all too frequent thaw and freeze cycle can create a very unsafe and sometimes even hard-to-navigate property. Properties with lots of visitors like hotels, wineries, and restaurants remain busy in our winter months and must be safe for guests. Production facilities still need their team members to be able to get in to work safely day and night.
We know that safety is really one of the most important issues for any property manager to handle. And in the winter months, the task of keeping your property safe can feel overwhelming. An excellent snow contractor has the ability to make operating during the snowy weather a whole lot easier. But how do you even begin to find someone who is reliable and experienced enough to handle snow at your property?
Let's look at five practical tips that will help you find a snow contractor that you can count on this winter.
Know What Your Property Needs
Each commercial property has completely unique needs. Some of these are obvious when a new contractor comes to tour the property, but as every property manager knows, each business presents challenges in the winter that you have only learned about through past experience.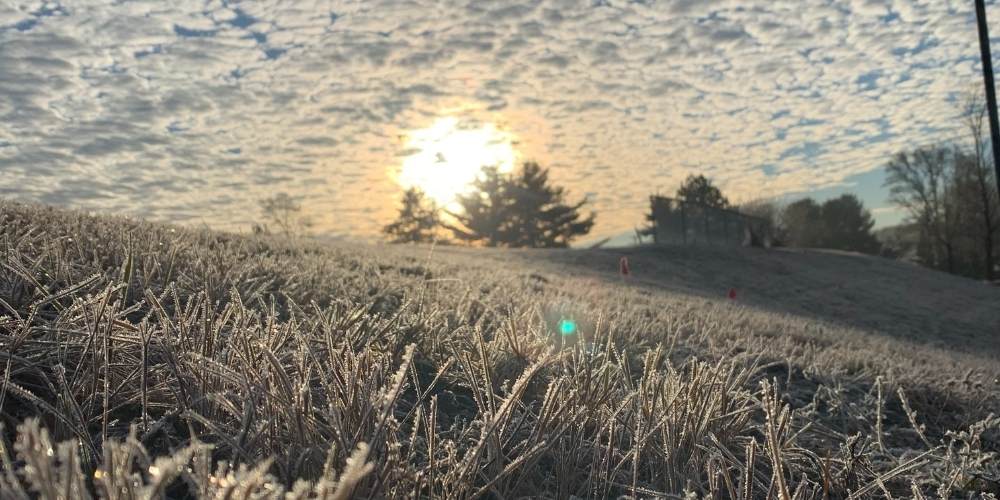 Before your potential commercial snow service provider comes to visit, create a list of problem areas or spots that will need special attention. Is there an area on the building that has an overhang that creates a dangerous black ice area? Do you have an employee area that needs to be cleared before the customer area so team members can safely navigate into work? Is there an area that needs to be carefully marked before snow flies so that it can be avoided by plow trucks and snow blowers?
A great snow removal team will be able to spot some things that may be potential problem areas on the propertyand should be able to present a clear plan of action to tackle any additional looming dangers as well. The more prepared you are when you meet with your contractor, the better they can quote your job and the better service they will provide during the actual season!
Inquire about equipment
The equipment required to tackle snow removal at a large commercial property is vastly different than what is used for small commercial parking lots or residential properties. Commercial properties typically have limited areas to either push or pile snow. Snow needs to be lifted with a loader, not simply pushed off into the lawn or near the curb, as can be done at a home. In addition, during heavy snowfall years, snow sometimes needs to be hauled off the property in order to leave room for safe maneuvering and parking.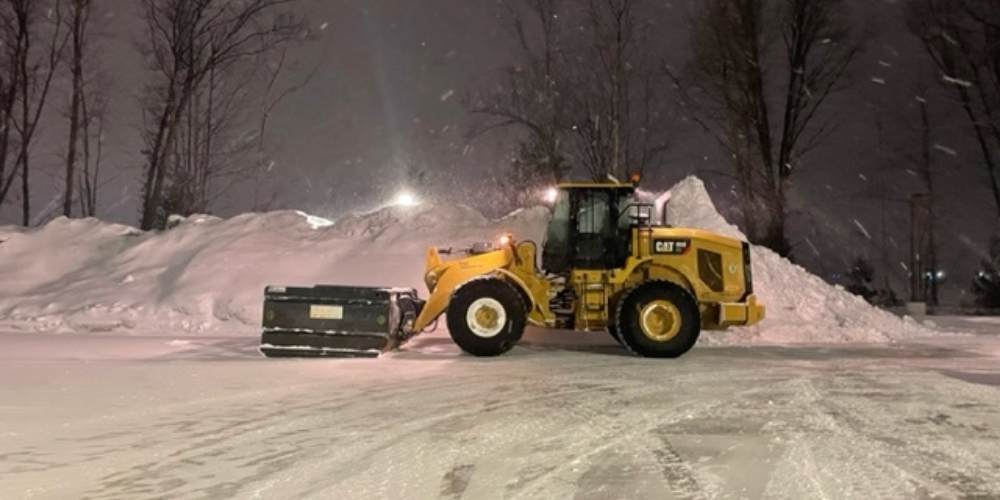 After you have considered what your commercial property needs in terms of snow removal, ask specifically what type of snow removal equipment the company you are interviewing plans to use. It may also be wise to inquire if they are renting the equipment or if they own it. Rented equipment is obviously much less reliable than owning equipment because it can become unavailable or have rental length requirements.
Having the right equipment at a job site can make an enormous impact, especially after a major snow event. It can be the difference between a safe and accessible lot and one that results in accidents and slip and falls.
Equipment at TruNorth Landscaping
We own several front loaders, including the enormous CAT 950. Along with front loaders, we utilize skid loaders, several large dump trucks and pickup trucks outfitted with plows and salt machines, snowblowers, and of course shovels. Owning all of our own equipment allows for us to leave equipment at our largest properties so we can jump into action when a large snow event hits.
Ask for a Portfolio
The absolute best way to determine if a snow removal contractor can handle your project is to ask for the list of other commercial properties they service. It is also wise to ask which parts of the property they handle, as some companies request to do sidewalks themselves or maybe are in a plaza, so not the entire lot is cared for by the same provider.
Not only will a company's portfolio tell you the size of work they typically do, but it will also inform you which type of properties they service. Unique properties, like hotels or medical centers, require a different level of service than a typical business as they have clients entering during all hours of the day and night.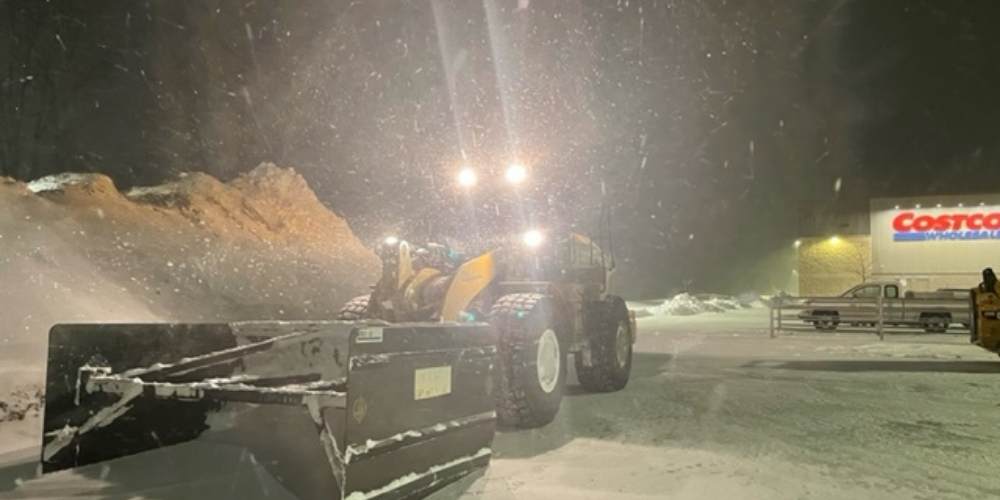 The TruNorth Landscaping Snow Portfolio
We serve a very large variety of commercial properties during the winter. Our properties range from hotels to plazas, restaurants, medical centers. Here are just some of the properties we provide snow removal services to:
Costco
Grand Beach Hotel
Sugar Beach Hotel
Copper Ridge Surgical Center (walkways only)
Michaels and Bed, Bath, & Beyond
Blackstar Farms
Brookside Apartments
Crown Courtyard Condominiums
Hantz Group
Alco Tec
Cherry Capital
Long Lake Culinary Institute
Credit Union One
Kensington Church
Question How They Prepare for the Season
The winter season in Northern Michigan is unpredictable, to say the least. In the past, we have had major snow events as early as October and as late as April. In order to successfully care for your property, a snow removal contractor MUST be prepared.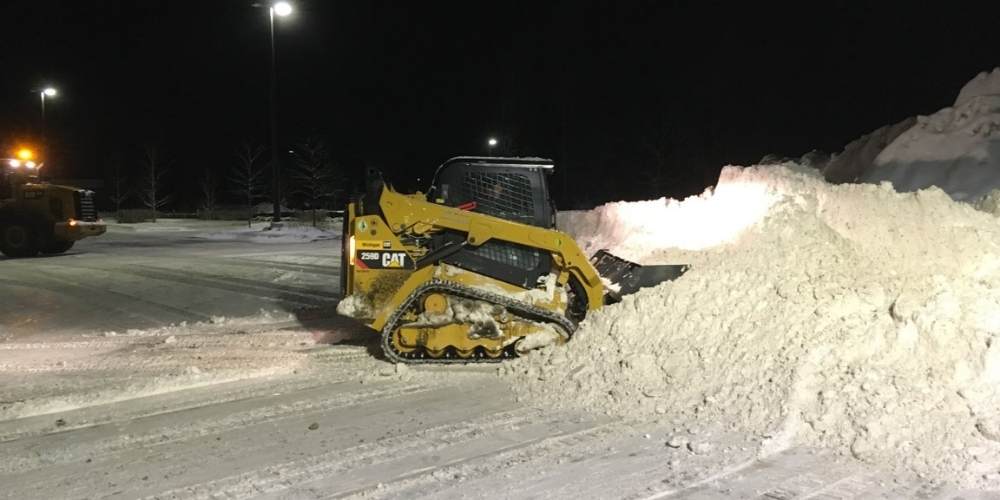 If your contractor is not prepared, this typically ends up in a large amount of damage being done by plows at your property or even worse, someone getting hurt. It can be wise to select the company that maintains your landscape to also remove your snow. They know the unique landscape aspects of your property already, so they are less likely to make silly mistakes when removing snow, like hitting perennials in a curb-less bed with a snow plow.
When questioning how a team prepares, it is also wise to inquire about what happens if any damages occur to your existing landscape. With so much already on your plate, the last thing you need is a long and costly list of property repairs to schedule in the Spring.
How We Prepare at TruNorth Landscaping
Our snow season preparation begins in August every year. Using our landscape management software, we begin contacting our previous clients regarding snow removal services. This software allows us to save specific notes and even photos of the property so that our team can have access to property information always.
Once all of our contracts are returned and signed, we begin creating teams that will handle each property. We prefer to have the same team at the same properties the entire season. This allows for consistency of service and ownership. One team member is deemed the foreman of the team and this person's information, including personal cell phone number, is given to property managers. This allows for the foreman and property managers to build a relationship and for managers to have a direct point of contact all season long.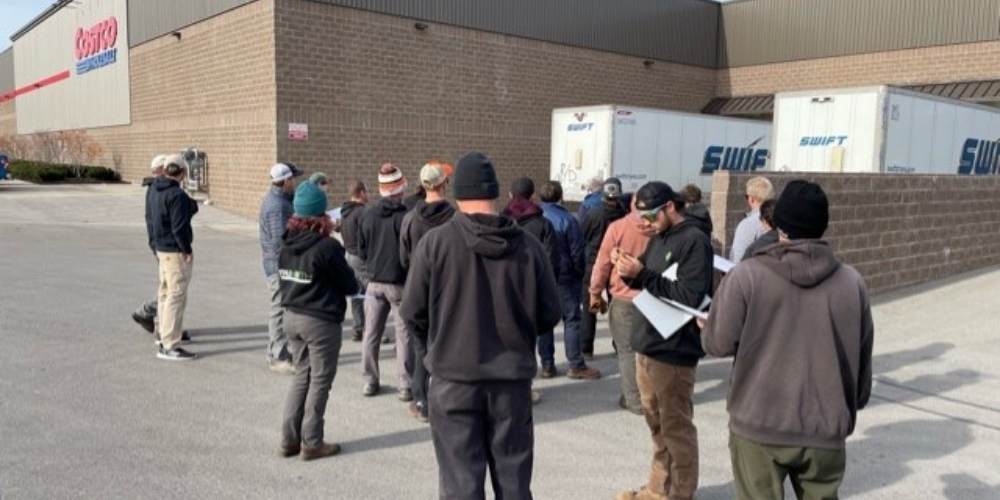 Once our teams are formed and properties are assigned, the ENTIRE snow removal team tours EVERY SINGLE PROPERTY we will visit that season. Binders with maps and notes are given to every employee and a physical walk-through happens on each property. This allows for our sales team to be able to discuss with anyone who may be on the property things like areas that need special attention, and areas to be cautious of like grates that stick up above the ground or power boxes. Each team member visits every property in order to be prepared for large snow events or if someone on one of the teams is sick or on vacation.
We are also committed to repairing any damage that was done to your property in the Spring.
Choosing the Best Commercial Snow Service Provider
Most importantly, you need to select a company that works for you. This decision may be made by looking at the type of equipment a company has or requesting their portfolio.
You may want to consider how they accept payment for snow services. Some companies only allow for a per-service contract, meaning every time they visit your property to plow snow, shovel walks, or salt, you are billed. While other companies only offer seasonal snow contracts, where you receive a quote for a set amount that is broken into monthly payments no matter how much snow falls that season.
Many commercial clients prefer a seasonal contract so they can have a set budget amount for each month throughout the season no matter what happens. We do offer both a per-service contract and a seasonal contract so that you can select which fits your budgeting needs.
While planning for the snow season is not much fun, and finding a snow removal contractor can be difficult, it is extremely important. We know that you want to keep your employees and any that visit your property safe. Using the suggestions above to weed out contractors that may not be a good fit is the first step in having a successful winter in Northern Michigan.
Looking for commercial snow removal services in Grand Traverse or Leelanau County, MI? If so, meet with our team of experts, choose a solution for your property, and get ready for a safe and uneventful winter season.

Want tips and tricks for your lawn & landscaping?
Sign Up For Our Free Quarterly Newsletter
We take your personal information very seriously. We will not share any of the information you provide with any 3rd parties. Provided information will be used specifically to contact you in regards to your inquiry.