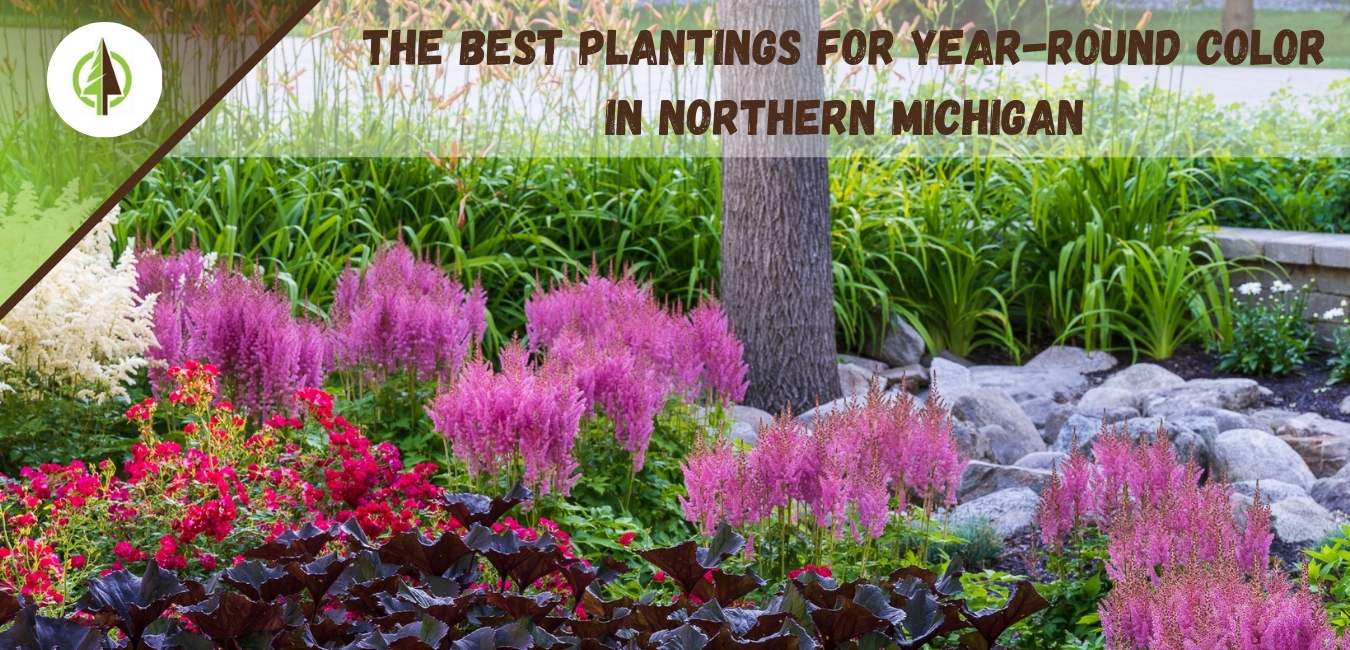 Bright pinks, calming purples, striking yellows, exiting oranges. Your summer landscape in Northern Michigan brings so much beauty to your outdoor space. With the fall season in full swing, you may already be missing the beautiful color and interest your landscape brought in the summer months. Our summer season is indeed quite short, so is there a way to keep a lively and colorful landscape year-round in Northern Michigan?
Carefully curated landscape beds can indeed bring interest and excitement to your outdoor space in every season. Plantings for year-round color can boost your mood, add to your curb appeal, and keep your entire property looking great no matter the time of year. Let's explore how to plant for year-round color in Northern Michigan.
How to Plant for Year-Round Color
Planning your landscape beds for year-round color begins at the design phase of your landscape project. Working with an experienced landscape designer who resides in Northern Michigan, and has for some time, can be extremely helpful. They know which plants thrive in our area and which struggle and can provide guidance for a cohesive look and color palette.
Height, size, color, and texture all create interest and beauty in your landscape bed. Each of these elements should be thought about when planning your space and considered for each season for a robust and beautiful year-round plan. Utilizing a variety of types of plantings like perennials, annuals, trees, grasses, and shrubs is vital in achieving a space that brings interest every month. Once planting selections are made, your landscape design and installation team carefully places and layers the plantings so that each season, space is adequately filled and color and texture shine through your garden.
Let's look at some good plant selections for each season as well as the idea of container gardens.
Spring
Planting for color in the Spring months is the most important. After a long and gray winter, everyone in Northern Michigan is ready for some color. These three colorful Spring plantings are our favorites:
Peony
These stunning perennials are a late Spring to early Summer bloom. Once established, their green foliage begins popping up as soon as Spring arrives and lasts throughout the summer. Large blooms vary in color from yellow to white to deep pink. Peonies grow very well in our sandy Northern Michigan soil.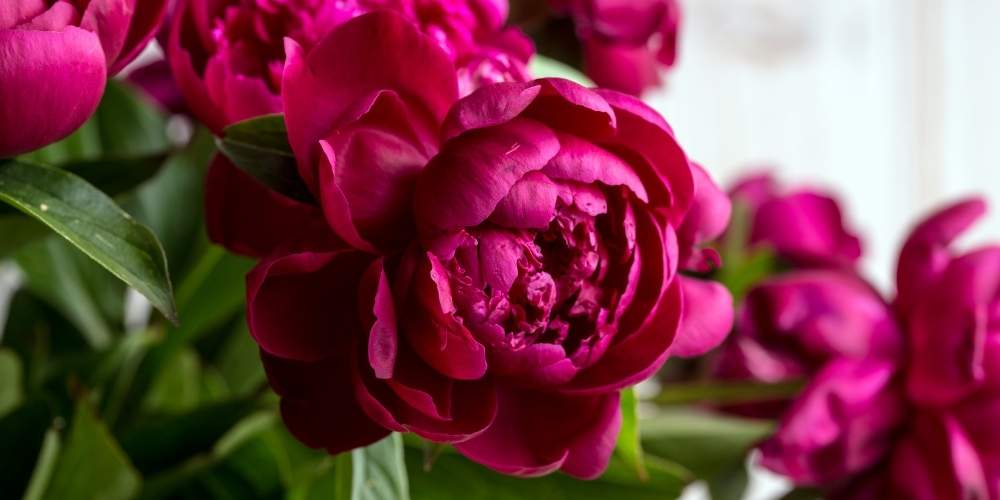 Tulip
Sun-loving tulips are known for their early Spring bloom and an enormous variety of color choices. Tulips are quite cold-tolerant, and they typically begin emerging when temperatures are not yet very warm. They are easy to care for once planted and come back faithfully year after year. Tulips are a great choice for that immediate burst of color we all crave after the cold and gray winter.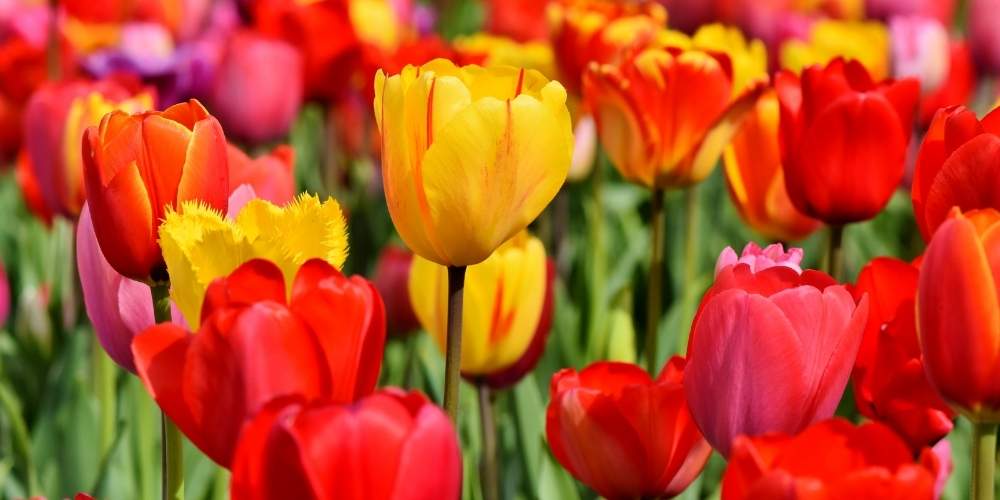 Allium
Alliums, flowers that go by the common name of Wild Onion, are often overlooked. The Giant Onion variety creates huge purple circular globe-like blooms on top of strong stems. These plants are a great choice for layering in your garden, but they need to be left to die back naturally. Allium are long-blooming though and a great choice for lasting cut flowers!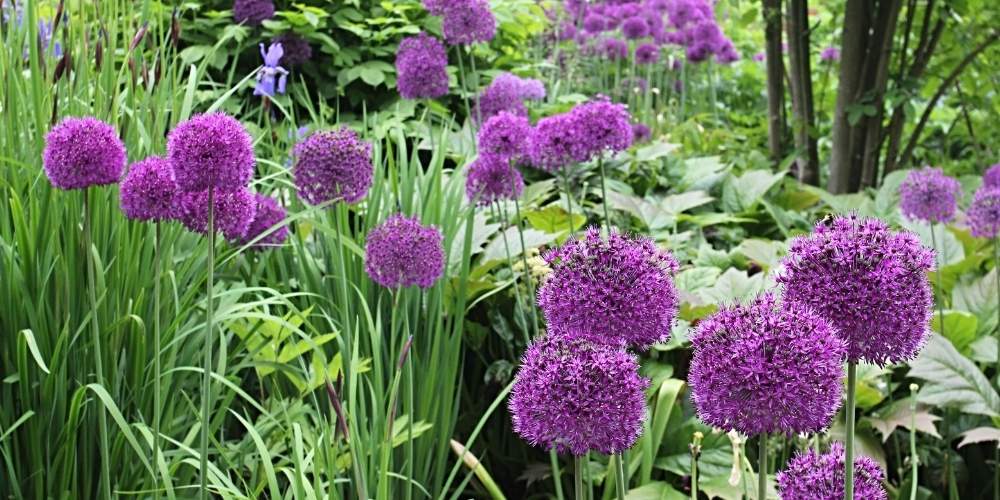 Serviceberry Tree
Serviceberry trees are one of our favorites as they provide beautiful early Spring flowers on their branches. They grow well in our area as they prefer well-drained soil. The best thing about this tree is that it also grows berry-like fruit that changes color in the summer and provides brilliant fall colors in the fall!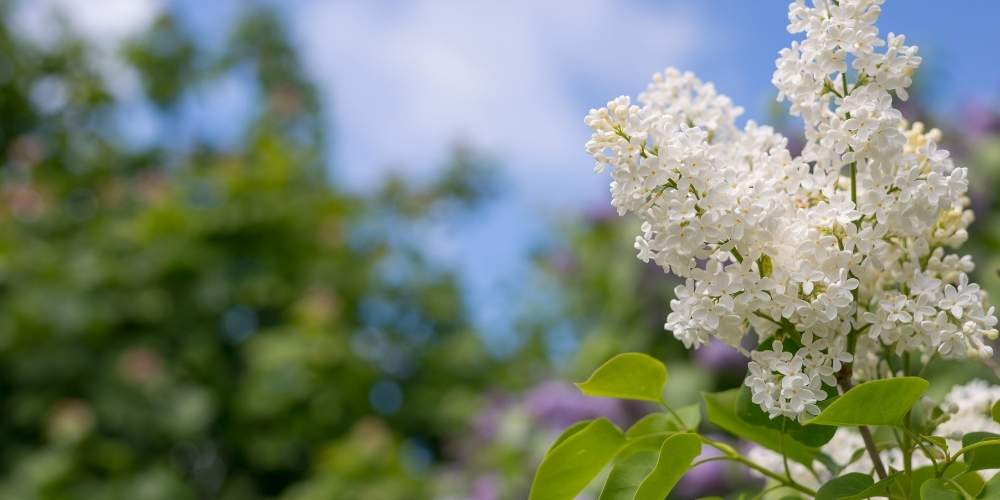 Dogwood Tree
Our final Spring recommendation is the beautiful dogwood tree. This tree flowers in the Spring with either white or pink blooms, depending on the variety you select. Leaves are dark green throughout Spring and Summer and shift to a stunning red in the fall. They are considered smaller trees, averaging around 20 feet tall.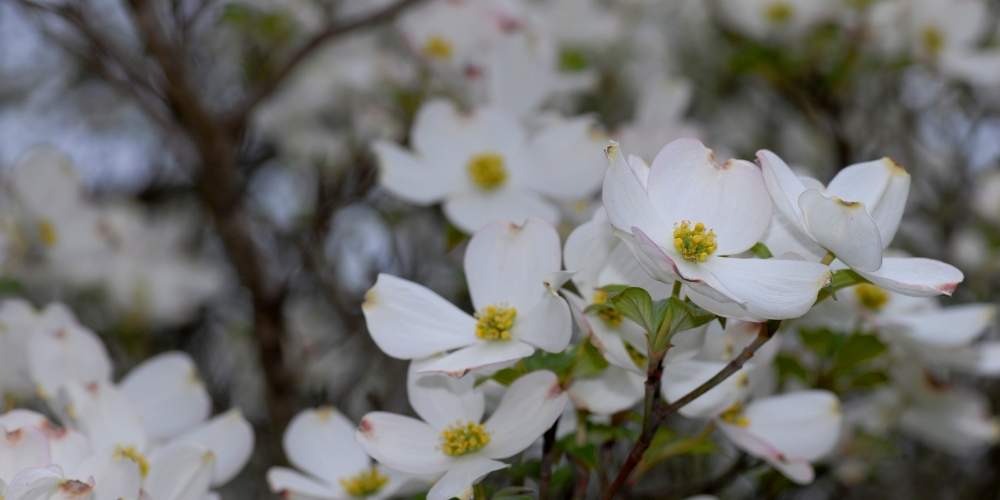 Summer
The summer season brings endless choices for color and interest, but these are some of our favorites:
Echinacea
Commonly referred to as cone flowers, these perennials are extremely easy to care for and come back each year larger and more beautiful. While best known for purple shades, the color choices are actually vast. They are a perfect native plant to include in your garden space and will attract a variety of butterflies and bees.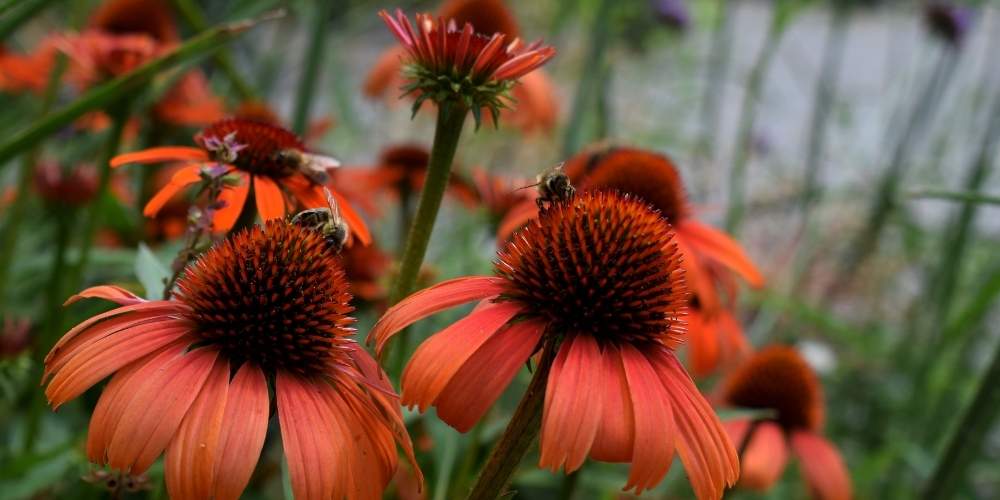 Phlox
Depending on the variety you select, phlox can be a great choice from Spring all the way through late summer. Phlox are also a great plant for layering in your garden as they come in low growing, medium, and tall heights. These little perennials pack a big punch of color, as they have tons of blooms and flower petals each season. Phlox are both easy to grow and smell beautiful. They come in purples, pinks, whites, and reds.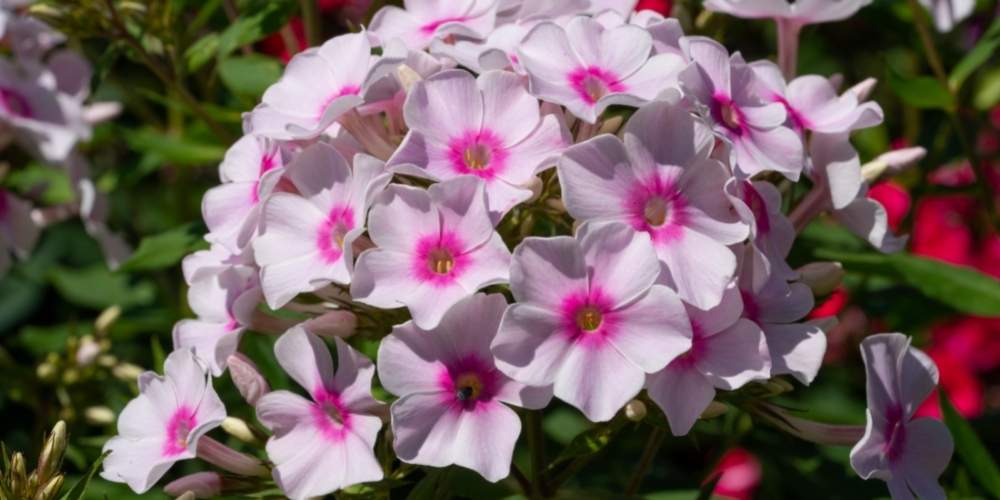 Hydrangea
One of the most popular perennials out there, Hydrangeas perform very well in Northern Michigan. They offer a great variety of not only color choices but also bloom choices as well. Hydrangeas are technically considered a shrub, so their green leaves provide interest as well as their blooms. The adorable hydrangea tree is a favorite among our customers as well.'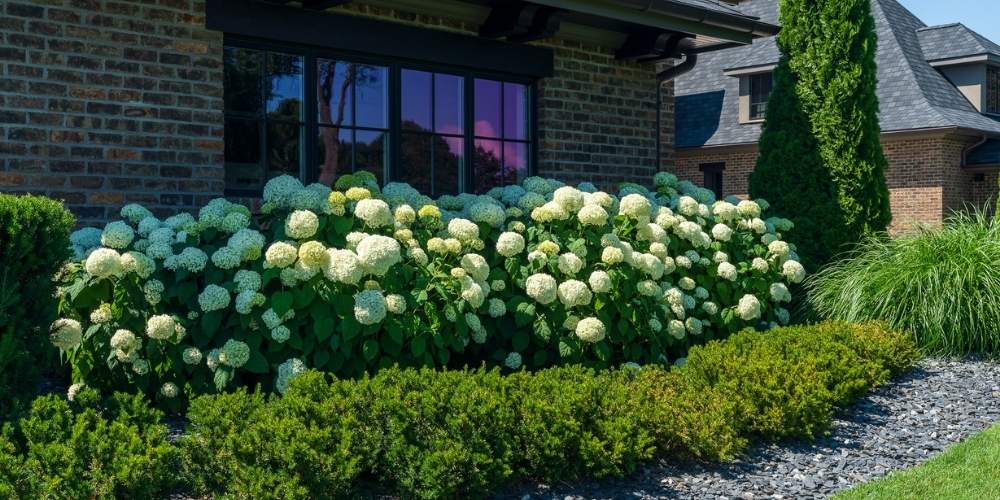 Ninebark
Ninebark is also considered a shrub and made our list for a variety of reasons. Blooming begins with light pink to white flowers in the late spring and continues through the summer. The foliage of the most common variety is a deep purple, almost like that of wine, providing interest throughout the entire season. Some varieties shift color in the fall. In late summer and early fall, ninebark produces a red fruit, attracting birds. As branches mature, the bark peels back in thin layers.  It is an excellent choice for winter interest.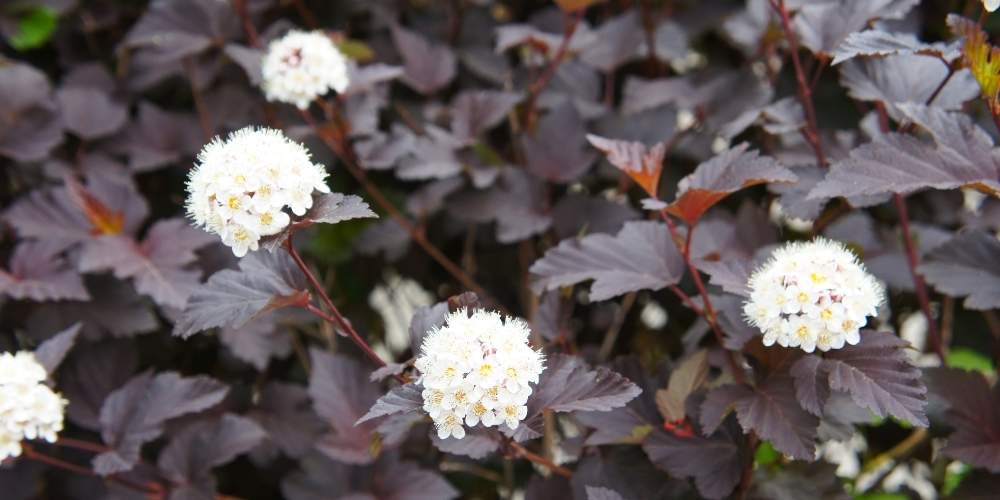 Astilbe
Astilbe is a Northern Michigan favorite, as it can tolerate shade well. Their tall and fluffy blooms tower over beautiful green foliage throughout the summer season. While most are pastel, they can be found in white or a maroon-type color. Spent blooms turn brown, but are still beautiful and can be left for winter interest.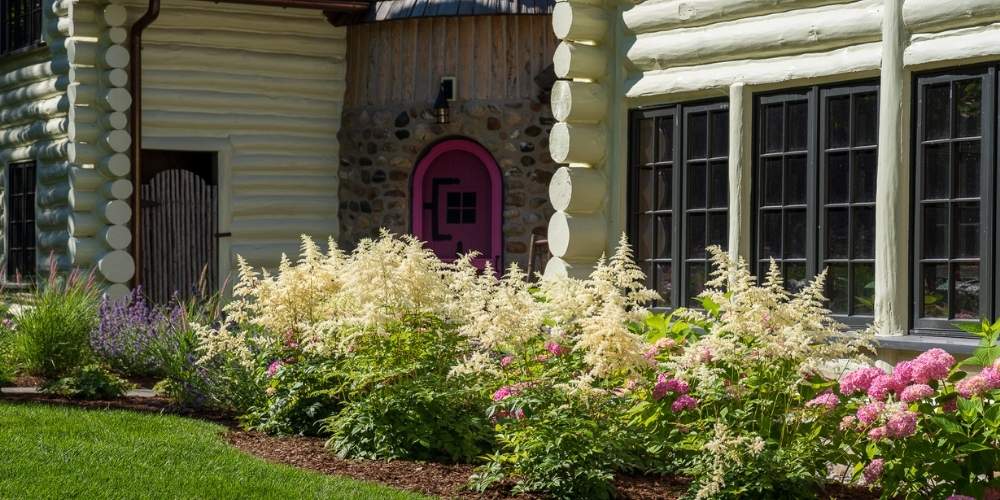 Fall
Fall in Northern Michigan is actually one of our most beautiful seasons. Obviously, leaf-changing maples have made our list, but check out what other plantings shine in the fall.
Chrysanthemums
These traditional fall flowers are a great choice as they can be used as perennials or annuals. Select the right variety, and the yellow, purple, or orange blooms will be back year after year providing color right after your summer flowers have died out. The chrysanthemums you find at your local garden center are annual flowers, meaning they are meant to be only decorative, will last the season, and then die.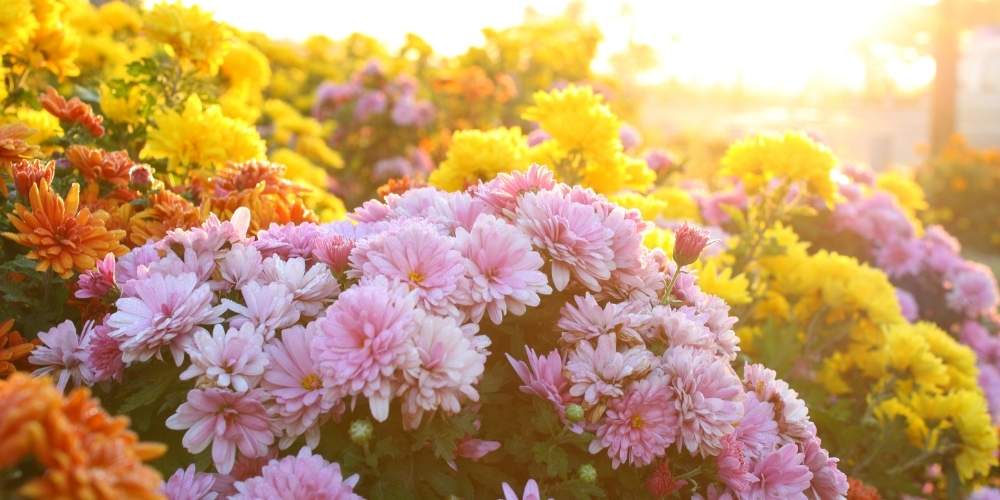 Maple, Birch, Gingko Trees
It is too hard to pick only one type of fall color tree to feature, so we picked our favorite three! Maples, typically known for brilliant red fall color, can have shades of orange, yellow and red. These native trees are fast growing and easy to care for once established. Birch trees had to make the list because of not only their beautiful fall colors, but their stunning black and white bark. Birch trees add great variety to your fall landscape with yellow leaves, instead of the traditional red or orange. Finally, Gingko trees, traditionally a more southern tree, are a beautiful addition to your landscape. Their golden yellow fall leaves are stunning and will add depth to your fall landscape.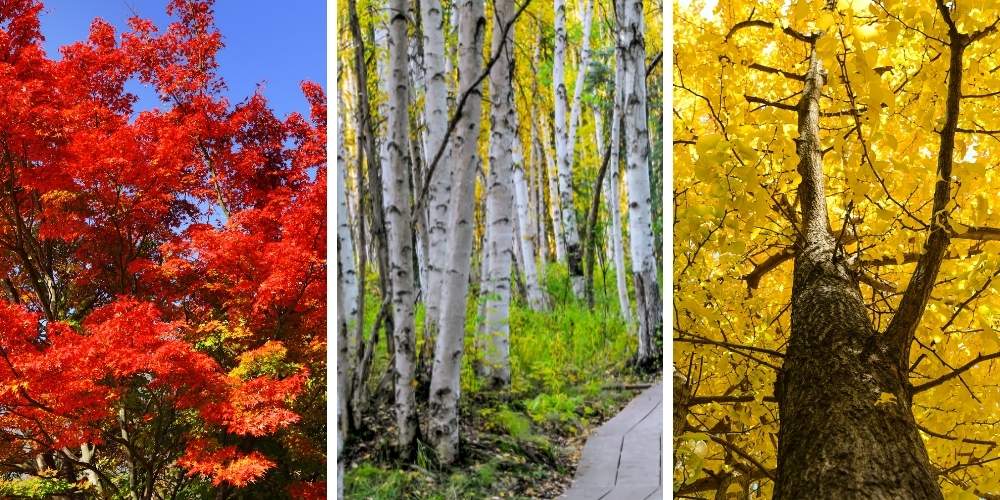 Purple Aster
These native flowers provide a ton of interest in the fall months. As their name indicates, they show off a brilliant purple bloom with a yellow center. They are considered a wildflower, so they may not be the right fit for every landscape.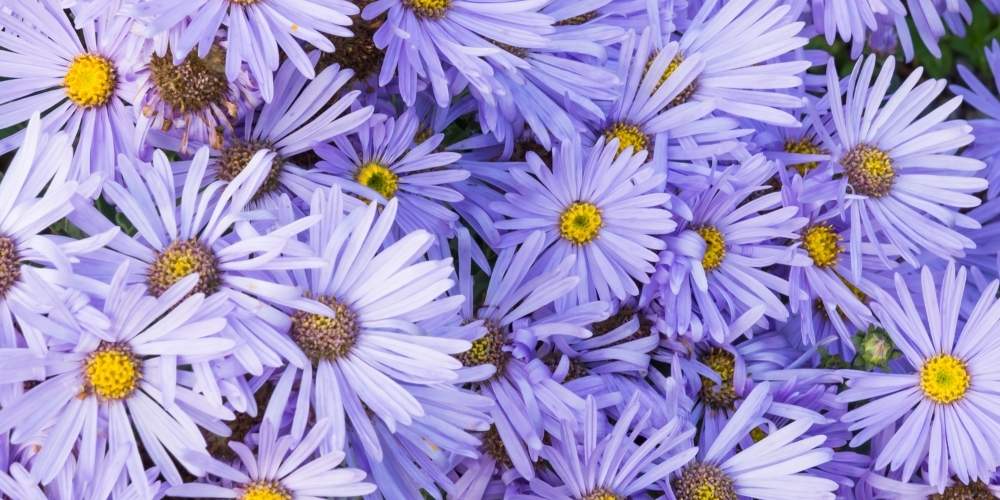 Viburnum
Viburnum are one of the most popular flowering shrubs. While they typically bloom in Spring to summer months, we selected them for the fall for their vibrant fall foliage and fruit. Viburnum comes in an enormous number of varieties and are great for creating a layered effect in your garden as they are good border plantings.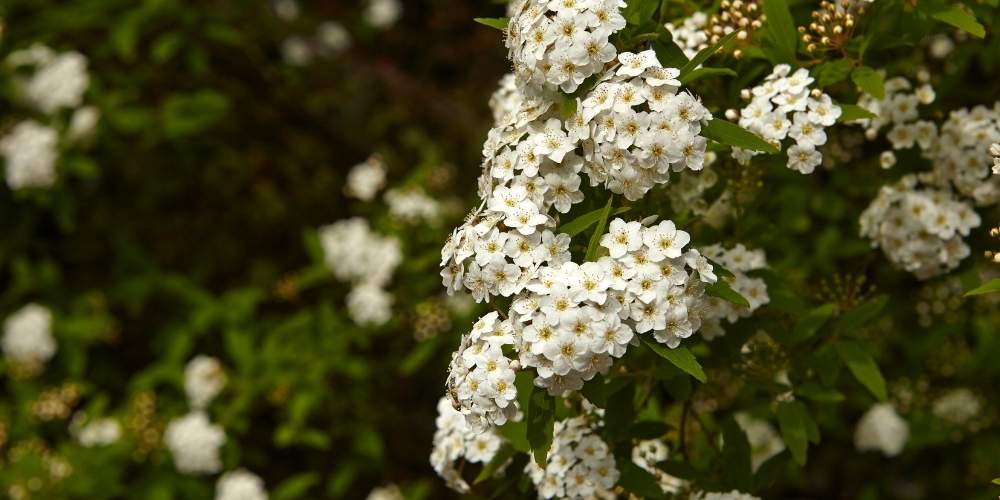 Ornamental Kale and Cabbage
Yes, you read that correctly. These ornamental kale and cabbages are not meant to be eaten but enjoyed for their gorgeous colors and leaves. Roses, creams, purples, and greens make ornamental cabbage and kale a great addition to your fall container gardens. These plants are sometimes considered biennials, but in Michigan, we use them as annuals.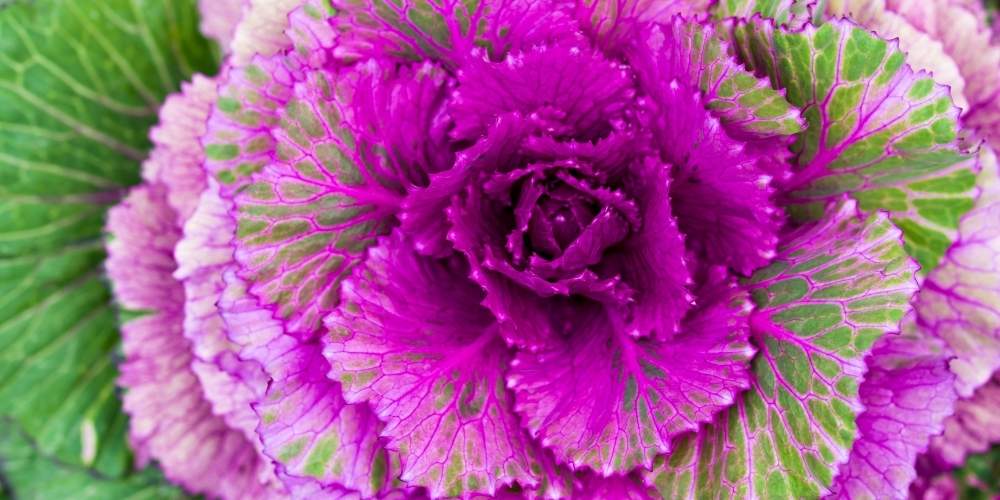 Winter
Anyone who has lived in Northern Michigan for more than a year knows that our winters can be tough. They are extremely cold, windy, and gray. While flowers cannot make it through our winters, there are other options to consider for winter color and interest in our area.
Red Twig Dogwood
This Northern Michigan native is famous for its bright red branches. When all foliage falls off in the winter months, these branches create a beautiful and stark contrast to the white snow. Red Twig Dogwoods do have a bit more of a wild look, so including them in the right locations is key.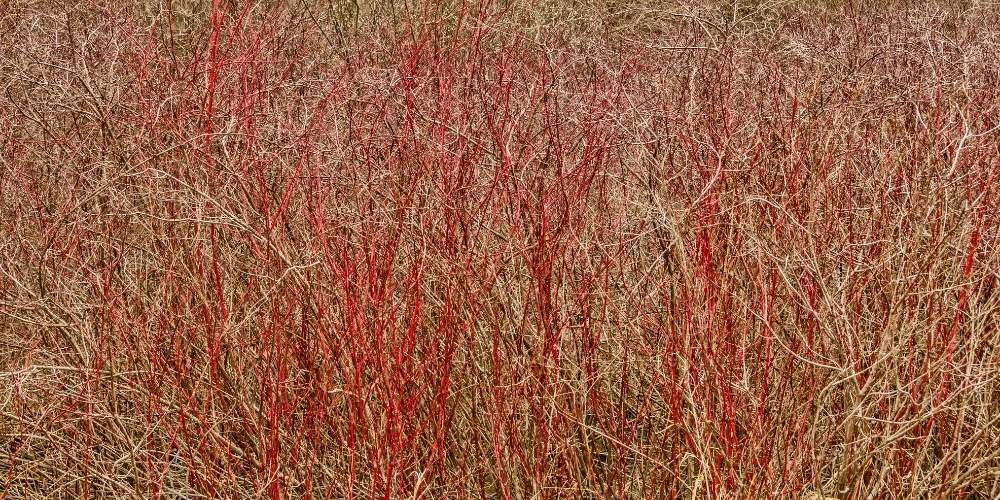 Ornamental Grasses
Your landscape may already contain some ornamental grasses for their interest and height. They can transform into stunning winter interests if they are left standing in the winter months. Though they do turn brown, their sometimes-feathery plumes peeking out of the snow create a beautiful look.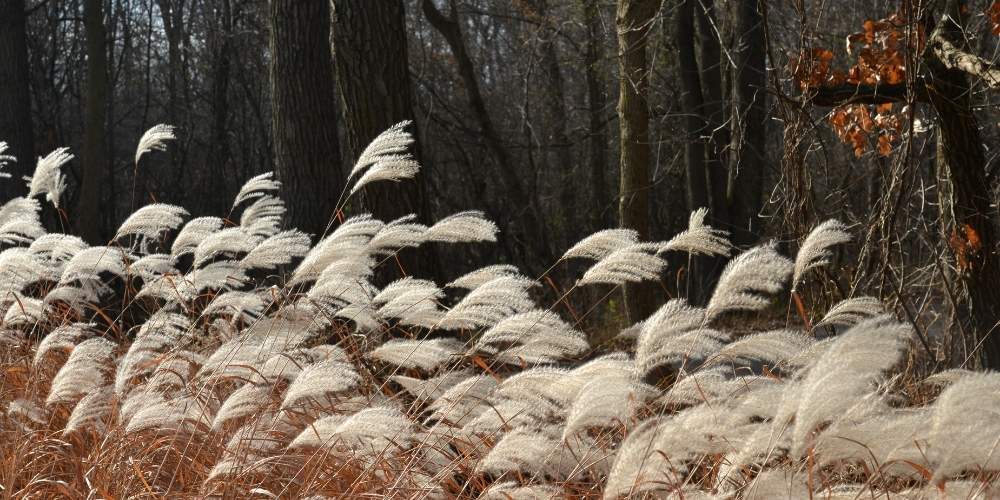 Paperbark Birch Trees
Paperbark Birch trees are one of our absolute favorite trees year-round. In the spring and summer months, their beautiful leaves brighten up any space. In the fall, their leaves change and add to the gorgeous fall color view out your window. In the winter, we love that their 'peeling' bark creates texture in the landscape.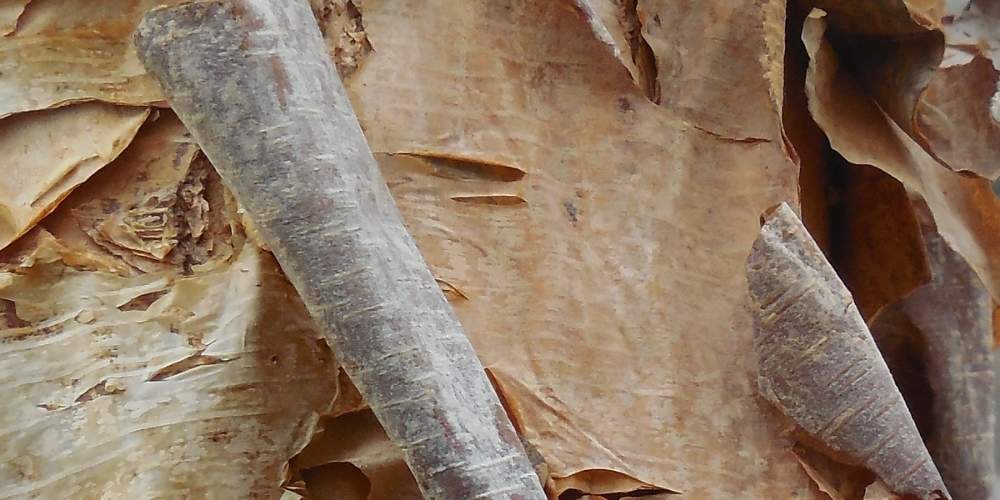 Cranberry Viburnum
We already mentioned the many reasons why Viburnum shrubs are an excellent choice. This variety is the one to select if you are looking for winter interest. Although like all deciduous plants, it loses its leaves for the winter, the beautiful red berries remain. They provide a great food source to surrounding wildlife and a splash of color for homeowners.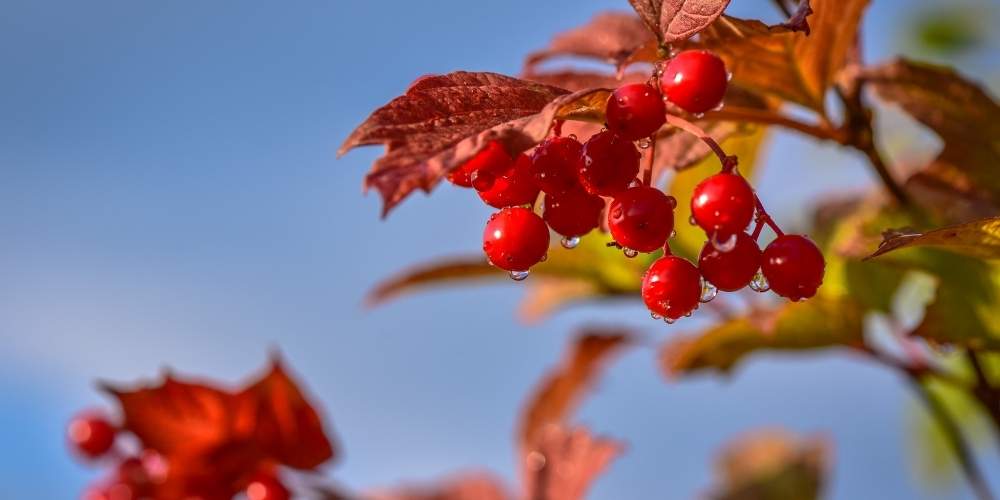 Michigan Holly
Michigan Holly, sometimes called Winterberry, is another plant that holds its berries throughout the winter season. The bright red berries are plentiful and create beautiful color and texture in your winter landscape. These plants are quite large and need both a male and female plant for berries to be produced. Because of their size, they may not be right for all landscapes.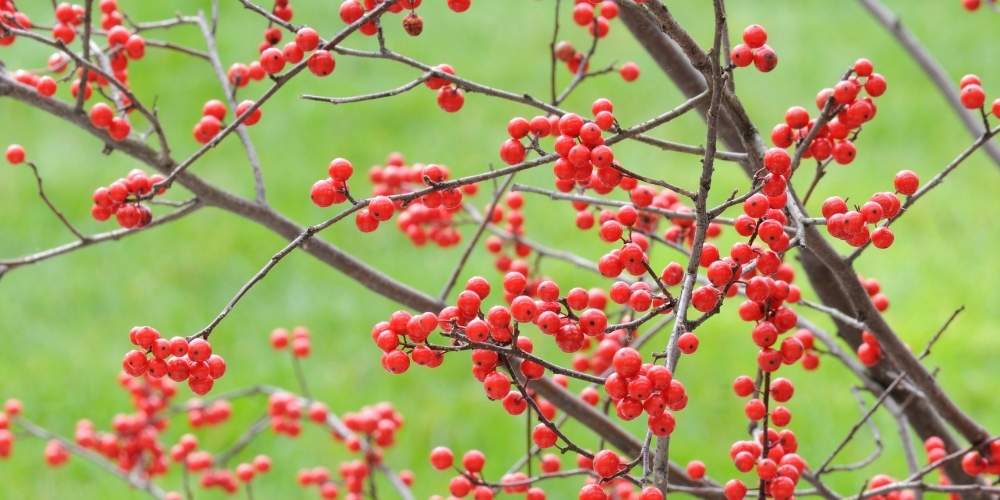 Evergreens
Every property in Northern Michigan needs evergreens! When we hear evergreen, we typically think of a Christmas tree. The evergreen species has SO much more to offer though. From shrubs to stunning weeping varieties, evergreens are far from boring or ordinary. Some varieties hold foliage of different sizes and textures creating so much interest throughout the winter.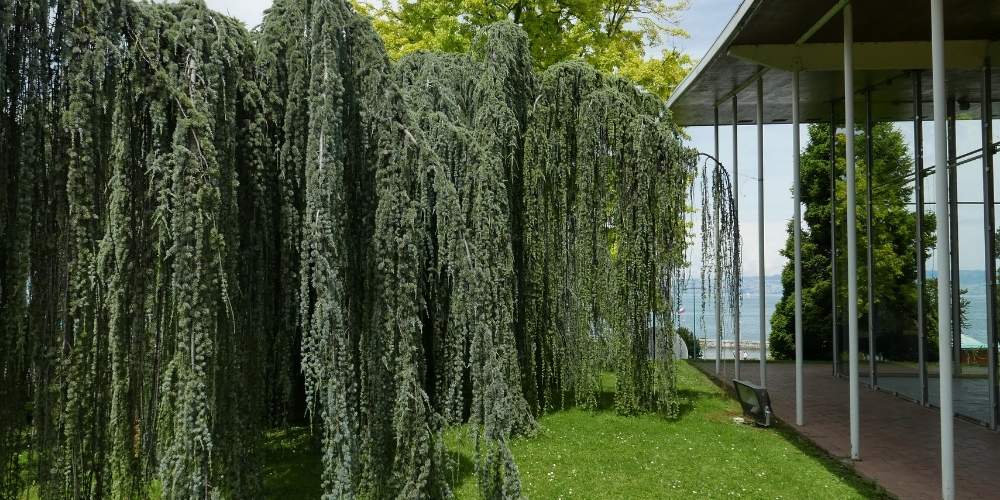 Chinese Witch Hazel
Our final plant for winter we must mention is Chinese Witch Hazel. This bizarre plant drops its leaves as most do in the fall but oddly blooms right in the middle of winter. Small yellow blooms are a rare and beautiful sight throughout the lower peninsula. Witch hazel can also be used for several medicinal uses as well, such as in creams, soaps, and lotions.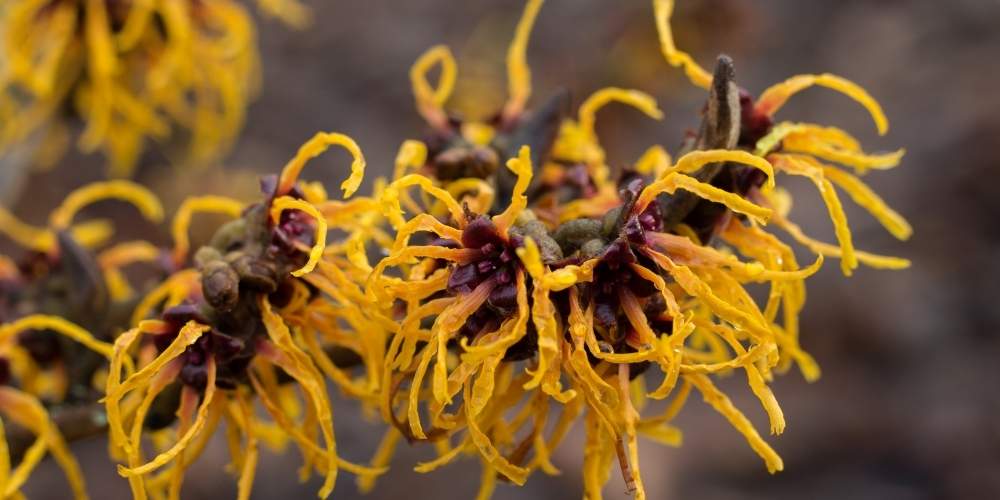 Year-Round Color on a Budget
Creating landscape beds that have a layered approach so you have color year-round requires a large number of plantings and usually a landscape designer to ensure success. But what if you don't have a ton to spend on reworking your entire landscape plan?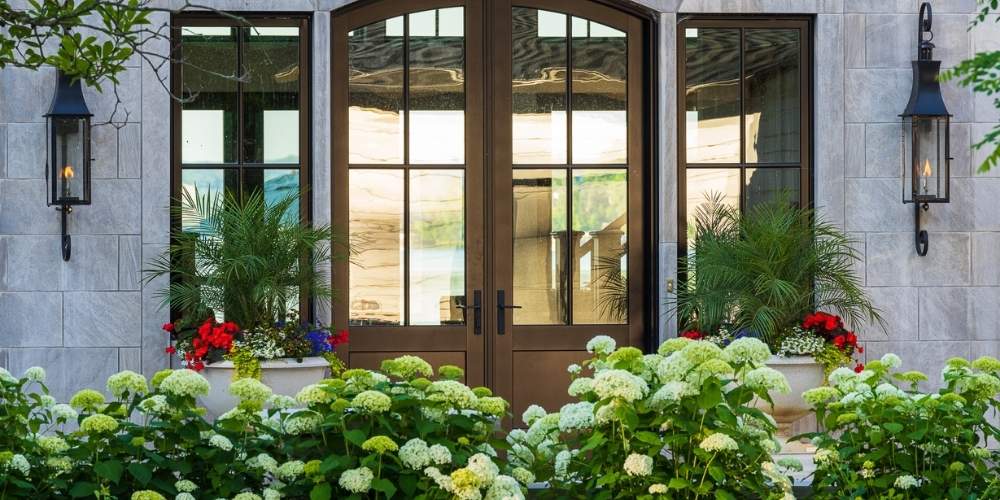 One spectacular way to provide color, interest, and texture throughout your outdoor landscape is the use of container gardens. Throughout the Spring, summer, and fall months, annual flowers and grasses can be planted in the containers. During the winter months, you can create a stunning display using supplies you already have in your yard or by reaching out to your local Christmas tree farm!
Container gardens are a great addition to any landscape and provide a warm welcoming feel year-round for a fraction of the cost.
Selecting a Landscape Provider to Install and Maintain Year-Round Color
Carefully planning and installing your landscape is key for beauty year-round. If you already have established planting beds, consider adding in a few plants that bloom during different seasons to add a pop of color and interest to what you already have.
Feeling a bit overwhelmed with all the choices? Experienced landscape designers and architects are able to create a landscape plan for you that incorporates interest and color year-round with plants that will thrive in your space and are ones that fit your existing landscape style.
Ready to install year-round color in your landscape located in Grand Traverse or Leelanau County, MI? If so, meet with our experts, create a plan to improve your property, and get ready to sit back, relax, and enjoy your beautiful outdoor space.

Want tips and tricks for your lawn & landscaping?
Sign Up For Our Free Quarterly Newsletter
We take your personal information very seriously. We will not share any of the information you provide with any 3rd parties. Provided information will be used specifically to contact you in regards to your inquiry.