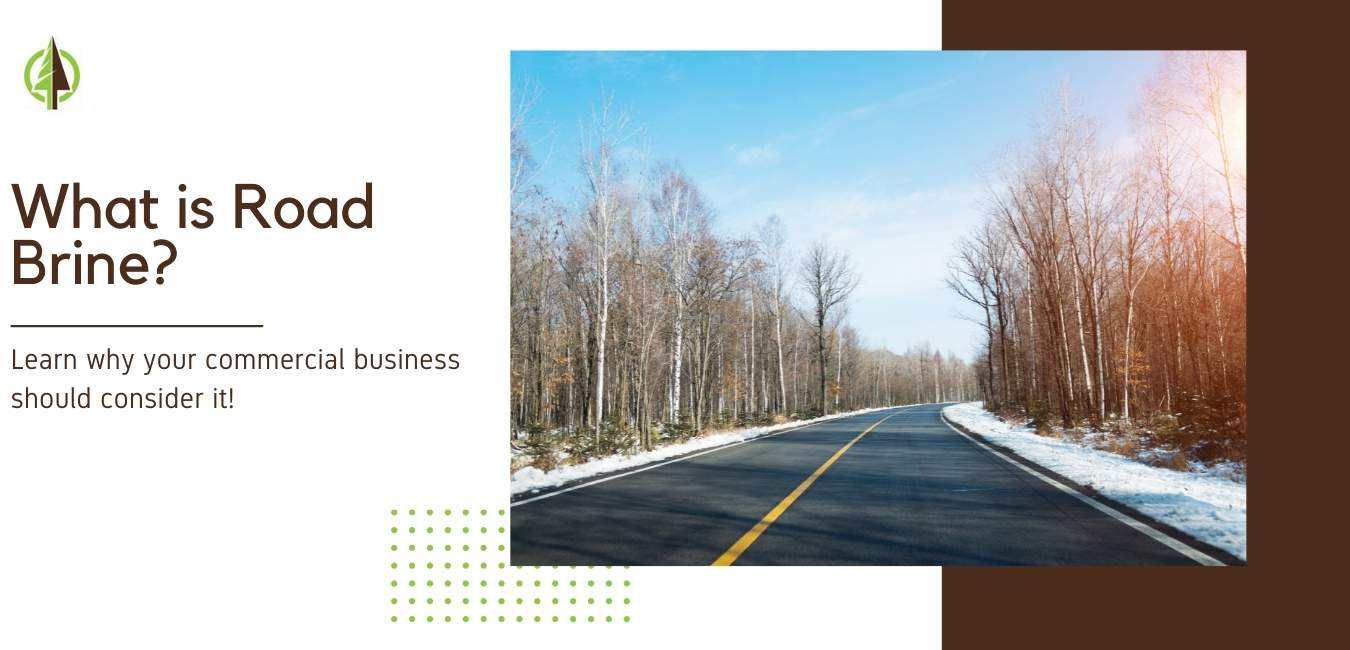 While it may seem like fall has just arrived, winter and the icy cold weather it brings is on its' way. It's time to start thinking about the best solutions to keep your commercial property safe and free from slippery parking lots and sidewalks.
Here at TruNorth, we've been thinking about it for months, and are excited to offer a new high-tech solution that helps protect the environment and keeps your property less icy. Let's look at what road brine (sometimes called liquid road salt) is and why it is a great alternative to typical road salt.
What is Road Brine?
Liquid road salt, or road brine, is applied to parking lots and sidewalks just as typical rock salt would be applied. Road brine is a solution made up of about 75% water and 25% salt. Additives can be added to the solution to make deicing more effective.
At TruNorth, we have purchased equipment to make our own brine solution. This will allow us to know that the proper mixture of water and salt has been achieved and allows for us to not rely on shipments that need to be waited on, and then tested before going out to your property.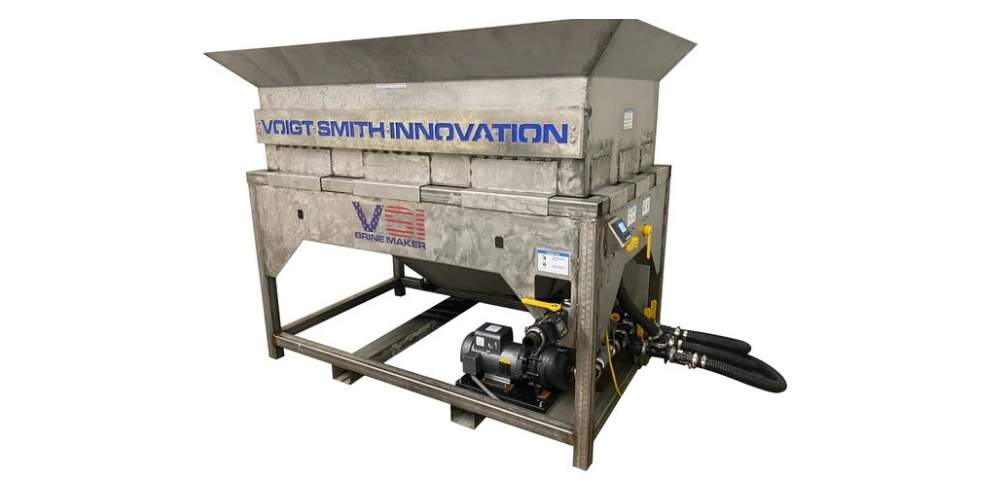 Image Source: VSI
What Does It Mean to Brine a Road?
Brine road salt is applied just like rock salt, except in liquid form. A large tank is attached to a truck that sprays the formula onto sidewalks, walkways, and parking lots. When you hear the terminology 'brining a road' it really is just a fancy way to say spraying liquid road salt onto a surface.
The specific equipment we are using at TruNorth is completely wireless controlled via Bluetooth through an app called VSI Spray Control. The machine also has GPS tracking, so we can effectively monitor how much brine was applied at your job and make tweaks as needed to ensure the product was not over or under-applied.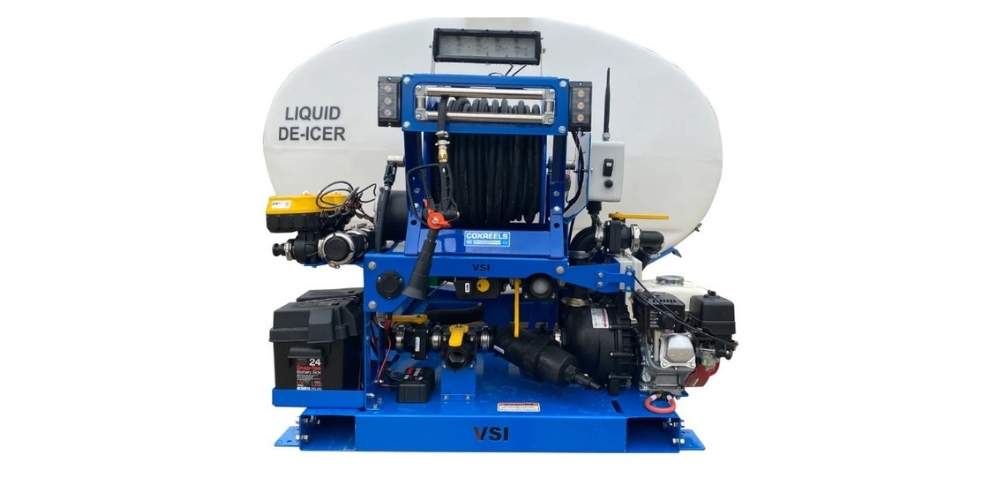 Image: VSI
How and When is Road Brine Used?
Brine road salt is used differently than traditional rock salt. Typically, during or after a snow event, your parking lot is plowed if needed and then rock salt is applied. There may need to be several applications throughout a storm of traditional rock salt, as it bounces and rolls as it is applied sometimes ending up in gutters, landscape beds, or tracked into the doors of your commercial business. Let's look at the main ways that road brine is used.
Pre-treating Roads with Brine
The best quality of road brine is that it can be put down prior to a snowfall. The road brine will help prevent a small accumulation, and it helps the snow and ice not bond to the pavement. Because the snow and ice are not stuck to the pavement, it is easier to remove and less salt is needed after plows finish clearing a larger accumulation. Pre-treatments also help give trucks more traction and prevent refreezing, which can be a major issue.
Liquid Road Salt After a Snow Event
Just as rock salt or sidewalk ice melter is used, liquid road brine is applied after a snow accumulation. It helps to prevent the recently cleared pavement from getting slippery or icy. Liquid application not only leaves your lot and walks looking cleaner, but it also is faster acting after applied (sometimes up to 3-4 times faster than rock salt!!).
The Benefits of Road Brine
Road brine is an excellent alternative to traditional road salt, and is really what many in the Green Industry believe is the future of snow removal. While the initial costs for the equipment and supplies to be able to offer brine are high, we believe that we will be able to keep commercial lots much clearer and walks significantly safer. Brine also works at a lower temperature than rock salt does, which is extremely helpful for our bitter Northern Michigan winters.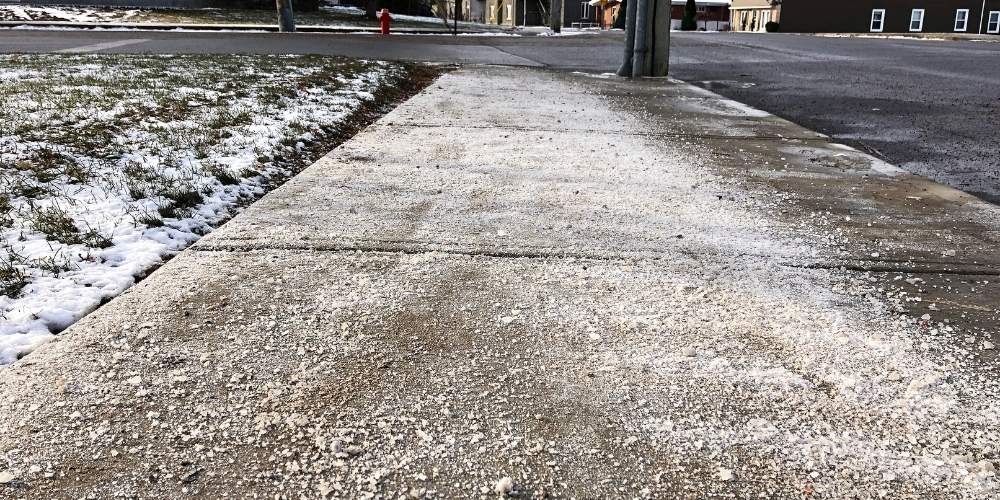 Beyond just creating a safer property, the use of brine will help your business to look much neater and well-maintained. There is no leftover rock salt or residue to be tracked into your business or tossed into your landscape beds. This not only makes your property look better but also saves on janitorial costs.
As we all know, the weather in Northern Michigan is very unpredictable, so even if a snow event misses our area, you are not left with a huge rock salt mess in your lot.
Is Brine Better for the Environment?
One of the most important benefits of rock salt is its' environmental impact. Liquid road brine is significantly better for the environment, as way less 'salt' has to be used. Liquids provide as much as 75% salt application reduction. The salt that is applied sticks directly to the pavement or walkway it is sprayed onto, so it is not tossed into the storm drain.
When Spring rolls around, your landscape will be happy as brine, unlike road salt, is much less likely to kill or negatively impact your grass or landscape beds! In addition, liquid road brine has an 80% less corrosive value than rock salt, which means it is better for your pavement or asphalt as well.
Selecting a Commercial Snow Removal Service Provider
We know how important it is for all commercial business to maintain a high level of safety on their property year-round. Unfortunately, this can be incredibly difficult in the winter months in Northern Michigan.
A successful salting program is a key component of any good snow removal contractor's plan for winter property maintenance. With its' increased effectiveness alone, selecting road brine instead of rock salt is a win for commercial companies in Northern Michigan. When effectiveness is combined with a neater looking property and a much lower environmental impact, choosing liquid road brine is a no brainer! Still wondering how to select a commercial snow removal company? Check out this blog for more information.

Want tips and tricks for your lawn & landscaping?
Sign Up For Our Free Quarterly Newsletter
We take your personal information very seriously. We will not share any of the information you provide with any 3rd parties. Provided information will be used specifically to contact you in regards to your inquiry.