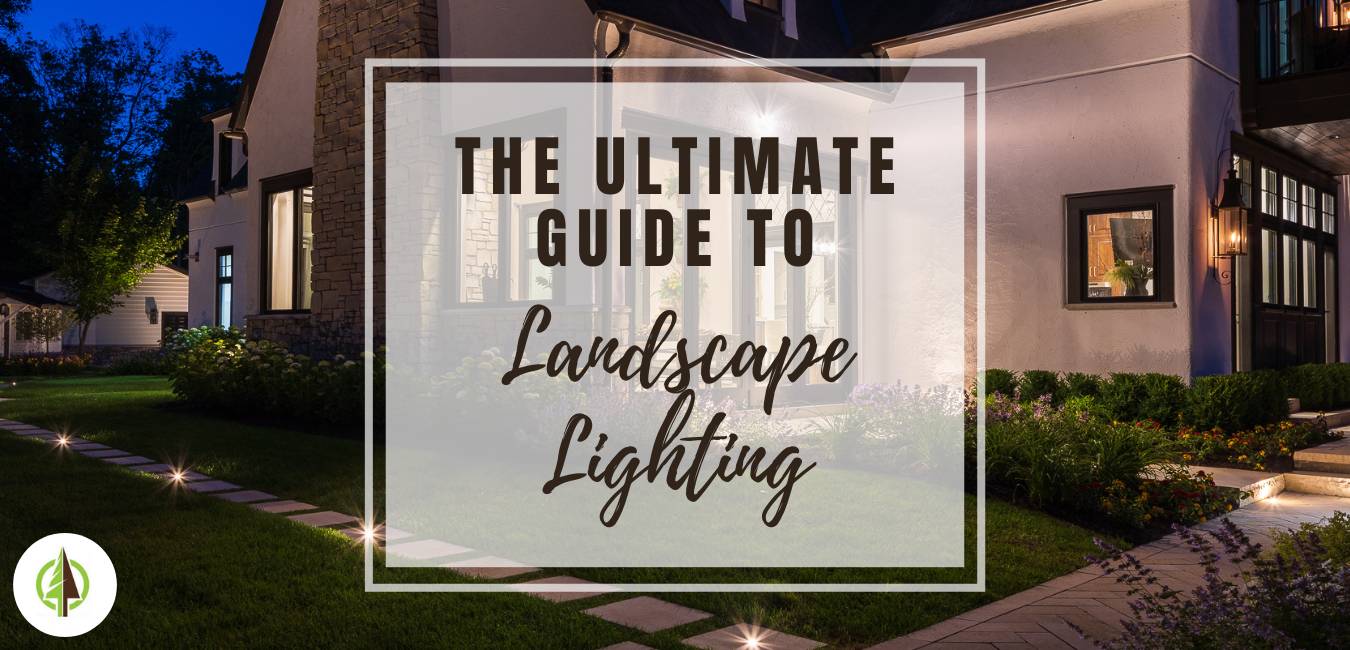 Nothing is worse than having to make that dark stumbling walk back from your outdoor space to your house after having a great night. Unlit spaces can not only be dangerous but fall short of highlighting the beauty you carefully selected and invested in when building your perfect landscape and outdoor space.
Landscape lighting can help draw eyes away from things you don't want guests to see and extend your enjoyment time frame in your space. Lighting can even help to set an ambiance in your space.
While landscape lighting seems uncomplicated, there are tons of options and terminology to understand. We've created an ultimate guide to landscape lighting to help you navigate all the decisions when creating a landscape lighting plan.
Does My Property Need Landscape Lighting?
You may wonder if landscape lighting is even a necessity at your home. It may not be necessary depending on how you plan to utilize your property. However, most homeowners in Northern Michigan want to soak up every minute of warmer weather and tend to use their outdoor space after the sun sets.
We suggest landscape lighting to our clients for three main reasons.
Improve Safety and Security
Improve the Usability of Space
Improve Ambiance and Highlight Beauty
The decision of installing landscape lighting or not is so commonly discussed with our clients, we wrote an entire blog on it. To learn more about the three reasons you may want to consider landscape lighting, click here.
How to Use Landscape Lighting on Your Property
Landscape lighting is more than lights on stakes found at your local hardware store. It is important to consider why you are lighting your space. This will help determine exactly how to light it in the most effective way. Let's look at different types of lighting situations and ways to light your outdoor space.
Lighting for a Purpose
Task lighting is lighting that is installed that makes completing a task easier—such as grilling or preparing food at an outdoor kitchen. It tends to be pretty bright and focused so that you can effectively complete the task at hand.
Wayfinding lighting is exactly what it sounds like, it helps people navigate your outdoor space. Lights on steps, near railings, by a fence or gate, or along a path are all considered wayfinding lights. The brightness of wayfinding lights can vary but they need to be bright enough to help keep your guests and yourself safe when moving about your space.
Area lighting tends to help warm up a space or make it more comfortable for entertainment. It is not nearly as bright as task lighting but serves the purpose of making a space useable. An example would be lighting surrounding a dining area or patio.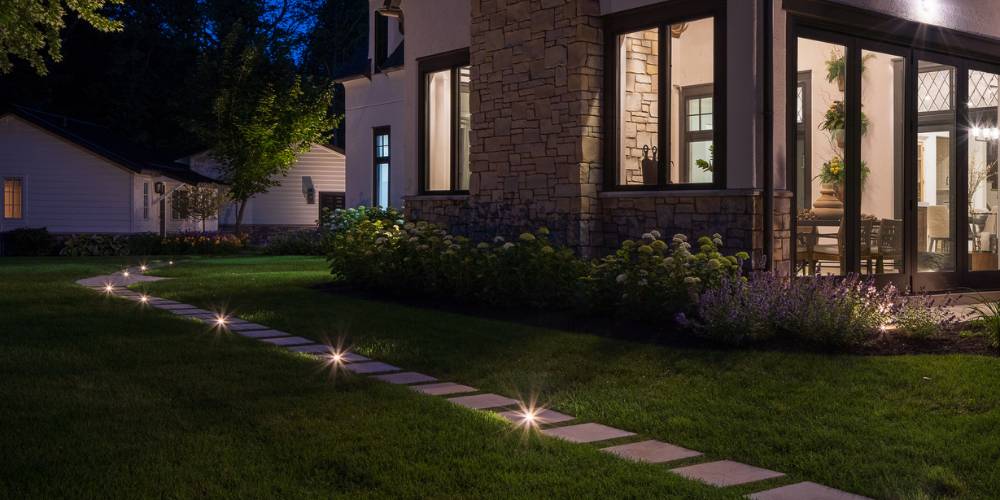 Lighting for Beauty
Accent lighting is done solely for the purpose of adding beauty, interest, or highlight to your property. Some examples could be having a spotlight on a beautiful tree or water feature to underwater lighting to help that water feature really shine at night. Accent lighting allows your property to shine when the sun is down sometimes even more dramatically and beautifully.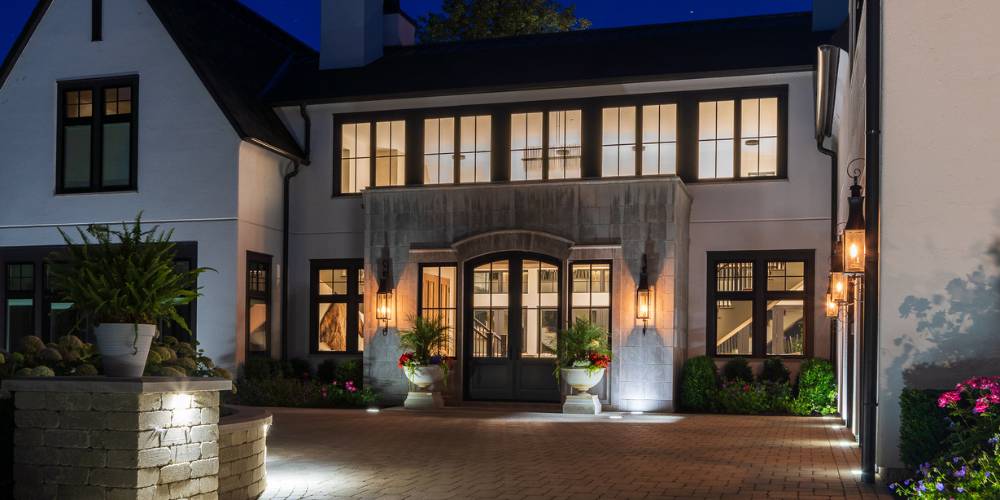 Additional Ways to Light Up Your Property
Spotlights-feature something you want to be highlighted in your landscape; focus on lighting up specific areas only
Floodlights-do exactly as their name suggests- flood a space with light
Silhouette effects-place light behind an object to create a silhouette effect
Shadow effects-place light in front of an object to create a shadow effect
Downlighting-useful for showing off plants closer to the ground whose beauty is on the top, on patios or outdoor seating; disperses light downward from an elevated position; the higher the more lit up an area will be
Uplighting-traditional type lighting installed on the ground shines upward; showcases features and helps create attention around a point you desire to highlight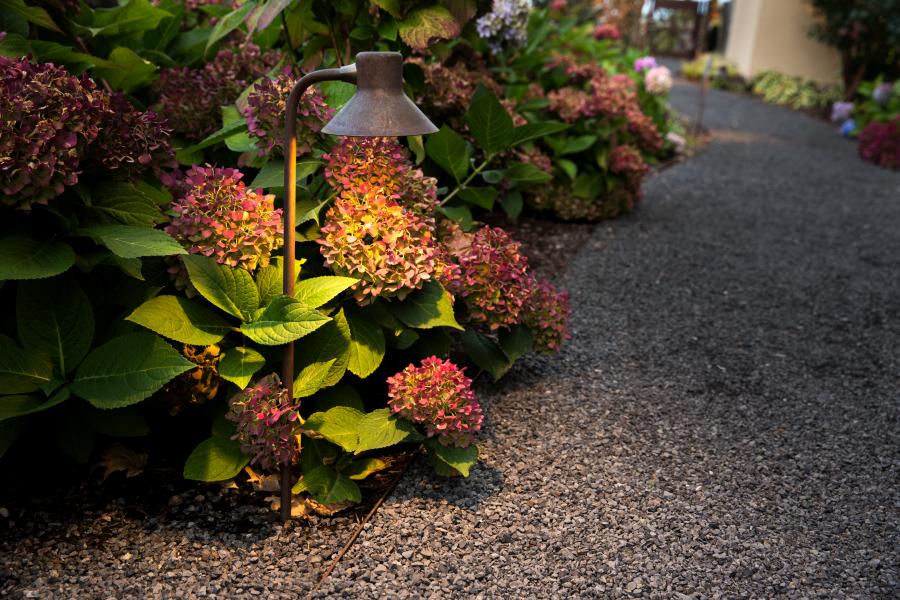 Photo Courtesy of Hunter Industries Incorporated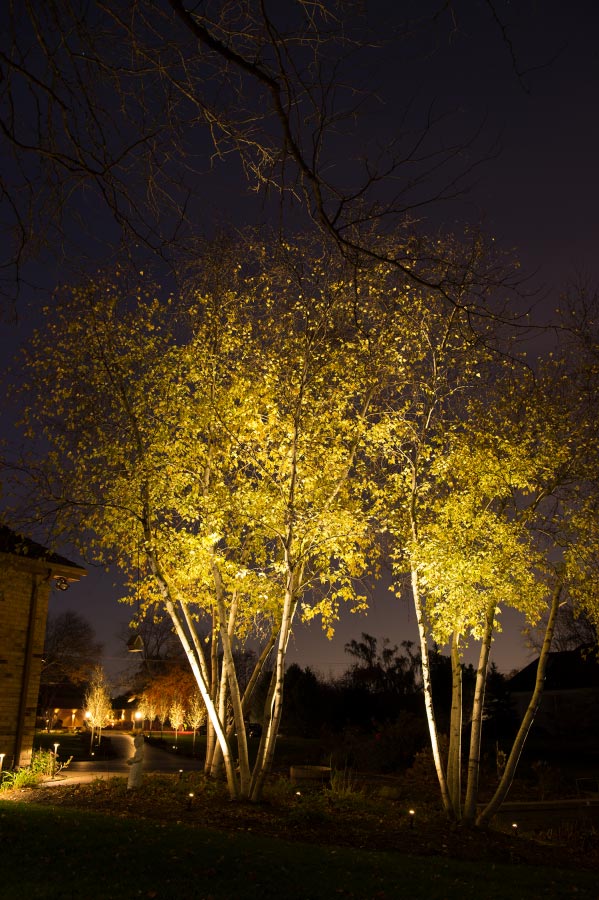 Photo Courtesy of Hunter Industries Incorporated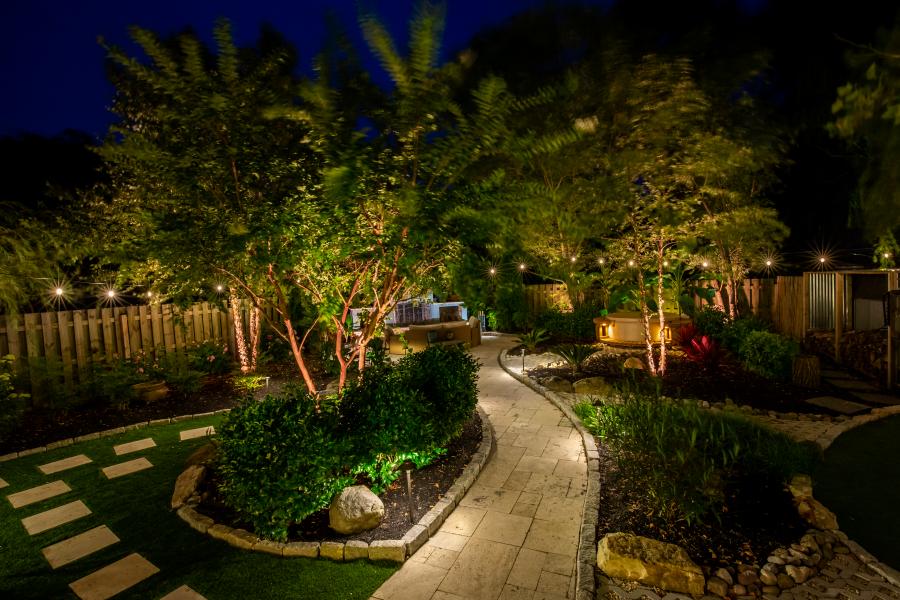 Photo Courtesy of Hunter Industry Incorporated
Creative Lighting Options
Wondering what other options you may have to choose from when designing your lighting plan? Color, lighting size and lighting style are all important aspects to think about.
Color
Gone are the days of only bright blinding white light being the only option for outdoor landscape lighting. Filters have been created to give homeowners options ranging from a warmer light to a cooler light or even colored lighting. Green, blue, and red the options for color are truly endless in landscape lighting today.
Colors can be programmed into a beautifully choreographed plan for each evening or season. If color isn't your thing, you can dim brighter lights to create a warmer feel in your outdoor space.
The new color options really allow you to customize your lighting to your space and preference.
Size
Both small 'twinkle' lights and large feature lights are very popular right now. Small lights can help add depth to a space and highlight landscape beds, whereas large bold lights can become a statement piece on their own. There are some really neat options ranging from globe-type lights to themed-type lighting (nautical) for example. Basically, any size light you would like or can dream up is now available.
Style
In addition to theme-centered lighting, lanterns are still extremely popular. New developments in the landscape lighting arena now provide environmentally friendly options as well including LED and solar-powered lighting as well.
Do I Need a Landscape Professional to Install My Landscape Lights?
Deciding whether to DIY lighting or call a professional is one of the most common questions we hear. Hardware stores carry typically a large variety of lighting options that overall seems pretty easy to install. For a quick and cheap option, they can add some light to your property and last about a season. To avoid four of the most common DIY mistakes, check out this blog.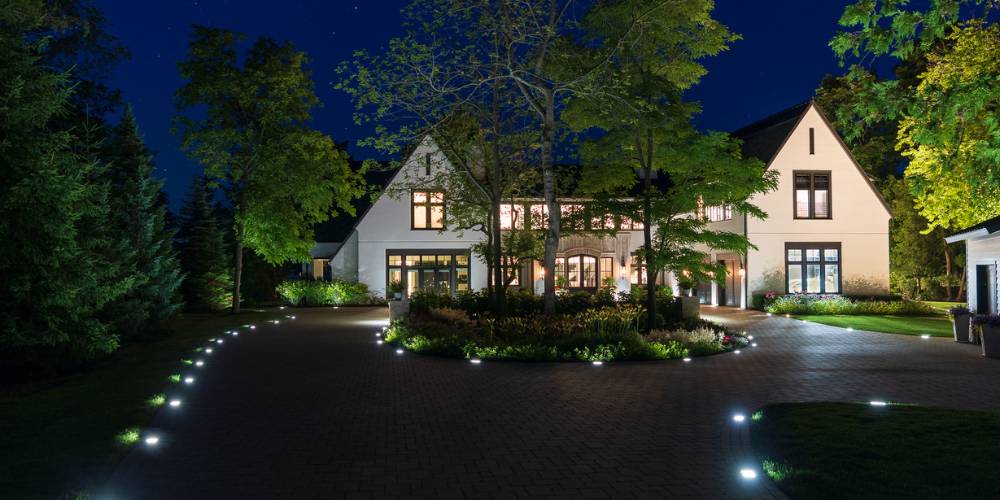 However, in our opinion, landscape lighting should be done with care and consideration. Just like installing a landscape, installing landscape lighting requires a design plan. Creativity, knowledge, and equipment are needed to install a lighting plan that truly illuminates your space. Professional grade fixtures have their wires buried under the ground and are built to last. Additional features are included such as lighting that is controlled through an application on your phone.
Selecting a Landscaping Company to Install Landscape Lighting at Your Property
Landscape lighting can be a relatively easy and cost-effective modification that makes an enormous impact to your outdoor space. Taking time to work with a landscape designer will ensure that your hopes for your newly lit space come to fruition and your investment can pay off for years to come. If you are designing a brand-new landscaping plan for your backyard, be sure to consider landscape lighting, as installing before hardscapes are laid can make installation much easier. Already have your landscape installed? Selecting a professional and experienced company can help any of your lighting dreams become possible.
Ready to get started on your landscape lighting project in Grand Traverse or Leelanau County, MI? Get started with a consultation today!

Want tips and tricks for your lawn & landscaping?
Sign Up For Our Free Quarterly Newsletter
We take your personal information very seriously. We will not share any of the information you provide with any 3rd parties. Provided information will be used specifically to contact you in regards to your inquiry.