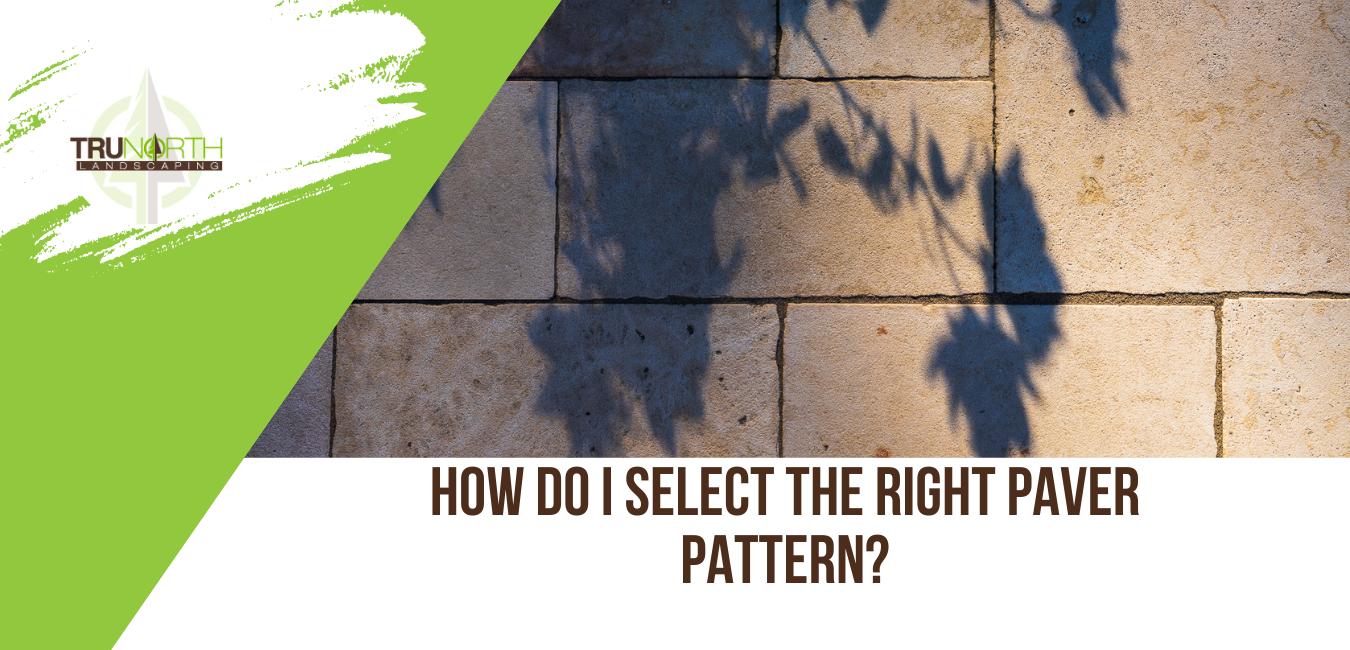 Designing your dream outdoor space means a lot of decisions. We know it can get overwhelming trying to select the size, color, pattern, material, and style of your future patio. Carefully selecting the right paver pattern can make a tight space seem larger or an expansive space seem cozier.
Considering the pattern you select greatly impacts how your final hardscape project turns out, let's look at some of the most popular patterns and some considerations so you can make the best choices for your outdoor space.
Most Popular Patterns
You knew that you needed to pick from thousands of types of patio colors and materials, but many clients forget about pattern options. Let's look at some of the most popular patterns we install in Northern Michigan.
Ashlar Pattern
The Ashlar pattern is by far the most popular choice for homeowners. It uses both square and rectangular pieces laid in a repeating pattern. This pattern works great for both contemporary and traditional homes.
Herringbone
The Herringbone pattern is made up of rectangular pieces cut at a 90-degree angle. These pieces are laid together to make a point and it results in a zig-zag type pattern. Herringbone patterns are great for walkways and can add interest to a more simple color or paver style.
Running Bond
The Running Bond pattern is made up of rectangular pieces staggered by ½ a brick from the row above. It results in a classic one-over-two pattern.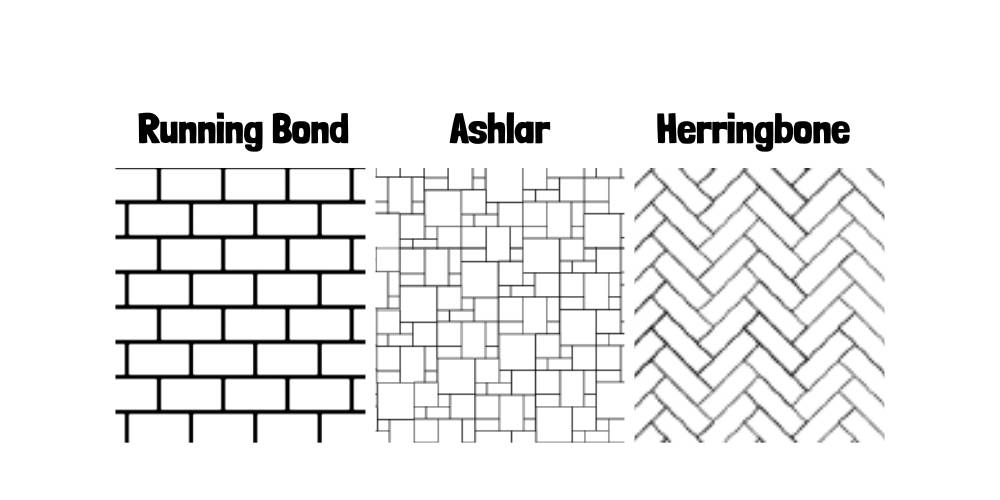 Consider the Architecture of Your Home
Any expert landscape designer will tell you that the architectural style of your home is the most important consideration when selecting a pattern for your patio or hardscape area. Modern homes with straight lines tend to align better with geometric patterns and straight lines. Older, Victorian-type homes may consider adding curves or arches that mimic the lines on many windows or doorways.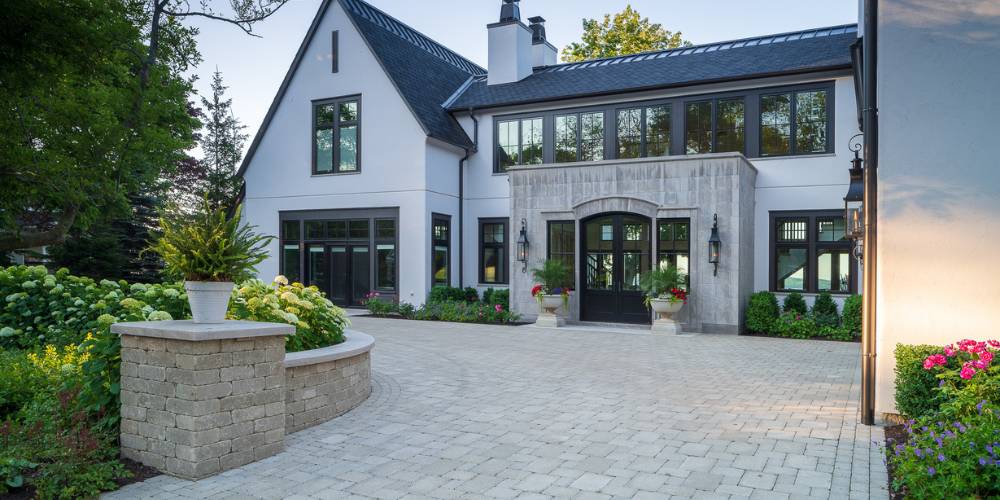 While all this is important to think about, it's also even more important that you actually like the pattern you select. If you hate arches, don't feel pressured to include them simply because your home does. Recommendations from an expert can help guide your decision, but ultimately pick the style you like best.
How to Make Spaces Feel Larger or Smaller with Patterns and Shapes
The material you select as well as the pattern your stone is laid in can impact how large or small your space feels. Worried your space may feel cramped? Try using diagonal or horizontal rows and the running or stack bond pattern. These can elongate a walkway or just make a space feel more expansive. A larger paver size creates fewer joints, which can also make your space feel bigger. If you are concerned that your space feels way too larger, try selecting a smaller paver size where you see more joint lines. Consider laying the pavers in a pattern like a herringbone as well.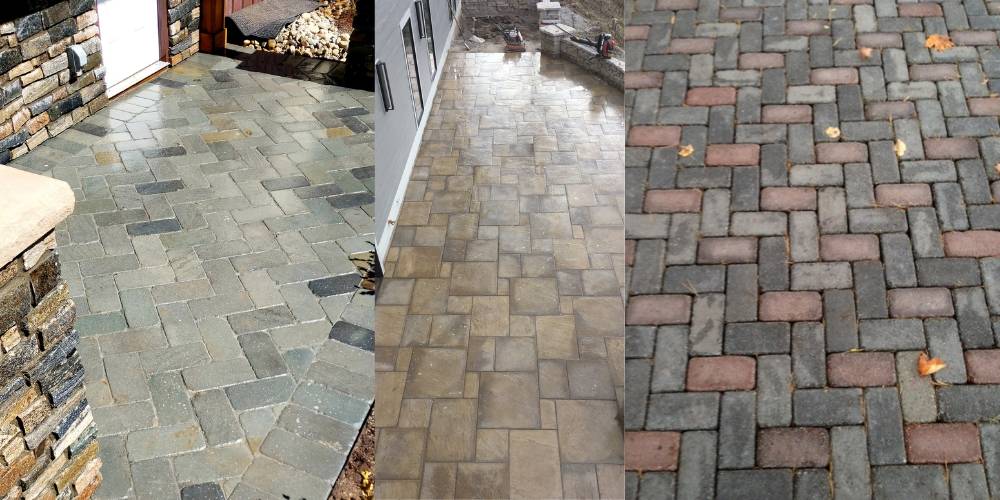 Use Pattern to Transition
If you are having a difficult time deciding between patterns, your hardscape area does not need to have only one pattern throughout your property. Many landscape designs we create contain different patterns for a driveway in the front of the home, a patio around the back, and walkways navigating around the property.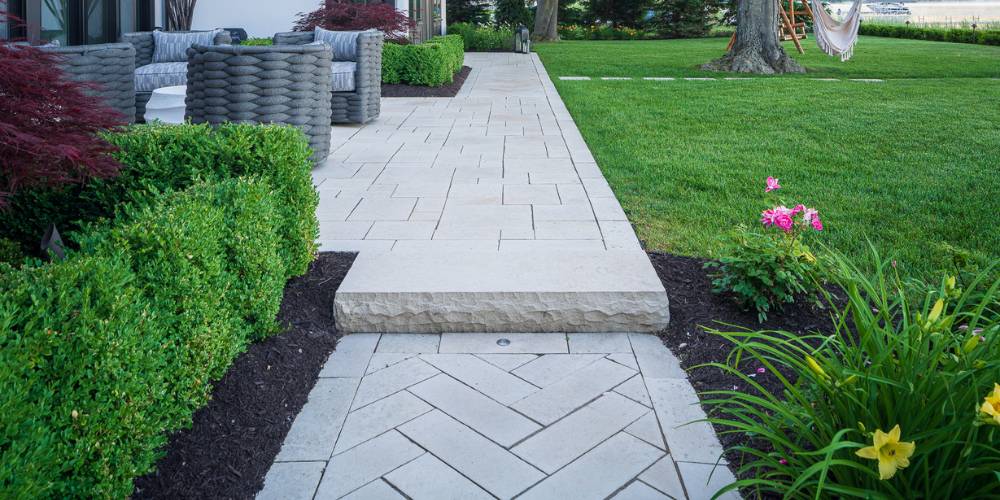 In large areas, patterns can also help you signal a transition to a different space. Consider adding a contrasting border or an inlay to help add interest to your space if unique patterns aren't really for you.
See Patterns in Real Life
Looking at drawings or even photos of patterns can help you select which is the best fit for your property. However, we recommend seeing the paver patterns in real life. At the TruNorth property, we have an enormous outdoor showroom that features products from all four of the product suppliers we recommend installed in a wide variety of patterns. Actually getting to see a pattern installed in a large area can help make the decision so much easier!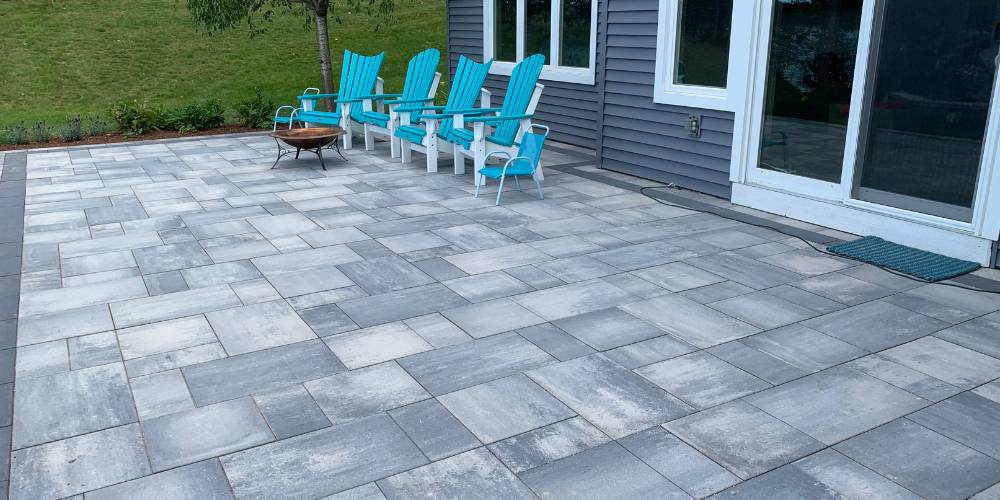 Selecting a Landscape Contractor to Install Your Hardscape
After making decisions about what you want to install, what product you want to use, and what color will look best, your designer is going to talk with you about pattern. Our certified landscape architect takes into consideration all the details of your home and includes them when making recommendations for paver type, texture, color, and pattern.
To have a space you absolutely love, you need a landscape designer or architect that can understand your vision or can help you create one. While the design process can sometimes be tedious, an experienced landscape design team can help make your project come to life before you know it!
Ready to get started designing your dream outdoor space in Grand Traverse or Leelanau County, MI. Get started with a consultation with one of our experts!

Want tips and tricks for your lawn & landscaping?
Sign Up For Our Free Quarterly Newsletter
We take your personal information very seriously. We will not share any of the information you provide with any 3rd parties. Provided information will be used specifically to contact you in regards to your inquiry.