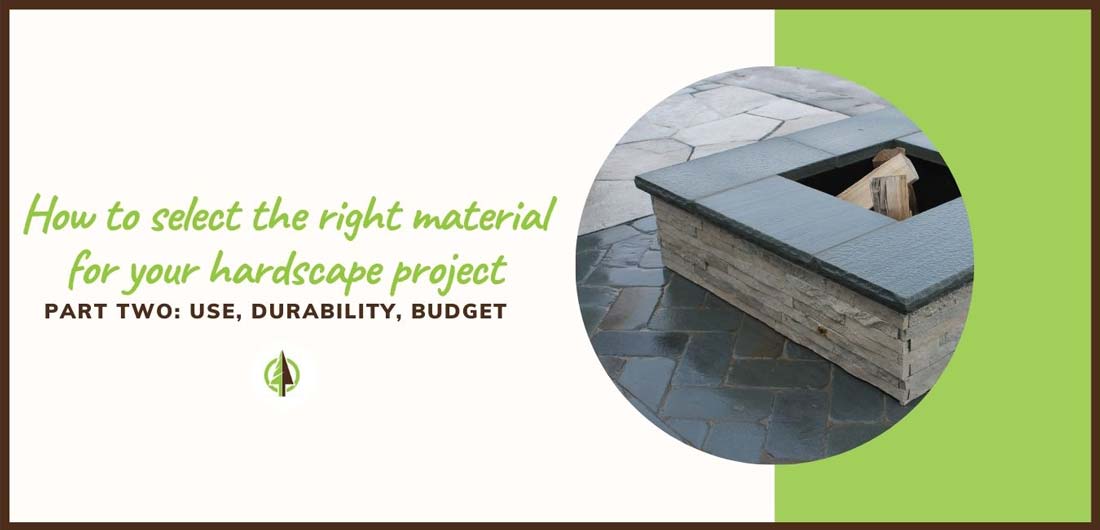 When designing your dream outdoor space, making decisions can be challenging. And let's be honest, there are a whole lot of decisions to make. From selecting the right landscape designer to choosing the right plants for your space, the number of decisions can feel overwhelming.
Our first post in this series, selecting a hardscape project by the appearance,  is certainly the easiest way to rule out products that won't work, however, considering durability, use, and budget when selecting hardscape material is also extremely important.
Considering Durability, Use, and Budget
Product Durability
Durability is an extremely important factor to consider, especially in Northern Michigan. The freeze-thaw period, as well as snow and rain throughout the year, can really cause havoc on the wrong type of material. Most product selections are appropriate for Northern Michigan, however, a choice like a poured concrete slab (even if it is beautifully stamped) will crack due to our weather conditions. Durability and considering how you will use the space really go hand-in-hand. For example, if you select a softer or more natural product, scooting chairs in and out from the table repeatedly can scratch or damage the surface of some hardscape options.
Use of Space
We recommend really considering how the space will be used before making a product selection as well. Some products are very uneven surfaces and would be problematic for an outdoor dining area for example. Other products get very warm to the touch in the summer sun and some need more maintenance than others. Communicating to your design team your dreams for how you plan to use the space is a great first step as it really impacts all other areas of the project, from durability to specific elements to include your landscape.
Budgeting Considerations
Obviously, regardless of how extensive a project is, everyone has a budget. It is wise to decide what is most important to you in your outdoor space. If having several elements like a kitchen and fire pit is most important, you may need to make more conservative budgeting choices on your hardscape material. If the aesthetic is most important, you may want to splurge on the material choice and add in additional elements later. It is important to remember if a natural or porcelain paver is out of budget, there may be a very similar-looking manufactured product available. Seeking out professional designers and architects is important as they can help to provide a full picture of product choices.
Concrete Pavers (Manufactured Pavers)
Overall, most concrete (or manufactured) pavers are truly quite durable. They are all manufactured using the same mold in a controlled environment, so customers can know what to expect. They can be sealed to help protect the water barrier and prevent the freeze/thaw by not allowing moisture to sit in the stone in the first place. If for some reason, a brick is damaged, it is easy to replace just one section and have it match the rest of the patio or area perfectly.
Most concrete pavers are installed with polymeric sand, so they are permeable, meaning water can easily run through to the ground and not pool or sit on top of the pavers. Sand no longer washes out or needs to be redone after a few years. Concrete pavers can range from moderate to high on the price scale. Different manufacturers have wide-ranging products and pricing available.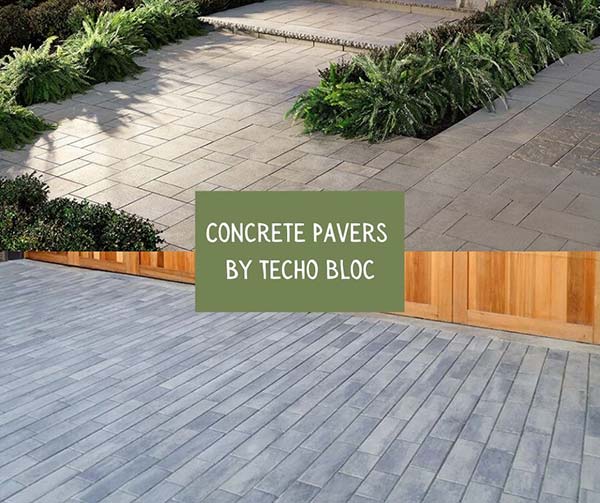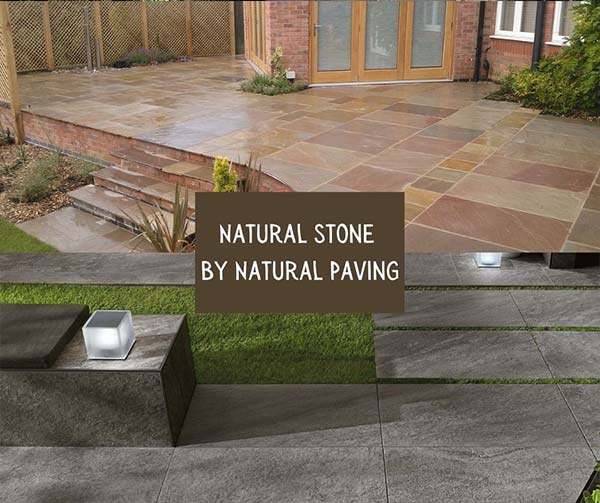 Natural Stone
The term 'natural stone' covers a wide variety of options for customers to chose between. Some natural stones, like granite and slate. Both limestone and marble are softer and more porous than granite and need to be sealed to assist in protection from fading and issues with weather. For example, if you forget to clean your leaves off your natural limestone patio, they can leave leaf-shaped stains while the leaves sit over the winter on the surface. The durability of natural stone can really depend on where it is sourced from as well.
Natural stone tends to run on the high side of a price scale. The installation for this type of material is much more extensive as well, which will drive up overall cost. Not all blocks are even, as they are from nature–not created in a factory, so installation simply takes longer. Natural stone can be pre-cut to the specific size blocks you would like or it can be installed in an irregular form, which is what most people think of when we talk about flagstone.
Porcelain Pavers
Porcelain tile pavers are actually very durable and do not need to be sealed at any point. When wet, they are very slippery, so this is something important to consider. While tiles are generally durable, they can break. It is important to have spare tiles on hand to replace damaged tiles when needed.
Porcelain pavers also run on the high side of a price scale for hardscape materials. This type of product is rarely used in Northern Michigan.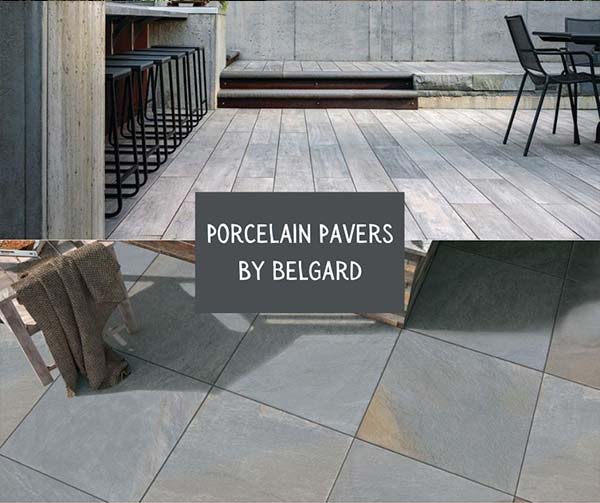 Selecting a Landscaping Company to Install Your Hardscape Choices
While the amount of considerations and decisions when designing your outdoor space is vast, a great landscape design team and contractor should be able to help make recommendations that make things easier. Be sure to ask as many questions as you would like to your team. Look at their gallery on their websites, their blog pages, and their social media to get inspiration for your product choices. Some companies even offer a learning center to help clients work through their decisions.
Our designers frequently bring hardscape option samples out to our client's homes. Our clients have put the sample up against their siding to see how it complements the existing structures on their property. They take off their shoes and step on the paver to see how it feels barefoot if they live near the water. This is your hardscape space that is meant to last a lifetime, don't hesitate in doing whatever it is that you feel will help you make the best choice.
Check out the first post in this blog series: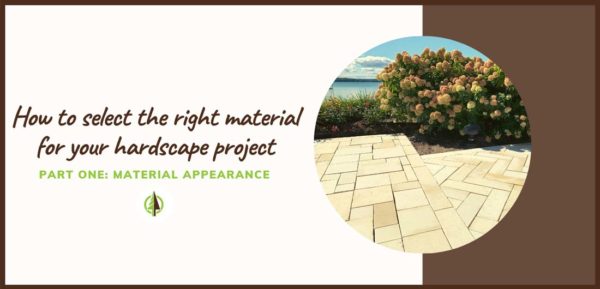 Ready to get started on your landscaping project in Grand Traverse or Leelanau County, MI? If so, meet with our team of experts, choose a solution to improve your property, and get ready to sit back, relax, and enjoy your beautiful outdoor space.

Want tips and tricks for your lawn & landscaping?
Sign Up For Our Free Quarterly Newsletter
We take your personal information very seriously. We will not share any of the information you provide with any 3rd parties. Provided information will be used specifically to contact you in regards to your inquiry.