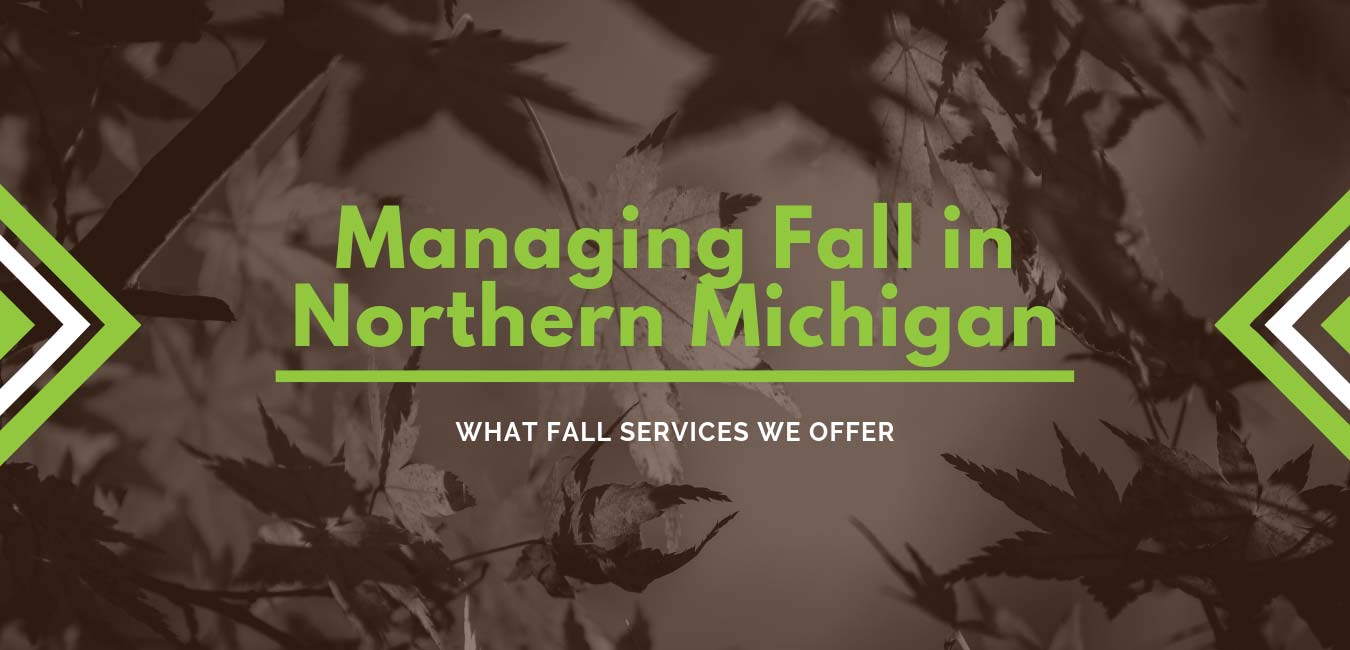 The fall colors in Northern Michigan are nothing short of extraordinary, however, for those with homes or cottages in the area, the fall season can bring a whole lot of outdoor work! Preparing your landscape for the winter is extremely important to have a successful and plentiful Spring and Summer. When fall services are not done, your landscape becomes a breeding ground for pests and plant diseases. For many homeowners, especially if they own a family cottage or second home, fall property maintenance can be an enormous time commitment. TruNorth recommends the following services, and we offer all of these services in combination with a yearly property maintenance plan!
Fall Lawn Maintenance
Since the growth of grass slows in the fall, many people tend to relax on lawn mowing or just stop cutting their lawns all together. Mowing through the fall season is extremely important for the health of your lawn! Before the really cold temperatures hit, we recommend giving your lawn one final mow at a lower mow height. This will help soil dry out faster and lawns return lush. Leaving your lawn freshly mowed before snow falls helps prevent pests from making their home in your lawn.
We also recommend a final fertilization application to help feed your lawn and set it up for success in the Spring. Our experts can recommend which application is best for your lawn.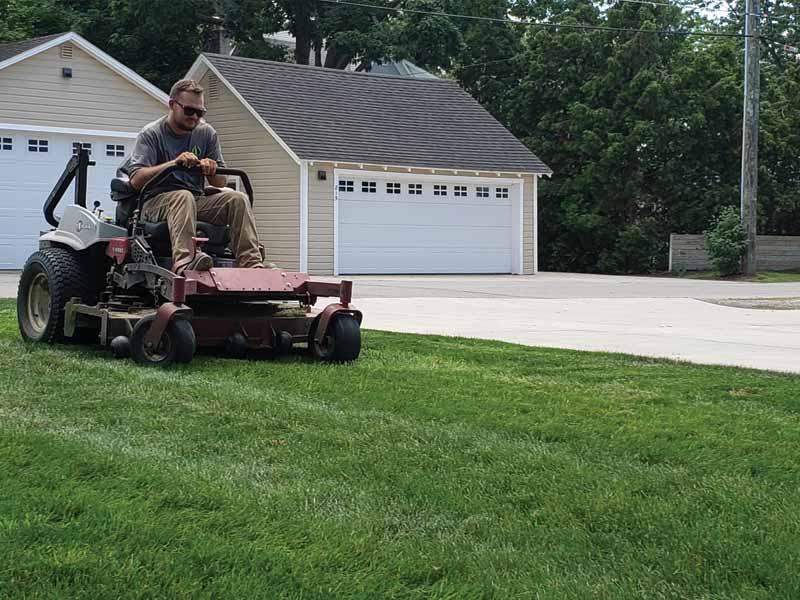 Fall Clean Up
The dreaded fall cleanup!! If your property is heavily wooded, this can be a never-ending task! A fall clean up is just what it sounds like—a removal of all leaves, sticks, and twigs that have fallen and covered your yard and landscape beds. Removing leaves is so important for the health of your lawn and perennial plants.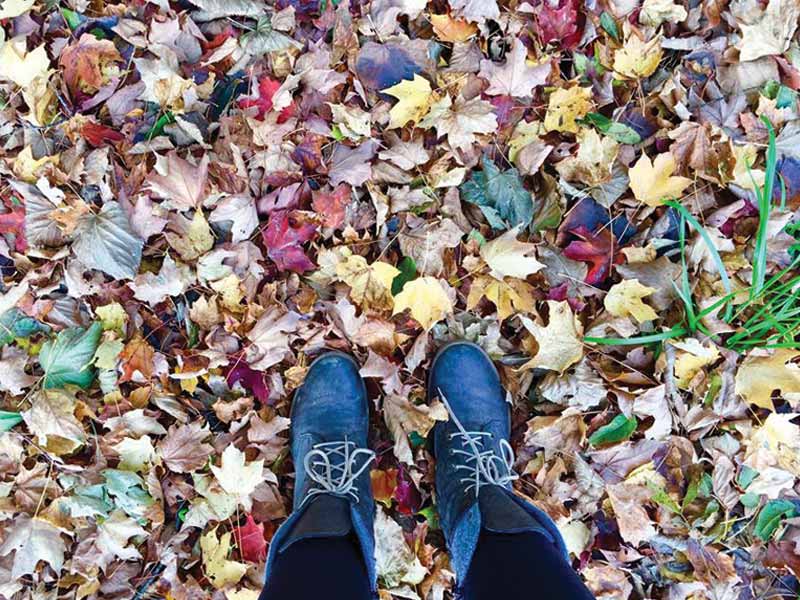 Fall Horticulture Maintenance
Many homeowners tend to shy away from maintenance within their landscape beds because honestly it can be a bit overwhelming figuring out which plant needs what! We recommend a fall cut back, and researching your plants and what is best for them is key before beginning any cut backs! Check out our upcoming blog for some tips and tricks! If this task seems overwhelming, TruNorth has a team of horticulture experts who can quickly and correctly cut back your plants for the fall!
One additional horticultural consideration is installing burlap. Trees, shrubs, and bushes can be wrapped in burlap to help prevent winter burn and generally keep plants in good health. Remember, not all homes or plants are in need of burlap!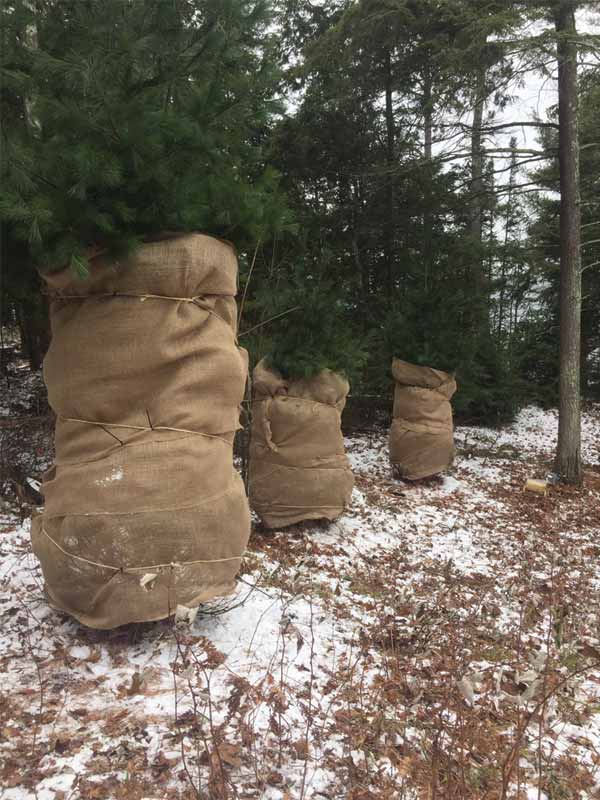 Selecting a Landscaping Company to Help with Fall Maintenance
For many landscaping companies, fall services are an add-on to the typical mowing schedule. In order to get a final mow, you have to ask for it. At TruNorth Landscaping, we offer full-service maintenance programs. This means from Spring to Fall, everything your property needs is taken care of. We will recommend only services that your specific outdoor area will require.
Fall maintenance tasks can be extremely time-consuming and overwhelming to complete. Whethere you tackle the leaves on your own or hire a professional, it is necessary to get your property ready for winter!
Ready to have the best-looking property on the block in Grand Traverse or Leelanau County, MI? If so, meet with our team of experts, choose a solution to improve your property, and get ready to sit back, relax, and enjoy your beautiful outdoor space.

Want tips and tricks for your lawn & landscaping?
Sign Up For Our Free Quarterly Newsletter
We take your personal information very seriously. We will not share any of the information you provide with any 3rd parties. Provided information will be used specifically to contact you in regards to your inquiry.