Hydrangeas are one of the most popular plants requested in Northern Michigan. Their beautiful signature blooms are large, colorful, and can bring a whole lot of beauty to a homeowner's outdoor space. There are several varieties that thrive in the Grand Traverse and Leelanau County area, including the unique hydrangea tree (see how we used it in this case study).
Let's discuss the different varieties of hydrangeas and how to care for them so you can decide if they are good fit for your outdoor space.
What are the 5 types of Hydrangeas?
Big Leaf Hydrangea-MopHead, Lacecap, Mountain
These are the most common type of Hydrangea! Mopheads are characterized by their large blooms in either purple, white, pink or blue. They actually have an identical leaf structure to the lacecap variety. Other than their blooms, they are identical to the mopheads! Mountain hydrangeas have smaller blooms, but the plants are very hardy and can survive harsh winter climates! All three of these varieties have a zone 4-8 hardiness and are actually native to Japan.
Panicle Hydrangea
Thrive in Zones 4-7, White or Pink Flowers, Cone Shaped Native to China or Japan
Smooth Hydrangea
Thrive in Zones 4-9, Used as a hedge, white and green blooms, Native to the U.S.A
Oak Leaf Hydrangea
Thrive in Zones 5-9, Low Maintenance, Oak Shaped Leaves that turn color in the fall, Native to the U.S.A
Climbing Hydrangea
Thrive in Zones 4-8, Large Fragrant Flowers, Vines can climb 80 feet, Native to Asia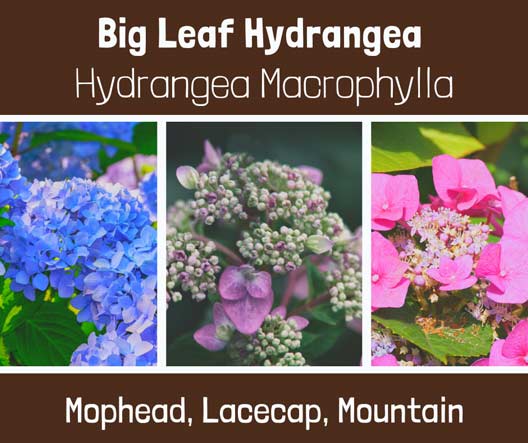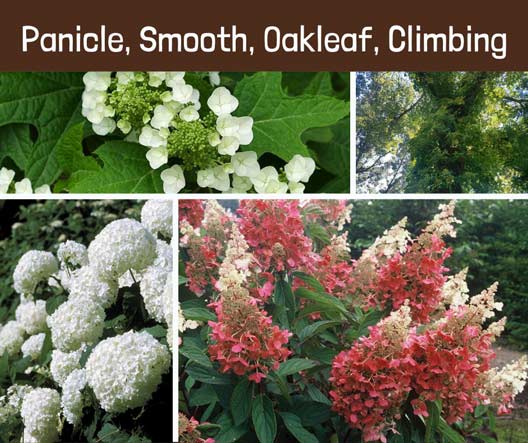 How do I care for my Hydrangea?
First, it's important to know that mophead hydrangeas do not have to be pruned back – ever – unless they are very old. Removing dead stems is the only pruning that must be done for the health of the plant, and these can be removed at any time. Dead blooms can also be removed at any time. Some clients love to keep their spent blooms on the plant through the winter for interest or trim them for winter arrangements!
Pruning should happen to accomplish the following: All dead stems should be removed from hydrangeas every year; After the plants are at least 5 years old, about 1/3 of the older (living) stems can be removed down to the ground each summer. This will revitalize the plant; In addition, if it becomes necessary to prune a plant to reduce its size, it may be cut back in June or July without harming the next year's bloom. But it will return almost immediately to its' former size. This is one reason why it's best to plant a hydrangea where it does not have to be pruned.
For more information on pruning, check out our pruning blog series: Pruning 101: How, Pruning 101: Why and When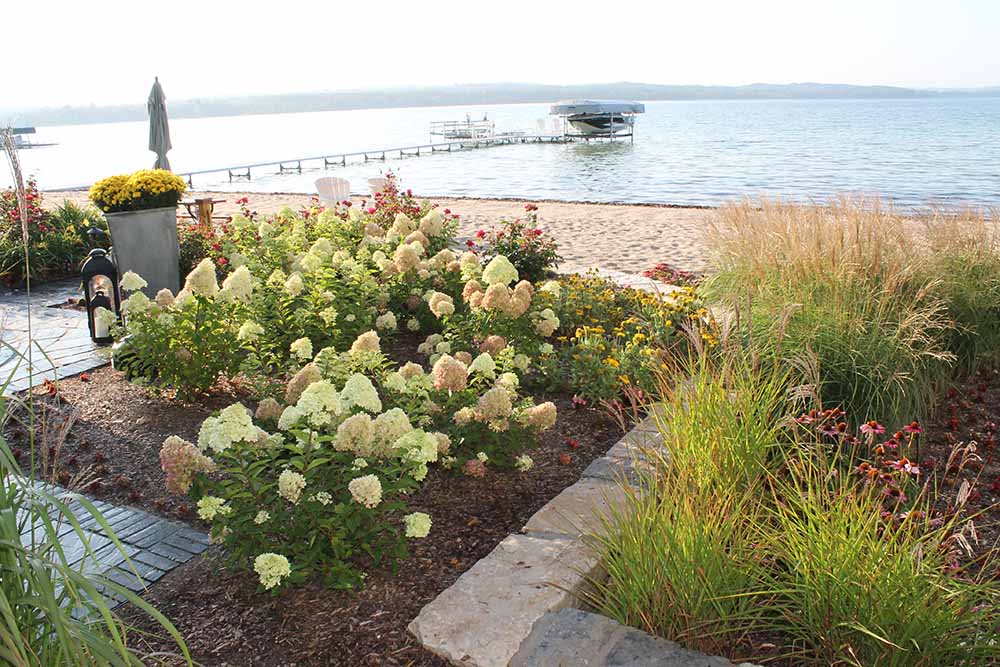 Fertilizer should be applied only in the Spring and early Summer, not during the fall. If applied during the fall, the fertilizer can trigger new growth as the plant goes into dormancy, which can be damaging. Hydrangeas need moist and well-draining soil to thrive. You can tell a hydrangea needs water when its leaves start to wilt. Big leaf and smooth varieties tend to need more water than others, but be sure to consider where your hydrangea is placed when deciding how much water it needs.
Did You Know You Can Change The Color of Your Hydrangea?
Changing the color of hydrangea is actually possible! It is much easier to change from pink to blue than it is to go from blue to pink. The color of the flower actually depends on the amount of aluminum found in the soil. Adding or subtracting the amount through fertilizers and other chemicals can help you achieve color change!
Selecting and Maintaining Hydrangea on Your Property
Phew…hydrangeas can be a whole lot of work. From pruning to fertilizing, TruNorth is qualified and happy to help you take care of your entire garden, especially your hydrangeas. We offer full-service residential and commercial landscape maintenance. Our team can even discuss with you what you would like your hydrangeas to look like and prune them so they grow how you wish. If you are considering adding hydrangea to your new landscape installation, talk to our design team and they can help advise you on the perfect location for your new planting. Whatever plant you have in your garden, our team of experts is ready to help care for it!
Ready to get started on your landscaping project in Grand Traverse or Leelanau County, MI? If so, meet with our team of experts, choose a solution to improve your property, and get ready to sit back, relax, and enjoy your beautiful outdoor space.
Curious about other types of plantings? Check out these blogs featured in our Planting Series!

Want tips and tricks for your lawn & landscaping?
Sign Up For Our Free Quarterly Newsletter
We take your personal information very seriously. We will not share any of the information you provide with any 3rd parties. Provided information will be used specifically to contact you in regards to your inquiry.