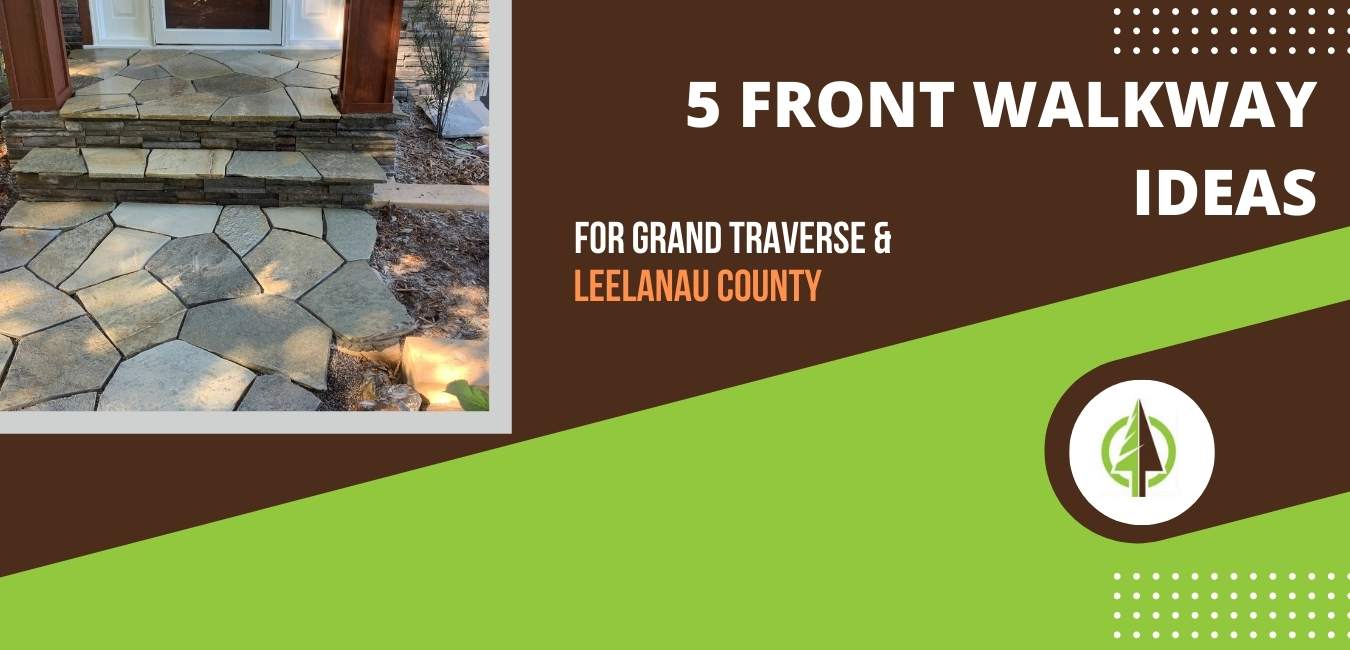 When you think of landscaping improvements at your home, updating your front walkway may not be the first item on your list. While patios, firepits, and outdoor kitchens offer a ton of fun for the beautiful summer months here in Northern Michigan, landscape improvements in the front of your home matter too.
Front walkway landscaping not only sets the tone for the style of your landscape and can give a really big first impression. It can improve the look of a dated home, add color to a bland siding, and help improve safety and security. The right landscaping can enhance the history and architectural features of an old home or complement the sleek and modern lines of a new build. Let's look at 5 ways to update and enhance your front walkway landscaping.
1. Update Walkway Material
One of the most common ways homeowners update their front walkway area is by updating the material. Standards concrete can be replaced with a variety of hardscape products. It can be an overwhelming task to select hardscaping material, but we recommend starting first in your selection process by addressing what other types of material you have on your property. If your back patio is flagstone, utilizing flagstone on your front walkway can be a great way to create a cohesive look.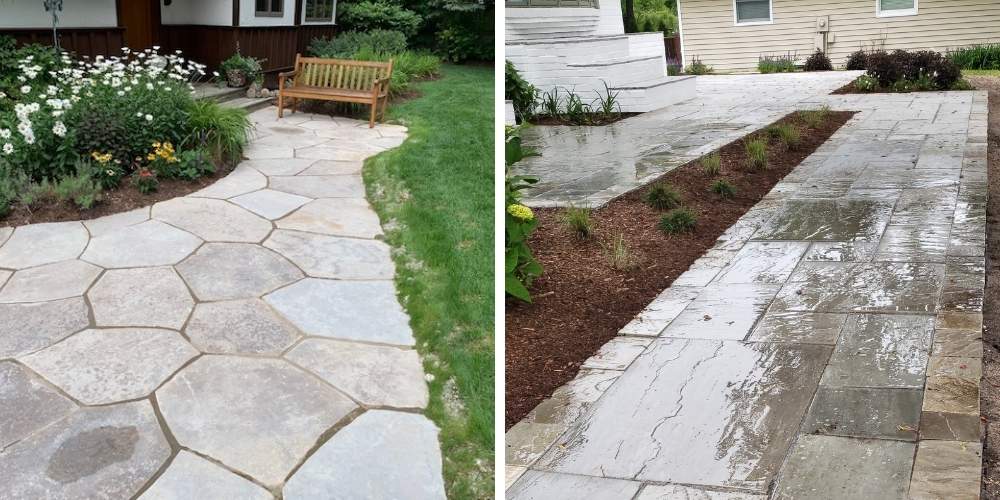 After considering what other materials you have on your property, it is important to decide what color and style suit the architecture of your home. A historic home in downtown Traverse City may be more well suited with a traditional stone selection vs. a modern sleek selection. Remembering the importance of lines, shape, and color can all help match the style of your home with the style of material you choose.
Ultimately, whatever material you select, it should be one you really love, even if it may not be the most 'right' choice for the architecture of your home. Landscape designers should be able to provide you with a robust selection of samples and options. You will be viewing and utilizing our front walkway every day, you should love whatever product you select.
2. Add Color with Plantings
Just like the hardscaping around the back of your home, your front walkway needs plantings to bring it to life. Plant selection is extremely important for your front walkway. Obviously, the right plant needs to be put in the right place, meaning it can survive in the conditions and area it is planted. However, with a walkway, the right plant in the right place becomes even more important. Consider both the potential height and width of the plant you select. Neglecting to do this can result in a landscape that is not sustainable long term. Plantings that spill over onto the walkway will have to be removed and replaced.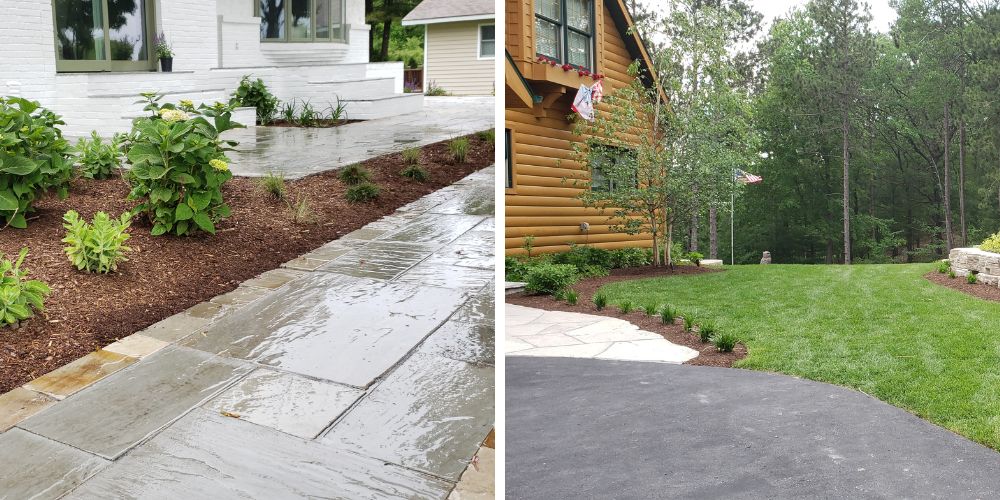 Adding a statement tree, ornamental grasses, or bushes to your walkway area can bring both color and excitement to the space. The plants you select that line the walkway itself should be lower growing and neat, so the walkway remains clear and accessible.
3. Increase Safety, Usability, and Beauty with Landscape Lighting
Adding landscape lighting to your front walkway benefits your home in a variety of ways. It improves safety by illuminating the entrance to your home, discouraging theft and break-ins. Landscape lighting helps the front walkway to be usable during the night hours for guests when they arrive at your home. It can also highlight the beautiful plantings you placed near your walkway, a hardscape feature like a retaining wall, or the hardscape walkway itself. For inspiration on how to use landscape lighting at your home, check out this blog.
Be sure to place lights next to the walkway, but not in an area where someone would easily trip over them. Lighting shouldn't look like a runway landing strip, lights should be staggered and carefully coordinated. To avoid these and other lighting mistakes, check out this blog.
4. Add Interest with Container Plantings
Container plantings are a beautiful and cost-effective way to improve your front walkway. The plantings in the container can be changed out each season and really shine all year long. In the summer, obviously, annual flowers can be planted to add color and texture. During the fall months, cool weather flowers can be added, like mums, and pumpkins, corn stalks, and scarecrows can spice up your walkway.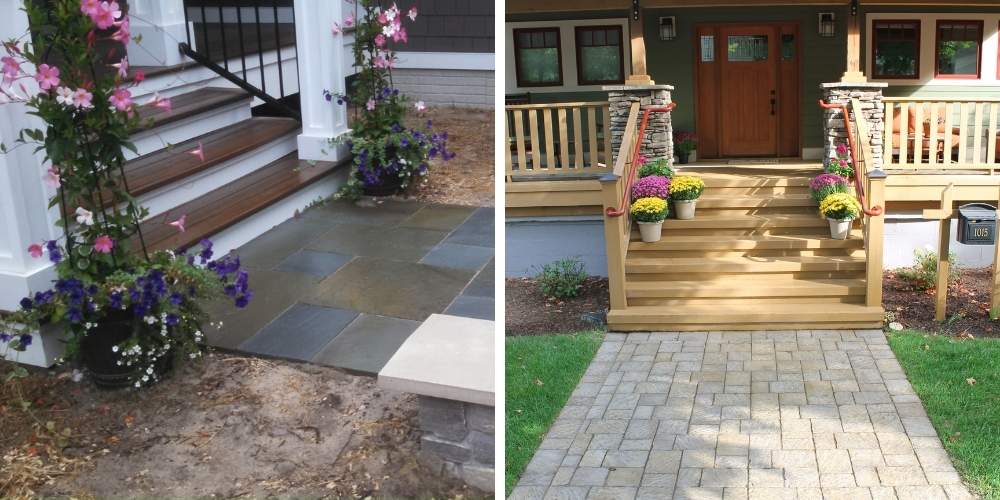 In the winter, evergreens, decorative items, and branches can create a lively arrangement that brightens up the drab gray of the season. In the Spring, there are actually some annuals that can survive the cooler night time temperatures, which can help add color to your property before Summer.
5. Enhance What You Already Have
If your budget is tight, updating walkway material will likely be off the table. That doesn't mean that you can't beautify the front walkway of your home though. Spend some time cleaning the surface of your walkway, whatever the material. Remove weeds from cracks and make repairs if anything is broken or a safety hazard. If grass meets your walkway, invest in an edger and edge the lawn where it meets the concrete bi-weekly. If the grass near your walkway is patchy, add some seed and fertilizer. If your walkway has plantings near it already, trim them up so they look fresh and neat.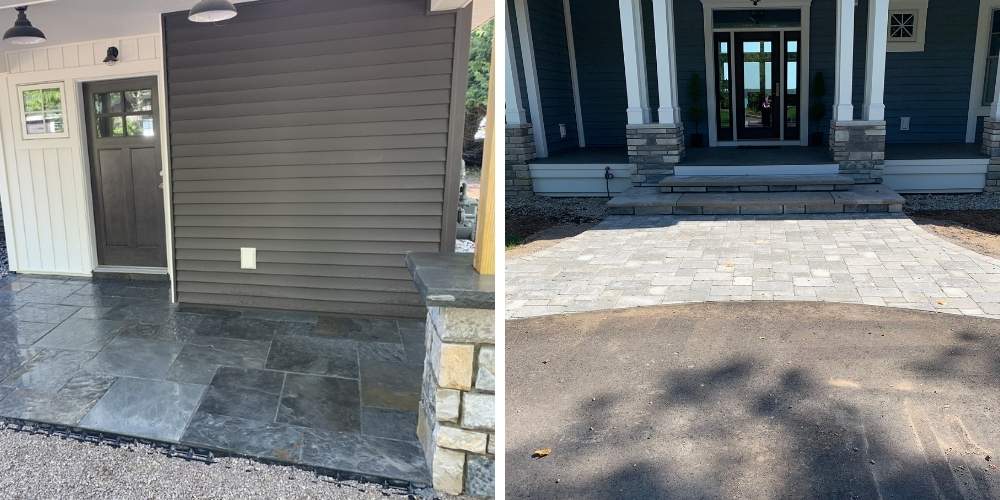 To add some custom hardscape without adding an entire walkway, try wrapping the bottom of any pillars you may have with stone. Create a stone landing in front of your front door for a beautiful interest piece.
Selecting a Landscaping Company to Help Design Your Front Walkway
Updating your front walkway can be a huge boost in curb appeal for your home. It is not only something that helps your home sell, but it is a piece of landscaping you see every day as you pull into the driveway. A landscape designer or architect can help you create the style or theme you like with both material choices and plant choices. They can also design a landscape lighting plan that effectively illuminates the walkway for safety, but also highlights plantings and makes your home look beautiful.
Ready to update your front walkway in Grand Traverse or Leelanau County, MI? If so, meet with our team of experts, choose a solution to improve your property, and get ready to sit back, relax, and enjoy your beautiful outdoor space.

Want tips and tricks for your lawn & landscaping?
Sign Up For Our Free Quarterly Newsletter
We take your personal information very seriously. We will not share any of the information you provide with any 3rd parties. Provided information will be used specifically to contact you in regards to your inquiry.