As summer rolls around, anyone who lives or vacations in Northern Michigan knows it is time to get outside. Our short, but beautiful summer season begs us to get out and enjoy the sunshine and beauty that our area has to offer. But if your home has a backyard with limited space, you might be thinking that enjoying the great outdoors at your home isn't really an option.
Feeling like you do not have enough space to bring your backyard dreams to life can be frustrating. With a little creativity and an inspired designer or architect, even a tiny backyard can be transformed into an outdoor entertaining space or a relaxing oasis to enjoy.
Let's look at five small backyard landscaping ideas to help give you some direction and inspiration when designing your perfect Northern Michigan outdoor space.
Small Backyard Landscaping Ideas
Many people assume that everyone in Northern Michigan has a big backyard. Those of us that live here know that is far from true. Small backyards are common whether you reside in a downtown area or are located on the waterfront.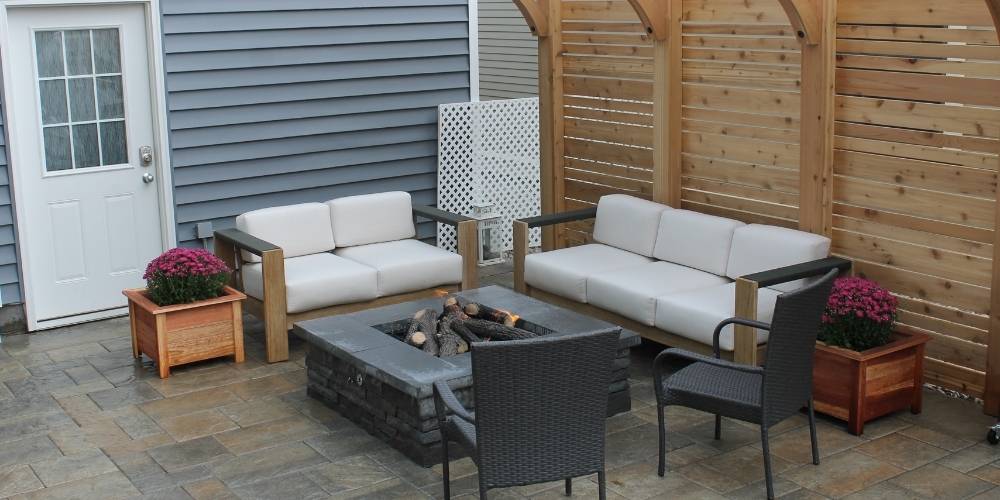 Regardless of your location, almost every small backyard needs privacy. This can be accomplished in a variety of ways from plantings that create a green 'wall' to pergolas that block your backyard from peering eyes, considering privacy is a must. After privacy considerations are managed, most elements you desire in your backyard space, like a fire element or eating area, can be customized to work in a smaller area.
1. Narrow your Must-Have Landscape Elements
What landscape elements are you dreaming of including in your backyard? If you have children or pets, you may want a lush grass area where they can run and play. If you are busy with a high-stress job, you may want a patio where you can do yoga or meditate. If you love to entertain, an outdoor kitchen and dining area may be important.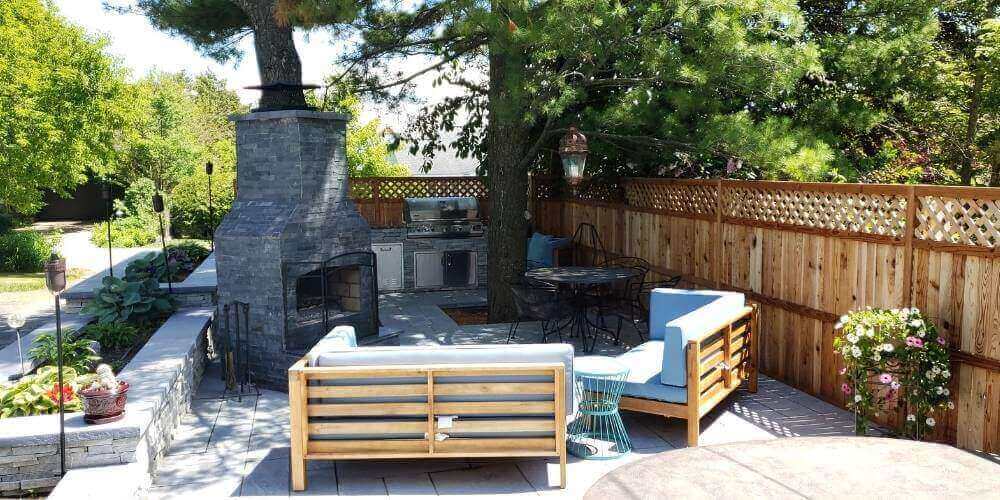 Start by making a list of the landscaping features you feel you would utilize the most. Even if your backyard seems too small, try to include at least two distinct areas, like a dining area and a firepit. Including two separate areas helps to define the use of the space and create a better flow in your space. It also prevents you from trying to include too many uses and ideas for the small space you have.
Consider these ideas when narrowing your must-have landscape list:
Consider making an area multi-purpose- Maybe your seating area for dinner can transform tion an outdoor movie seating area. The movie could be projected onto your home and chairs repositioned to relax while watching your favorite movie.
Utilize every inch with built-in seating- A patio table with chairs can take up a lot of room. Chairs need space to be scooted in and out for guests to get up. Space to navigate around chairs needs to be accounted for as well. Instead of the traditional patio set, include a built in bench seating that attaches to a permanent structure. Chairs can be included on the opposite side or ends of the table for additional seating as well.
Ask about space-saving options. If a custom outdoor kitchen area is on your wish list, the options are endless. Warming drawers or storage drawers can be included to save you counter space. A pizza oven can take up way less space than a grill. Learn more about some outdoor kitchen options here.
2. Make Plantings a Priority
It can be tempting to cut out plantings in order to make space for an activity or hardscape feature. However, an outdoor space without plantings lacks texture, depth, balance, interest, and beauty. Dwarf varieties of plantings can be selected instead of the larger traditional options. Utilize the space you have well by including container gardens with rotating plantings if you don't have the square footage for a large landscaping bed.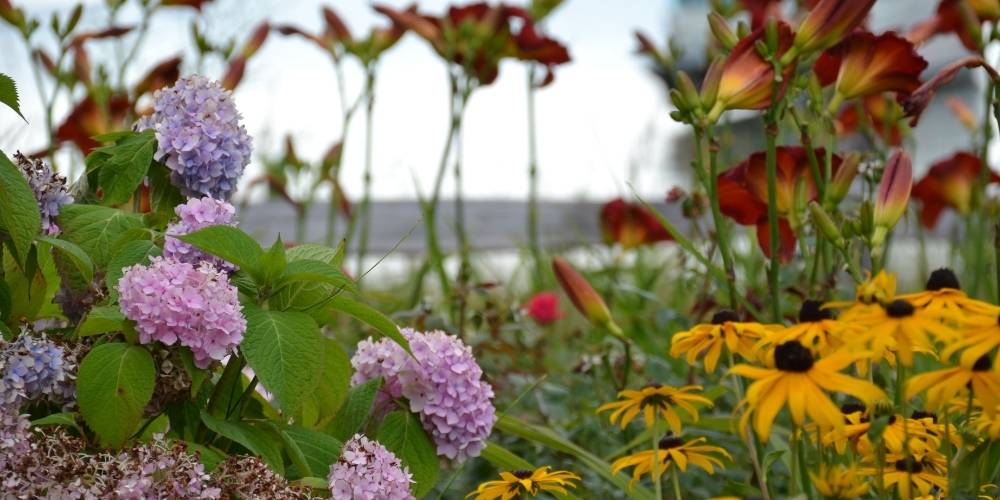 Plantings can also be installed to assist with privacy. A green wall of arborvitaes can have perennials installed as well to incorporate color and interest. To learn more about planting around your patio, check out this blog.
3. Add Height
The best way to make your space look larger is to add some height. Our favorite way to add height, plantings, and interest to your small backyard area is terraced landscape beds. A terraced landscape bed takes up the same amount of space as a traditional landscape bed it just adds additional levels, which can give your backyard more depth. These leveled landscape beds can add additional plantings and texture through hardscape materials used to build the tiers.  Check out these other ideas to add some vertical interest in your space:
Hanging Baskets
Pergolas
Vertical Garden Wall
Trees or other taller plantings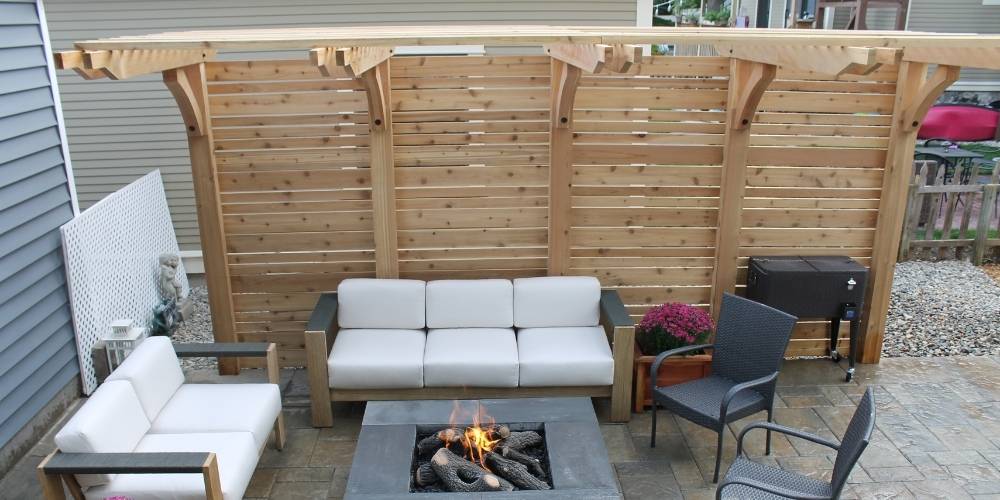 4. Vary your Hardscape and Softscape Materials on the Ground
Many homeowners with a small backyard may try to cut out grass altogether or may only have grass as it doesn't feel like there is room for a patio or any hardscape material. Including only one material like grass or brick, can actually make your backyard feel smaller. Try selecting different materials for your two distinct areas. Even including grass or moss between steppers can help to create depth and interest in your small backyard.
5. Get Creative and Utilize Side and Front Yards
Adding walkways from your front yard or through your side yard is a great way to help spaces have a better feel and flow. In addition to making your space more functional, using your front or side yard can help you incorporate a landscape element you may not have been able to otherwise. If you have neighbors very close in the backyard, installing a firepit in the front or on the side can help create additional privacy as well.
Selecting a Design-Build Landscaping Contractor to Install Your Dream Backyard
While some of these landscape ideas can certainly be DIY projects, most will likely require a professional. Be sure to inquire if the landscaper you select has experience working in smaller spaces and if they have the right equipment to get the job done.
Speaking with an in-house landscape designer or architect can be a huge benefit as well. Creative solutions that are functional for your needs can be tricky to come up with if you never have the opportunity to meet the designer face-to-face. In-house design teams also know what equipment and experience their team has to complete the job well. They are also able to tweak and adjust as the project is installed. Truly, a large amount of the success of landscaping your small backyard hinges on the landscape design itself.
Ready to design the backyard of your dreams in Grand Traverse or Leelanau County, MI? If so, meet with our team of experts, choose a solution to improve your property, and get ready to sit back, relax, and enjoy your beautiful outdoor space.

Want tips and tricks for your lawn & landscaping?
Sign Up For Our Free Quarterly Newsletter
We take your personal information very seriously. We will not share any of the information you provide with any 3rd parties. Provided information will be used specifically to contact you in regards to your inquiry.