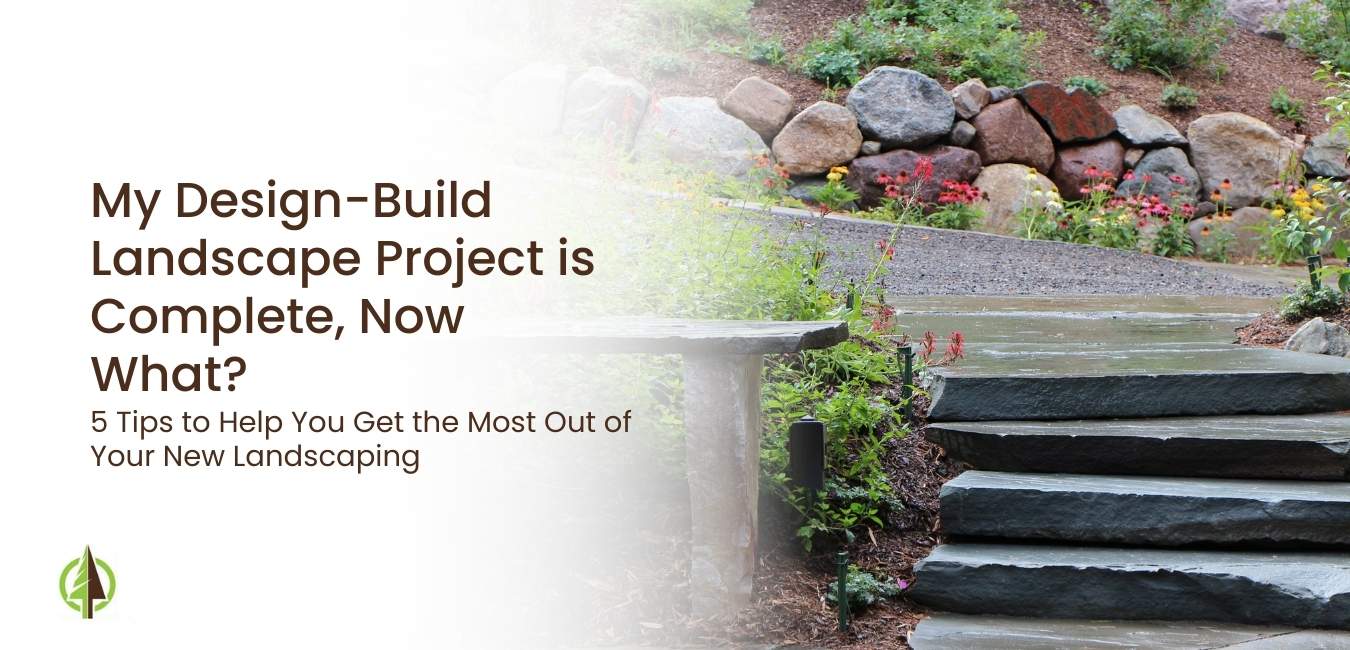 Your dream landscape is finally installed! Now it is time to sit back and relax, right? Not exactly. While your landscape is ready to enjoy, it will need continuing maintenance. Regular landscape and lawn maintenance allow for your landscape to be usable, beautiful, and safe for all visitors.
Wondering how much to water that gorgeous new Tri-Color Beech Tree? Curious when you should start mowing your new lawn? There is a whole lot to know in order to keep your new landscape looking great. The whole process can feel a little overwhelming, so let's check out the top five tasks you need to remember to do to maintain your landscape well.
1. Remember to Water
The most essential component of a successful landscape installation is providing the right amount of water to your plantings and turf. Trees, shrubs, and perennials are extremely stressed after planting and need enough water to effectively establish themselves in their new environment. They must be watered daily for at least the first two weeks while establishing roots.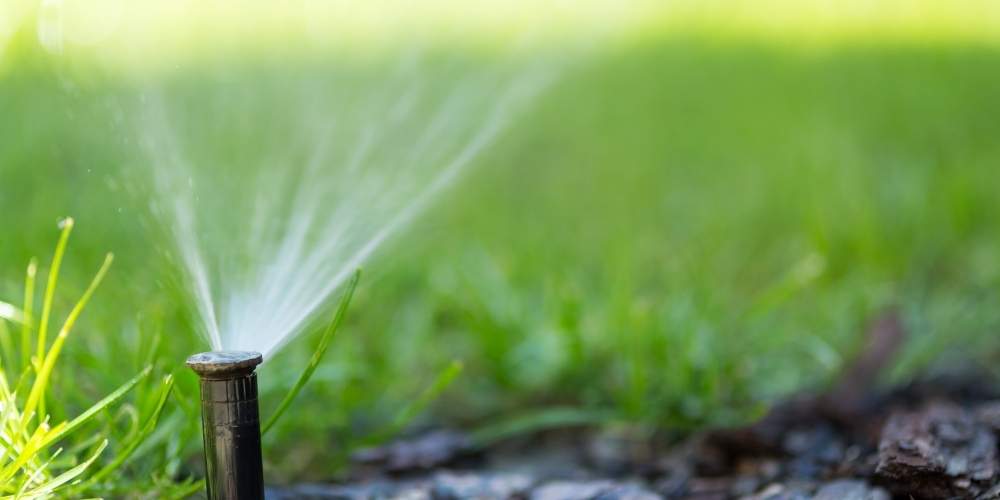 If you had sod installed, it should be watered twice a day for the first two weeks until a strong root system is established. Seeded or hydroseeded lawns need water to grow. Too much water will wash away seeds, but not enough will prevent grass from germinating. Our watering guide, found in our learning center, can help give more specific watering instructions after your landscape installation.
2. Care for Your Plants
One of the things that make your new landscape the most beautiful is also the thing that can be the most work-caring for your plants! When your plants were installed, likely pre-emergent weed control and mulch were installed. It is important this process is completed yearly. If not, weeds begin to take hold quickly and young plantings can be choked out and killed. Weeds can much more easily invade a new landscape, as plants have not yet matured and grown to their full size. Nothing kills the beautiful look of a new landscape like landscape beds filled with weeds!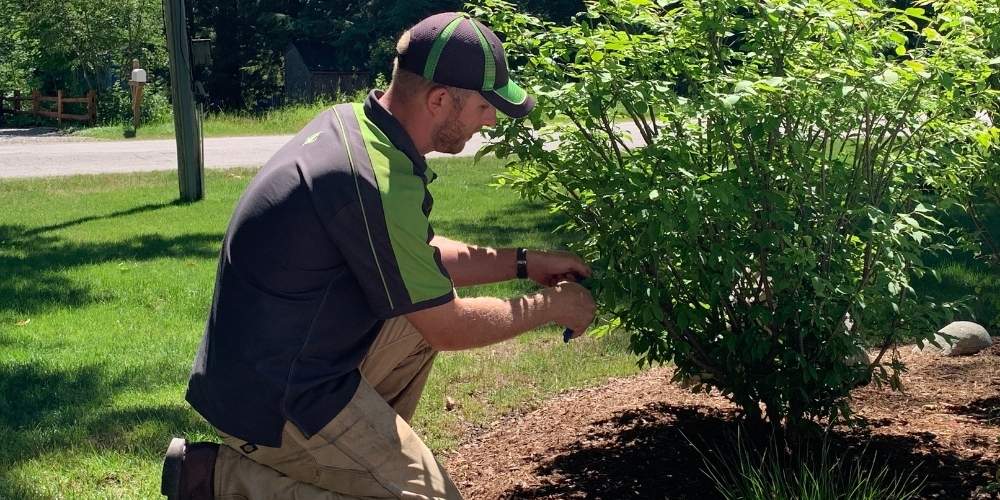 Perennials will need to be maintained the first year they are installed. Depending on the variety, some prefer to be cut back in the fall and others in the spring. Maintaining plantings as they should be cared for helps them thrive and grow larger and larger each year. As perennials and shrubs mature, pruning and trimming can be utilized to encourage them to grow to the size and shape you desire each year. Our learning center contains three helpful documents for maintaining plants: the landscape care guide, the tree and shrub guide, and the annual, perennial, ground cover, and rose guide.
3. Maintain Your Lawn
The addition of a new lawn to your property can be so exciting. Sod immediately livens your space and adds so much beauty. Be sure to check out the watering guide mentioned above, as it has some great tips for new sod. Once your turf is established, regular mowing and fertilization are the keys to keeping it looking great for seasons to come.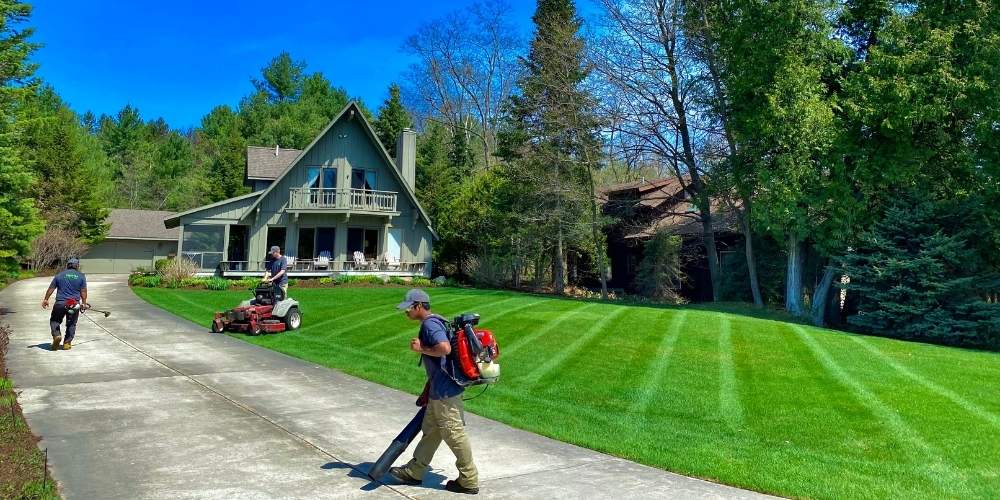 Fertilization applications at the beginning and end of the season are extremely important as they 'wake up' and 'put to bed' your grass. Spring fertilization also has weed control that helps prepare your lawn for the growing season. In addition to mowing and fertilization, remember to complete both spring and fall clean ups to remove all fallen leaves from your grass. Our lawn care guidelines found in our learning center can help with questions related to lawn care.
4. Protect Your Hardscape
Depending on the type of stone you selected for your patio, driveway, or walkway, some maintenance may need to be completed. Certain materials perform best if they are sealed every few years. To learn more about if you should seal your patio, check out this blog. In addition to sealing, nearly all patio materials need to be protected in the winter months. Avoid using salt on or close to paver materials, and if you need to clear a walkway, avoid using a shovel or plow with a metal blade, as it can scrape and scratch your new hardscape.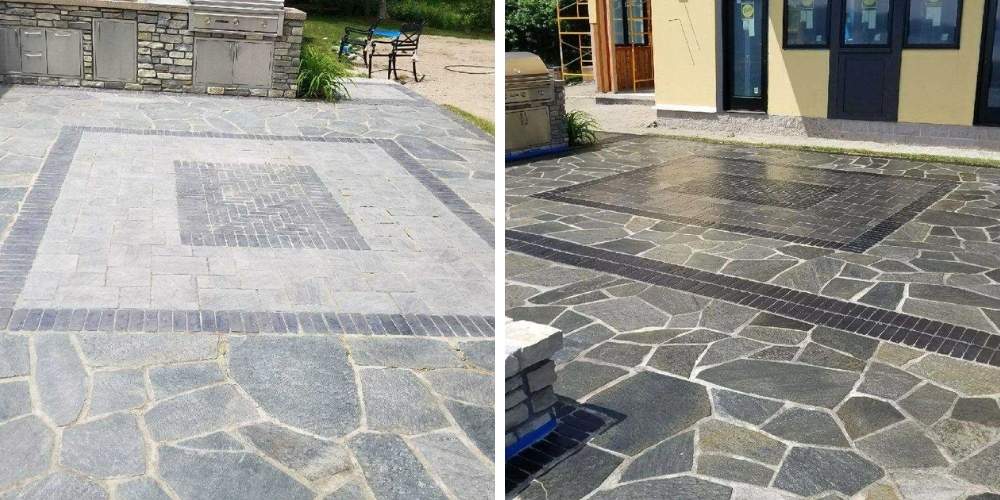 Be sure to understand the warranties on your hardscape material and installation warranties, like cleaning or trying to seal the patio on your own can void many of these warranties. To learn more about how to care for your patio, check out this blog.
5. Use Resources from Your Contractor
We believe that your landscape contractor should truly set you up for future success at your property. Your project manager should provide you with a final walk-through that goes over all landscape care information. Be sure to ask questions regarding anything you are unsure of.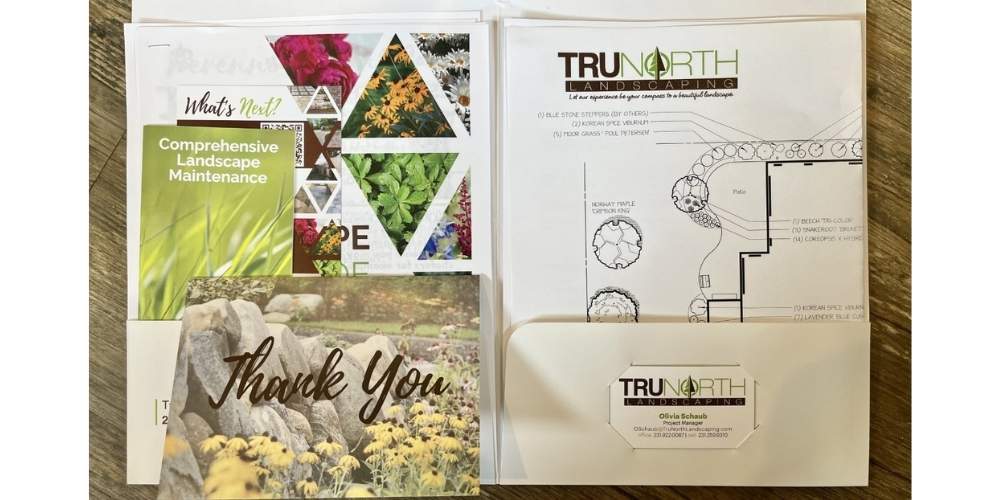 During our final walk-through, clients are also given a folder with information and resources. The folder contains a link to our learning center, which houses tons of great information, and our blog, which is updated three times a month with property care information. These resources are always free and ready for you to use!
Selecting a Company to Help Maintain Your New Landscape
Maintaining your new landscape can a lot of work. This can be challenging because not only is special equipment required but so is a lot of plant knowledge and time. If maintaining your landscape begins to become too much, reach out to a landscape maintenance provider as soon as possible. Getting an out-of-control landscape back to its original state is a ton of work and can be costly, so making a call to a maintenance company right away can help.
Need some help maintaining your landscape in Grand Traverse or Leelanau County, MI? If so, meet with our team of experts, choose a solution to improve your property, and get ready to sit back, relax, and enjoy your beautiful outdoor space.

Want tips and tricks for your lawn & landscaping?
Sign Up For Our Free Quarterly Newsletter
We take your personal information very seriously. We will not share any of the information you provide with any 3rd parties. Provided information will be used specifically to contact you in regards to your inquiry.