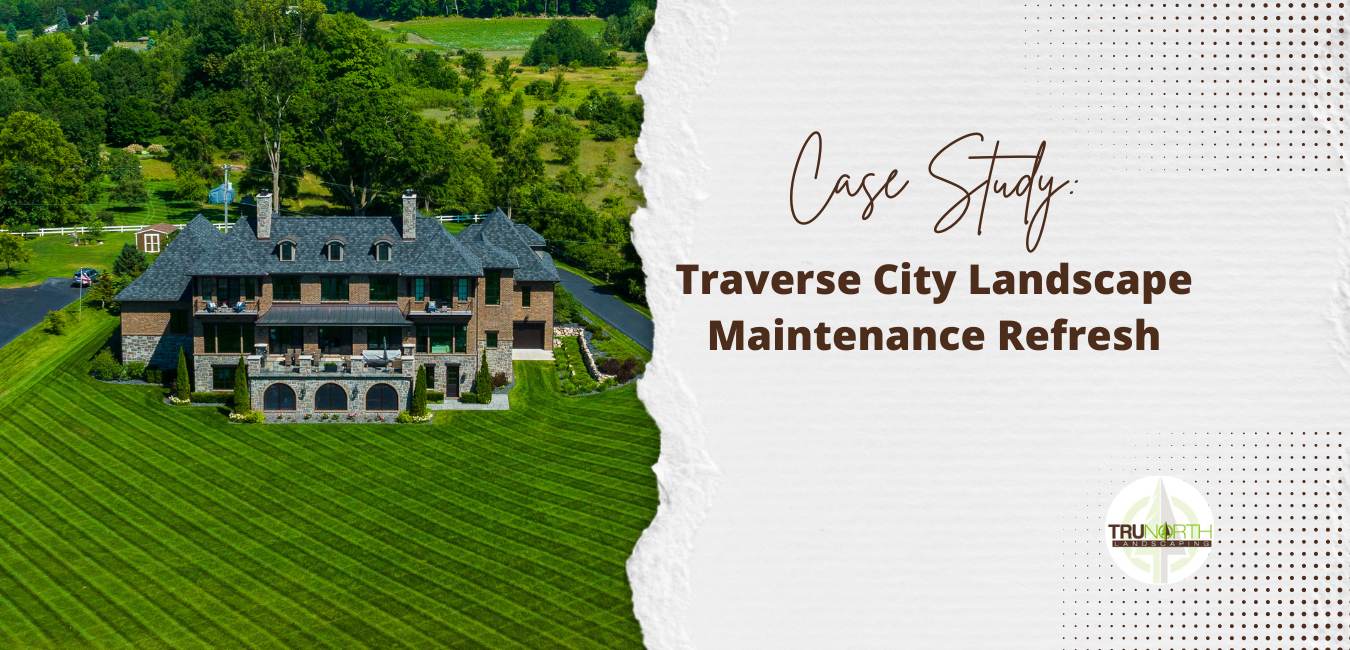 Let's be honest, most residential landscape maintenance companies do not have the best reputation. Usually arriving at your property in a rusty unmarked truck, either late or sometimes not even showing up at all. Often the level of service and communication matches their reliability, all leaving you, the homeowner, extremely dissatisfied.
Thankfully, it doesn't have to be that way. Many Green Industry companies are working hard to repair the bad reputation of landscaping companies. Learn how we at TruNorth partnered with a frustrated homeowner to bring their lawn and landscape back to life!
Landscape Maintenance Challenges
The homeowners originally contacted us at TruNorth because they were simply unhappy with their current provider. They felt they were not receiving effective communication and that tasks they were requesting to be completed were being missed. In addition, the clients were frustrated with the dull look of their large grass area and the health of their plantings.
Landscape Maintenance Solutions
Direct, Clear Communication
Before beginning with the physical landscaping work, our team listened to what was going wrong with the previous company and provided suggestions for how we could solve these difficulties. At TruNorth, we have a full-time staff member dedicated to answering phone calls throughout the day. We also frequently communicate through e-mails and utilize Aspire Landscape Software, which makes it easy for new services to be added and service dates to be recorded to ensure all work is completed effectively.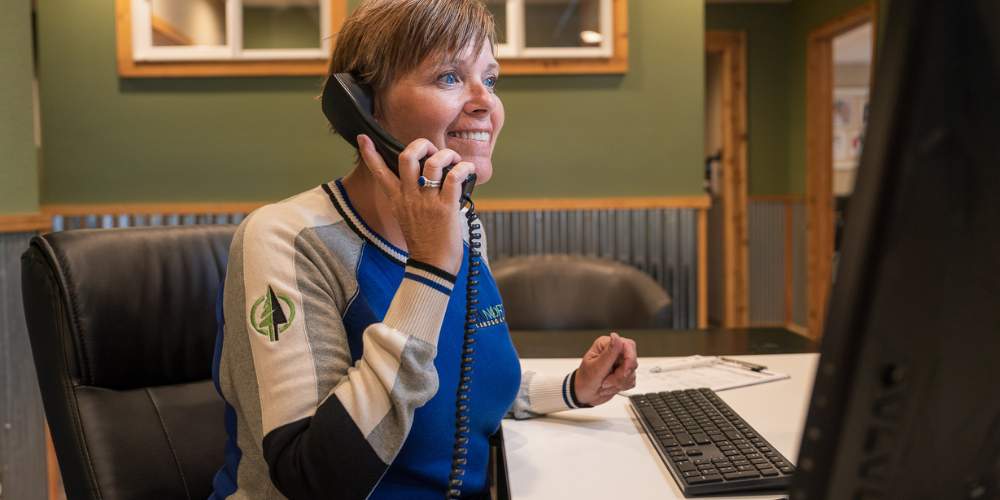 Regular Fertilization, Irrigation, and Mowing
To improve the look of the turf, we first inspected irrigation. The grass area is so large and sits in direct sun most of the day, so a property functioning automatic sprinkler system is necessary. After making repairs to the irrigation system, we then implemented a regular fertilization program along with weekly mowing, trimming, edging, and blowing. So many of our clients struggle with an 'ugly' lawn, we wrote an entire article about it!
We use a combination of both granular and liquid fertilizers to get the best results. In addition, we sharpen our mower blades weekly and use top-of-the-line mowing and fertilization equipment. Our newest service offering, Hydretain, will be applied this coming Spring to encourage continual green grass!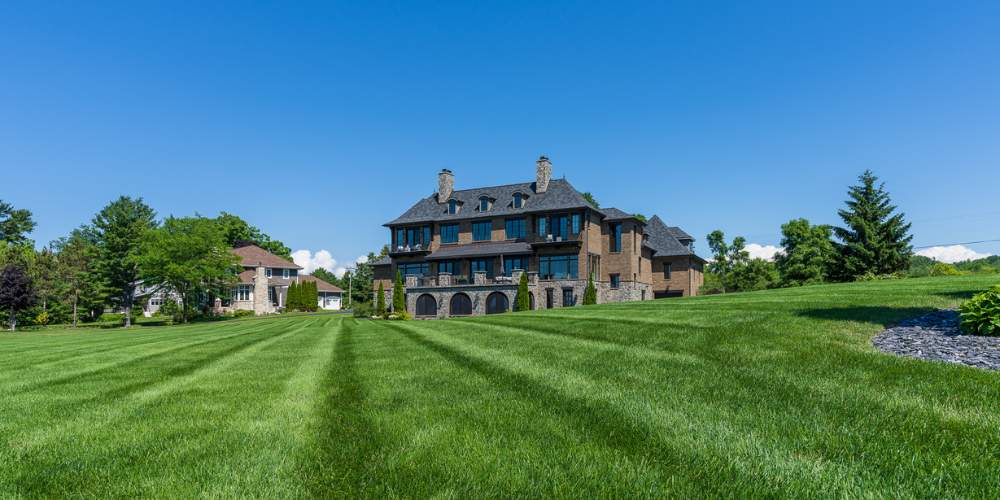 Horticulture Adjustments
Our clients preferred a minimalistic look to the plantings around their home, however, they wanted these plantings to look healthy and beautiful. Many plantings were either not pruned and maintained at all or pruned incorrectly. Throughout our first season partnering with homeowners, we discussed how they would like plantings to look and worked to bring existing plantings back to life. Plant fertilization and pruning at the proper times have helped transform the several bushes and perennials on the property.
Some of the plantings were simply put in a place where they could not thrive. As this home gets a large amount of full sun, a few areas were struggling. We suggested to homeowners plants that would be a more appropriate match and replaced several plantings to help bring dull landscape beds back to life!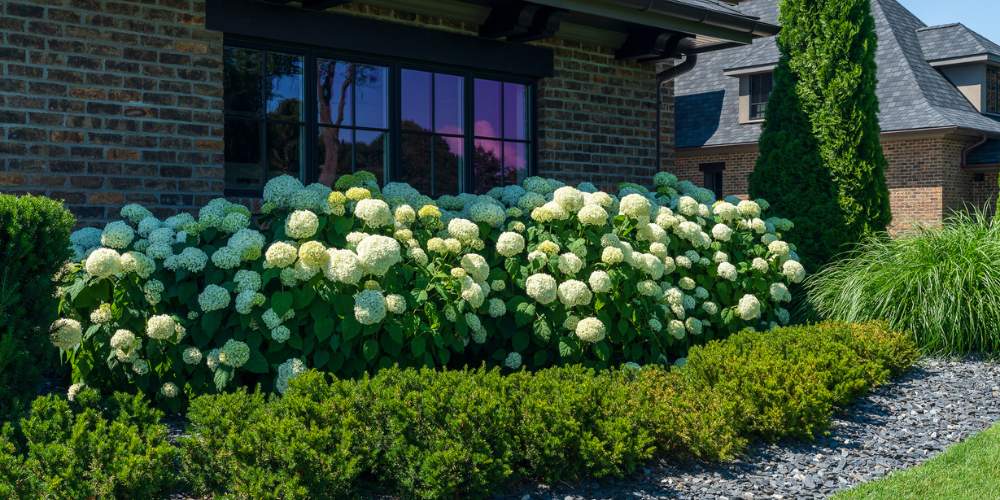 Selecting a Residential Landscape Maintenance Provider
In addition to regular landscape maintenance, our team performed several enhancement projects including planting and shoreline projects! The homeowners were so pleased with the results at their residential property, they asked us to care for the landscape at their commercial properties as well.
Finding a residential landscape maintenance provider can be challenging, but previewing websites, reviews, and asking questions can all ensure the best partnership possible. Selecting a provider that can do more than just mow your lawn helps your entire property to shine as well. To learn more about the landscape maintenance services TruNorth provides, visit our maintenance page. To learn about the services our sister lawn care company, Green Team, provides, visit their webpage.
Interested in residential landscape maintenance services in Grand Traverse or Leelanau County, MI? If so, meet with our team of experts, choose a solution to improve your property, and sit back and relax to enjoy your Northern Michigan landscape.

Want tips and tricks for your lawn & landscaping?
Sign Up For Our Free Quarterly Newsletter
We take your personal information very seriously. We will not share any of the information you provide with any 3rd parties. Provided information will be used specifically to contact you in regards to your inquiry.