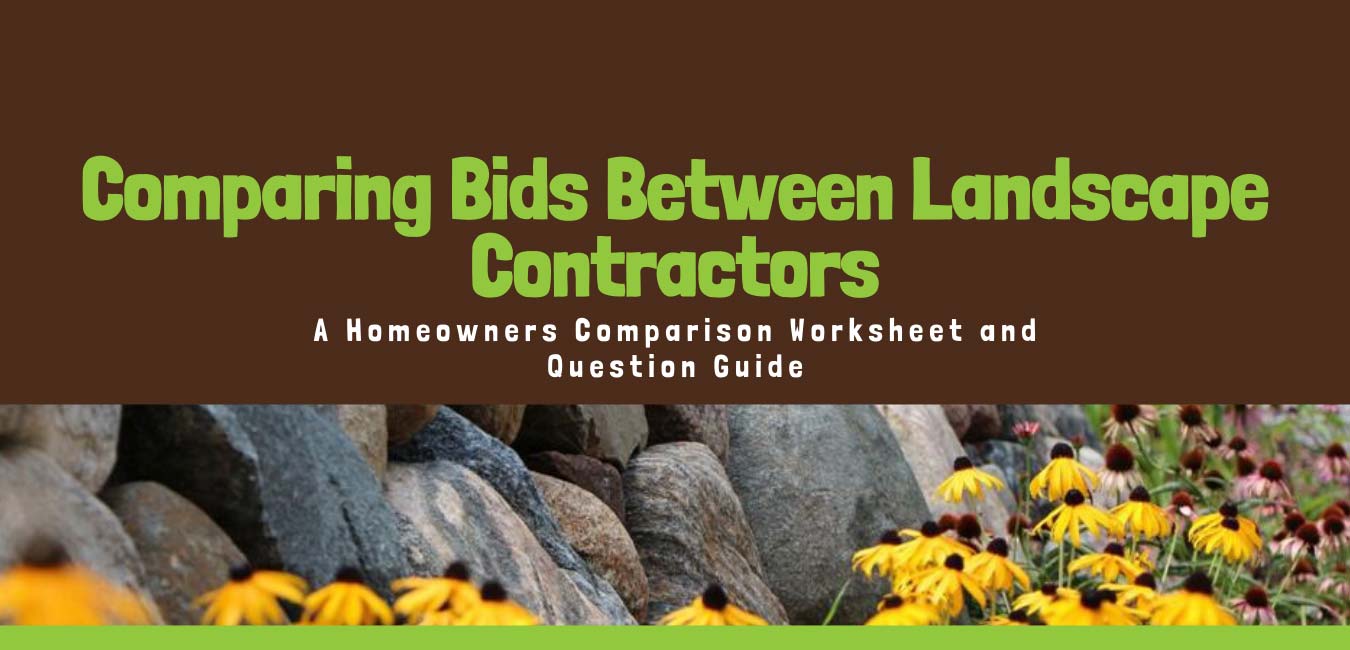 Your dream home is finally complete, and as summer approaches, your mind is starting to shift to enjoying the beautiful Spring, Summer, and Fall that Northern Michigan has to offer. A dream home is not truly complete without your dream landscape. Once you have decided you are ready to take the leap and have landscaping installed, what is next?
1. The Difference Between a Good Contractor and a Great One.
Landscape contractors are all the same…right? WRONG. The Green Industry has changed a whole lot in the past several years with companies across the country emerging that provide not only beautiful landscapes, but excellent service as well. There are several things to consider when deciding if a company is 'just good enough' or great.
Do they answer the phone during normal business hours (Monday-Friday 8-4)?
Do they have a process when you call in or does it seem chaotic?
What is the person like you spoke with on the phone? This can tell you a whole lot about a company.
What does their website look like? Do they have any additional online resources (Facebook, Google Business, Instagram, LinkedIn)?
What do their reviews say? What is the 'word on the street' about the company?
Do they have an actual place of business or are they out of their home?
Do they use their own equipment? Do they sub-contract most of the work out?
Are they licensed and insured? Do they provide a warranty on their work?
Are they a part of professional Green Industry organizations?
2. Consider What Type of Project You Are Planning to Have Installed.
As the industry has grown, companies now tend to specialize or be skilled in certain areas. Some companies are excellent at lawn maintenance, while others have tons of experience in water features, yet others are seasoned hardscape installers. It is important to check out the website and/or social media pages of the companies you call to see what type of work they tend to do.
Have they ever installed patios before? Do they work with natural stone? Can they install a deck or a fence? Some companies may be a better fit for small, quick projects, while others tend to take on larger day, week, or even month-long designs. Selecting the companies that seem to have experience working with the type of project you want installed makes things easier for both you and the company.
3. Take Inventory of What is Important to You Throughout the Process.
The age-old adage 'Quality work, excellent service, or low price; you can only choose two, but you can't pick all three' is applicable to nearly any service you have done at your home. It obviously applies to landscape installation as well. As much as we would love to offer the best quality work, with the absolute best service, at the rock bottom lowest price, it is impossible. So before meeting with a landscaping contractor, decide which are most important to you? This doesn't mean you cannot set a budget, but remember the cheapest is rarely the best. To learn more about budgeting for a landscaping project, check out this blog.
4. Educate Yourself and Sort Through Comparing Bids.
Look into each company before picking up the phone. Does it appear they have both character and credibility? What are their core values? This will likely speak to how they will relate to you as a client. What are the steps to installing a patio at your home? The representative of the company should be able to explain their building process and the equipment and materials they will use in a way anyone can understand. Do not hesitate to ask questions that make clear for you both the character and credibility of the company.
Selecting a Landscaping Contractor
Choosing the right landscape contractor for you and your project can be overwhelming. That's why we've built this comparing landscape bids document for you to print and use when interviewing potential landscaping companies.
Ready to have the best-looking property on the block in Grand Traverse or Leelanau County, MI? If so, meet with our team of experts, choose a solution to improve your property, and get ready to sit back, relax, and enjoy your beautiful outdoor space.

Want tips and tricks for your lawn & landscaping?
Sign Up For Our Free Quarterly Newsletter
We take your personal information very seriously. We will not share any of the information you provide with any 3rd parties. Provided information will be used specifically to contact you in regards to your inquiry.