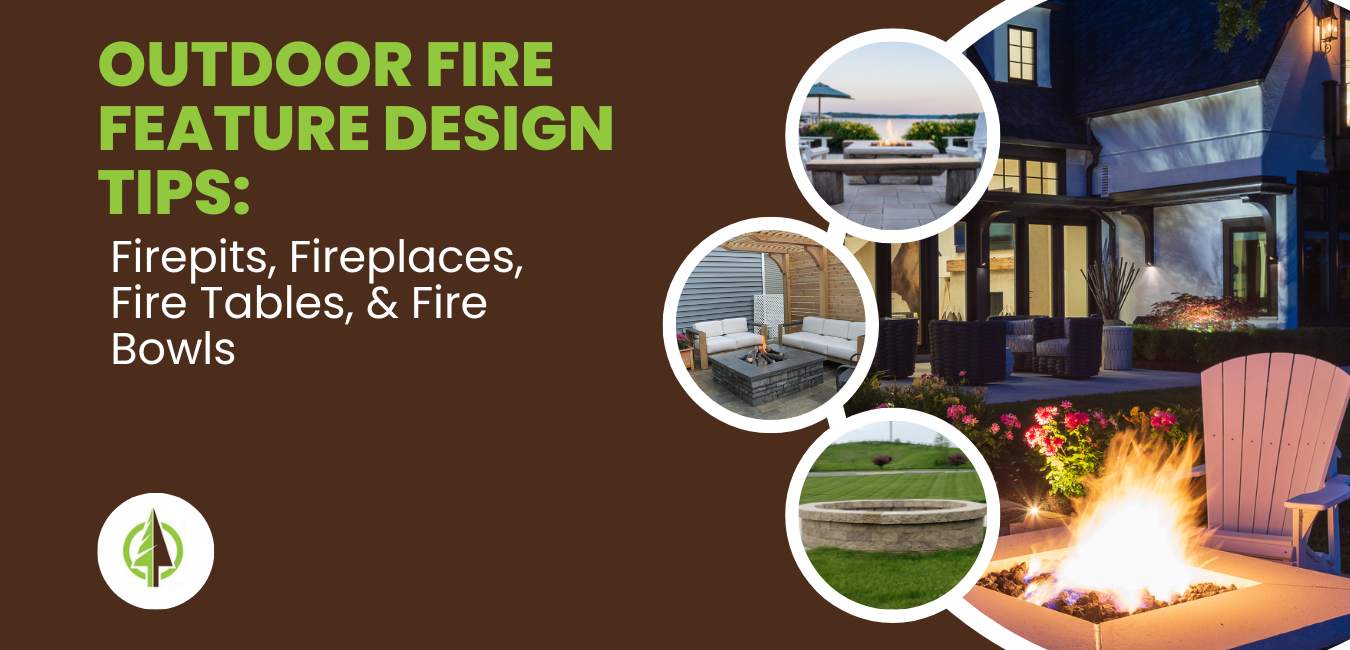 A summer evening in Northern Michigan is not complete without time spent around a warm fire. Friends and family gather around to roast marshmallows and spend quality time together. A fire feature on your property offers not only warmth but light to help navigate the evening hours.
As the landscaping industry advances, so do the options when it comes to fire feature design. Let's explore the four main fire feature options and how to select the design that is right for your home!
Outdoor Firepit Design
Traditional firepits are the most common fire feature installed today. They tend to be more cost-effective than fireplaces and more customizable than fire tables or bowls. Landscape professionals can now install exactly what you are looking for, not just pre-fabricated kits. With professional installation, you can choose a firepit that is the right size, shape, and color for your property.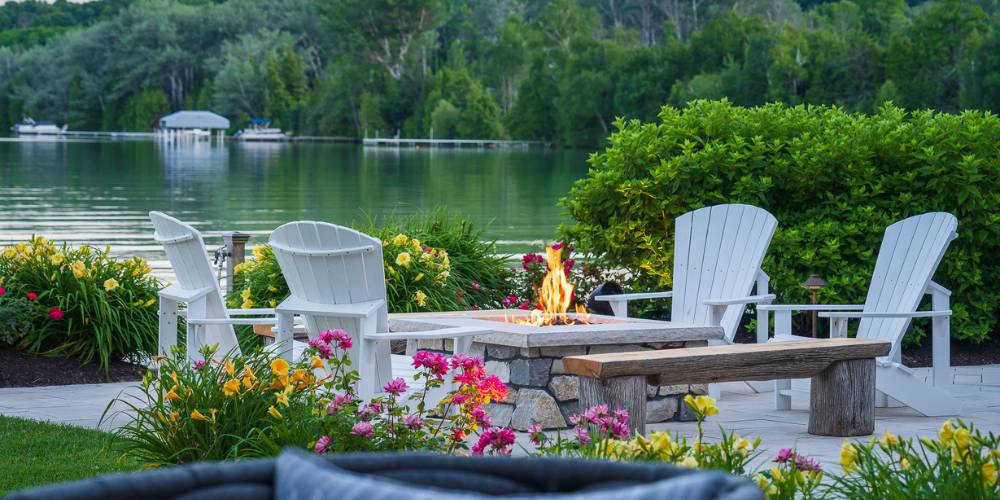 A fire pit is a great fire element choice if you plan to have a group gathering, as family and friends can congregate around all sides of the firepit. While a patio surrounding your firepit is not necessary, most homeowners prefer having one installed at the same time so that chairs can sit on a flat surface. Be sure to make your patio large enough to accommodate both the size of the fire feature itself and also give some space to put chairs or benches for seating. Firepits are smaller than several of the other fire features, so it is typically easy to find a perfect location in your backyard. If your area is uniquely windy or in direct sunlight, it is important to remember that, unlike fireplaces, firepits do not offer any protection from the elements.
Outdoor Fireplace Design
Most homeowners in Northern Michigan struggle to decide which is a better fit for their home, a fireplace or a firepit. They are actually significantly different. Fireplaces are much more complex to build and therefore significantly more expensive. They offer privacy and can help to protect from the wind if placed in the correct location. Installing a fireplace under a pergola or pavilion can allow family and friends to gather long into the cooler fall months! To learn more about the benefits of a fireplace vs. a fire pit, check out this blog.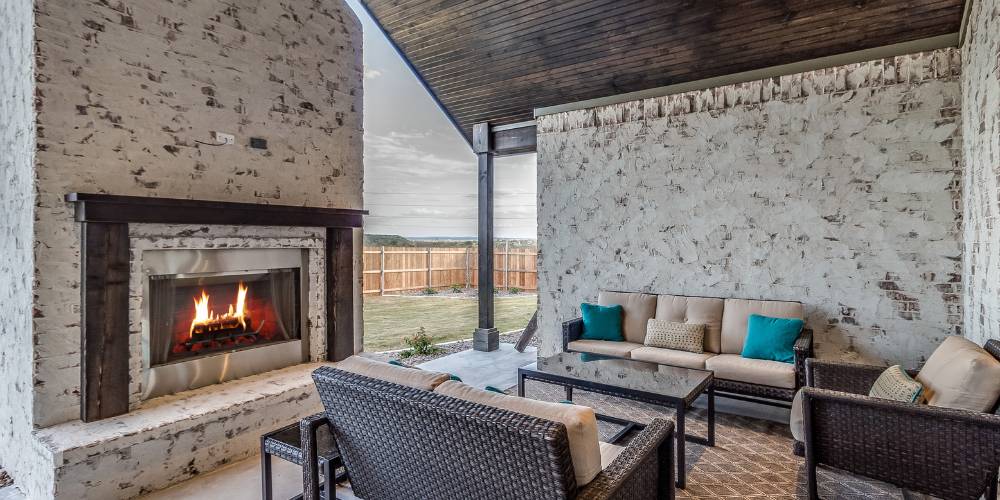 Firepit and Fireplace Design Considerations
Wood or Gas
Firepits can be either wood or gas burning. Wood-burning firepits tend to be lower in cost, but much less convenient as you have to have wood chopped and then physically start the fire each time. However, you can cook over a wood firepit! Gas firepits are more expensive initially, but much more convenient. It is important to remember you cannot cook over gas pits, but they are much better for those with asthma and allergies. Be sure to discuss with your landscape designer the size of your gas firepit, as you cannot 'turn up' the heat like you can by adding another log with a wood firepit. Want to learn more about the differences between wood and gas options? Check out this blog.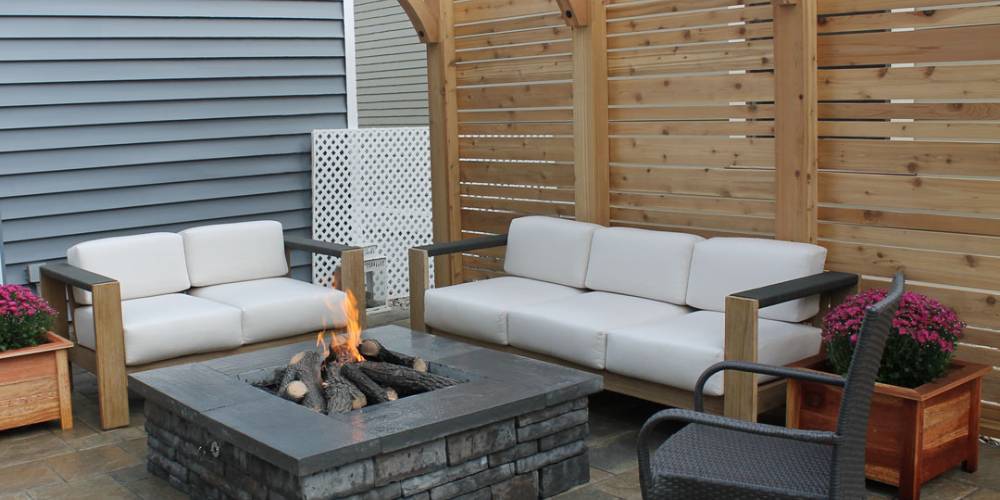 Just like firepits, fireplaces can utilize wood or gas. A wood-burning fire offers ambiance and beautiful smells and sounds of burning wood, however, it can leave a mess. If you enjoy taking the additional time to build a fire, selecting wood can be a great option!
Material Choice
Wondering what is the best material for a firepit or a fireplace? We typically recommend selecting a stone that is dense and can stand up to the heat. Our favorite suppliers for firepit stone are Unilock, Belgard, and Techo Bloc. While their price point is higher than the typical concrete stone you find at a local hardware store, they can withstand much higher temperatures. Color choices are really endless and should be complimentary to your patio and home design.
Size
The larger your firepit, the larger group you can gather and the more warmth is being put out to the surrounding area. The typical size of a fire pit ranges from  4 to 5 feet across, however, you can design the pit to be as small or large as you would like.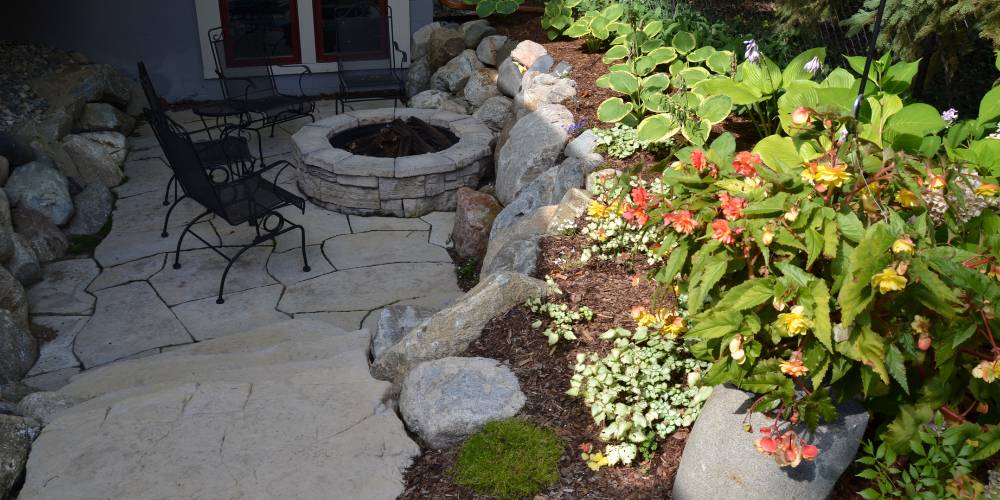 Fireplaces can range in size much more than firepits. Depending on the size of your home and your outdoor space, you can make outdoor fireplaces as large or small as you would like. Larger fireplaces can help block wind and provide additional privacy.
Shape
Firepits are traditionally installed in either a circular, rectangular, or square shape. Most of the decision-making around a shape of a firepit is really personal preference. Some choose a circular shape because it does not have sharp angles or edges, making it a safer option when children are around. A landscape designer can help you select a shape that fits with the rest of your landscape design as well as the architecture and design of your home.
Shape options for fireplaces can be much more creative. Depending on how large you would like the fireplace to be, your designer can add lavish curves or clean straight lines. Like a fireplace in your home, the fire needs to vent, so all fireplaces are vertical standing structures.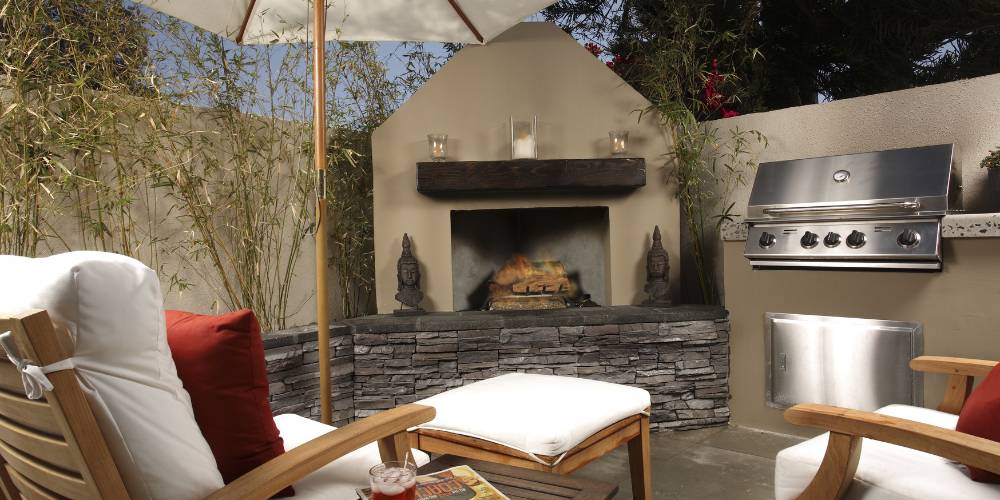 Outdoor Fire Table and Bowl Considerations
In recent years, homeowners have begun exploring fire table and fire bowl considerations. These options do not provide as much heat, however, can add a beautiful visual component to your landscape. A large fire table can have guests gather around, similar to a firepit. Fire tables typically include a larger edge where items can be set and lava rocks that help to hide the gas fire elements. Fire bowls are typically meant to be mounted to the top of a pillar or column. Many like to include them near a pool area or along pathways. Both fire tables and bowls require a gas line hookup, so this should be considered in the cost analysis.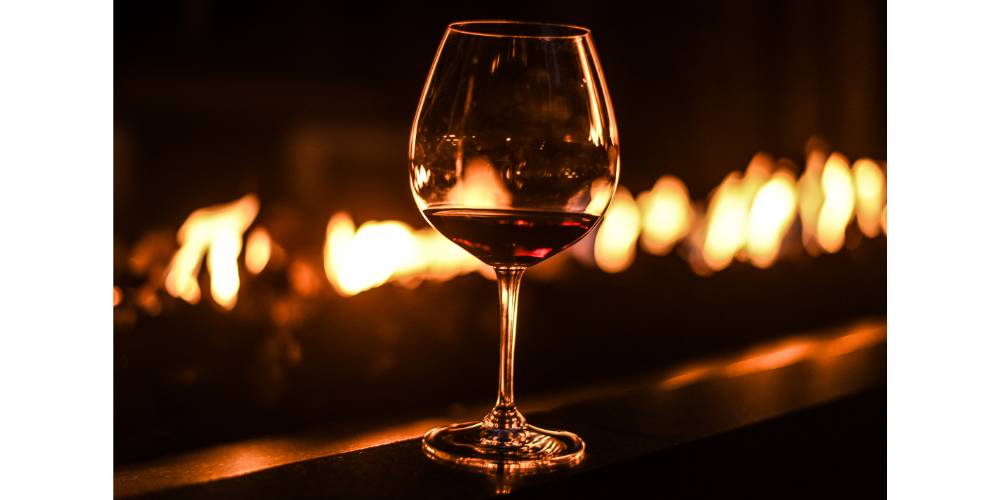 Choosing a Landscape Design-Build Contractor to Install Your Fire Feature
No matter which fire element you decide to install at your property, it will add beauty and entertainment for years to come. It can be tough deciding which of the four fire feature options may be the best fit for your property, as it is such a permanent fixture. Carefully considering your existing landscape, home design, and what you are hoping to do with or around the fire element are some keys in helping to make the best decision for you. Partnering with an experienced landscape designer or architect can help, as they can recommend which would likely be the best fit.

Want tips and tricks for your lawn & landscaping?
Sign Up For Our Free Quarterly Newsletter
We take your personal information very seriously. We will not share any of the information you provide with any 3rd parties. Provided information will be used specifically to contact you in regards to your inquiry.