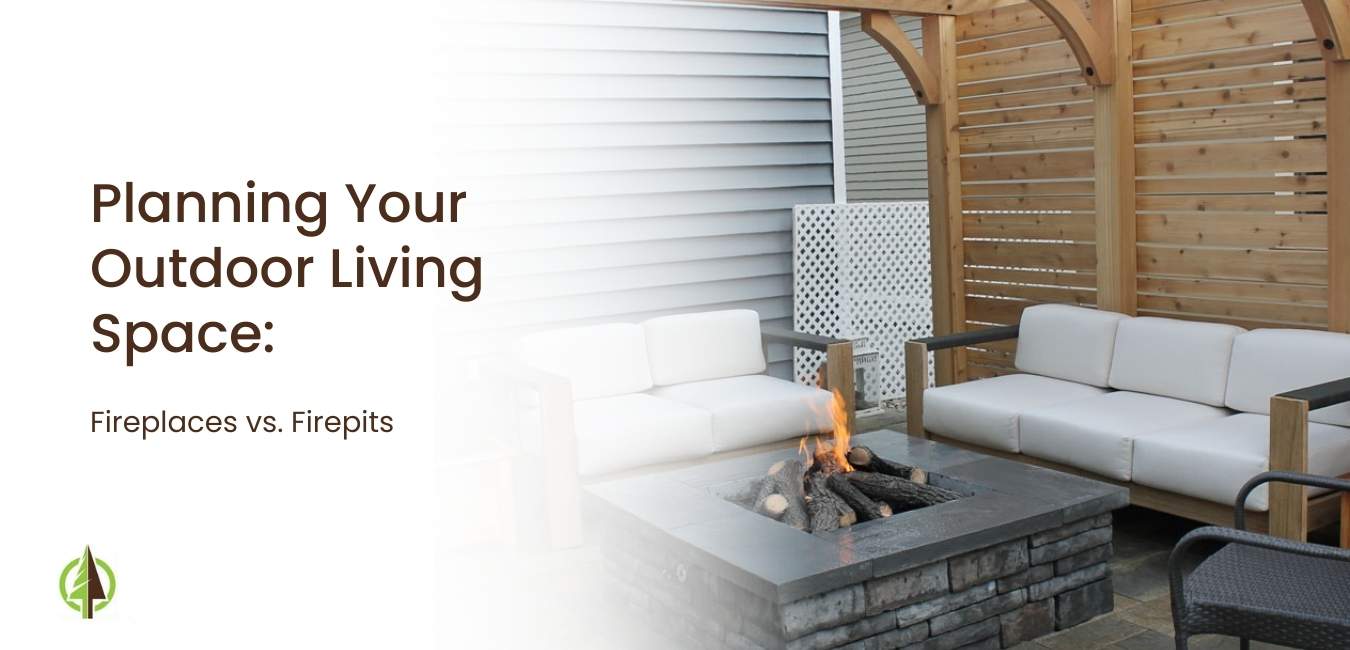 Nothing beats a beautiful Northern Michigan summer night. Even though our daytime temperatures can get quite warm, it can get chilly, especially if you are near the water. So how can you extend your time outside and soak up the summer fun? The answer is simple, outdoor fire elements!
Landscape trends show that fireplaces or firepits will continue to be a highly sought-after add-on to the perfect outdoor entertaining space. Not only are they an excellent element for you to enjoy, but they are also a huge bonus for when and if you decide to sell.
You might be wondering which outdoor fire element is the right fit for your property, a fireplace or a firepit. Let's look at the differences between fireplaces and firepits to make the best choice for your outdoor space.
Outdoor Fireplaces
Outdoor fireplaces are typically the less common option in Northern Michigan, as they typically cost a significant amount more than a firepit. They require more materials and are more challenging to build, raising your labor costs. Fireplaces can be either wood burning or gas, just like firepits. However, they can add an amazing wow factor to your outdoor space.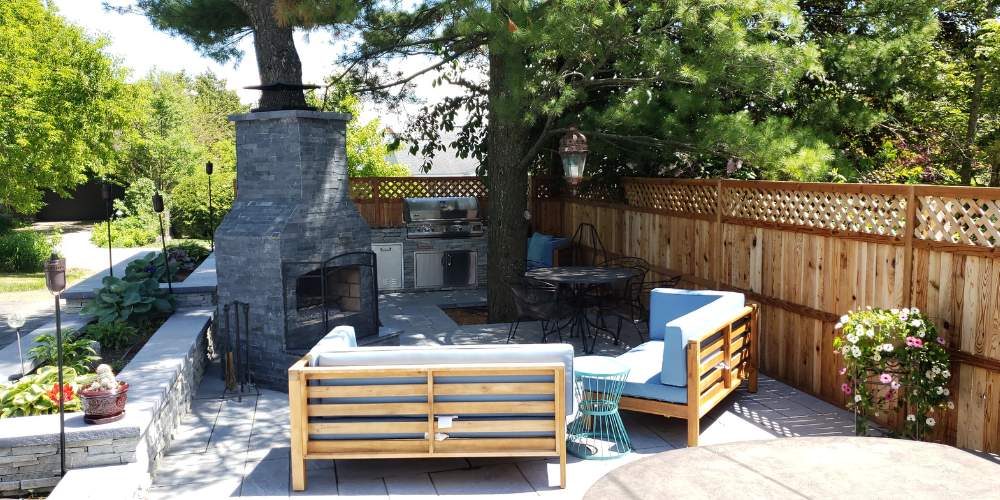 What type of property is the best fit for a fireplace?
An outdoor fireplace adds a certain elegance to your outdoor space and directs the smoke upward through a chimney, eliminating the issue a campfire or firepit can sometimes create. Depending on the architecture of your home and your design style, a fireplace may be more fitting than a fire pit.
If you are looking to add additional privacy, a fireplace can do just that. They can be positioned to 'block' whatever area you desire privacy in and the hardscape surround can be expanded larger to provide a wall of privacy.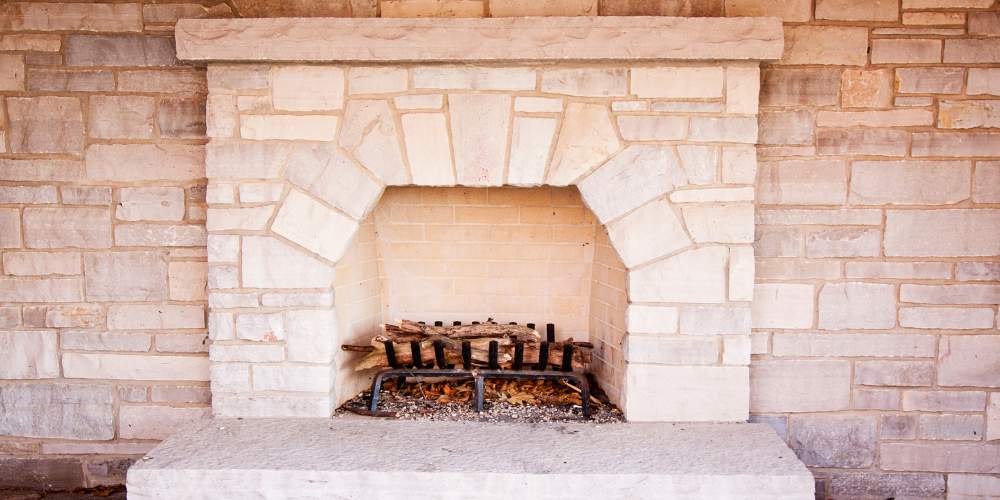 Overall, fireplaces tend to take up less space as they can be put on the edge of a landscape or under a pavilion. If built under shelter, they can be used during rainy days, provide some more privacy, and electronics can be put in above or around the fireplace.
What type of entertaining do you like to do?
It is important to consider how many people you plan to entertain. Fireplaces only allow for seating on the front side, whereas firepits allow for seating around all sides. To combat this issue, consider unique seating arrangements or custom-built outdoor furniture to fit the maximum amount of guests.
Outdoor Firepits
Outdoor firepits are extremely common in Northern Michigan largely due to their accessibility. For a few hundred dollars, you can have a metal ring that can serve as a wood-burning fire pit. Many choose to invest in a more permanent and long-lasting firepit structure built from stone. A professionally installed firepit can range in cost depending on size, design, and materials, but are usually significantly less expensive than a firepit. Fire pits can also utilize gas or natural wood for their heating source.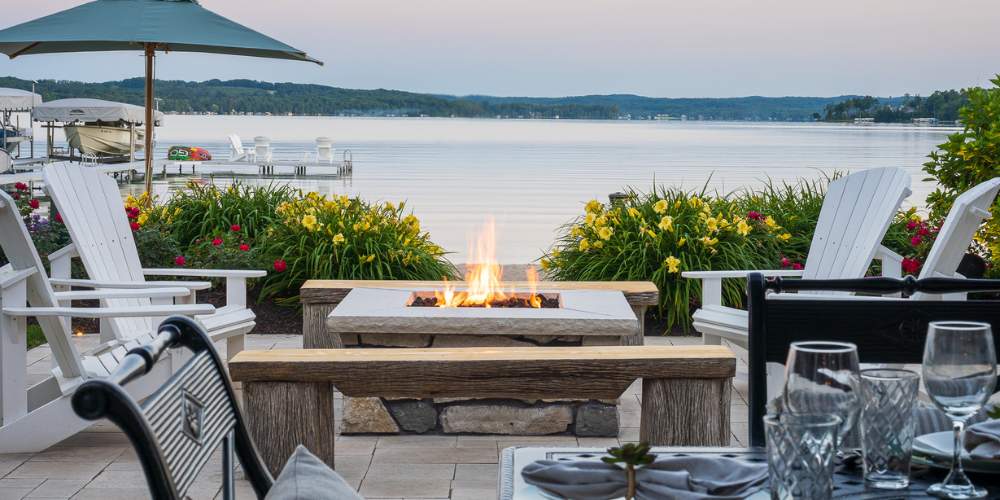 What type of property is the best fit for a firepit?
The sophistication and appeal of outdoor firepits have certainly grown over the past years. Options range from earthy and natural to sleek and modern.
Firepits are best utilized at properties that do not want to hinder or obstruct a view, such as a waterfront location. They are built low to the ground so that you can have a clear view to see guests or a beautiful feature on your property.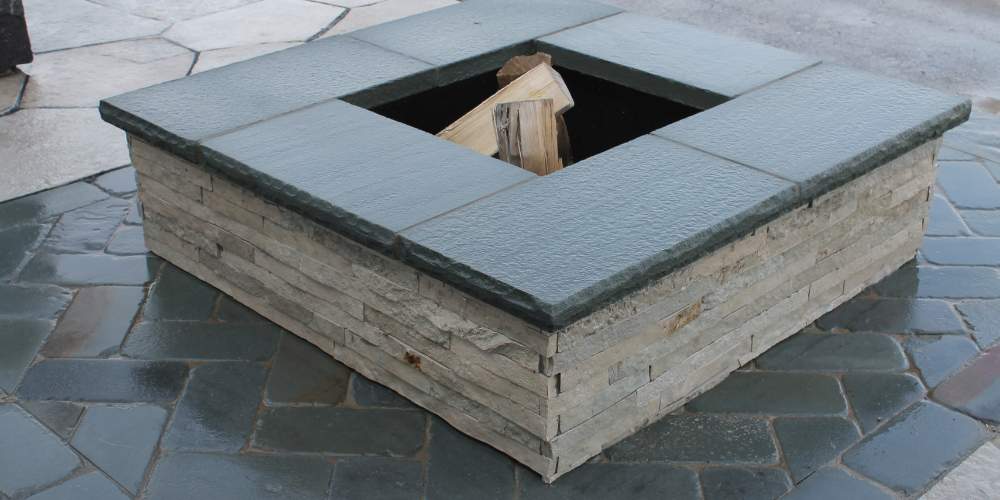 While the overall footprint of a firepit on your patio is smaller, they actually do require a significant amount of space for seating around all sides. Be sure to carefully consider the size of your patio if you plan to include a firepit.
What type of entertaining do you like to do?
Firepits are typically the best choice for entertaining large groups. Seating can be moved or adjusted depending on the number of people. Children can easily roast marshmallows. With moveable seating, instead of fixed custom-designed furniture, you can easily move closer to the fire for additional warmth if needed.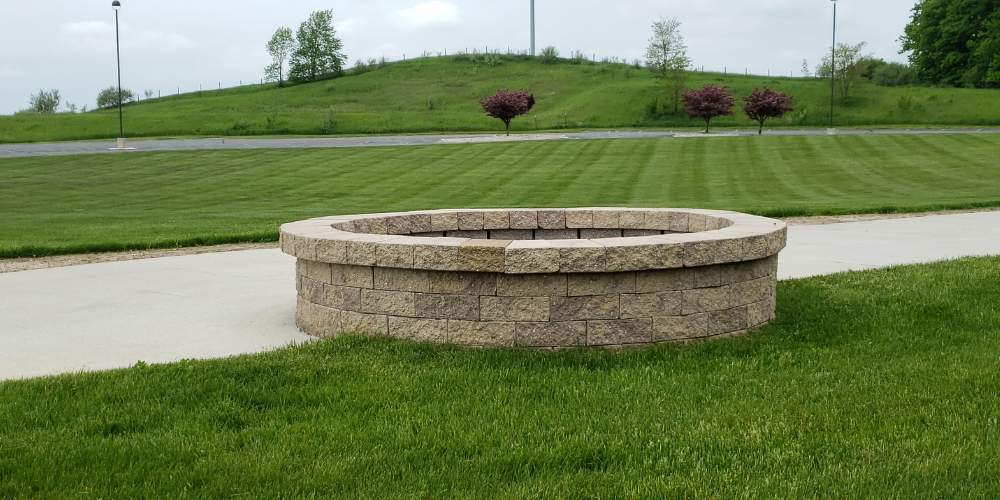 Choosing Between a Fireplace and a Firepit
The choice is certainly a hard one, but when dreaming about your outdoor space think about WHY you want it; what is its purpose? If your goal is to interact and entertain, a firepit may be the best choice for you. If you would prefer more elegance and ambiance, while being able to keep warm on chilly Northern Michigan nights, a fireplace might be the right fit for you.
Have a uniquely large outdoor space? A big backyard space would lend itself to having both since the purpose and use for each is so different. The fireplace could be for cozy gatherings and the firepit for entertaining a larger group.
Regardless of which element you select, be sure to carefully choose a landscape contractor that you can trust. A fireplace needs to be installed correctly or it can be an enormous danger on your property. A qualified designer will be able to help guide your decision and suggest which may be best for your property as well.
Ready to install a fireplace or firepit in Grand Traverse or Leelanau County, MI? If so, meet with our team of experts, choose a solution to improve your property, and get ready to sit back, relax, and enjoy your beautiful outdoor space.

Want tips and tricks for your lawn & landscaping?
Sign Up For Our Free Quarterly Newsletter
We take your personal information very seriously. We will not share any of the information you provide with any 3rd parties. Provided information will be used specifically to contact you in regards to your inquiry.