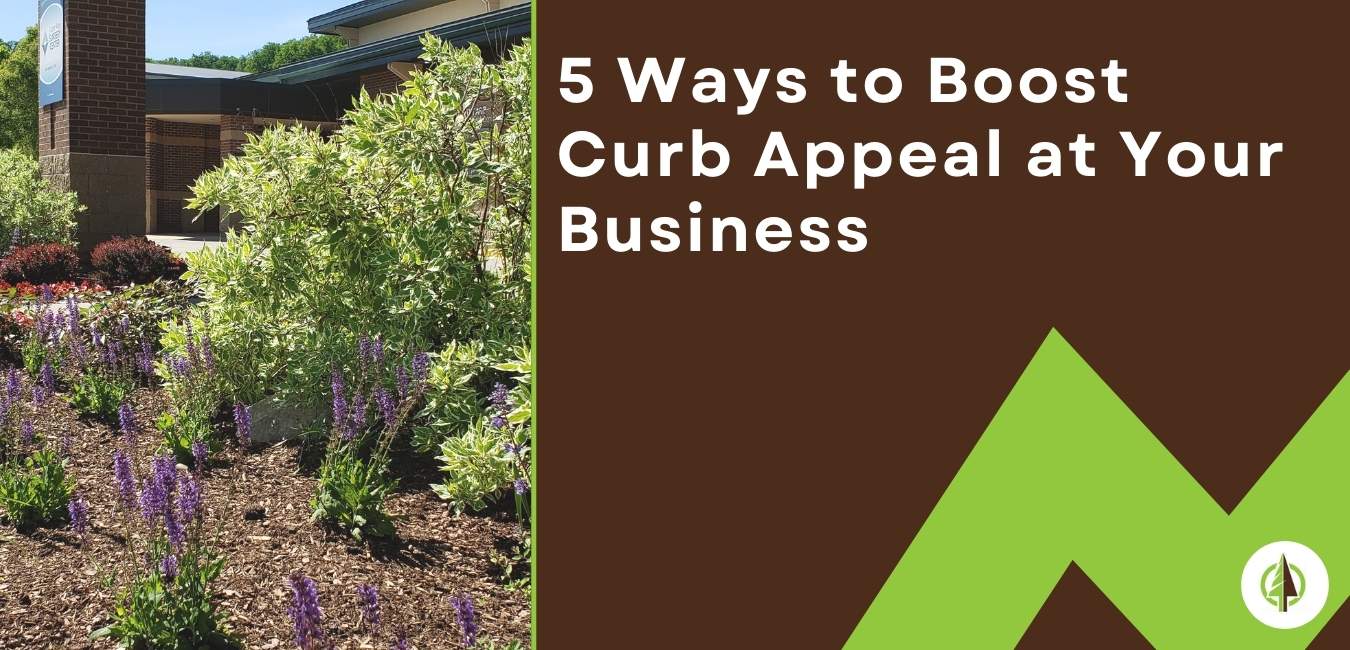 Even though we may not intend to, most of us judge a book by its cover.
Just like a boring book cover isn't begging us to turn through the pages, an ugly or uncared for outdoor space at a business isn't begging us to open the doors and check out what is inside. However, the meaning of the saying still rings true, even when related to the outdoor space surrounding a business. Though it may be messy, overgrown, and drab on the outside, there very well could be a tidy, beautiful, legitimate business inside.
Over the last few years, the landscaping at your business may have deteriorated. Or maybe you moved to a new location that needs some help. With business owners still feeling the impacts of labor shortages and material delays, let's talk about how to improve something you can actually control: the curb appeal of your business.
Tackle Your Existing Landscape
One of the easiest ways to get started improving your property is to simply deal with the landscaping you already have. Are overgrown bushes blocking your signage? Have weeds filled the islands in your parking lot? Are some of your parking spaces unusable due to limbs or overgrown shrubs? Does your property just look sloppy?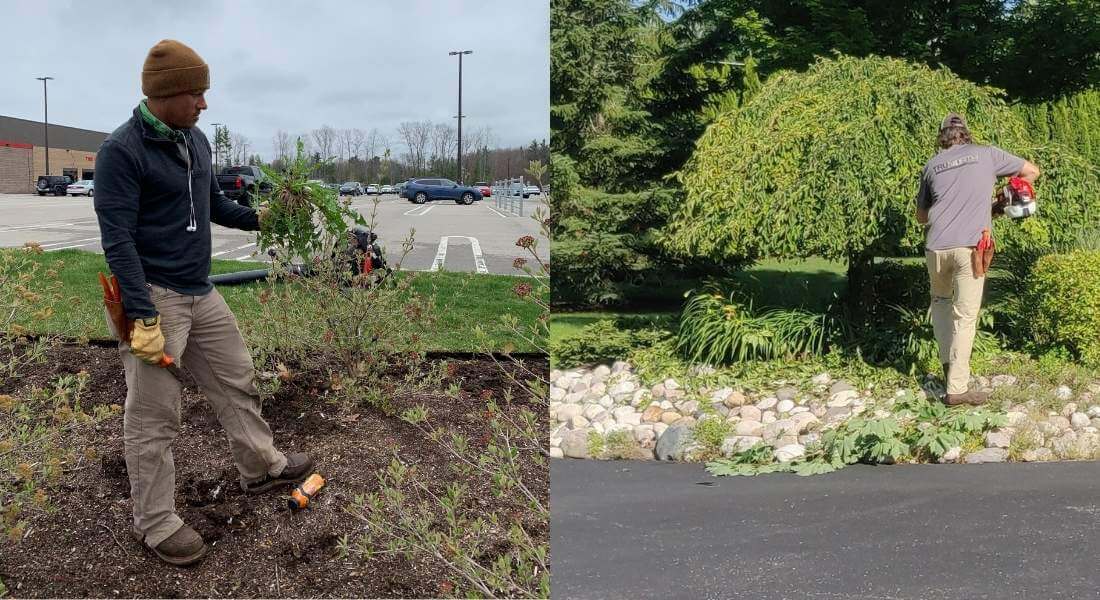 Overgrown and sloppy sends out the message to consumers that your business doesn't care much about the outside of your property. While this obviously doesn't present your company in a positive light, an uncared for property can be a safety hazard as well.
Start cleaning up your existing landscape by pruning back perennial plants, shrubs, and trees that are overgrown. To learn more about pruning, check out our blog series here. Next, tackle weeds throughout your property. Using both chemicals and manually pulling out large weeds is the best method to see a true improvement. Finally, mow any grass at your property, even if it is not 'nice' grass. Freshly mowed turf looks better even if your grass has a ton of weeds in it.
Perform Regular Landscape Maintenance
Once your property's landscape is tamed, it is time to actively care for it. If your property has any grass, start there. A robust lawn maintenance plan should include lawn mowing and trimming, fertilization, irrigation, and edging. While all of these components are important, an irrigation system that functions efficiently is very important here in Northern Michigan. Fertilization will not work well without regular irrigation and even if a lawn is freshly mowed, it doesn't look great if it is brown and crispy.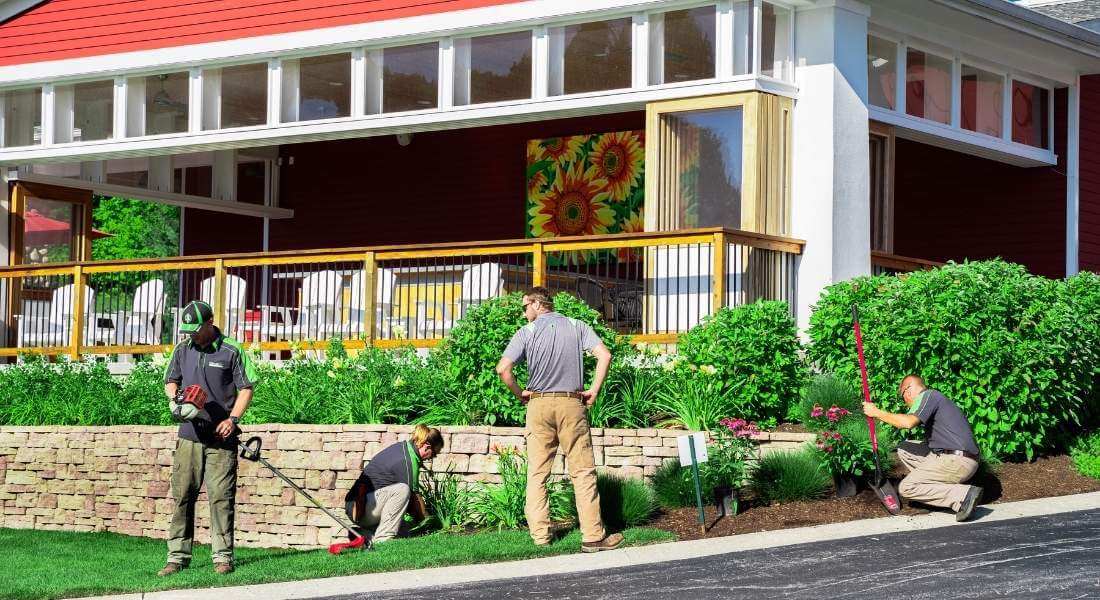 Regularly addressing your plantings throughout your property is also an essential part of regular landscape maintenance. From plant fertilization to pruning to final fall cutbacks after blooms are spent, taking the time to maintain your plants helps them come back looking healthier each year. Small actions, like pruning your roses after they initially bloom and die off can make a huge difference. Removing spent blooms will signal the roses to bloom again before the season is over.
If you choose to hire a commercial landscaping company, they can and should offer insight into what additional services might be a great fit for your property help it improve over the years.
Freshen-Up Each Spring and Clean-Up Each Fall
Seasonal clean-ups are especially important when maintaining your landscape in Northern Michigan. Fall clean-ups are necessary to keep your property looking tidy. Leaves need to be cleaned up and removed from the property, plantings trimmed back, and any bushes near roads that are regularly salted during the winter months should have burlap installed. Fall clean-ups are not extremely complicated, but they do require a whole lot of time.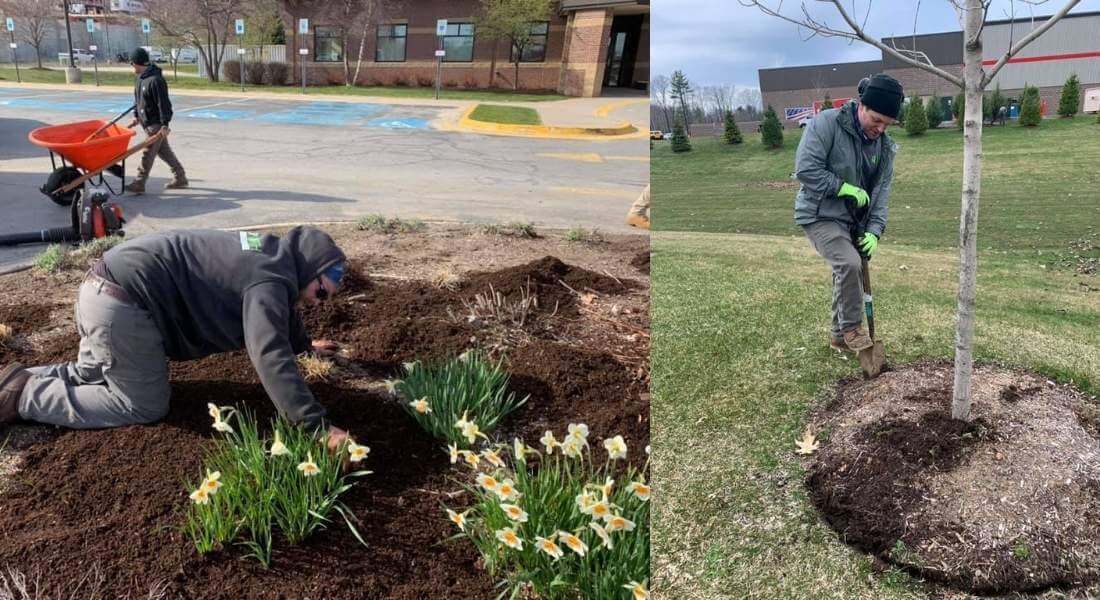 After a long and harsh winter, all properties need to be freshened up in the Spring. Clean up any remaining leaves, twigs, or branches that fell after you completed your fall clean-up. Trim back any plantings you were waiting to cut back. Though it is labor-intensive and can be a bit costly, applying a fresh layer of mulch to your landscape beds is so important to set your landscape up for success in the coming months. Put down a layer of pre-emergent weed control before mulching and establish a new edge if your beds have natural edges to help control weeds and help the landscape beds or tree circles look fresh.
Add a Pop of Color
After your property is properly maintained, adding in some pops of color throughout your outdoor space is a great way to catch the eye of consumers. If your landscape beds are filled with all the same types of plantings or if they are looking a little bare, adding some perennial plants to them will help them to stand out. Adding plantings that have winter interest is a great way to help your curb appeal as well! We recommend plantings that are easy to care for or offer lots of color like Daylily, Black-Eyed Susan, Coneflower, Rose, Hosta, Shasta Daisy, or Hydrangea.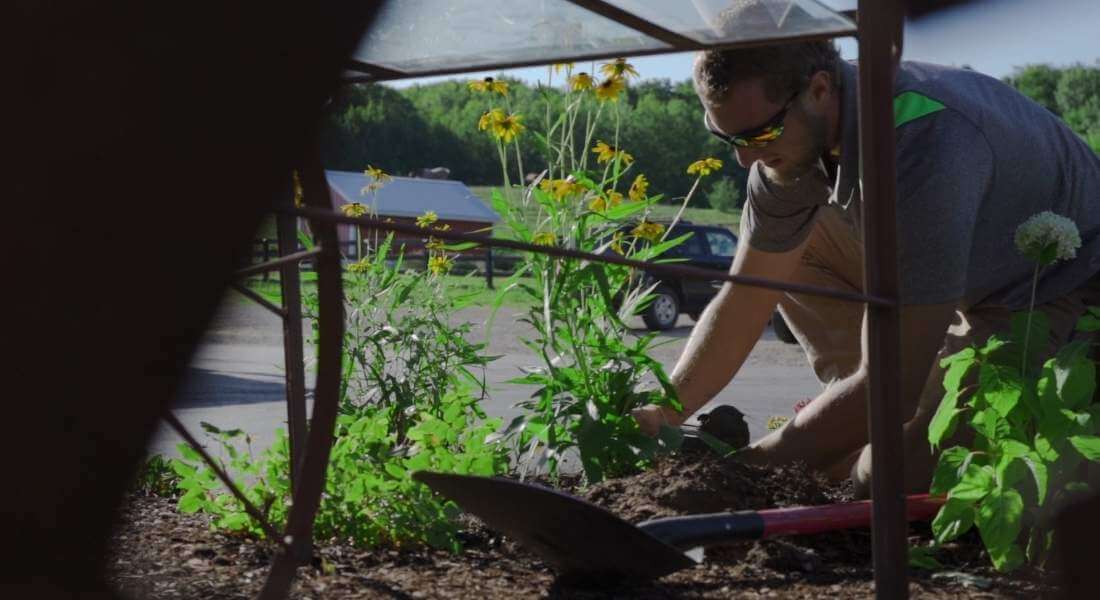 In addition to adding perennials, plantings that return each year, including annuals, plantings that only last for a season, is a great way to bring color to your landscape. Annual flowers can be planted in the ground to line walks or highlight an entrance, or they can be planted in container gardens. Annuals can be rotated in container gardens to include spring plantings, summer plantings, fall plantings, and even winter arrangements. If the rest of your landscape is simple and well-maintained, a pop of color from annuals like Begonia, Lantana, Petunia, Geranium, or Zinnia can elevate your outdoor space.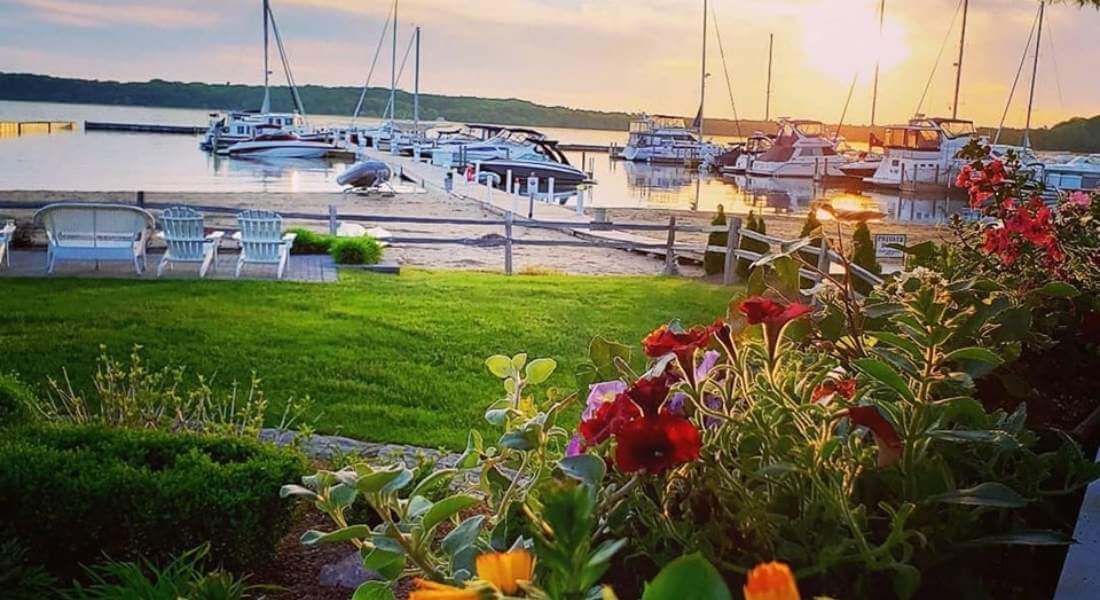 Consider a Landscape Enhancement Project
If you have tackled the other items above, but your property is still lacking that 'wow' factor, a landscape enhancement or design- and build landscape project might be the right fit for you.
Many companies are looking for ways to attract and retain employees. Adding an outdoor space for your team to enjoy on their breaks could be a great way to help boost employee morale. A simple patio with seating areas and plantings could be a place for employees to go to relax and take a break from their busy work environment. It could be a place for the team to gather for meetings or to enjoy lunch together in the warmer months.
Check out these other ideas to enhance your outdoor space:
Have an area where people walk that they are not really supposed to? Try either blocking the area off with plantings or turn it into a walkway with pavers.
Looking to increase your space for clients to gather? Think about adding a patio to extend a smaller space for clients. Restaurants can then offer outdoor seating or meetings with clients can be moved outside.
Hoping to extend the months you can use your outdoor space? Consider adding a fire element like a fireplace or firepit. Many restaurants have seen great success in the winter months by having some area for people to be outside but also able to warm up when needed.
Have drainage issues or no usable space outside? A retaining wall can create a beautiful interest piece on your property and allow for a space like a patio or screened-in porch to be created.
Is your entrance boring and lackluster? Consider adding a paver pad in front of your door or stone to the outer wall or posts.
Lots of windows for customers to look out of? Give them something to look at by planting flowering shrubs or interesting trees. Create a landscape bed if there is an area clients look out over for more than a few minutes.
Selecting a Commercial Landscaping Company to Help
Most property managers or business owners already have a whole lot on their plate. Managing and staffing outdoor work can be a huge hassle. A landscape company that specializes in commercial properties can take care of all of the tasks on your outdoor to-do list. Wondering how to select a great commercial landscaping contractor? Check out this blog.
Whether you hire a company to do the work, or you spend the time yourself, improving your outdoor space can make a huge difference for your business. Even selecting one thing to do off this list can help boost your curb appeal and solidify your company's brand and image.
Ready to boost your company's curb appeal in Grand Traverse or Leelanau County, MI? If so, meet with our team of experts, choose a solution to improve your property, and get ready to sit back, relax, and enjoy your beautiful outdoor space.

Want tips and tricks for your lawn & landscaping?
Sign Up For Our Free Quarterly Newsletter
We take your personal information very seriously. We will not share any of the information you provide with any 3rd parties. Provided information will be used specifically to contact you in regards to your inquiry.