When you design your dream landscape for your Northern Michigan beachfront home, what does it include?
Maybe an area to entertain friends and family who come to visit for the weekend. A place for everyone to gather and eat a delicious meal fresh off the BBQ. Or maybe you are hoping to build an area to sit and enjoy a quiet cup of coffee in the morning as watch the sunrise over the lake. You may love flowers and nature and want areas throughout your property to feature some of your favorite plantings and highlight the beautiful surroundings in Northern Michigan.
It is your dream home, so it deserves a dream landscape. In Northern Michigan, a home does not begin and end at its walls. Your outdoor area can be transformed into an entirely new and beautiful living space. The grand entrance of your home should be matched by stunning landscaping that invites guests into your home. And the addition of landscaping should help add a whole lot of fun to your time spent outdoors in Northern Michigan.
Let's look at how these lakefront homeowners created their dream landscape to complement their jaw-dropping dream home.
Setting the Stage
Our clients initially purchased a piece of vacant land where they intended to build their dream retirement home. During the home design and build phase, they built a guest home on the property so that they could enjoy the land on weekends and during the summer while they developed plans for their primary residence. Knowing that the process to build the main home on the property would be lengthy, they chose to have landscaping installed that they could enjoy beautiful Northern Michigan during the wait. This landscaping would be incorporated into the primary home once it was built.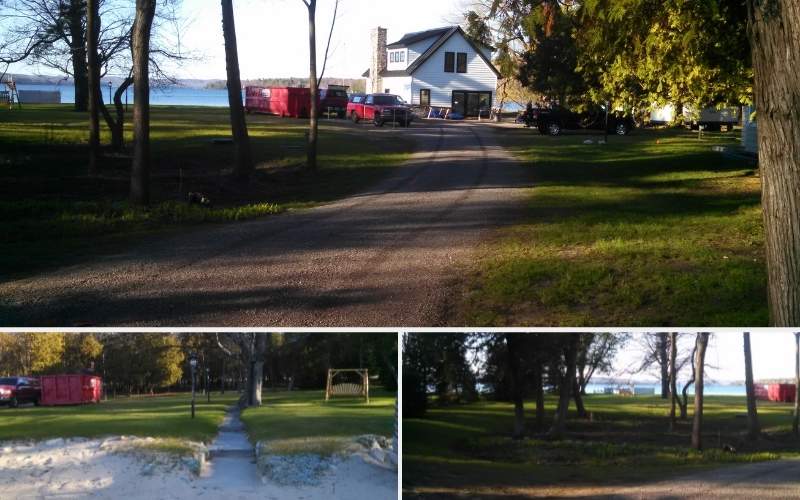 The Design Phase: Dreams for the Space
The homeowners have children and entertain frequently, so having a large enough space to fit a larger gathering was extremely important. An area for a large patio table and additional seating was necessary. Caring for their guests and their experience at the home, our clients wanted to incorporate an easy way to get to the guest house without having to walk through the main house. They also wanted a space where their guests could privately enjoy a cup of coffee or a meal outdoors. Our clients also love to cook, so an outdoor kitchen was an absolute must. In upcoming phases after the primary residence was constructed the homeowners desired a place to play basketball with their children, a customized grand entrance, and areas off of the main home to entertain and enjoy.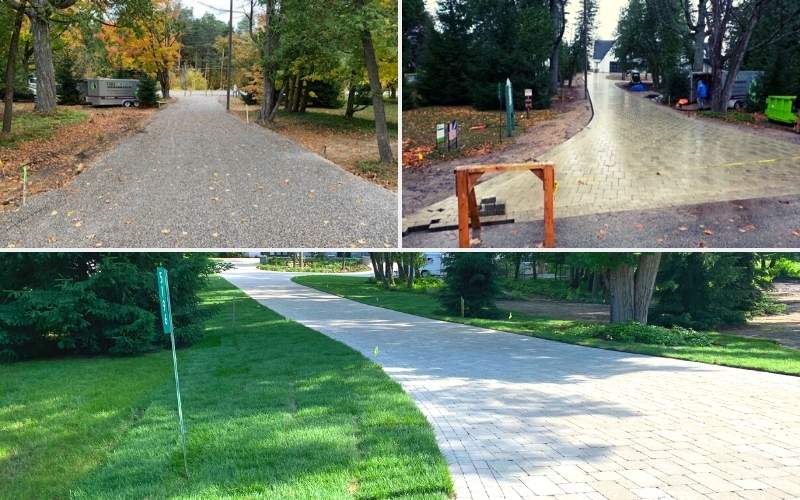 Devising a Plan
This project really occurred in two different phases. Phase 1 occurred before the primary residence was constructed and included an entrance patio the guest home, walkways around the guest home, a patio off the back of the guest home, and a large patio with custom kitchen and firepit. This large patio was intended to eventually be incorporated into a patio for the main home. Homeowners enjoyed this installation for a few years before the primary residence was built.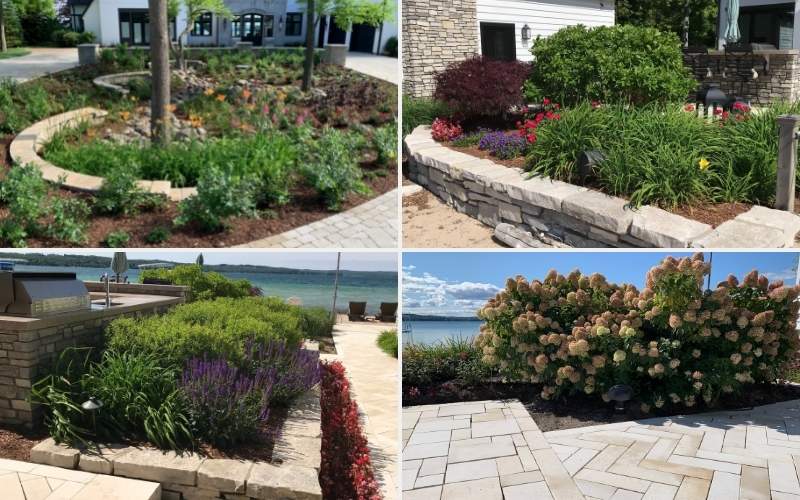 Phase 2 occurred during the construction of the primary residence. During the design process for the major home, the clients were inspired by the natural beauty that surrounds their property, so they decided they wanted to change the material that was previously installed. The change in material resulted in removing and replacing all hardscaping on flat surfaces and making the firepit much larger. Phase 2 also included adding an extremely long paver driveway with landscaping lighting, a circular driveway with pillars and gorgeous plantings, walkways around the garage and two guest homes, a custom paver basketball court, sound system, additional patios and plantings off the back of the main house attached to the original patio installed in Phase 1, and more .
Challenges and Solutions
#1- Designing a Space for an Unbuilt Home
The main challenge we faced in Phase 1 of this project was designing the outdoor entertaining space to seamlessly blend into the not yet existing primary residence. The space needed to be large enough to entertain a large group, yet not feel like just a vast patio in the middle of their yard.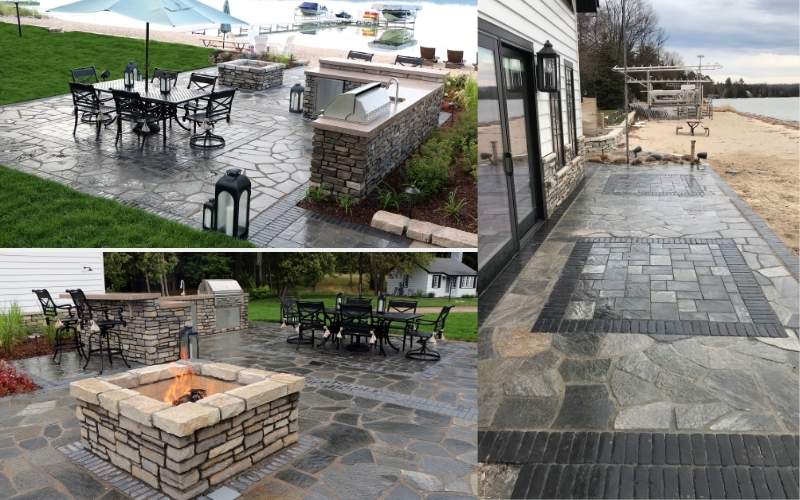 We partnered with the builders and architects for the future home in order to design a space that would be usable while they waited to build and would function well with the home once it was constructed. Through several design revisions, we presented the homeowner with a plan that they loved. This space was well used for a few years until Phase 2 began.
#2- Selecting and Creating Interest with a New Material
After utilizing the outdoor space and designing their primary home for the property, the homeowners wanted to change the style they originally selected. The original selection incorporated darker grays, blues, and blacks. While this would still complement the new home, the clients felt it would overshadow the beauty of the surroundings. They wanted to shift the style and feel of the outdoor space from eye-catching and modern to a peaceful, natural, classic style.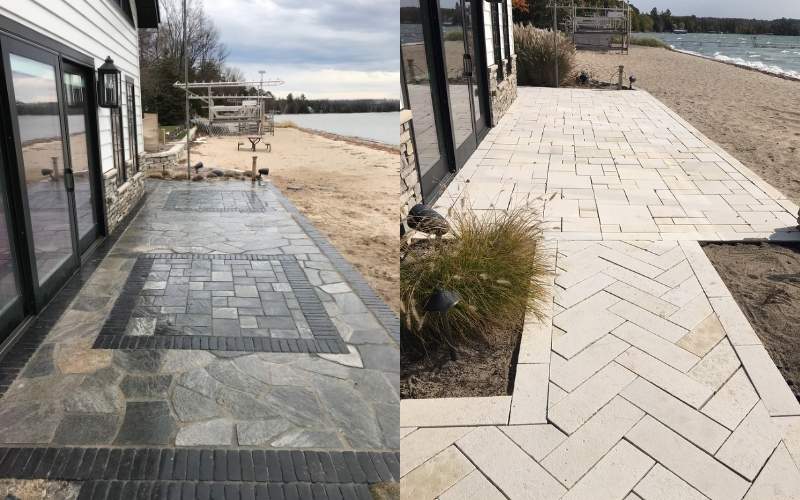 We presented homeowners with several options for products including both natural and fabricated stone. They decided on a sand-colored limestone. This stone could be cut into the size and shape we desired and was custom cut for this job. We were concerned that the new product would lack that 'wow' factor in comparison to the old product, so we suggested to homeowners to incorporate a herringbone pattern on all walkways. They loved this idea and the new product was perfect when paired with the new home and interesting new pattern. For help selecting the right material for your hardscape project, check out this blog series.
#3-Grading and Drainage Issues
Because of the sheer size of this property and the land it sits on, we encountered some serious grade and drainage issues. The drainage issues arose near the front of the home as the driveway was being installed. The runoff from the roof, driveway, and surrounding area led to flooding in the planting area of the circular driveway. Any significant rainfall created a major issue that threatened the health and stability of the plantings.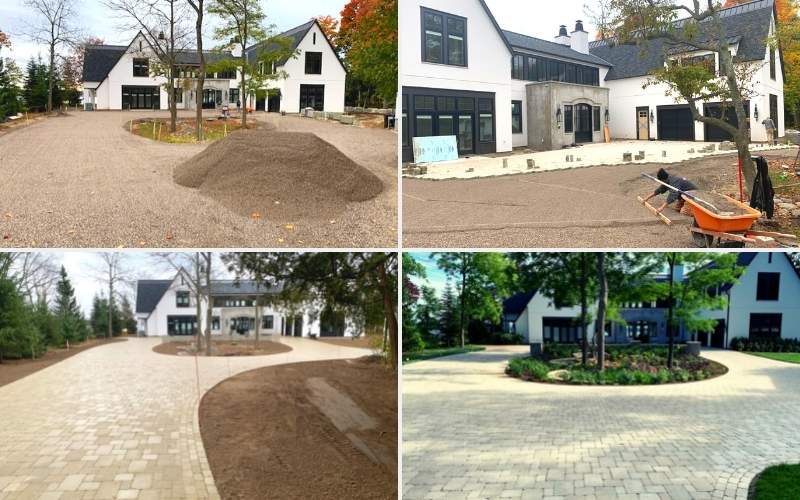 To solve this issue, we installed a pump system in the roundabout. The pump effectively re-routes water so that all hardscapes are stable and plantings can survive.  Projects of this scale really need both a landscape designer and a landscape architect to help problem solve when issues as serious as drainage arise.
#4- Incorporating Electronics and Technology
The landscaping and exterior of this project have an enormous amount of technology and electronics. The home has an irrigation system, extensive landscape lighting, sconces with an open flame fueled by gas, electric and gas lines ran to the kitchen, gas lines ran to the large firepit, drainage lines, and an extensive high-tech sound system. All of these features require lines to be run underground. The lines had to be run before/while hardscapes were being installed. Traditionally, plantings are the last step to completing landscaping, and this obviously made installation of them extremely difficult.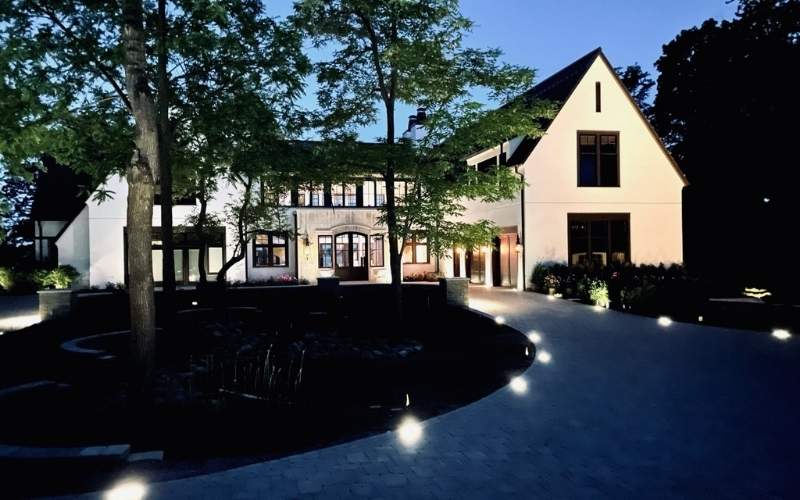 In order to combat this issue, we carefully documented and mapped where all lines were installed to avoid cutting them during plant installation.
Results that Bring a Dream to Reality
After several years of designing and waiting for their home to be built, our clients are so pleased with their outdoor space. They hosted several parties including a wedding at the property this past season. Our team continues to provide full-service property maintenance to the property to keep it looking its best including both lawn and plant care.
With creative designers, really any type of outdoor living space you would like to create is a reality. Need some help planning your dream outdoor space? Check out this blog series.
Ready to get started planning the landscaping project of your dreams in Grand Traverse or Leelanau County, MI? If so, meet with our team of experts, choose a solution to improve your property, and get ready to sit back, relax, and enjoy your beautiful outdoor space.

Want tips and tricks for your lawn & landscaping?
Sign Up For Our Free Quarterly Newsletter
We take your personal information very seriously. We will not share any of the information you provide with any 3rd parties. Provided information will be used specifically to contact you in regards to your inquiry.