Have you been dreaming up the perfect backyard space? Maybe you have a few ideas, but are not really even sure what would work well in your outdoor area. It can be hard to visualize an overgrown or outdated space transforming into a beautiful and functional outdoor living area. Thankfully, this is where landscape designs come in.
The landscape design process can be both the most exciting and most challenging part of the design/build landscape process. If you feel really inspired with lots of ideas, it may be hard to translate those to your designer and bring them to life. If you are unsure of exactly what you want your outdoor space to look like, it can be hard to visualize what your landscape designer envisions.
Let's look at how landscape design software, when combined with an attentive, expert designer, can help take the design portion of your outdoor project from frustrating to exciting!
What is landscaping design software?
Just like nearly every other field, much of the landscaping designer or architects work has been digitized. What used to be hand-drawn renders are now computer software that brings a design to life.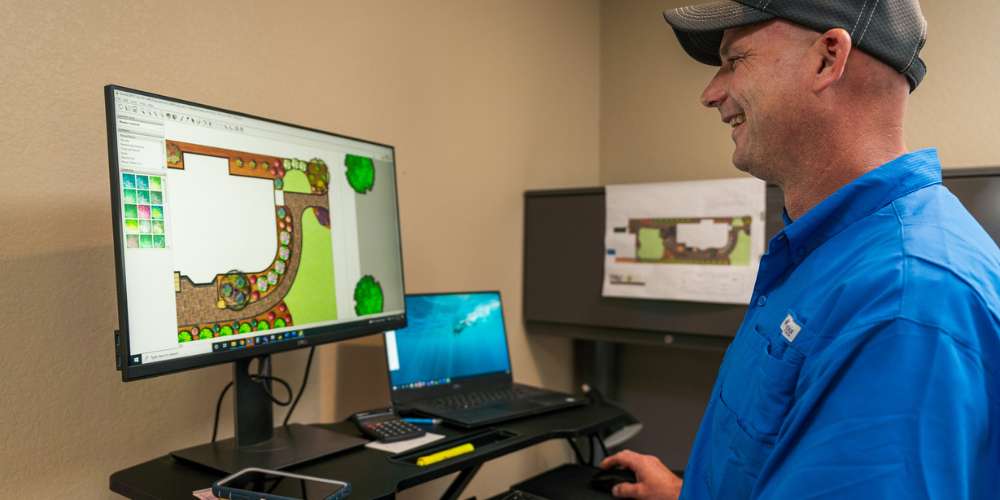 One of the absolute best software programs on the market is Dynascape. This program is a CAD based software that allows for full landscape design. Dynascape utilizes color and 3D options to really bring your design to life. The plantings that are selected can be inserted directly into the landscape plan as can the hardscape materials in the pattern you chose.
Why is good landscape design software important for me as the client?
Excellent design software benefits, you, the client in many ways. The first, most practical way, is it is a big time saver. Instead of meeting with your landscape designer or architect, going over what your preferences are, and then waiting for the designer to then hand draw the project, the design process is speed up considerably. The dimensions and scale are adjusted with the click of a button. In addition, if you want changes made to your design, they can be made sometimes even immediately during the your design meeting, instead of the designer having to go back and remove and completely redraw your space.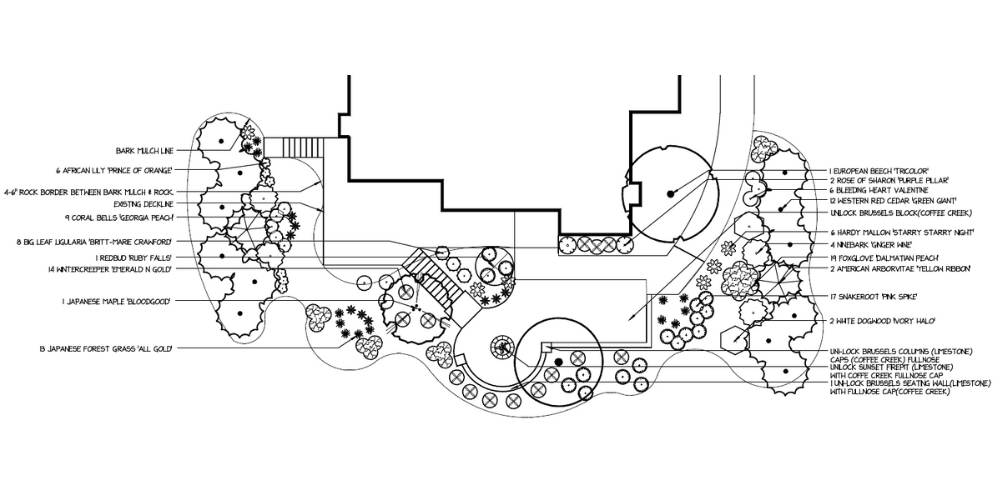 Other than saving time, landscape design software helps you to truly visualize the scale and transformation of the project. Just like architectural drawings of a home can help you understand what the residence will look like, beautifully detailed landscape designs can help you truly see what your space will look like after installation.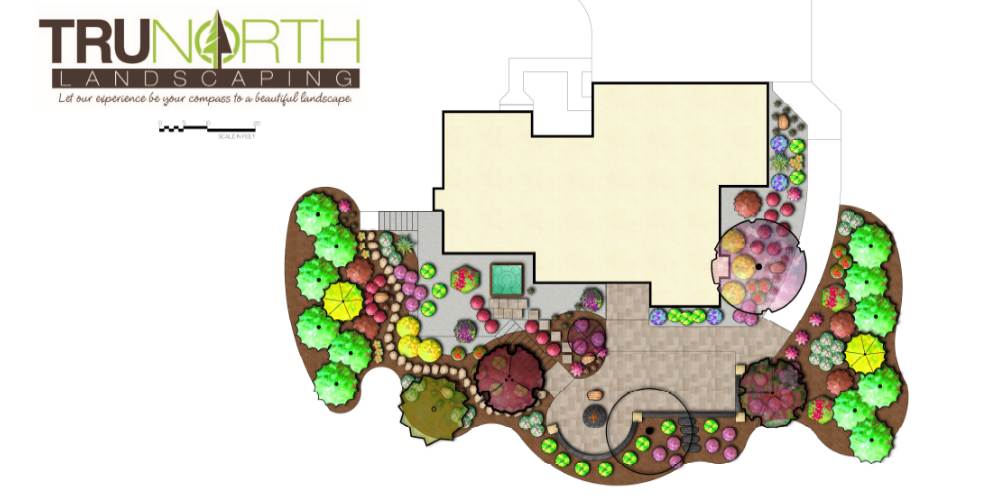 Landscape design software also allows for several versions of the same plan to be available. For example, let's imagine you have a large property that will have hardscape materials, like walkways and a patio installed, along with landscape lighting and a healthy amount of plantings. When all of these items are included on one plan, it can quickly become overwhelming. Dynascape allows for keys for plantings to be easily made, labels on plans to be easily organized, and plans to be layered, so that you can you see just the landscape lighting portion of the plan if you desire. This helps you to be able to see the entire scope of the project either all at once or broken into portions.
What type of designs can Dynascape do?
Dynascape is capable of create black and white and color designs.
Our design team is qualified to create black and white, color, and 3D design renderings. Obviously, because color and 3D renders take a longer time, there is an additional cost included in the design fee for these selections. In addition to the design, our team often creates a materials list, so you can see exactly what the plantings selected for your property look like. Check out the examples below!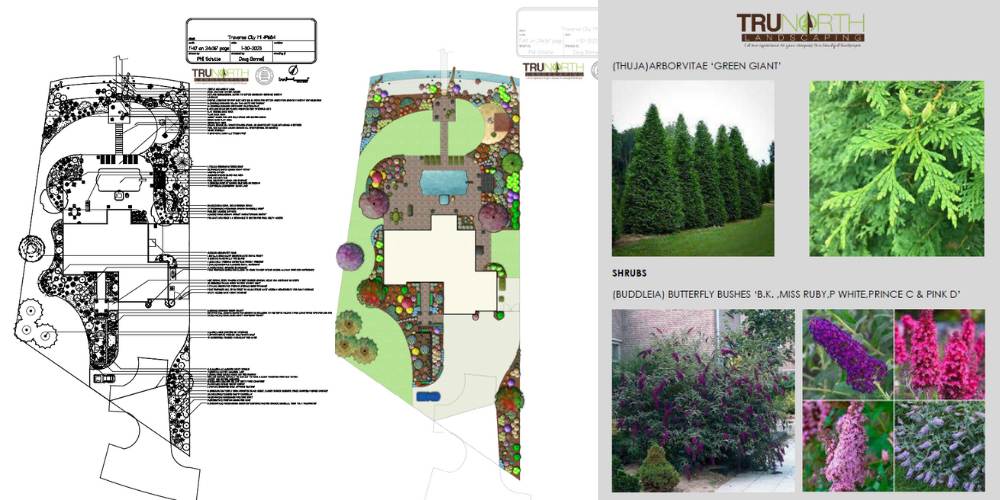 How to select the best landscape design firm
A great outdoor living area truly begins with design. An expert landscape designer or architect can make all the difference when it comes to bringing your design to life. To get the process started, we wrote this blog about how to begin the search for a great landscape designer. Once you have scheduled your  meeting, we suggest you take a look at this blog to help you consider what questions to ask and what qualities to be watching for.
While great landscape design software can certainly make the design part of the process much easier and much more fun, the software doesn't really matter if you don't have a qualified designer behind it. A landscape firm that offers in-house design services can be an enormous benefit throughout the project and cut down on fees and hiccups throughout the design and installation phase. At TruNorth, we have a landscape architect and a landscape designer on staff. They regularly meet with our expert installation teams to go over plans before presenting them to ensure that what is on your design can truly be successfully installed. We also utilize Dynascape as our landscape design software!

Want tips and tricks for your lawn & landscaping?
Sign Up For Our Free Quarterly Newsletter
We take your personal information very seriously. We will not share any of the information you provide with any 3rd parties. Provided information will be used specifically to contact you in regards to your inquiry.